Exploring Scotland had been on my bucket list for quite some time. So naturally, I jumped at the opportunity to attend Sony Alpha's photo expedition there this past September. The trip was beyond anything I could have imagined… The whole country was wildly beautiful and bursting with culture. In this blog post, I am sharing what was my favorite part of the entire trip, all the incredible Isle of Skye photography locations! I'm also featuring some suggested photography gear and tips for shooting in Scottish weather (spoiler – it's challenging!)
Breathtaking Isle of Skye Photography Locations
In collaboration with Sony Alpha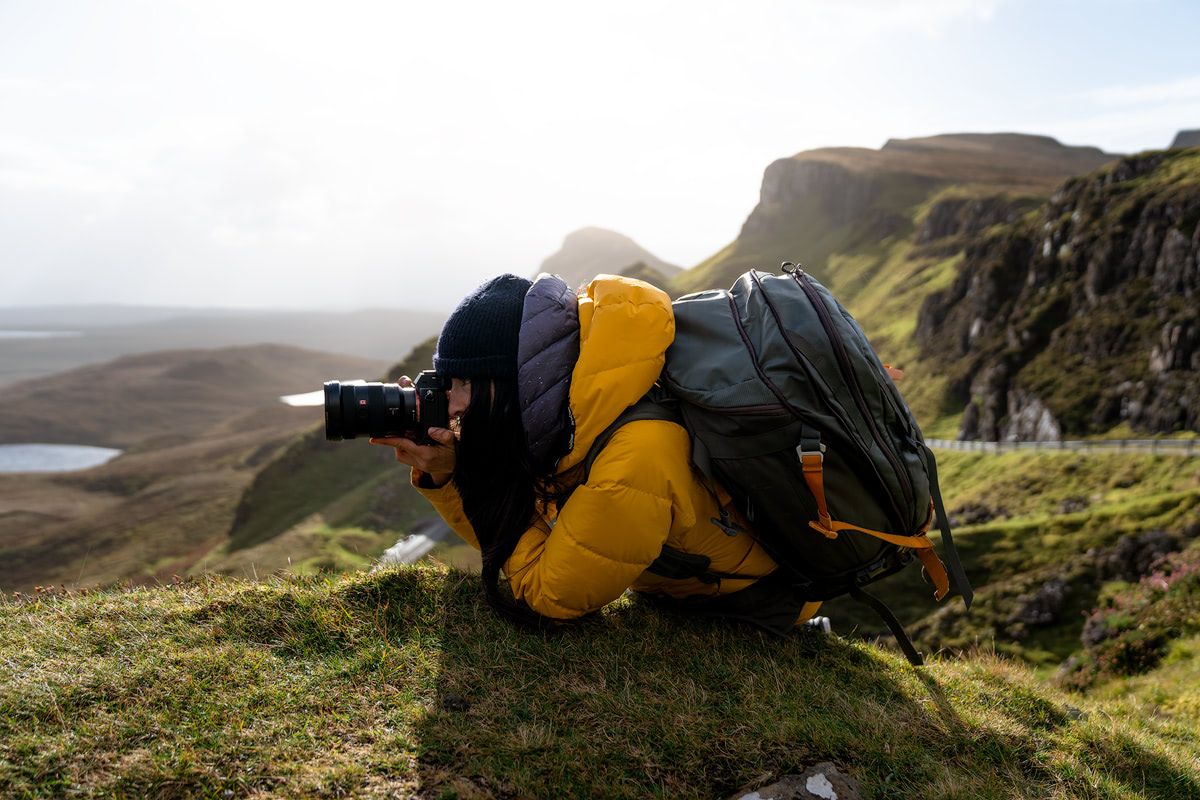 I spent 6 days exploring Scotland with the Sony Alpha Imaging Collective, and few days on my own after the trip finished. The group flew into Edinburgh and we drove straight to the Highlands.
Sadly our time in the Highlands was dampened by unruly weather, but our visit to the Isle of Skye afterwards was definitely a trip highlight.
The locations I'm sharing below were selected for their beauty, diversity, and overall photogenic nature. Enjoy! Share in the comments if you have also been to the Isle of Skye!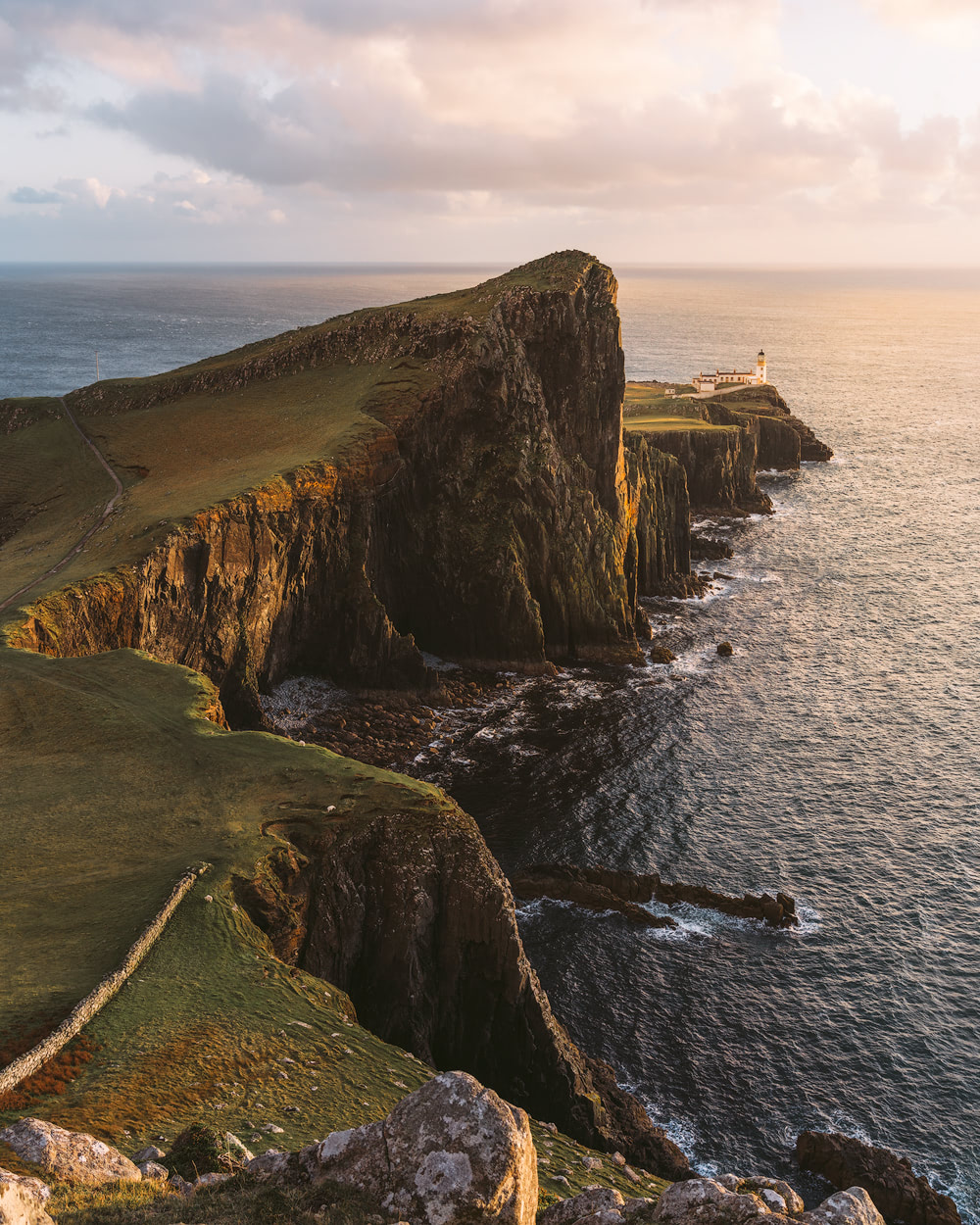 Neist Point
Without doubt, one of the top Isle of Skye photography locations is dramatic Neist Point. These impressive cliffs are home to the historic (and still functioning) Neist Point Lighthouse. It's also the most westerly point you can access in the UK without stepping foot onto a boat.
Plan to go in the late afternoon and stay until sunset. If the weather works in your favor, you will be treated to golden light hitting the cliff sides and you may even spot a puffin! We found the best views were from the cliff top easily accessible and near the parking lot. You can also walk over to the lighthouse and some of our group enjoyed photographing local sheep down on the plateau.
In this location I found myself shooting with the Sony a7RIII + 24-70mm f/2.8 (for wider images with slight compression) and 100-400mm f/4.5-5.6 (for close up lighthouse images).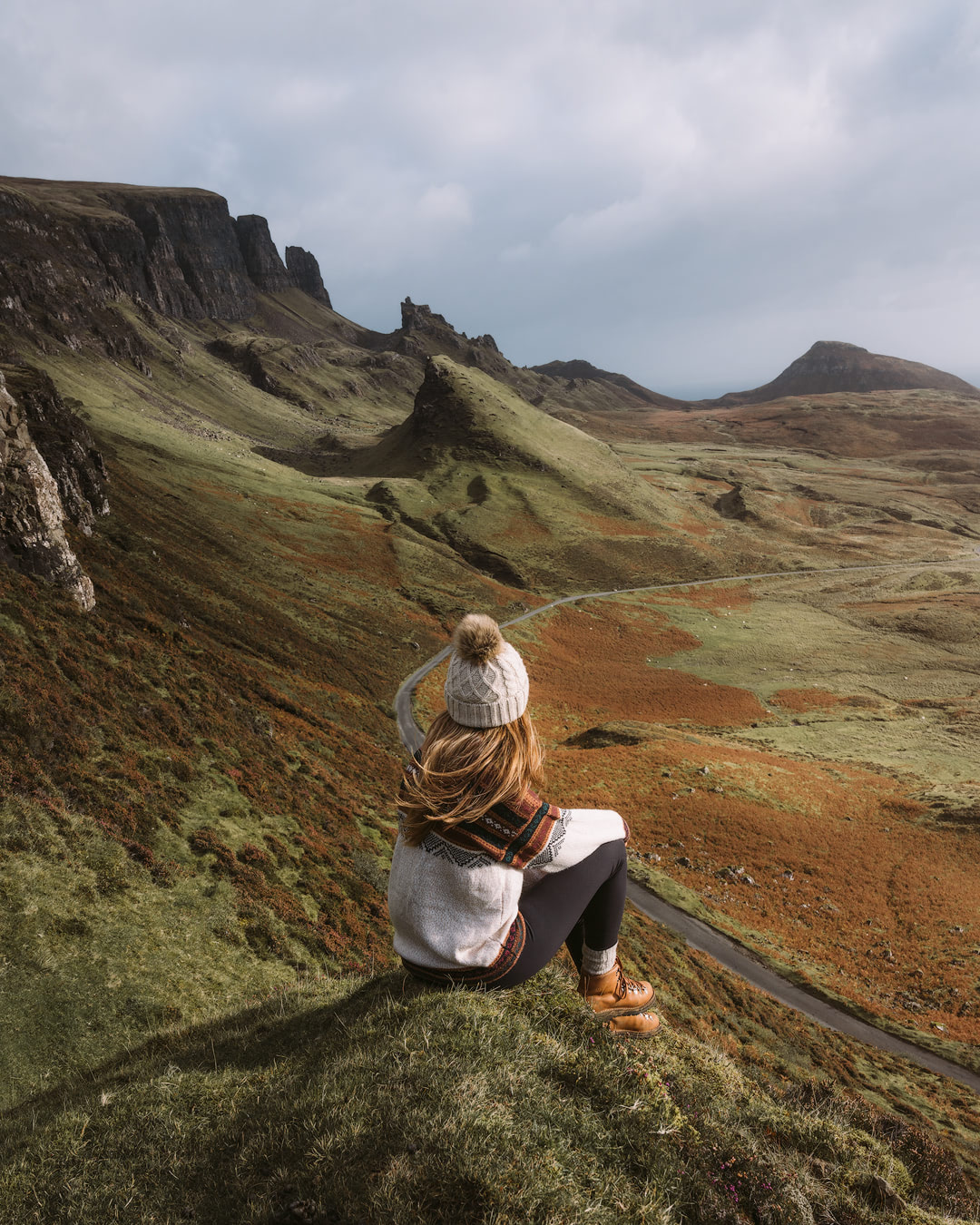 The Quiraing
You simply cannot visit Scotland without witnessing the Quiraing. I would even go as far as saying that it's the number one Isle of Skye photography location.
The Quiraing is located about 30-40 minutes from Portree and is best accessed via car, and then on foot once arriving. The unique cliffs, rock formations, and hills of the Quiraing will leave you wondering whether you have been transported to a hybrid of Mars and Middle Earth. It's nothing short of spectacular.
There are ample of view points, short and long hikes, and photography opportunities in the area. You can shoot from right near the parking lot or take a walk out to the cliffs (be careful of the wind!) I would suggest visiting at sunrise or early morning if possible, to avoid crowds and experience the best light.
I shot all my Quiraing images on the Sony a7RIII + 24-70mm f/2.8 lens. The wind was absolutely wild and the 24-70mm range of focal lengths allowed me to avoid switching out lenses in those conditions.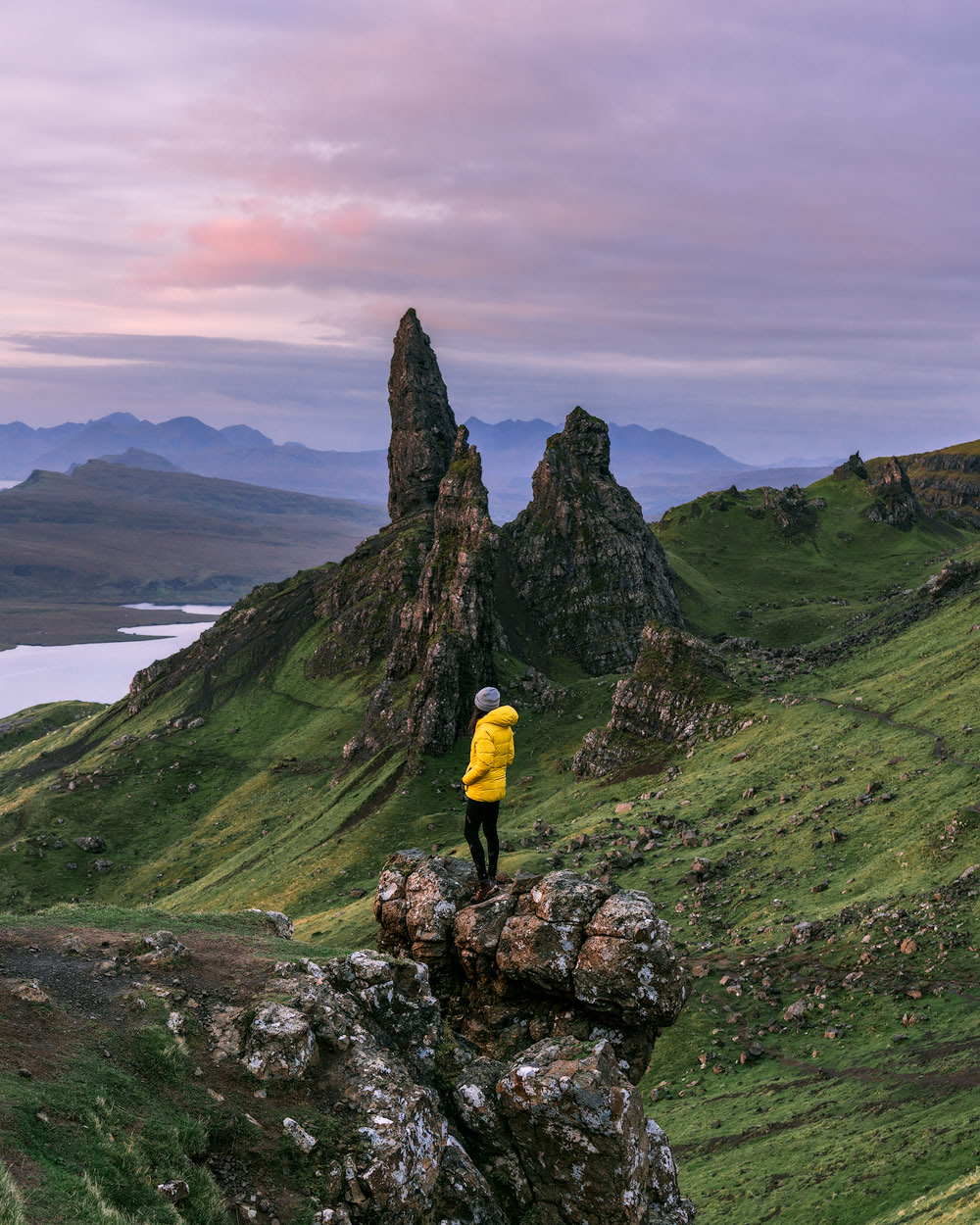 Old Man of Storr
Old Man of Storr is another absolute must visit on the Isle of Skye. The trail head can be found 15 minutes out of Portree and is best accessed via car.
Once there, visitors are required to take an uphill trek of about 1.2 mi/2 km to get to the main rock formations. I would recommend continuing a little higher and north for some of the best compositions.
It's said to be a very popular and busy location, though there were only a couple of other people around when we visited for sunrise. The trick is to arrive early! Plenty of people were beginning the trek up as we were heading down a few hours after sunrise.
In terms of photography conditions, I suggest sunrise over sunset in terms of how the light hits the rocks. Be sure to pack a headlamp and ample layers – it gets chilly up there!
Again, I found myself mostly using the Sony a7RIII + 24-70mm f/2.8 lens as it gave a great range of focal lengths as I moved around and changed my composition.  I did use the 100-400mm f/4.5-5.6 for a couple of cropped in images of the rocks.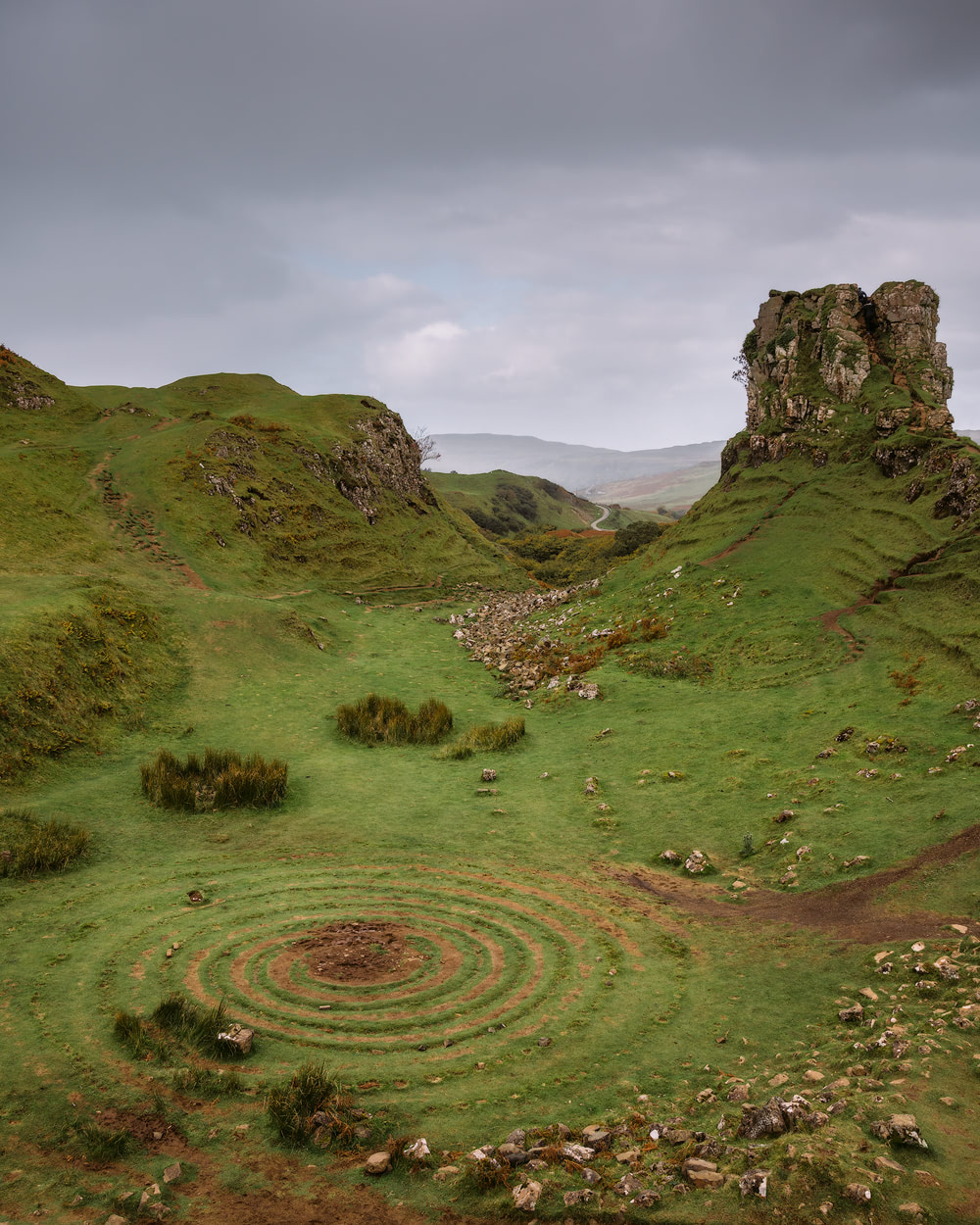 Fairy Glen
The Fairy Glen is a funny little spot. Located on the Trotternish Peninsula, the Fairy Glen can be accessed via car from the nearby town of Uig. This spot could be added to your itinerary on a day exploring the Quiraing, Kilt Rock/Mealt Falls, or the Old Man of Storr.
Once arriving at the parking lot it is a short walk uphill to view a rock formation known as Castle Ewan, and a circular rock rock/grass formation in the valley below. Sadly we had some pretty bad weather at the Fairy Glen, but I am told the surrounding views are beautiful.
I was surprised to not see rocks around the spiral formation. Apparently tourists have been placing these rocks that you often see in photos, and then locals go ahead and remove them to preserve the area. Just a friendly reminder to ensure you respect other cultures and nature when traveling, and leave things as you found them.
I found myself using the Sony a7RIII + 24-70mm f/2.8 and 12-24 mm f/4 lenses during our visit to the Fairy Glen.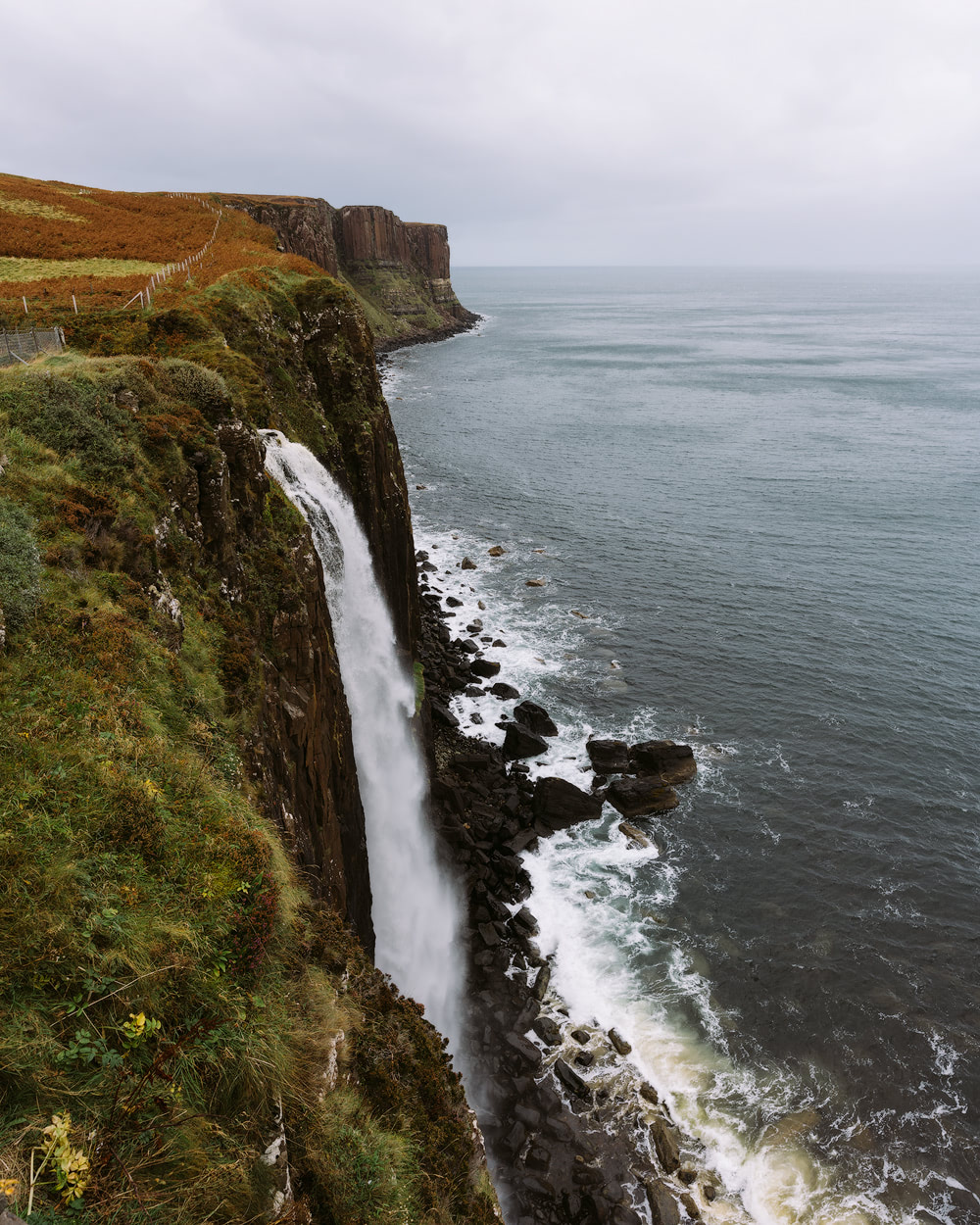 Mealt Falls & Kilt Rock
Two more views to add to your Isle of Skye photography list are Mealt Falls and Kilt Rock. They can both be seen by by driving about 25 minutes north from Portree along the A855. The turn-off sign will read Kilt Rock and from there you will find a parking lot and accessible viewpoint.
We visited during the middle of a very rainy and windy day, so the conditions weren't ideal. Seeing as the falls are on the east side of the island, I would presume it's likely best photographed at sunrise.
The image above was shot on the Sony a7RIII + 16-35mm f/2.8 lens. This spot definitely requires a wide angle lens to capture the entire a view . Another great option would have been the Sony 12-24 mm f/4 lens. A tripod and ND filter are recommended if you want to capture that silky/long exposure look.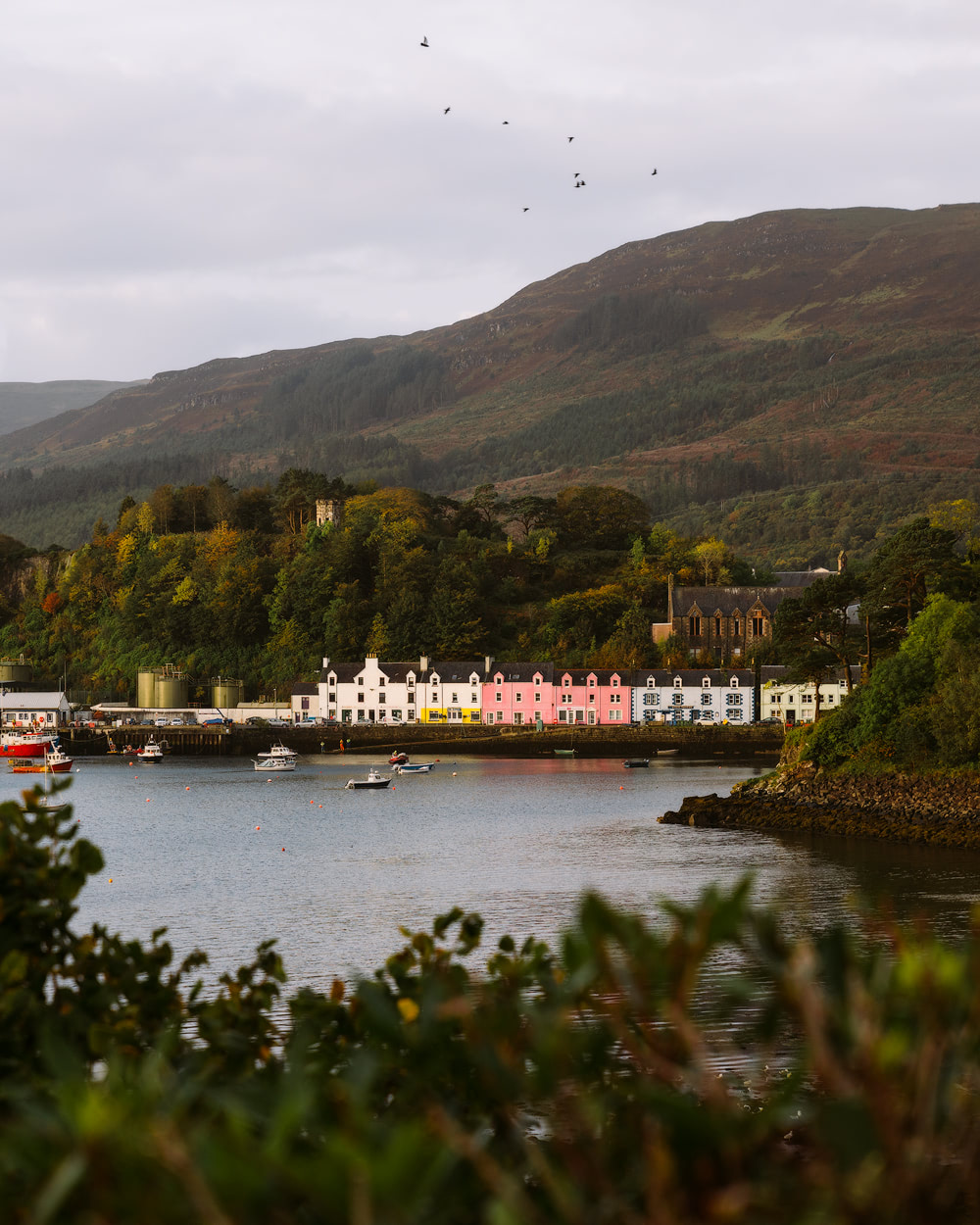 Portree Harbor
We had breakfast one morning in Portree and I could help but admire the quaint harbor and its pastel waterfront houses. I captured the photo above from nearby the Cuillin Hills Hotel, but there were more compositions from down on the beach and other places around town.
Based on our experience, golden morning and sunrise light would be the best time of day to photograph the harbor. The above image was captured on the Sony a7RIII + 24-70mm f/2.8 lens.
More Isle of Skye Photography Locations
There are many other Isle of Skye photography locations that I personally didn't visit or wasn't able to properly photograph due to wild Scottish weather. Here are some other suggested spots:
Fairy Pools
Dunvegan Castle
Lealt Falls
Coral Beach
Duntulm Castle
Highlands cows & sheep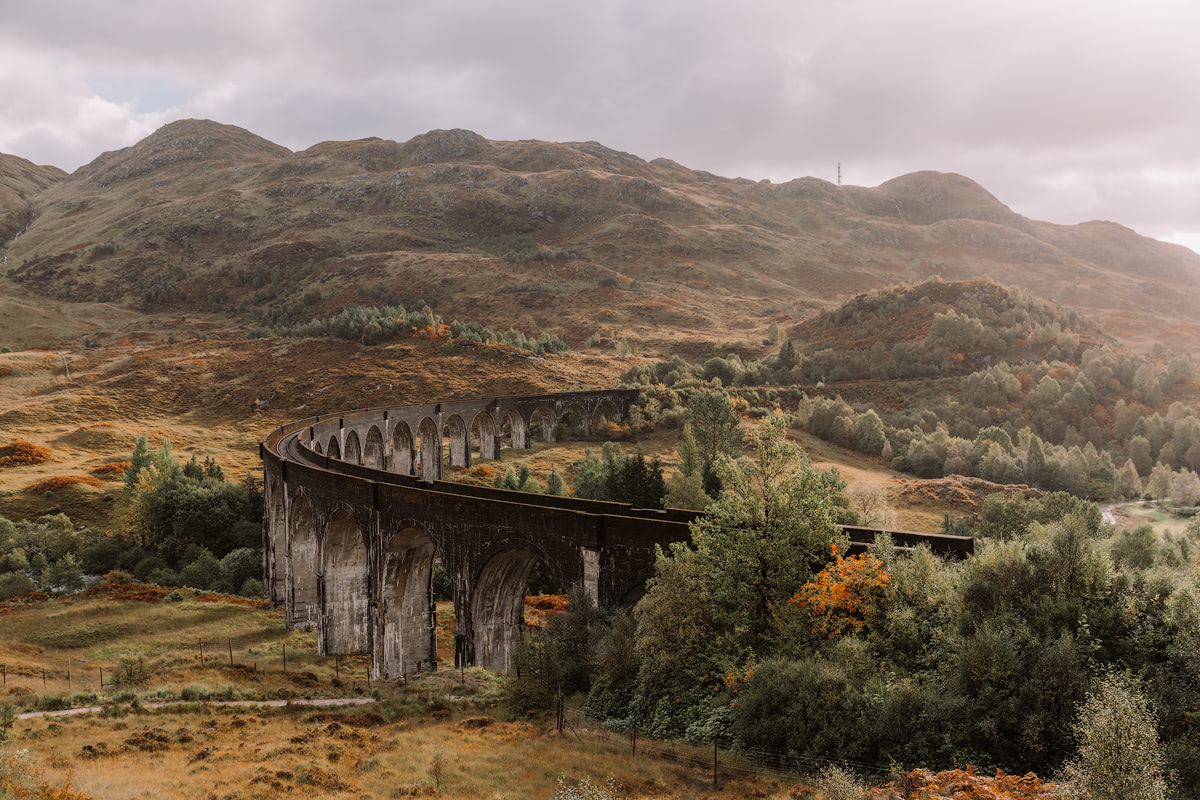 Stops On Your Way There
There are also various places to stop and photograph on your way to and from the Isle of Skye. Here are some to keep in mind:
Glenfinnan Viaduct
Glencoe
Loch Lomond
Buachailee Etive Mor
Eilean Donan Castle
Ben Nevis
Loch Ness
Kilchurn Castle
Dunnottar Castle
Old Packhorse Bridge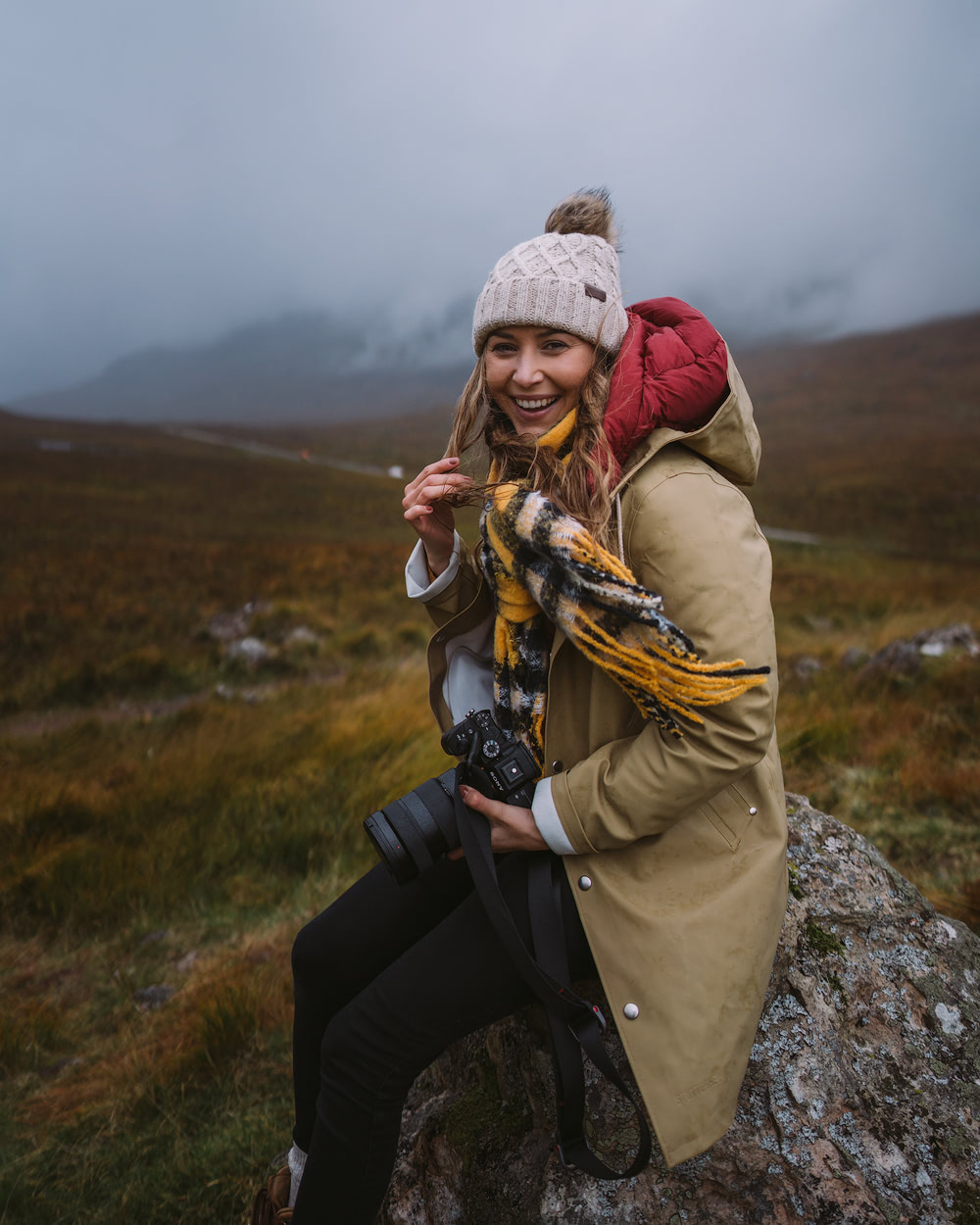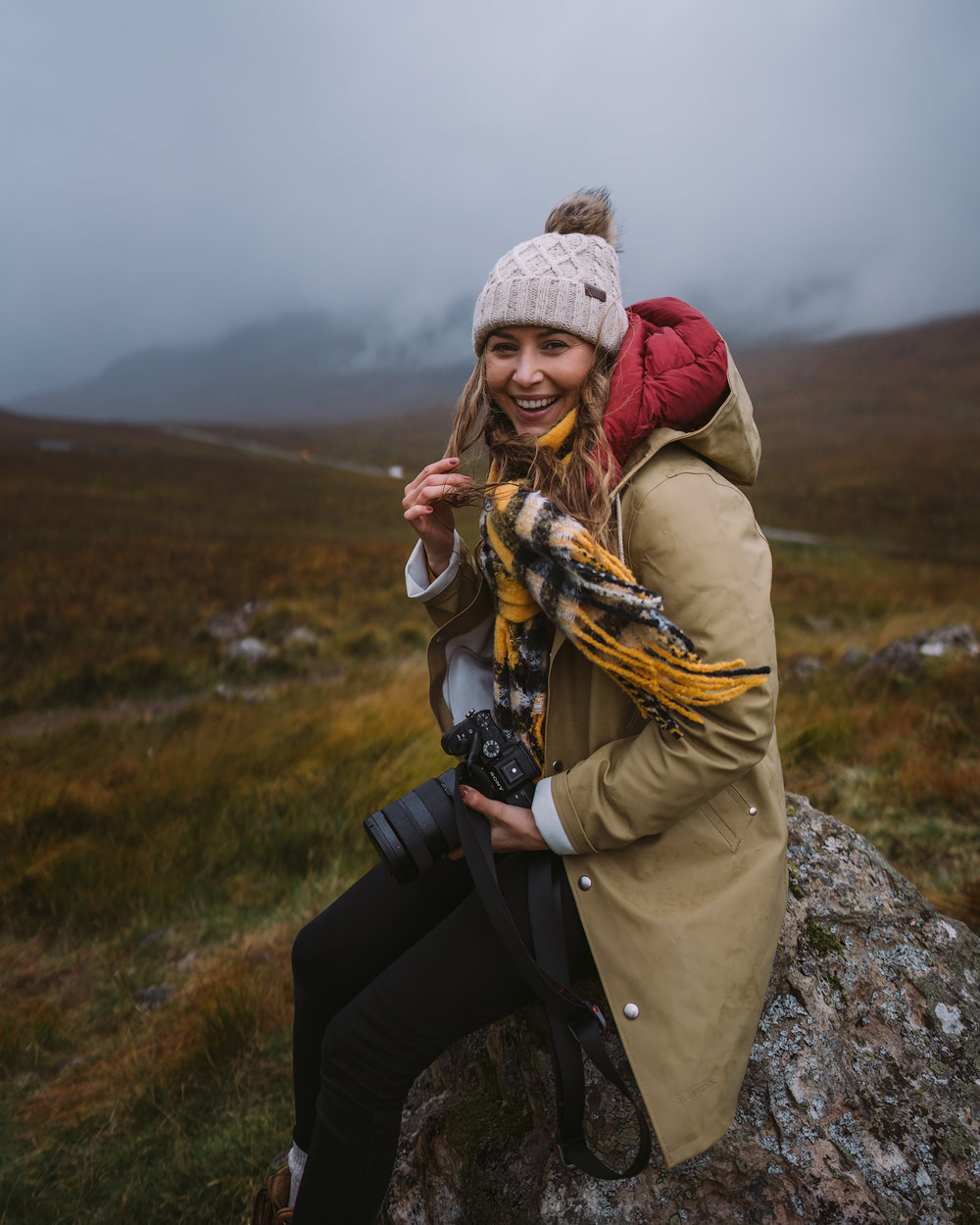 Isle of Skye Photography Gear
Scottish weather is wild. I've visited placed like Iceland, Norway, Ireland, and Alaska, and found comparably harsh conditions during our September/October visit to the Isle of Skye and Highlands.
The gear you choose to bring will depend on your style of photography. I personally enjoy shooting landscapes and some lifestyle images therefore my gear is catered for that. I also packed a bunch of items that would allow me to shoot in challenging weather and on-the-go.
Camera + Lenses
Extras + Accessories
Check out the video from our trip!
More Photography & Adventure Posts
Travel Photography & Blogging Gear
Wild Iceland – 15 Day Photography Road Trip
Night Photography Tips & Tricks – Light Up Your Winter
Faroe Islands Travel Guide & Best Photography Spots
Best Things To Do In & Around Cusco, Peru
PIN For Later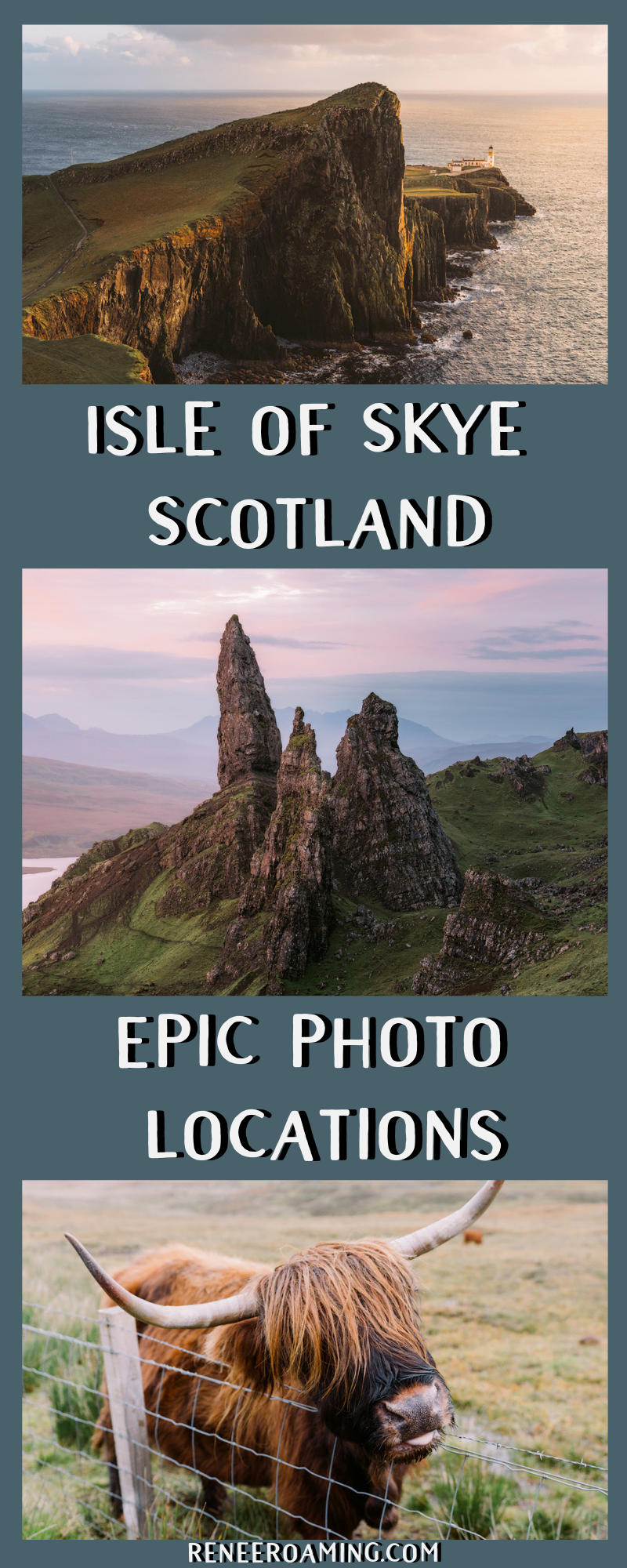 Disclaimer: This trip was in collaboration with the Sony Alpha Imaging Collective. As always, all opinions and thoughts are my own. This post does contain some affiliate links, which means if you buy something my blog will receive a small commission at no extra cost to you.