Find out what's in my camera bag!
Below you will find information and links to all the equipment I use – pretty much everything you could need to make epic travel photography and blogging content!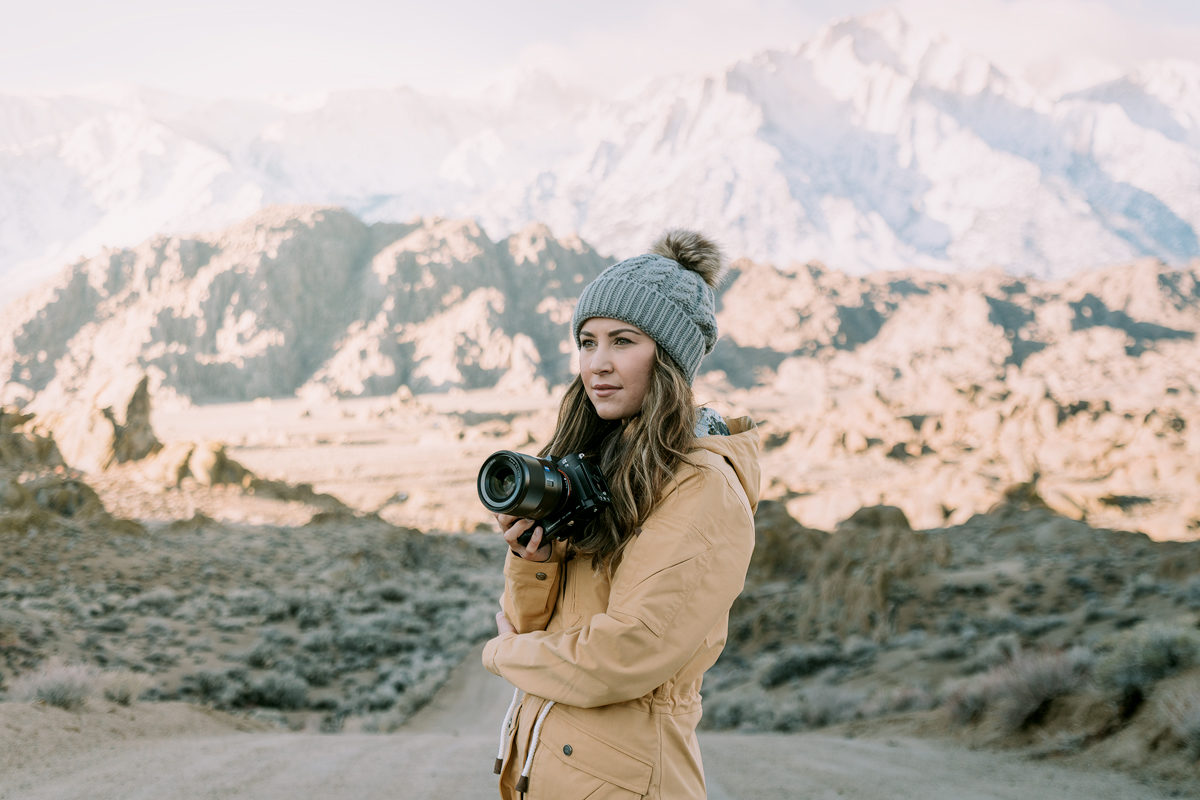 Thank you for all your support and for following my journey through social media and this blog!
travel photography & blogging gear
Note – you do NOT need every single one of these items to make incredible content. I started out with a basic DSLR + one lens and was still able to take photographs I was happy with. Also, I share the majority of this gear with my husband, Matthew Hahnel. Travel photography/content creation is currently our full-time profession and we are very thankful to be able to invest in such awesome photography gear.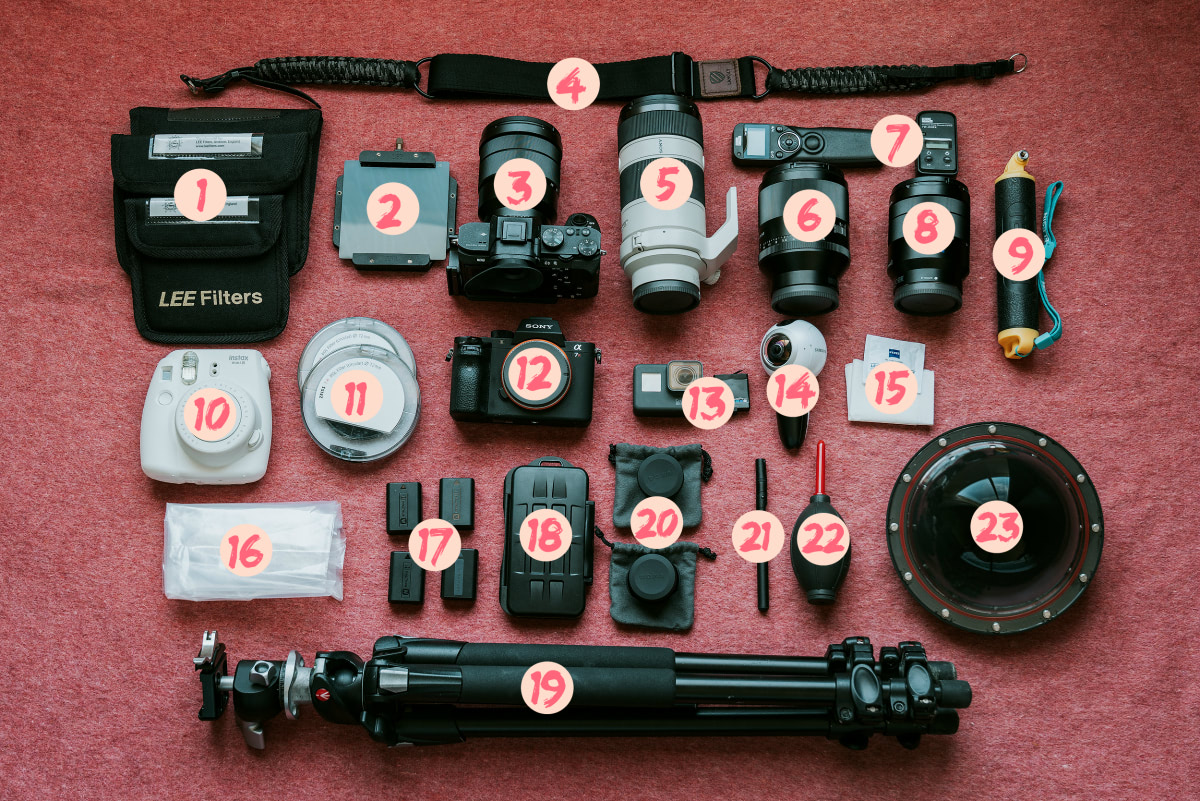 (click on the image for a larger view)
Lee Filters for longer exposures (e.g. waterfalls). The filters we own are the ND.6 Standard, ND.9 Soft Grad, and the Big Stopper 10 Stop
This is the filter holder I use, plus I have two different adapter rings
I mostly shoot with the Sony a7ii. Here you can see the Sony 16-35mm f/4 lens attached. UPDATE – I now shoot predominately with the Sony a7Riii and the Sony 16-35mm f/2.8 GM lens
I have the Langly Camera Strap  UPDATE – I now use the Peak Designs Leash Camera Strap
Sony 70-200mm f/4 lens. UPDATE – We now predominately use the Sony 70-200mm f/2.8 GM lens and the Sony 100-400mm f/4.5-5.6 GM lens
For portrait shots we will usually get out the Sony 50mm f/1.4, or the Sony 35mm f/1.4 lens.
Pixel Wireless Timer Remote Control (TW-283), how Matthew and I get our couple photos. Check out this blog post I made about it
My go-to lens is the Sony 24-70mm f/4. UPDATE – my new go-to is the Sony 24-70mm f/2.8 GM lens.
Fujifilm Instax Mini 8 Camera, just for some fun snaps!
I will use a Zeiss T* Polarizing Filter (circular) to cut the reflection in images or to allow for a longer exposure
My second camera body is the Sony a7Rii
GoPro HERO5 Black, for underwater photography
Samsung Gear 360° Camera, which we really only use when a client requests 360° images
Zeiss pre-moistened lens cleaning wipes (a life saver!) and some lens cleaning paper tissue
A lightweight camera rain cover
Lots of spare camera batteries!
Waterproof memory card holder to make sure our SD and micro SD cards stay safe
I use the Manfrotto 190XProB Tripod with the Really Right Stuff BH-25 Ball Head. UPDATE – I now use the Gitzo Traveler Carbon Fiber Tripod GT1545TUS
OOWA phone lens kit, including a wide angle and telephoto lens – used for Instagram stories
Lens pen to clean my camera sensor if required
Rocket blower for removing dust, sand and water from my lenses, sensor etc
Telesin Dome for our GoPro HERO5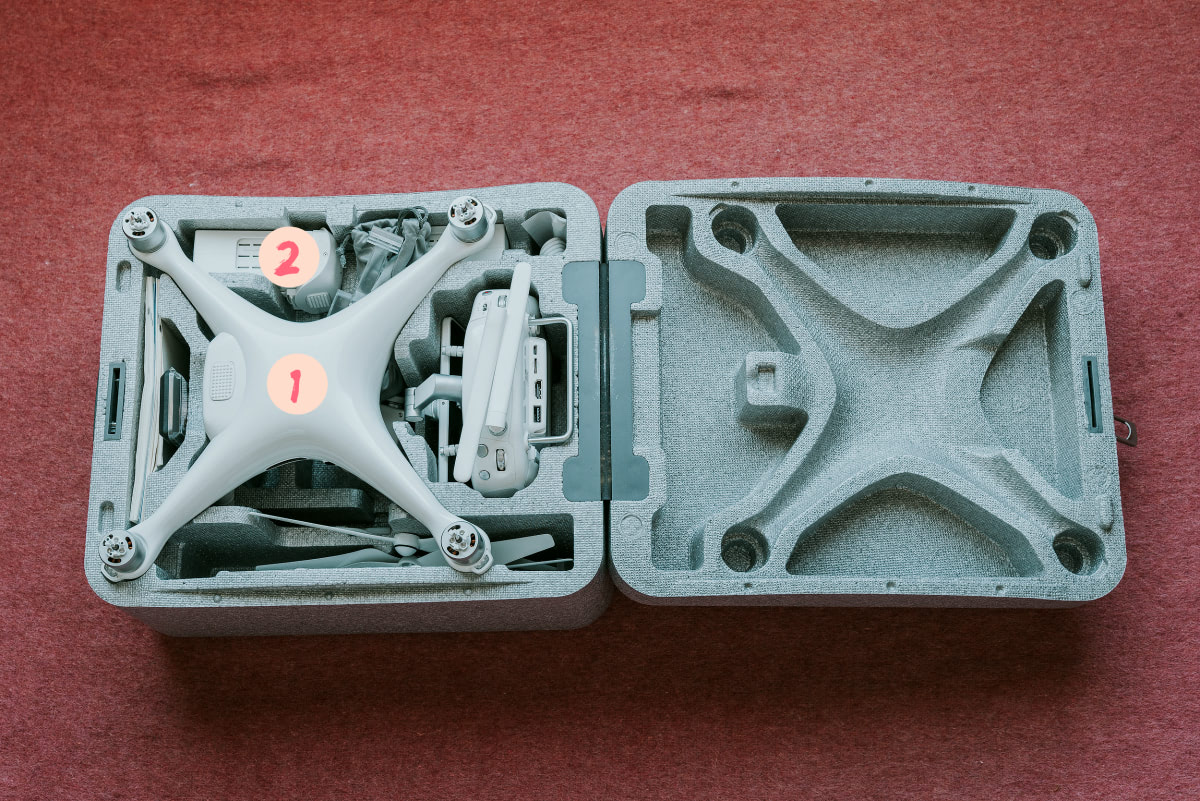 (click on the image for a larger view)
DJI Phantom 4 Pro+ Drone, which has the screen display
Spare batteries (quite a few as they only last 30 minutes each)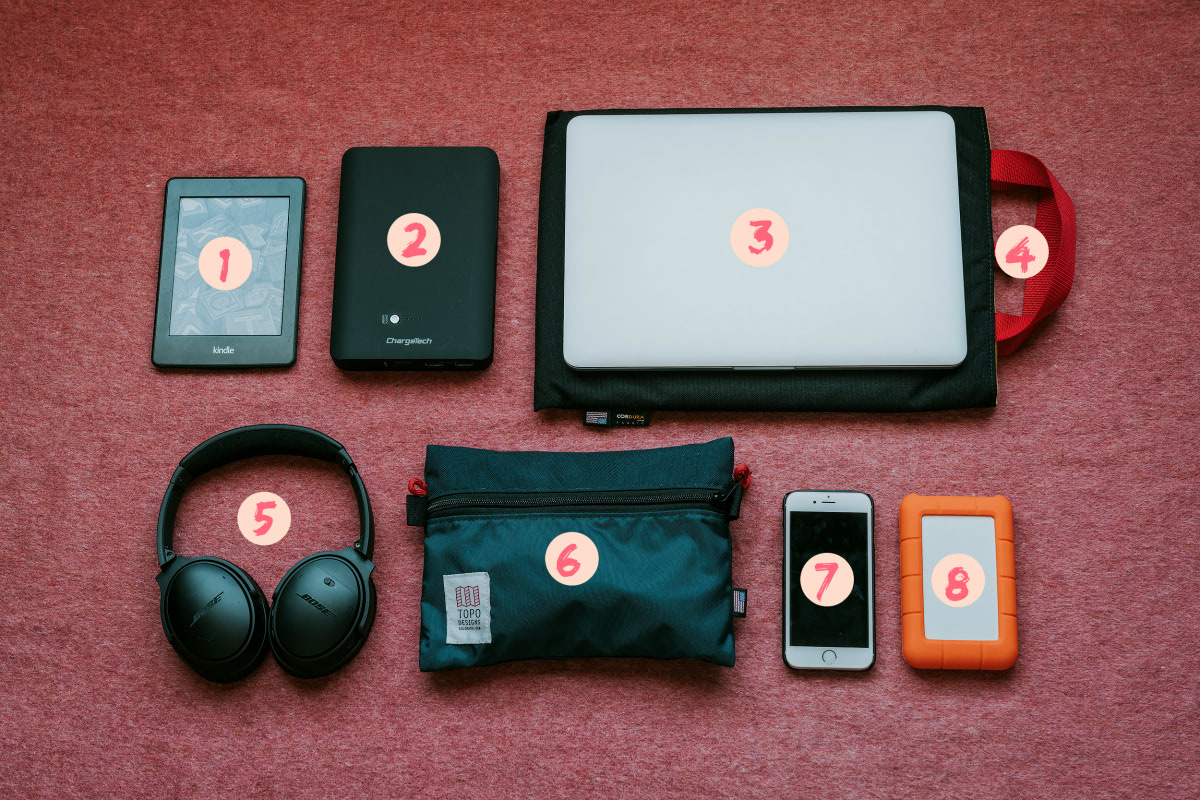 (click on the image for a larger view)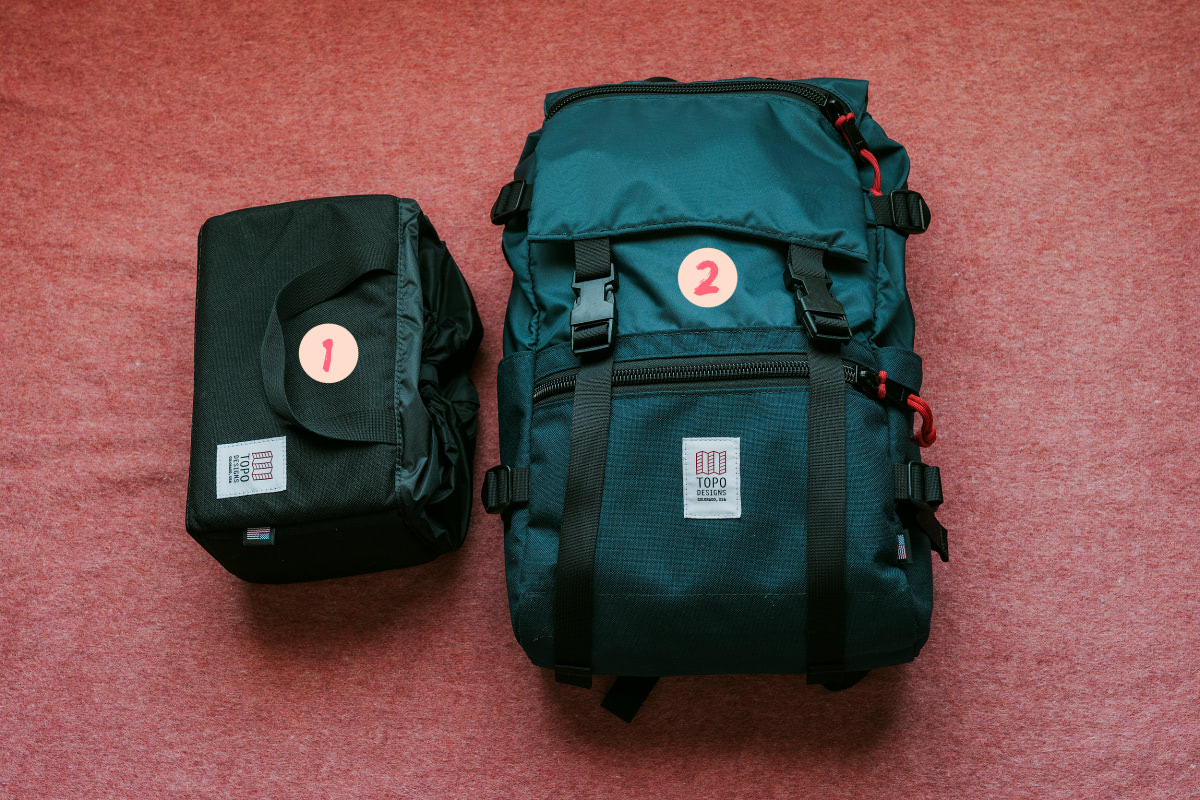 (click on the image for a larger view)
Topo Designs Camera Cube. I put this inside the Rover Pack and it can fit my camera and two smaller lenses inside
Topo Designs Rover Pack in navy. This is my every day go-to bag and I will use it for a camera bag when I only want to take a selection of my gear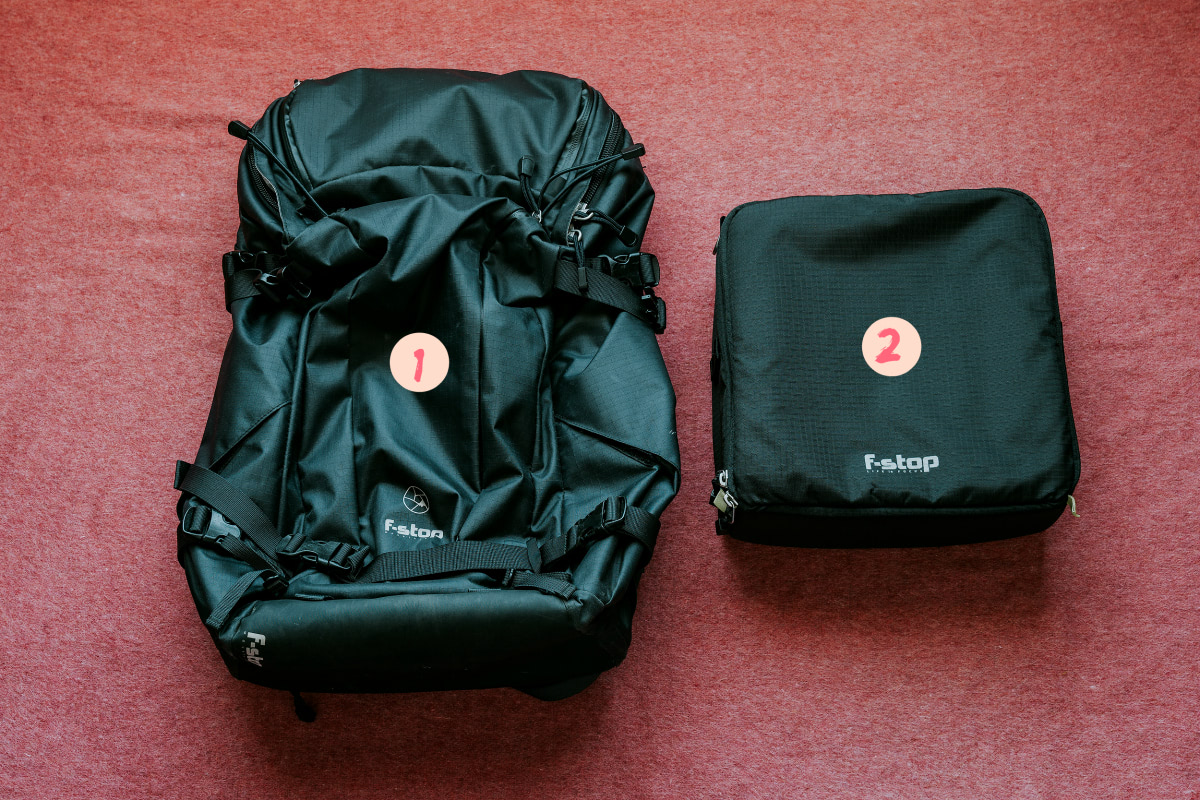 (click on the image for a larger view)
F-Stop Gear Ajna Bag. This 40L pack fits the pictured ICU (Internal Camera Unit) inside and my tripod strapped to the outside. Though, I do not recommend this bag for females or petite people, as the chest, back and hip straps are definitely not made to accommodation short frames or curviness… I am still on the lookout for the perfect camera bag! UPDATE – I have been recently using the WANDRD PRVKE 21 pack and loving it so far.
F-Stop Medium Shallow ICU. This padded case fits all my camera gear, keeping in mind that Matthew and I usually share carrying the 70-200mm and 50mm lenses
Not pictured – Our DJI Ronin-S that we just ordered for video stabilization.
PIN THIS!

SHOP MY GEAR!


Disclaimer – Some of the links used above are affiliate links, which essentially means if you place an order through those links, I get a teeny percentage of the order amount  (this won't cost you any extra, it just helps support my blog – thank you!) Also, a small amount of the gear mentioned above was gifted to me to try out, which I am obviously very grateful for. This is not a sponsored post, all opinions are my own.