Alaska is jam packed with incredible hiking trails and opportunities for backpacking. I know it's kind of cliche, but Alaska really does have an untamed wildness about it… and the state has some of the most rugged landscapes in the world. In saying that, you don't have to be Bear Grylls to have your own Alaska hiking experience! In this post I have listed 5 epic hikes and backpacking trips to consider for your next visit to the last frontier (plus some packing tips!)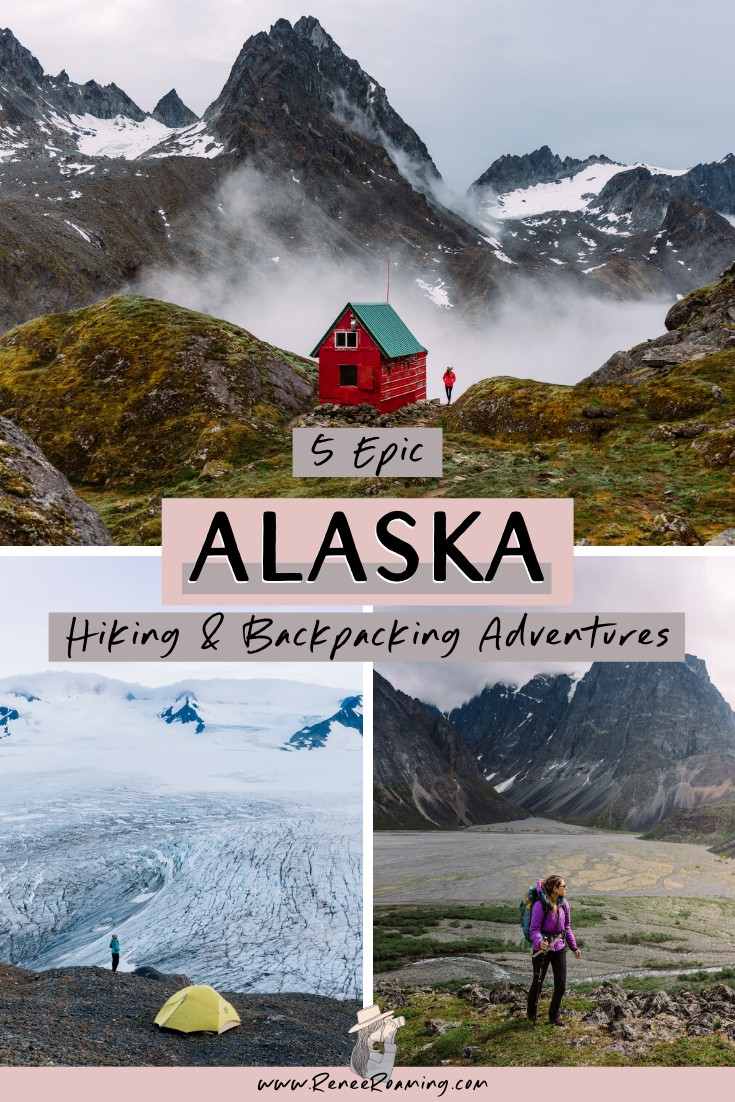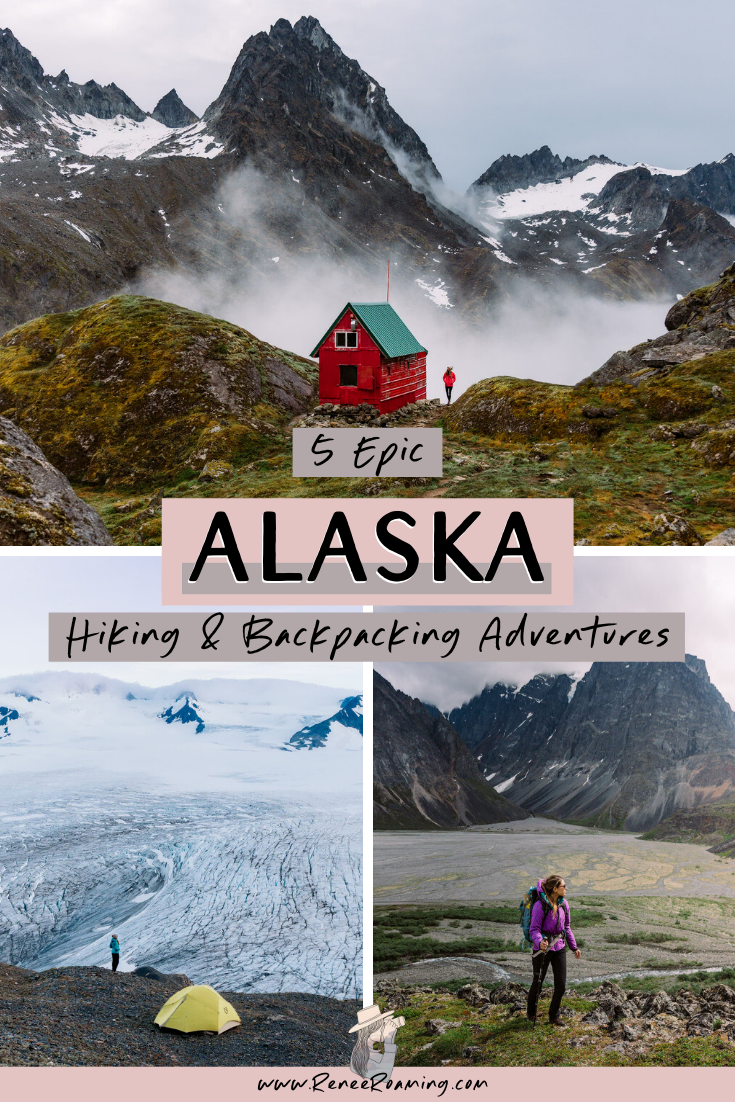 Sponsored by Nature Valley
5 Epic Alaska Hiking & Backpacking Adventures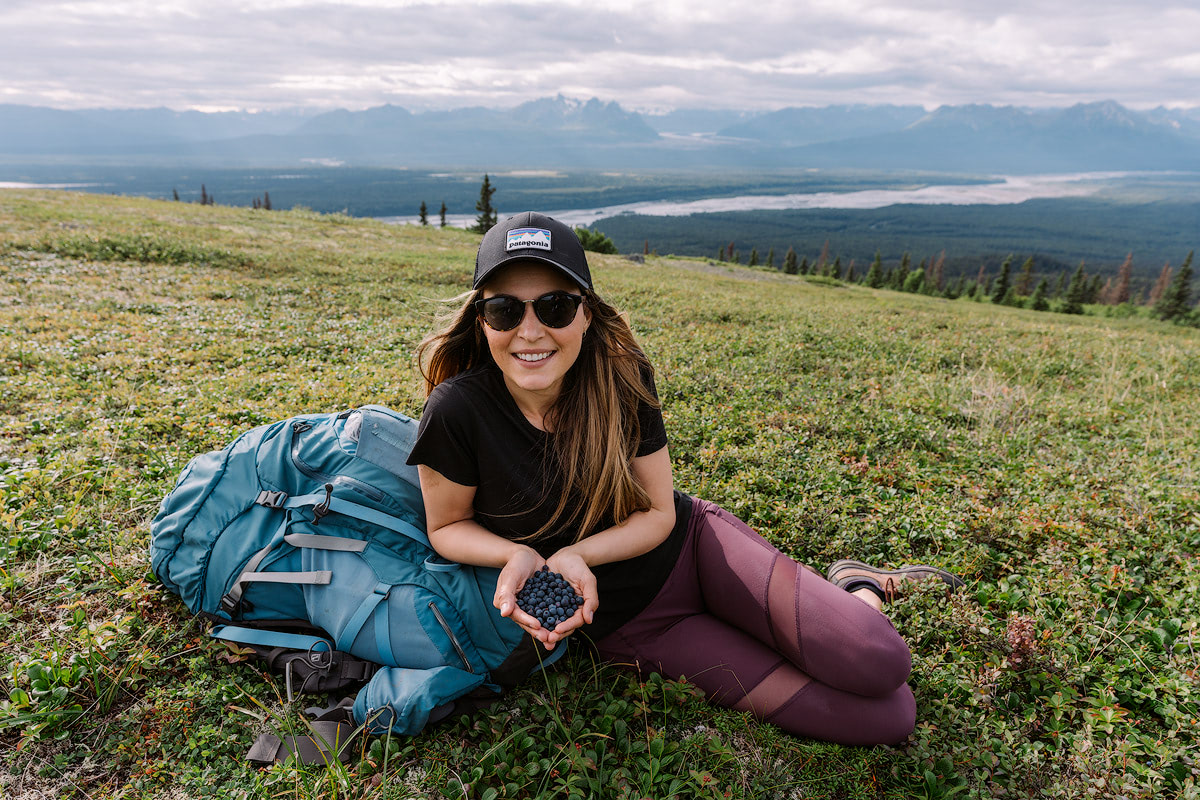 Curry Ridge, Denali State Park
Location: Curry Ridge Trailhead, Denali State Park.
Distance: 4 miles (roundtrip).
Elevation: 1100 feet gradual gain from the trailhead up to the ridge.
Parking: Costs $5 for a day pass ($10 overnight).
Camping: Yes, camping is an option on the ridge, though you must be at least half a mile from the lake (according to signage at the trailhead). Be sure to follow Leave No Trace principles. There is also a fairly new and really nice campground right where the hike leaves from – K'esugi Ken Campground (including RV and tent campsites).
Details: Curry Ridge Trail is a picturesque and relatively short hike that only officially opened in 2017. Leaving from the day use parking area at K'esugi Ken Campground, the trail gradually climbs up to the ridge along a well-maintained path. From Curry Ridge, hikers are treated to spectacular views overlooking the Chulitna River and the entire Alaska Range to the west, plus beautiful Lake 1787 to the east. On a clear day Denali (20,310 feet) can be seen, though we weren't fortunate enough to catch a glimpse during this visit.

---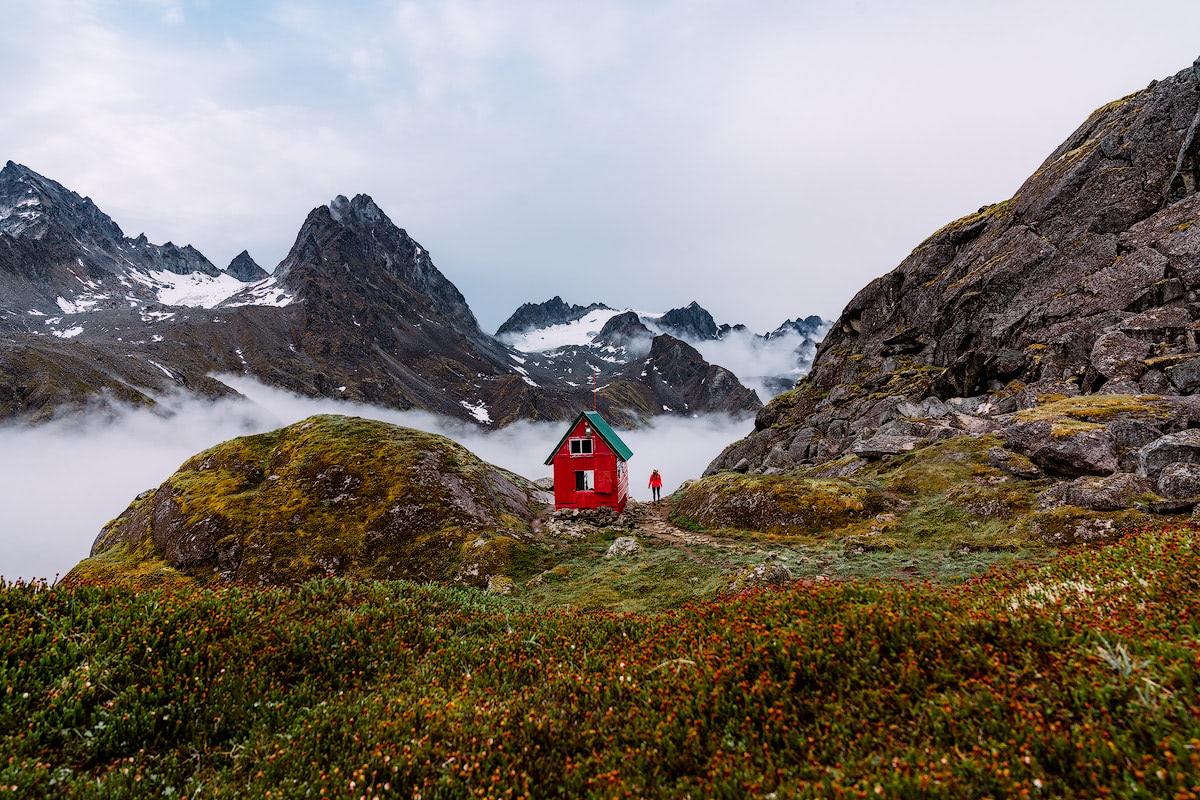 Mint Hut, Talkeetna Mountain Range
Location: Gold Mint Trailhead, Talkeetna Mountain Range.
Distance: 18 miles (roundtrip). Note, some websites report 16 miles roundtrip but we clocked 9 miles each way on MapMyHike and Gaia, without going off-trail.
Elevation: 2500 feet gain, gradually at first then the last 1,000 feet is quite steep and rocky.
Parking: Costs $5 for a day pass ($10 overnight).
Camping: Yes, camping is available in the hut or you can bring a tent (we opted to bring our tent, presuming we wouldn't be the only visitors). The hut is first-come, first-serve and you must be a member of the Mountaineering Club of Alaska ($20/person annually). The hut has a two-burner stove (BYO white gas), a composting toilet and sleeping room for 8 people. Be sure to follow Leave No Trace principles.
Details: The Gold Mint Trail can be approached as a very long day hike, an overnighter, or even a multi-day trip. We opted to stay one night nearby Mint Hut though we did meet people who were continuing on further to Bomber Hut. Plus, we met some people who were only hiking the first 4 miles or so to enjoy views of the Little Susitna River – so you can make this hike whatever you want!
Most of the trail follows along a glacial valley with the Little Susitna River flowing through the middle. We stopped numerous time to marvel at the blue water, lush vegetation and wildflowers. Be prepared for sections of bush-whacking, walking through streams and sections of mud (mostly towards the end of the valley).
As you near the end of the valley you will start heading up the steep mountainside into a bowl overlooking Mint Hut and the Talkeetna's. When the fog cleared it was truly incredible to witness the 360-degree views of jagged peaks, boulder fields, waterfalls and streams. During our visit we also opted to explore some lakes above the hut, namely Jewel Lake and Moonstone Lake, and beautiful Mint Glacier (from the base of Moonstone Lake). Check out this detailed map for more information.

---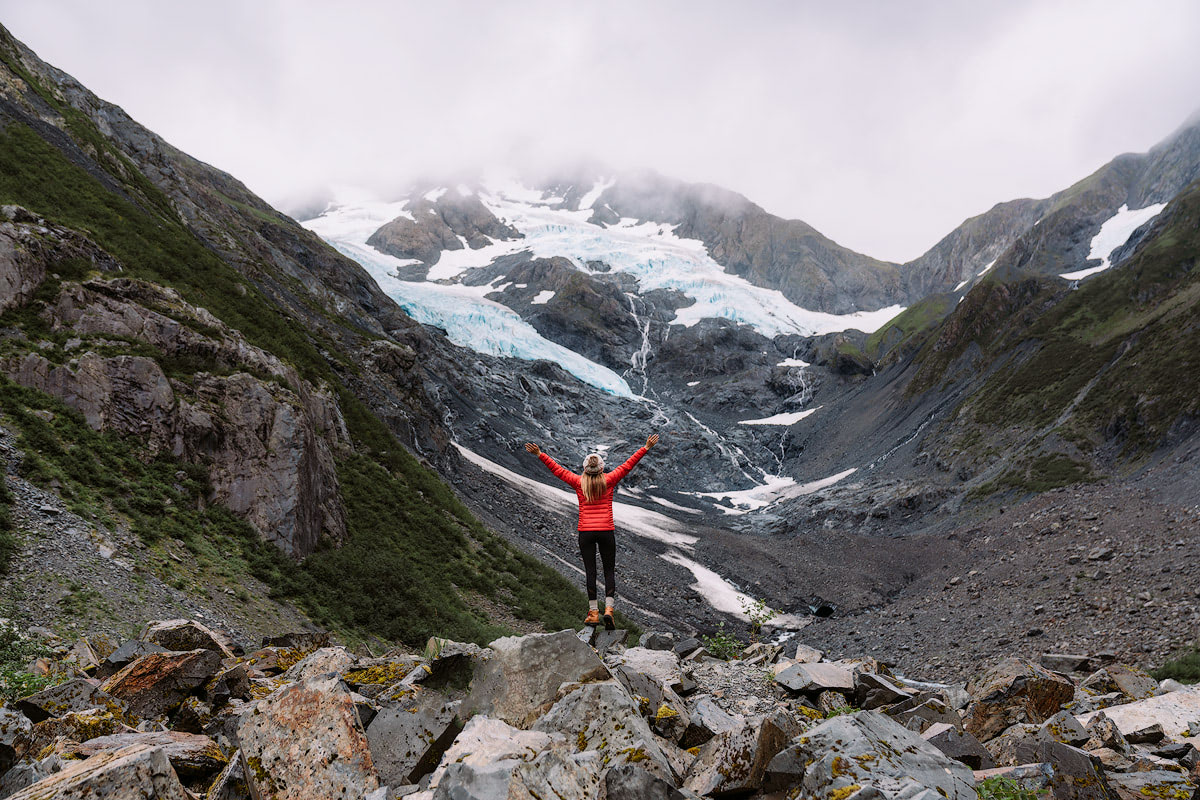 Byron Glacier, Chugach National Forest
Location: Byron Glacier Trailhead, Chugach National Forest.
Distance: 2.8 miles (roundtrip) to the viewing area. Option to continue further though not advised by the USDA (due to melting snow and ice).
Elevation: 100 feet gain; overall a very flat trail.
Parking: Free, at trailhead.
Camping: Not along the trail itself, though we were told it may be possible higher up on a ridge (off trail) – please check with local rangers first. We opted to camp at nearby Williwaw Campground ($18 a night).
Details: This easy day hike offers beautiful glacial views and a well maintained gravel trail. The trail weaves through lush alder/cottonwood forest alongside Byron Creek, with numerous off-shoots to explore the water. The trail comes out at a viewing area in front of a large glacial moraine. From there it is "explore at your own risk" as the USDA reports risks involved with melting ice and snow. We really enjoyed this short hike and it made for a less strenuous adventure compared to others listed in this blog post.
RELATED: Beginners Guide to Hiking
---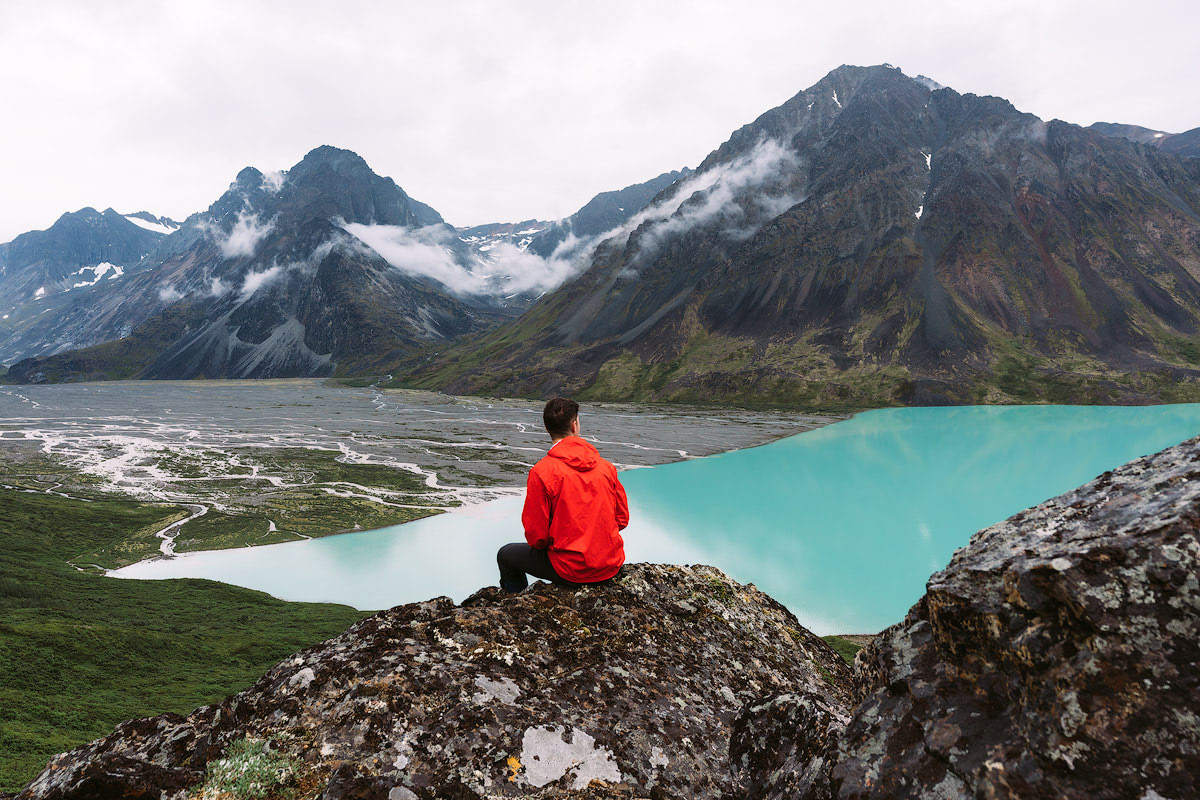 Telaquana & Turquoise Lakes, Lake Clark NP
Location: Lake Clark National Park, southwest of Anchorage.
Distance: depends on the trip! (more information below)
Camping: Yes, though be sure to follow Leave No Trace principles.
Details: During our Alaska hiking adventure we opted to spend a week exploring the wilderness of Lake Clark National Park. Full blog post coming soon, but in short we essentially flew into Telaquana Lake, hiked over to Turquoise Lake and then base-camped there for a few days. We had planned to extend our route to Twin Lakes but circumstances didn't allow for it.
Our trip was guided by Expeditions Alaska and I wouldn't recommended venturing into the park without a guide or solid knowledge and of the area and adequate route finding skills. Keep in mind that the park doesn't have any marked or maintained trails and most routes involve bushwhacking and stream/creek/river crossings. Watch this space for a more in-depth blog post on our trip!
RELATED: Get a Good Nights Sleep When Backcountry Camping
---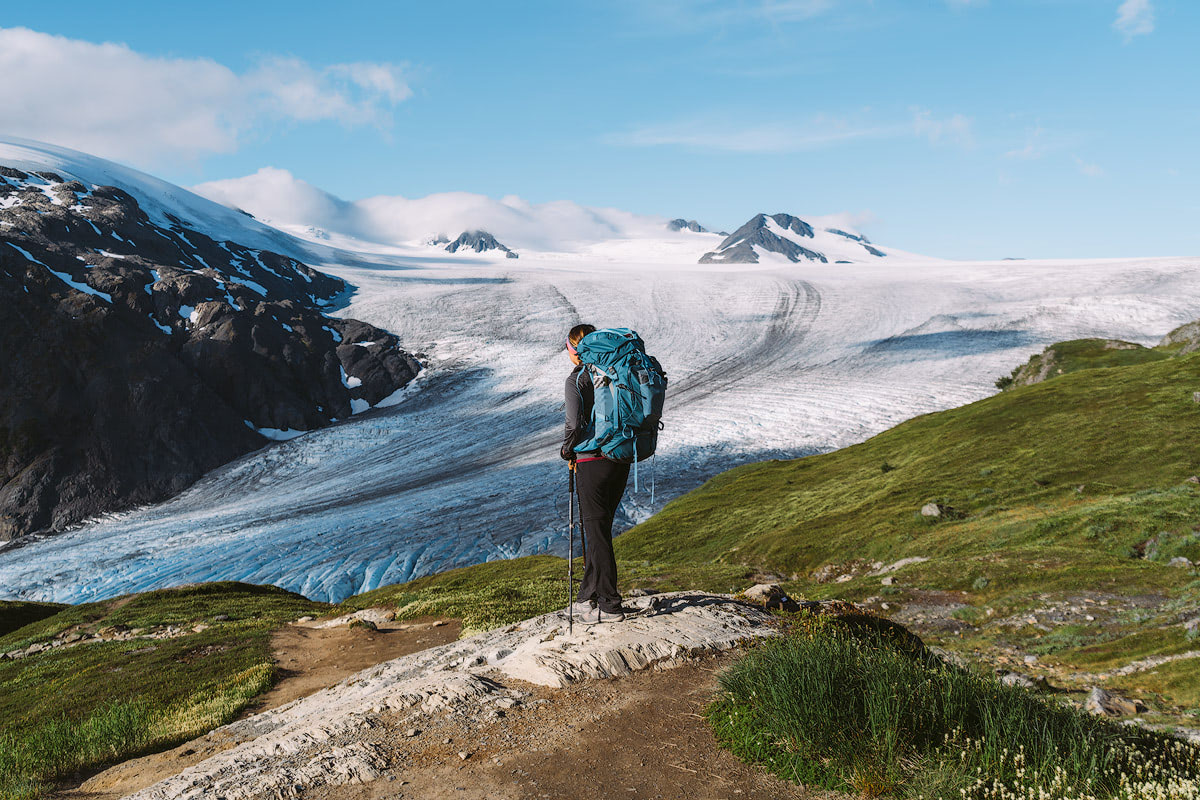 Harding Icefield, Kenai Fjord NP
* We hiked this trail in the summer of 2017, during our National Parks Road Trip. It was just too beautiful not to include in this post! Still one of my favorite hikes to date!
Location: Exit Glacier, Kenai National Park
Distance: 8.2 miles (roundtrip) + you will have to walk the Exit Glacier Paved Path to access the trailhead, adding approximately 1.5 miles overall.
Elevation: 3800 feet of gain (be prepared, this is a steep one!)
Parking: free, at the Exit Glacier parking lot.
Camping: Yes, along the Harding Icefield Trail corridor, though you must be a decent ways from the trail on bare rock or snow. Be sure to follow Leave No Trace principles.
Details: The magnificent Harding Icefield is the jewel of Kenai Fjords National Park (at least in my opinion!) From this massive 700-square-mile icefield, countless tidewater glaciers pour down, carving fjords and icebergs. Over 30 glaciers of different size and type flow from the Harding Icefield, with some terminating in lakes (e.g. Skilak Glacier), some ending on land (e.g. Exit Glacier), and some being tidewater (e.g. Aialik Glacier). The Icefield may be a remnant of the Pleistocene ice masses that once covered half of Alaska.
Spectacular views of the Icefield can be gained via hiking the 8.2-mile roundtrip Harding Icefield Trail, either as a day-trip or to camp overnight. This strenuous trail gains approximately 1000 feet every mile and should only be attempted by relatively fit and prepared visitors.
The hike provides breathtaking views of Exit Glacier, cottonwood and alder forests, heather filled meadows and of course the ginormous Harding Icefield. The top of the trail provides a horizon of ice and snow that stretches as far as the eye can see. We had a wonderfully peaceful (and chilly!) night camping by the Icefield, something we would do again in a heartbeat.

---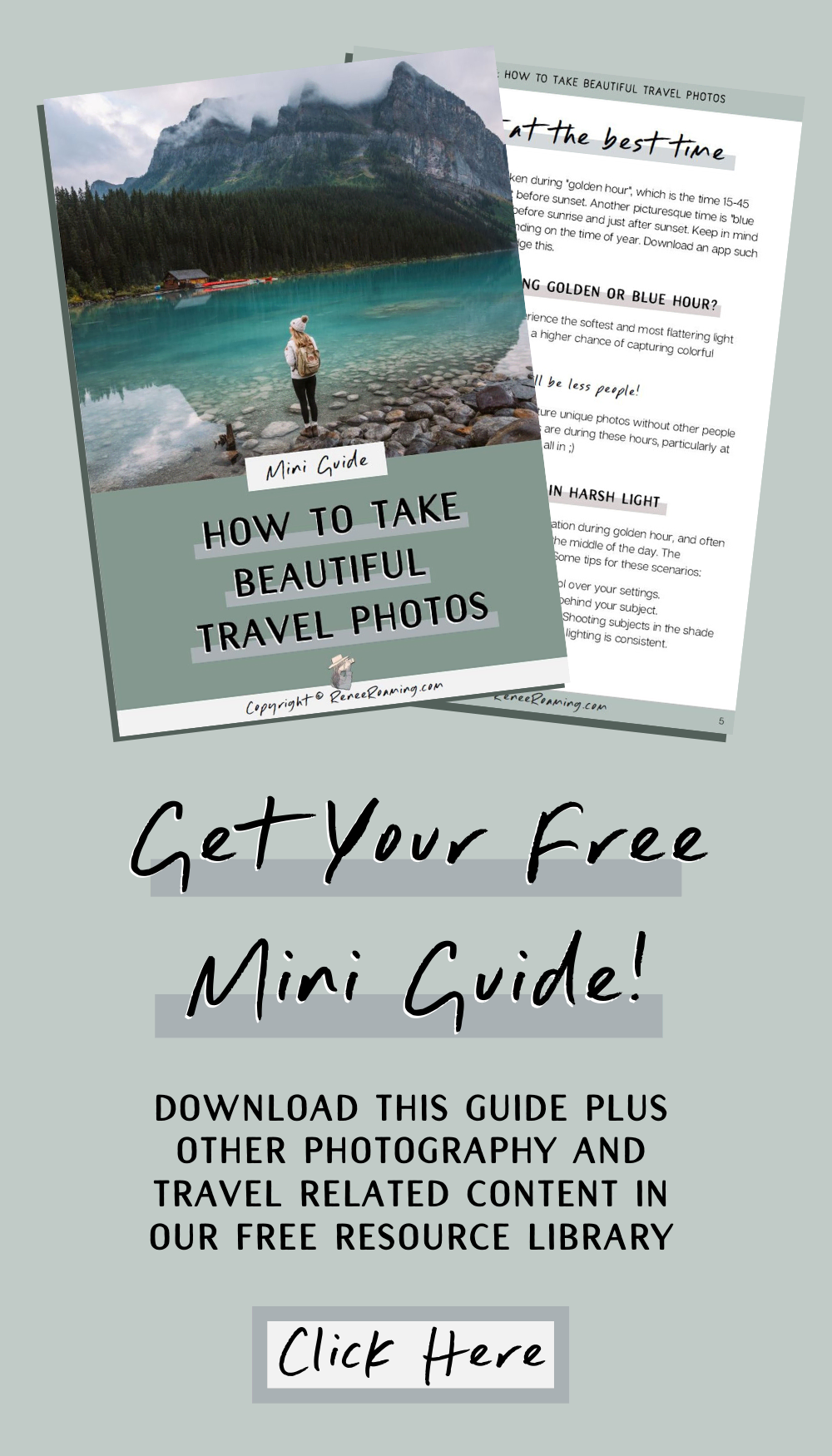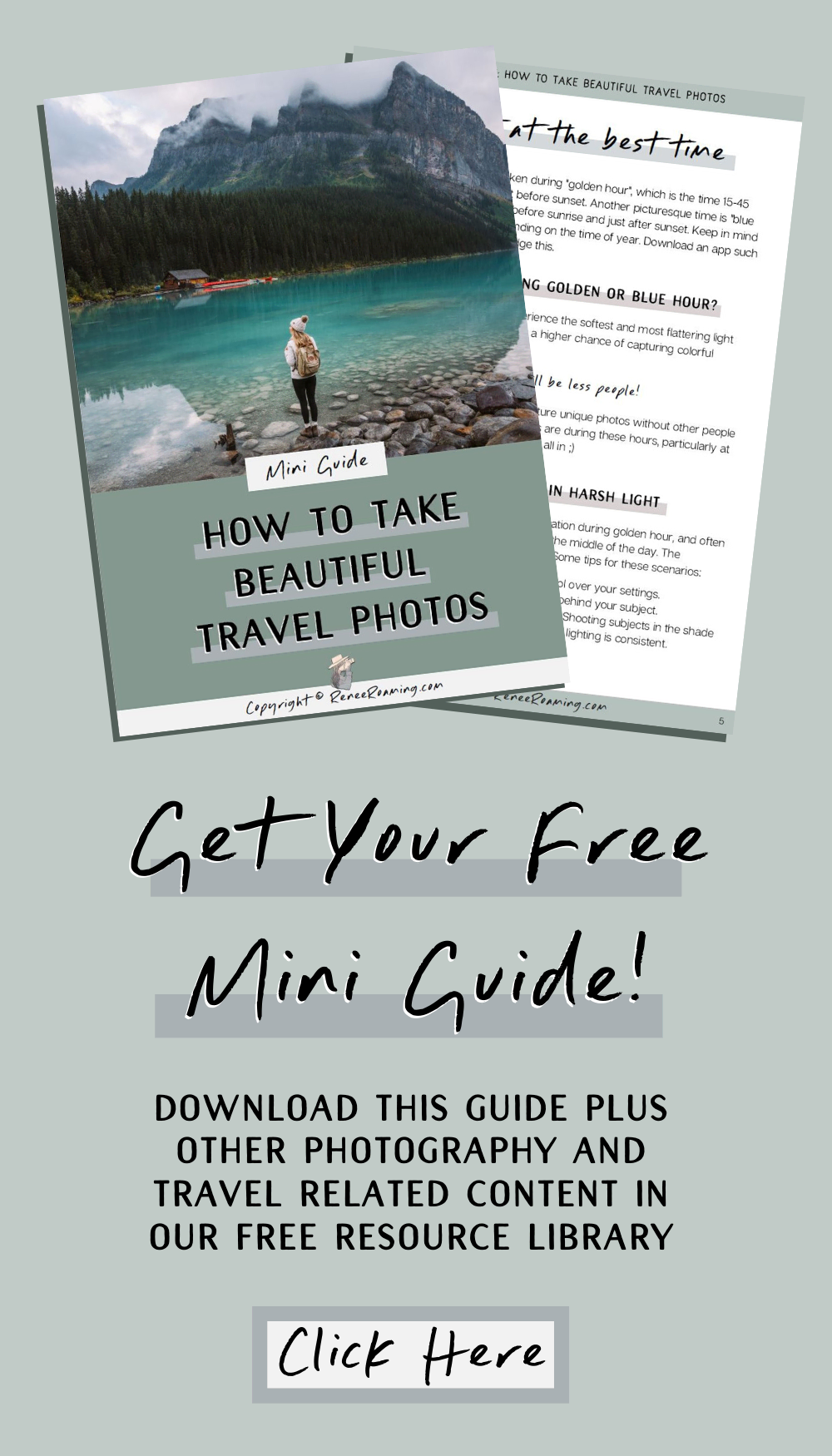 ---
Alaska Hiking Packing Tips
Alaska hiking and backpacking can be more rugged compared to other popular places in America (in my experience). Often there aren't "trails" as such and some bush-whacking might be involved. It's also important to be prepared for rain and sub-optimal conditions. Be prepared for temperatures ranging from 30° to 80° F (-1° to 27° C) in the summer months. Here are some items that are recommended:
Rain jacket and pants
Sturdy waterproof hiking boots
Warm layers (insulated jacket and fleece) – avoid cotton
Quick dry hiking pants (avoid shorts on brushy hikes)
Quick dry long sleeve hiking top (to protect from sun, bugs and brush)
Sun hat + warm hat/beanie
Gloves (a waterproof cover/layer would also be optimal)
Wool or synthetic hiking socks
Backpack large enough for your gear, with rain cover (or a dry sack inside
Ankle/knee height gaiters (optional but I found them to be very handy)
Trekking poles
Insect repellent
Mosquito head net
Sunscreen
Sunglasses
Map, compass or GPS device
Emergency gear, such as small first aid kit, knife and a signaling device such as a whistle
Camera/phone with waterproof case or dry bag
Bear spray
Snacks (we love the Nature Valley Sweet & Salty Bars!)
You can check out my Beginners Guide to Hiking for more advice on gear recommendations!
Additional if planning to camp:
Bear Resistant Food Container (BRFC)
Dense, high-calorie food that fits in the Bear Resistant Food Container
Long underwear
Stove, fuel, and cookware
Water bottles/bladder
Water filter or purifying tablets (also good for longer day hikes)
Toilet paper, trowel and a bag for used toilet paper
Tent with rain fly and waterproof floor
Sleeping bag and pad (protection to 20° F/-7° C is suggested even in summer)
Sleeping pillow (or you can use your jacket
A change of shoes for camp to change out of wet boots
Toiletries such as toothbrush, hand sanitizer, and lip balm
Check out my Beginners Guide to Backcountry Camping for more gear information!
---
Leave No Trace
If you're going to be out in nature, it's important that you strive to protect it and follow Leave No Trace principles. Please be sure to educate yourself on proper hiking and camping etiquette before heading out. Find out more information via the Leave No Trace Center for Outdoor Ethics or read my in-depth blog post on the subject.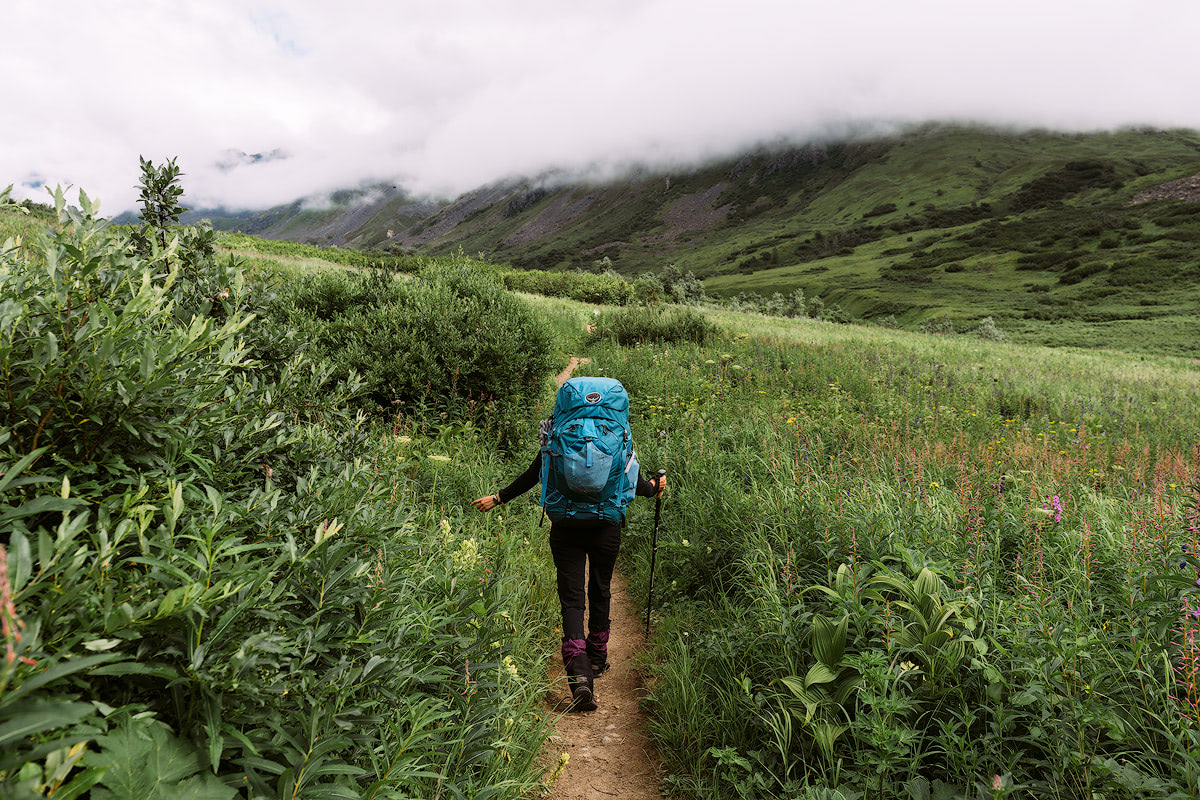 ---
I hope you found this article to be helpful! Here is a little video I put together from our adventure.
---
Hiking and Camping Tips
A Beginners Guide to Backcountry Camping
How To Get Over Your Fears of First Time Backcountry Camping
9 Tips for Getting a Good Nights Sleep When Camping
Eco-Friendly Outdoor Hygiene Tips for Every Hiker and Camper
Top Tips for Sleeping in Your Car on Road Trips
---
PIN for later!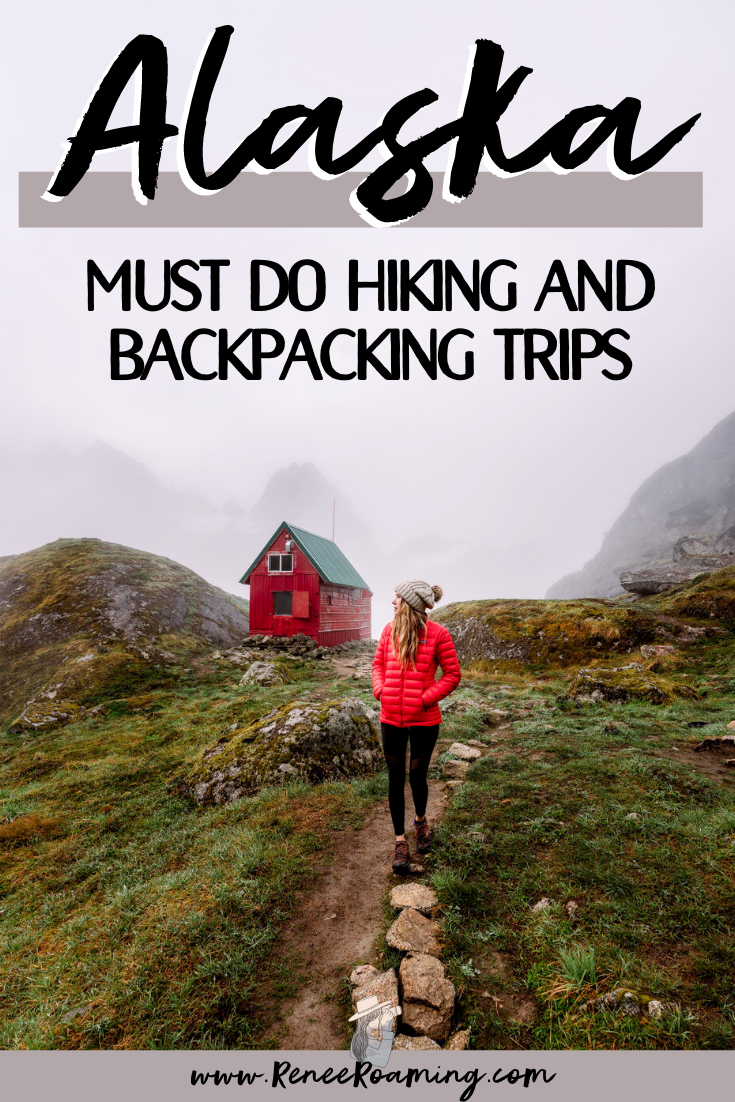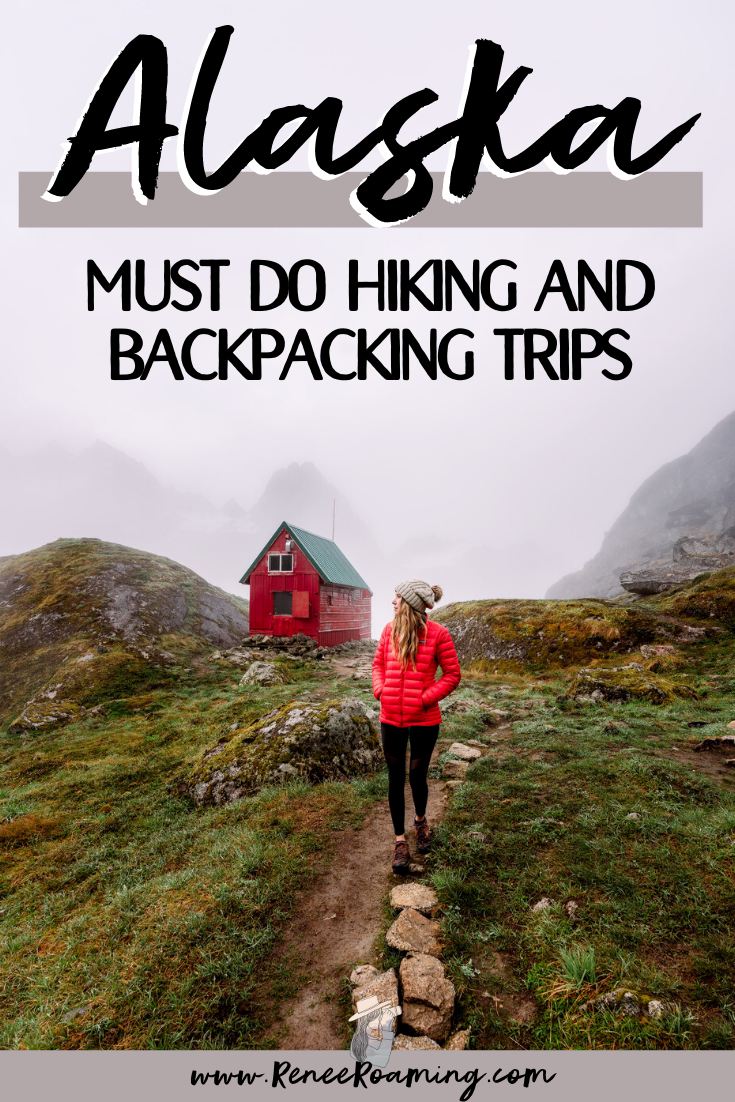 ---
Disclaimer: Thank you again to Nature Valley for partnering on this Alaska hiking post. As usual, all opinions are my own and unbiased.