I just returned home from an epic 3 day trip to Moab with the amazing Backcountry crew. They hosted a small group of adventure lovers in Utah for a #StokeSeries event focused around trying new things and getting out of our comfort zones. In fact, I got to attempt desert climbing and biking for the first time and it was quite the experience! Spoiler alert: the 3 days involved loads of laughing, smiling, sweating, and maybe a couple of tears.
Experiencing Desert Climbing and Biking for the First Time – Moab, Utah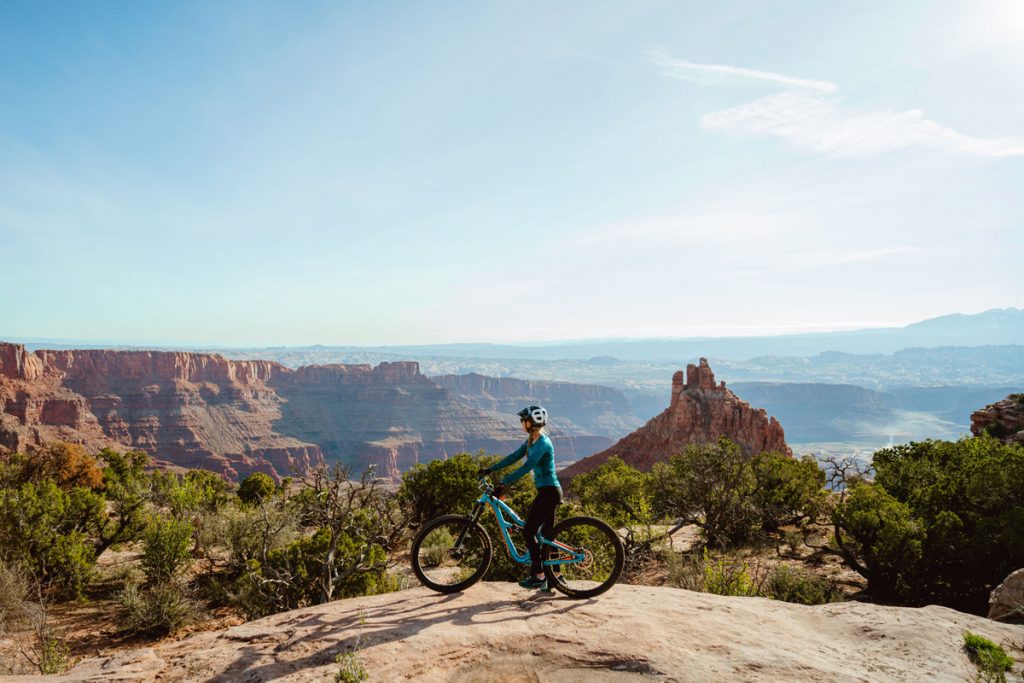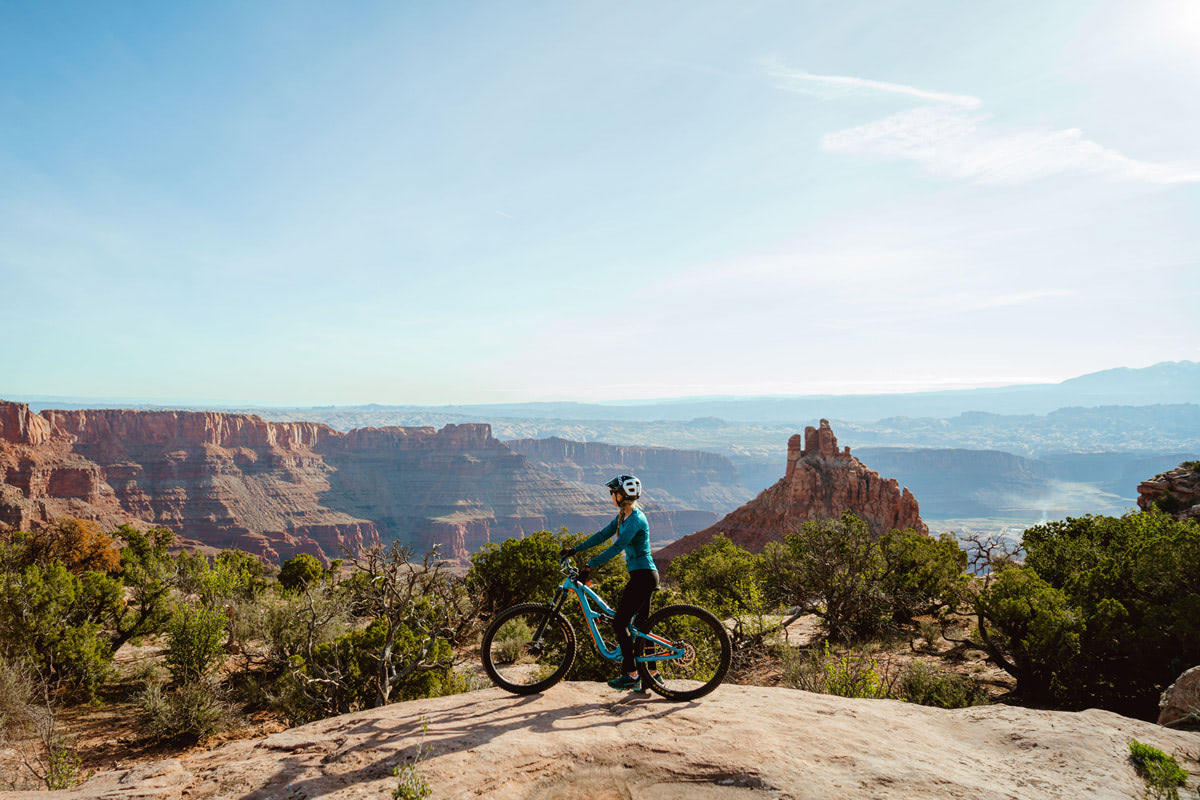 Backcountry's Stoke Series is a year-long series of events happening across the country, with each one designed to fuel your outdoor passions. The best part is 100% of the event registration fee goes towards the Wildland Firefighter Foundation in honor of the men and women working to protect our public lands and homes. Find out more info about Backcountry's Stoke Series here.
Backcountry has also kindly offered my readers 15% off your first order to help you gear up this spring – use code RENEE15 at checkout!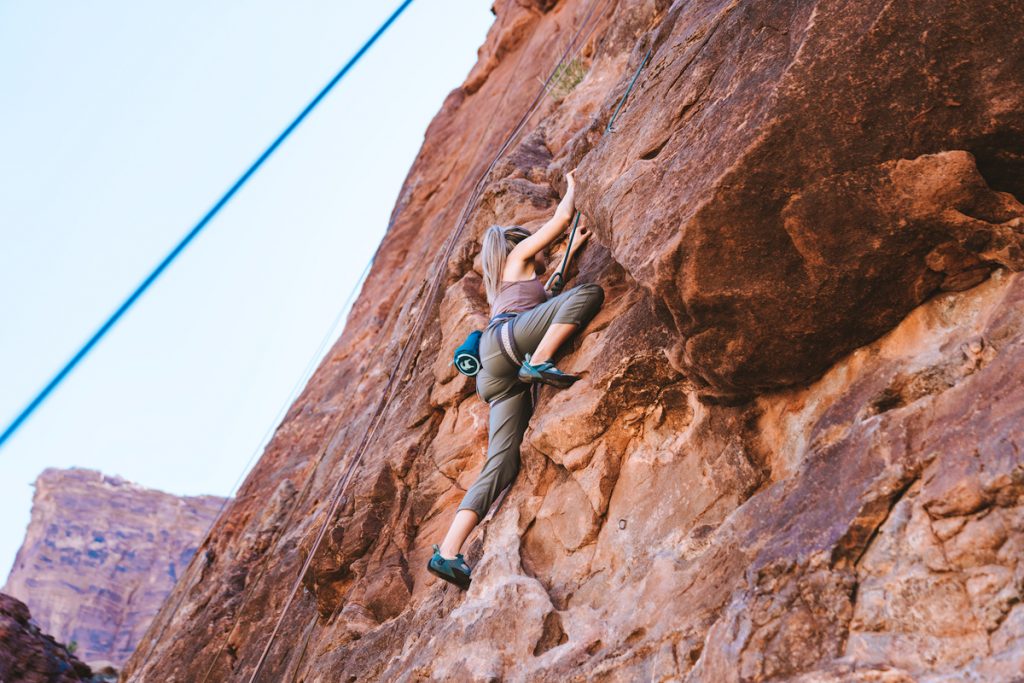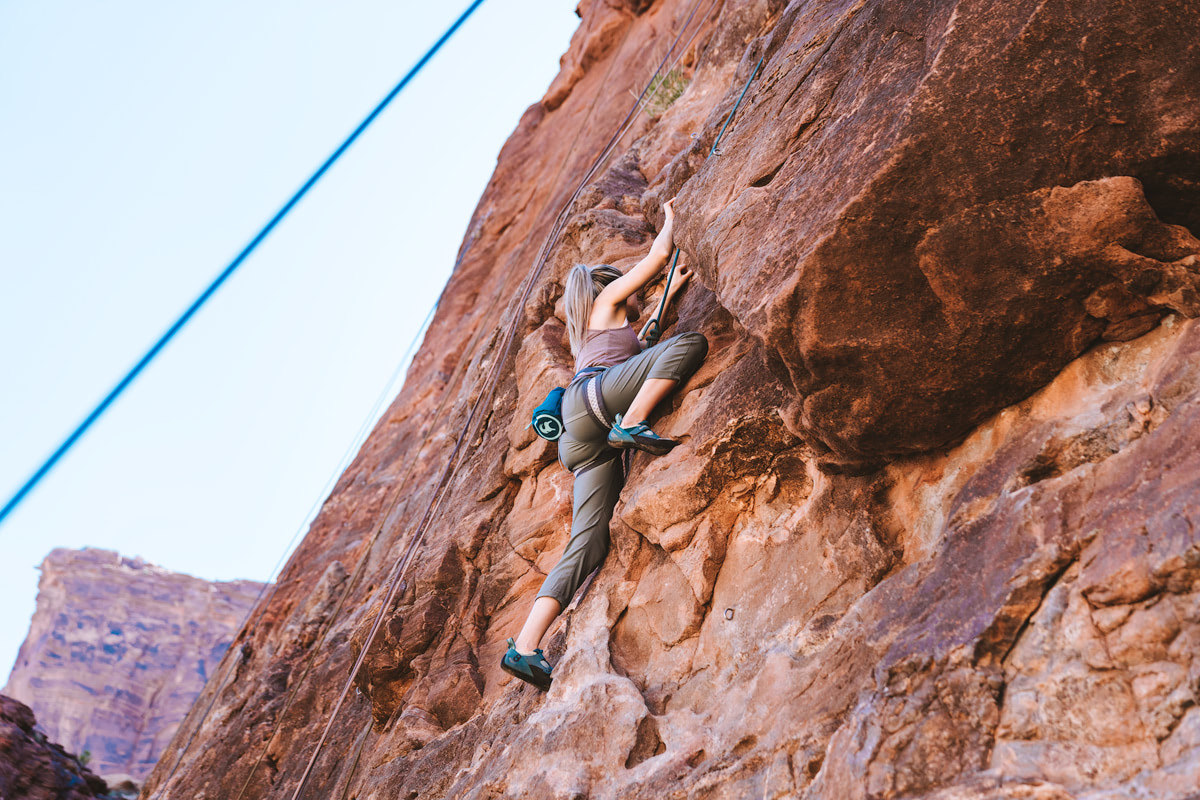 Desert Rock Climbing in Castle Valley
I'm not going to lie… I was extremely nervous about rock climbing outdoors for the first time. Our group consisted of a good mix of climbing newbies and those who had more experience, but there is always that fear that you'll be the only person who can't do something! To top it off, we had one of the world's leading climbers guiding us for the day – the amazing Steph Davis.
So off we headed to 'The Theatre' just outside of Moab, some of us shaking in our boots (me!) and others pumped to get back out climbing. Backcountry made sure we had all the required gear and I was so excited to be able to try out their new climbing range. I opted for the Double Dyno Climbing Pant and Coral Bells Tech Tank, along with a harness and oh-so-snug climbing shoes (I have NO idea how people spend so many hours in climbing shoes…)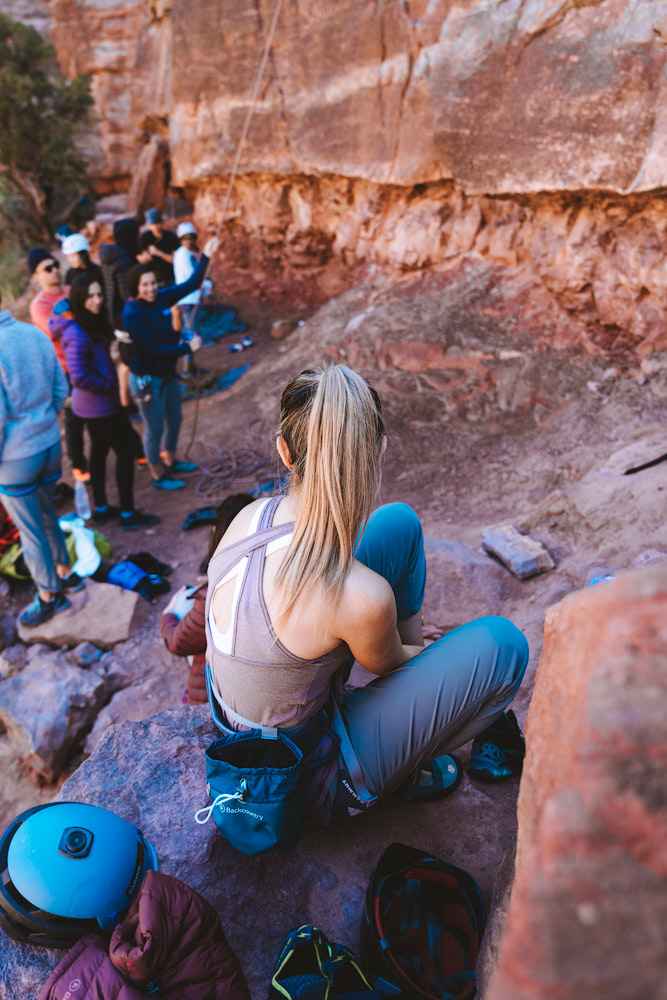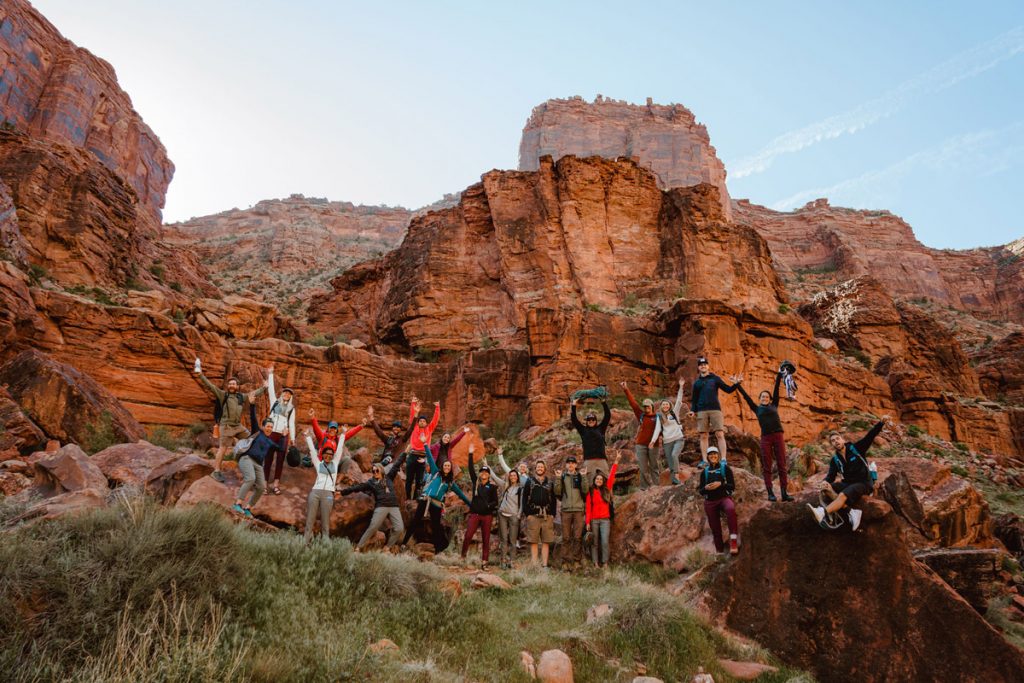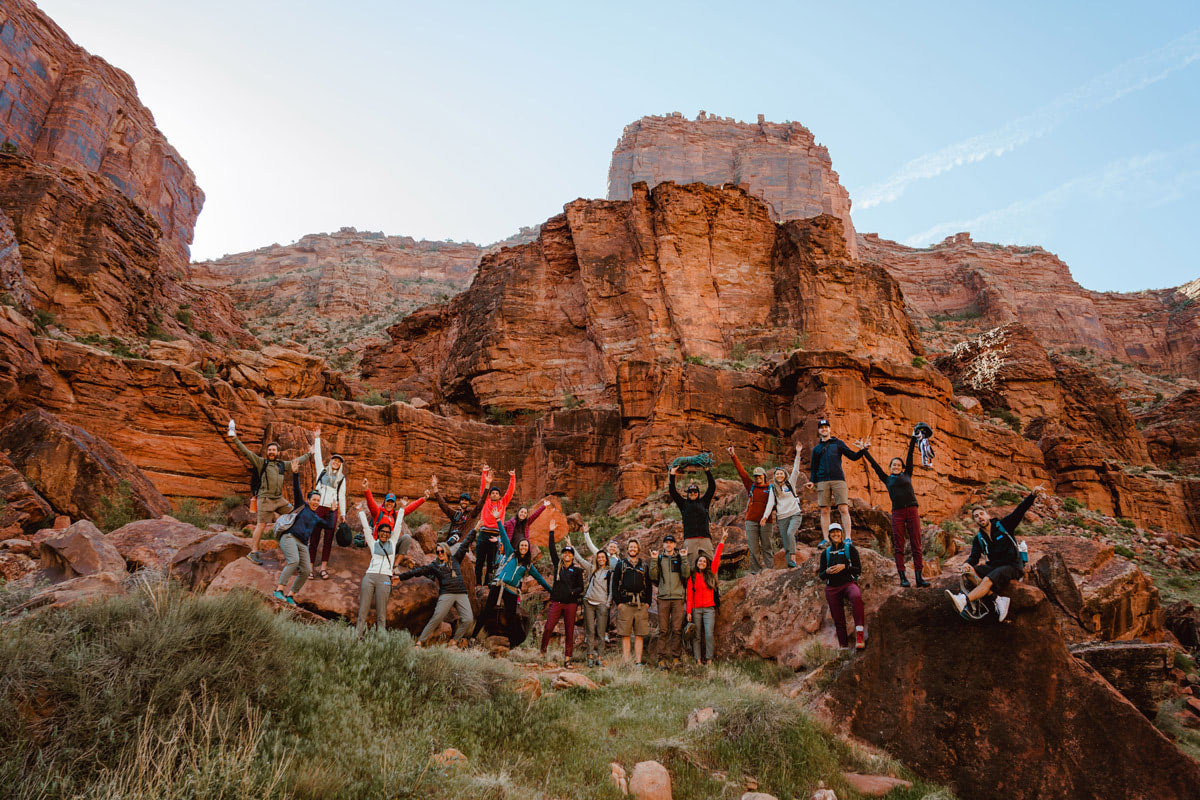 So as you can see by the photos, I was successfully able to get it together enough to rock climb up a 5.7 category wall.
I can report that I was super shaky, sweaty and absolutely psyching myself out with the fear of falling. The group was extremely supportive and encouraged me to go as far as I felt comfortable. I ended up getting to a point where the hand and footholds were much smaller and further apart and that's when I opted to belay back down. I was slightly teary-eyed and shaky on touching down but also proud of myself for giving it a go!
Things I learned from my rock climbing experience:
It's totally okay to not reach the top (cliche, but just giving it a try is what's most important)
The first time leaning back off the wall (to belay down) is pretty dang terrifying haha!
A 5.7 category is considered more "intermediate" and I may have been better giving a 5.1-5.4 rating a try first
Climbing with people who know what they are doing is vital for your safety and also the best way to learn the ropes (pun intended, I literally had to learn how to tie my own knots)
Stretchy pants and a nonrestrictive top is key to being able to move freely on the wall and stay comfortable all day.
WHAT TO WEAR ROCK CLIMBING: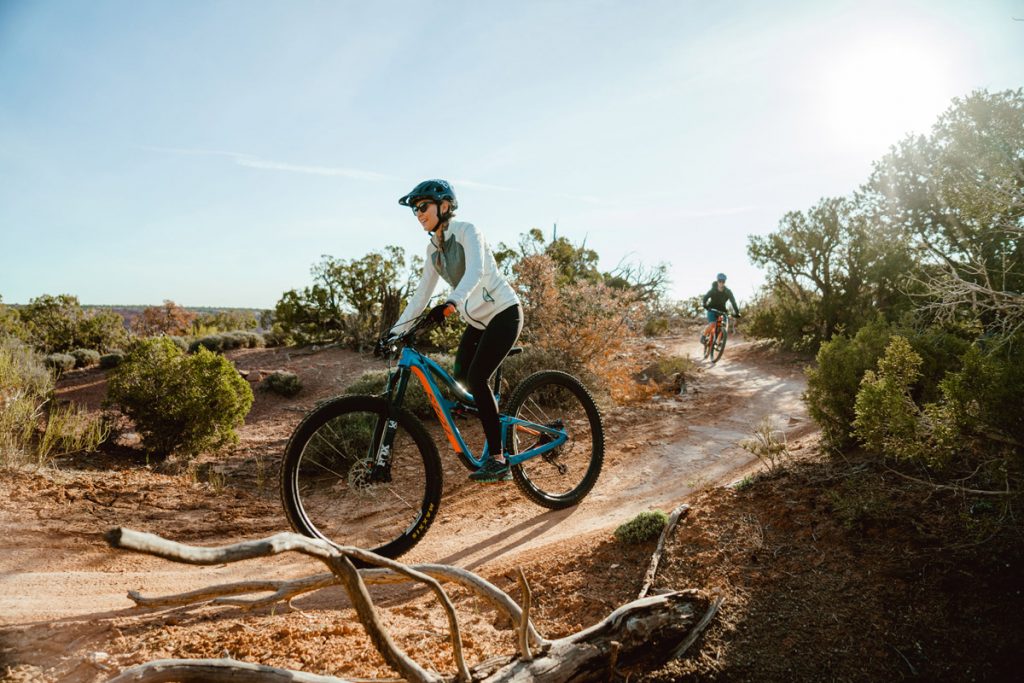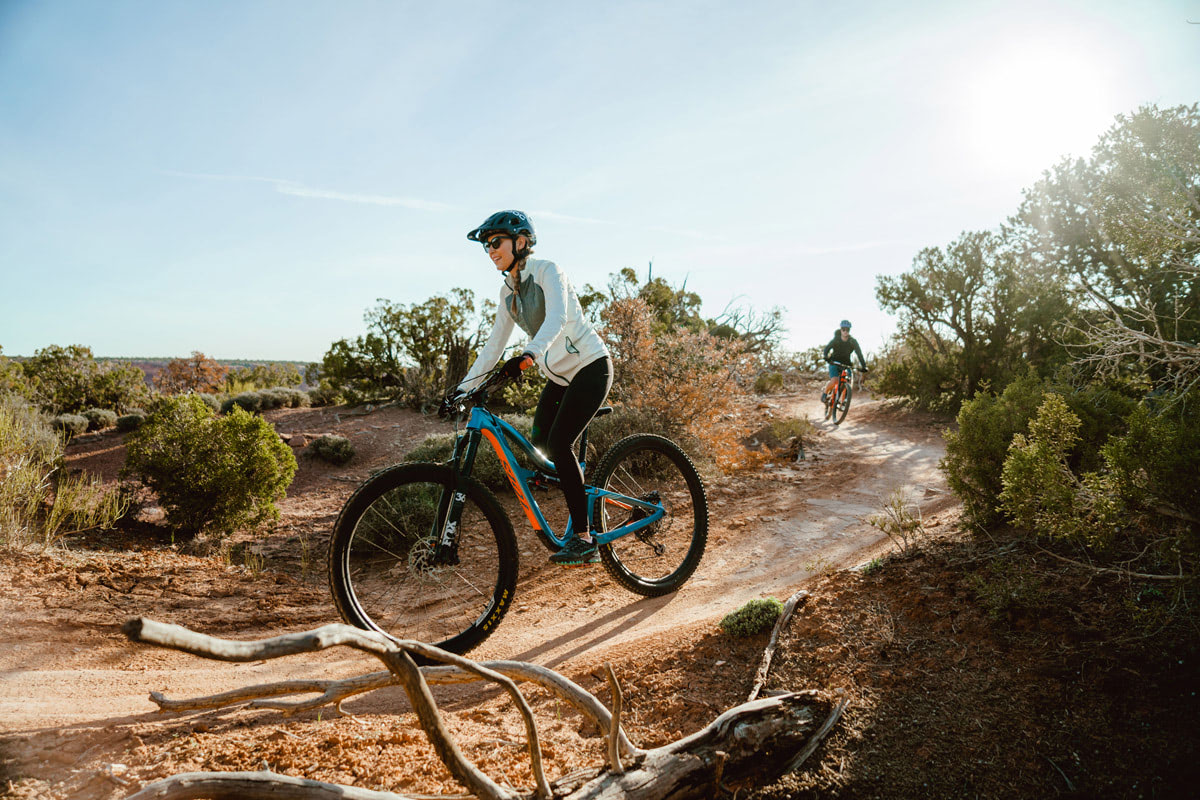 Dead Horse Point Mountain Bike Riding
Next "get out of my comfort zone" challenge was trying mountain bike riding for the first time. I grew up riding bikes on paved roads and maintained dirt paths but prior to this trip I had never ridden anything technical with rocks, switch backs or super steep sections. I wasn't really nervous to give it a try and interestingly some of our group's bad-ass climbers were the ones scared this time. Our minds can be so fickle and irrational when deciding what to be fearful of!
We woke at the crack of dawn, hauled our butts into the vans, and arrived in Dead Horse Point State Park just after sunrise (about 1 hour outside of Moab). The Backcountry team were there waiting for us with a huge array of mountain bikes and let me tell you… we were spoiled getting to ride these bikes! I was on the Ibis Ripmo X01 Eagle Complete Mountain Bike and it was by far the most responsive and easy bike I've ever ridden (hello suspension!)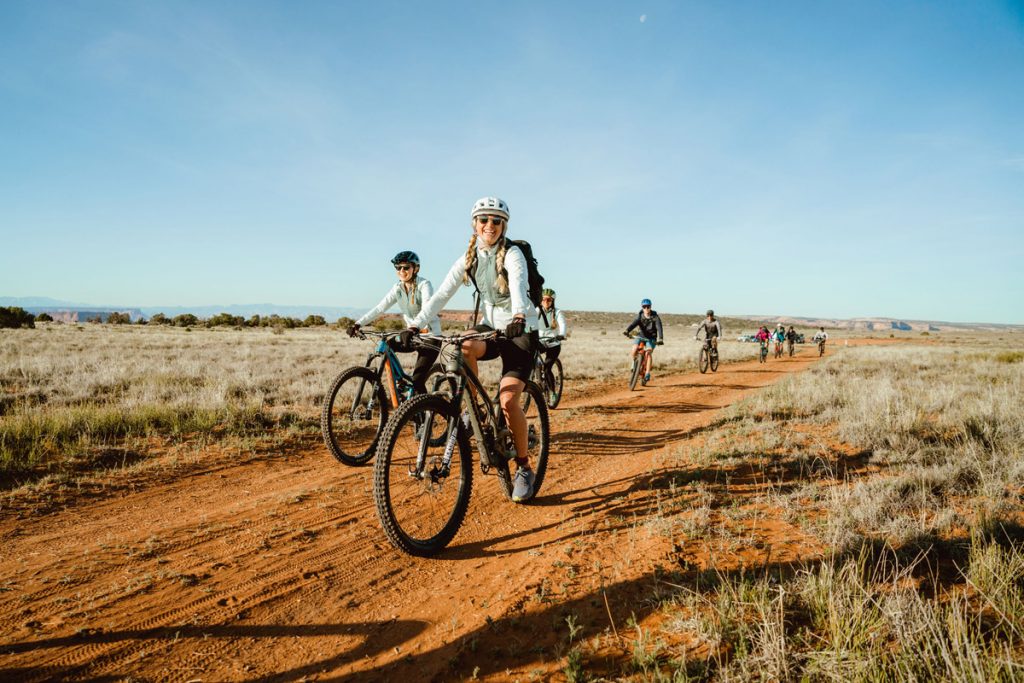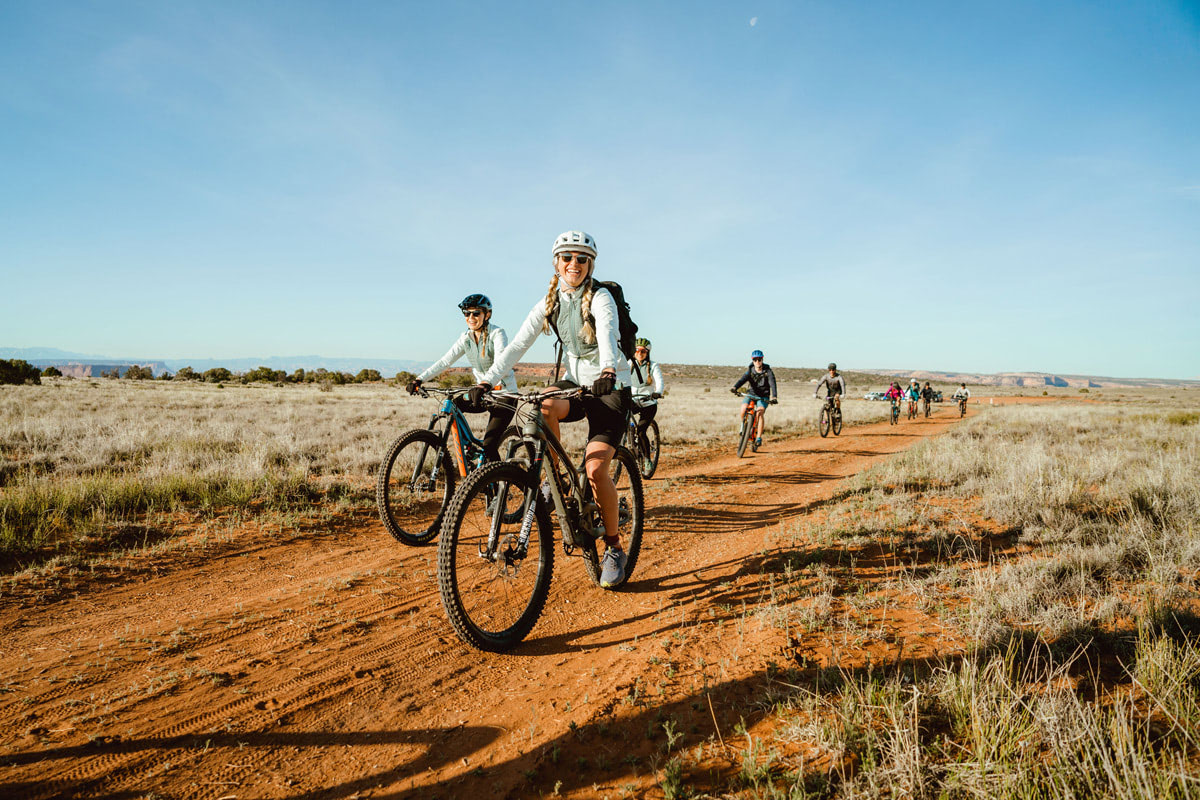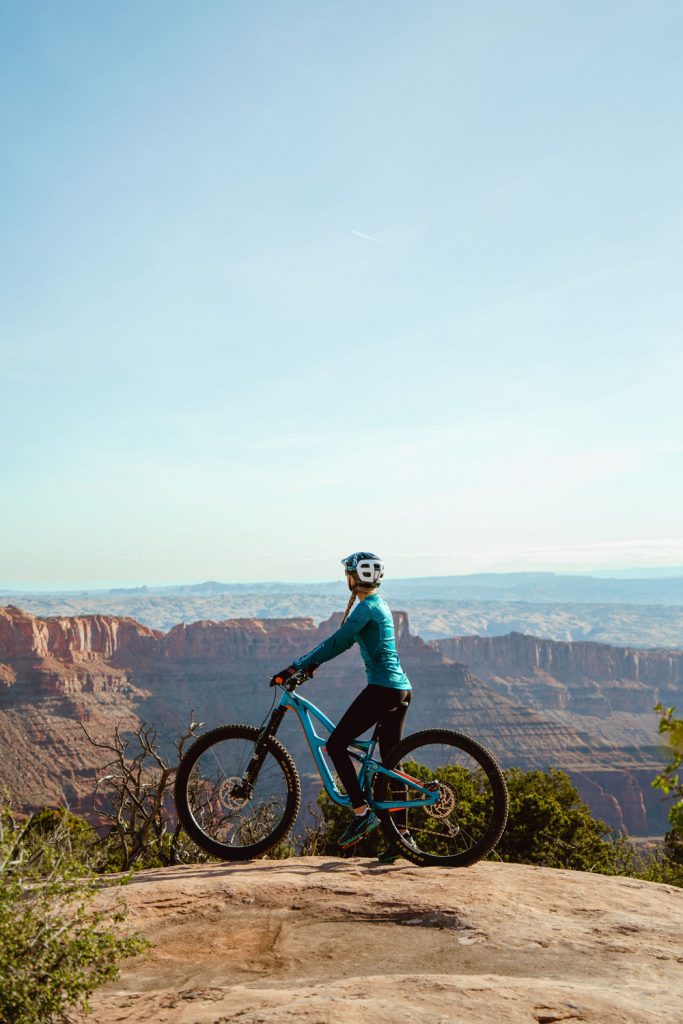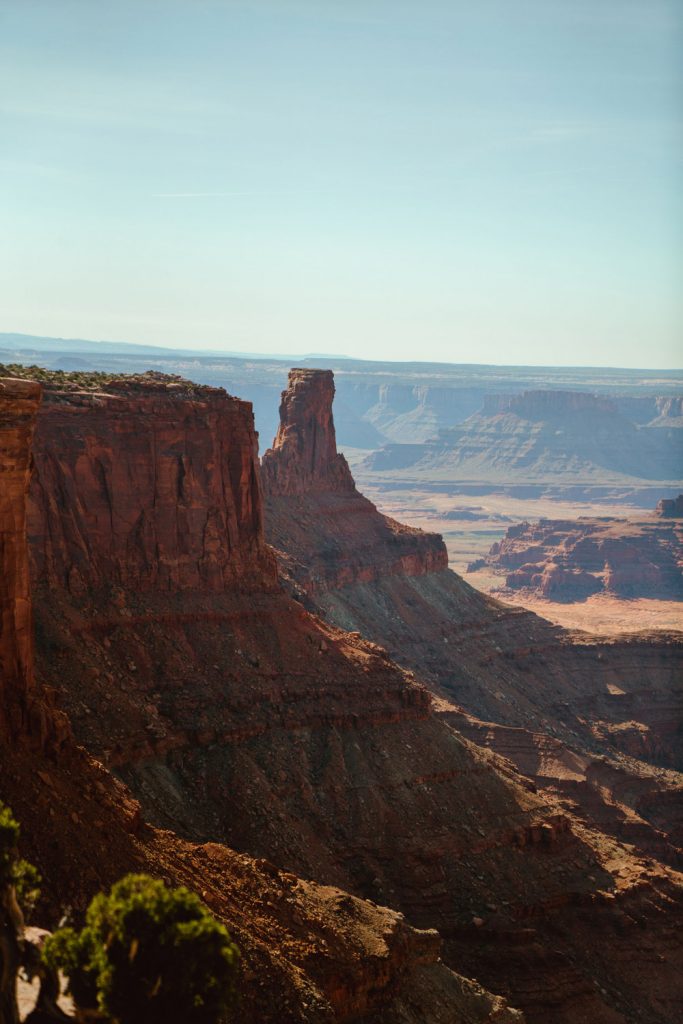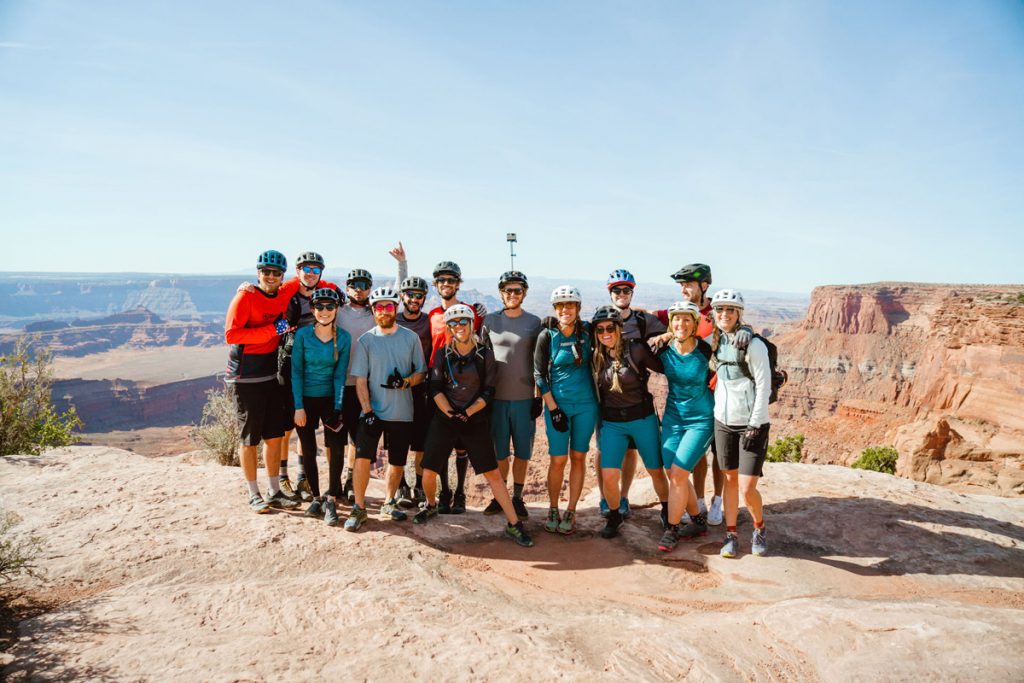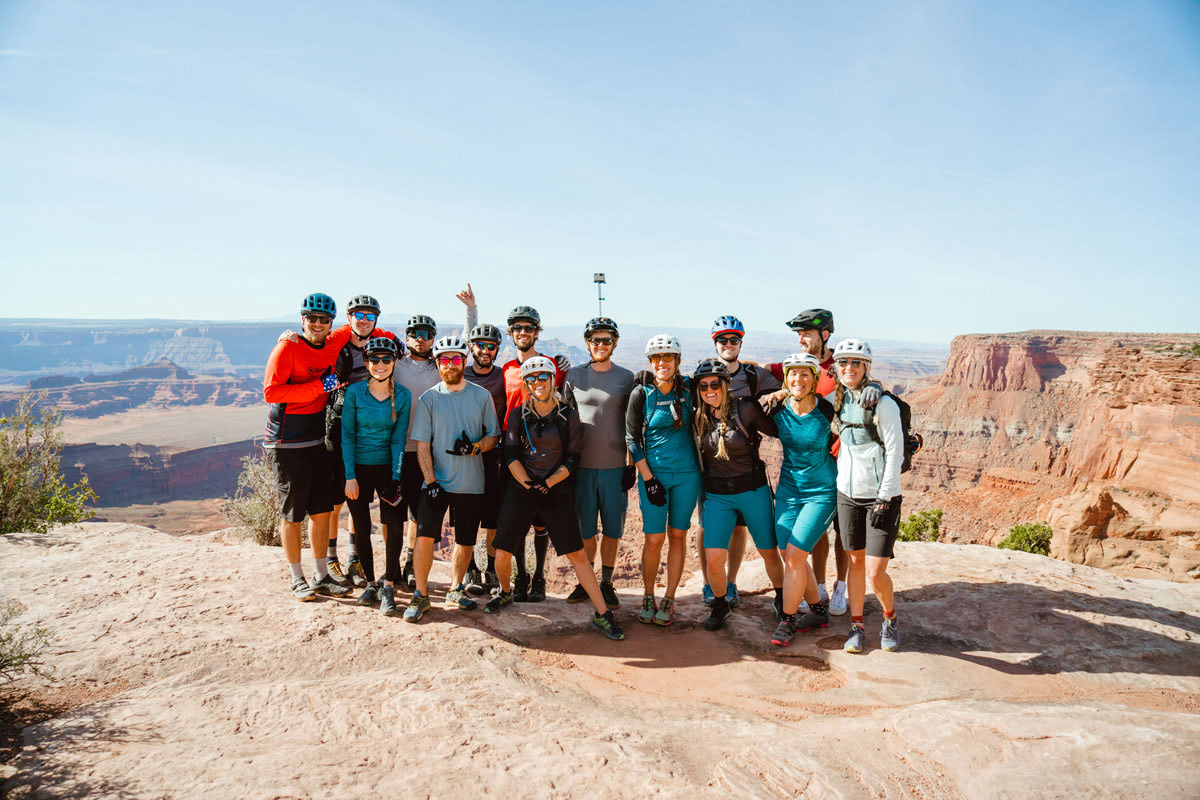 The Dead Horse Point Tour Loop Trail is a beginner-intermediate route and served perfectly for our mixed group of riders. I loved the steeper downhill sections with small-moderately sized rocks and overall the trail gave us a really great chance to hone in our skills. The amazing Jen Hudak taught us the correct riding positions, showed us how to tackle rockier sections on the trail, and encouraged us to push past any fears. Overall it was an extremely fun morning and has me excited for future biking experiences!
What to wear desert biking:
Don't forget to use code RENEE15 for 15% off your first Backcountry order!
---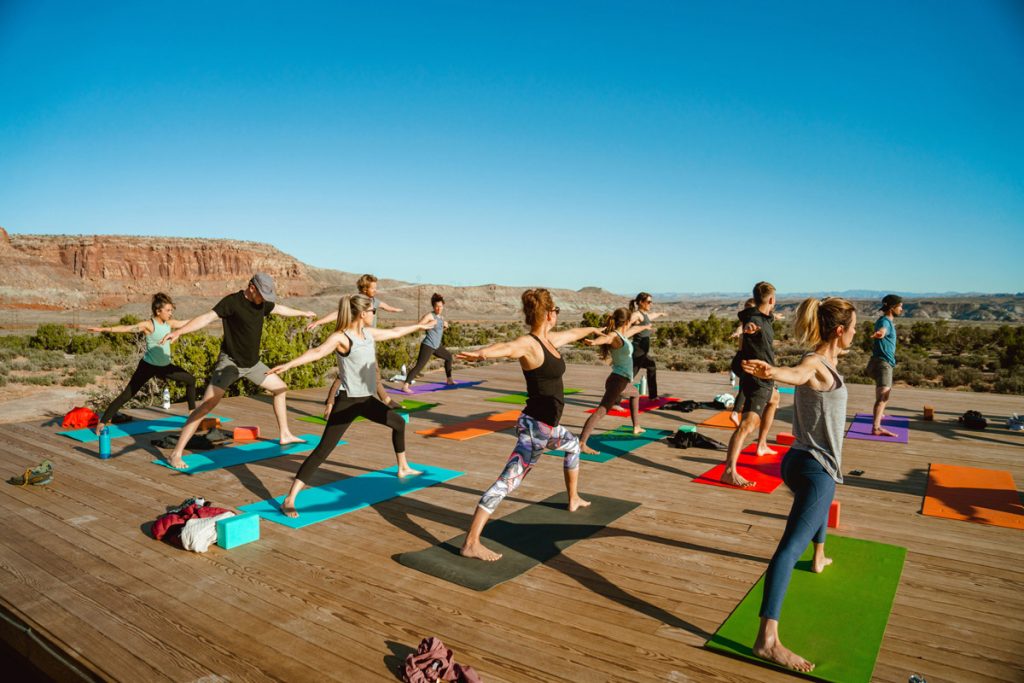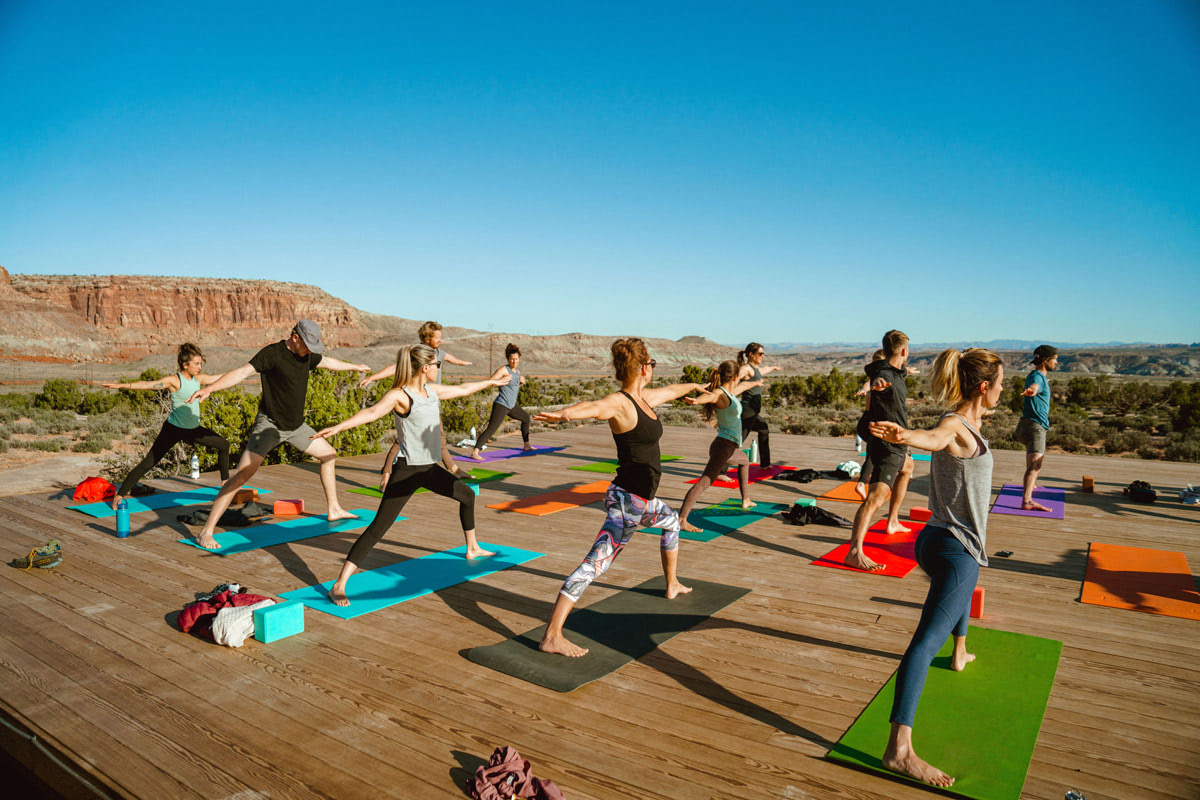 More #StokeSeries Fun
Backcountry made sure to jam-pack the rest of our time in Moab with adventurous and meaningful activities. For Earth Day we volunteered our time with The Nature Conservancy to help build analog dams on Dugout Ranch. It was such a pleasure getting to help out and to hear about the wonderful work Heidi Redd and the rest of The Nature Conservancy team are doing.
They work hard to research and increase our understanding on the effects of climate change and land-use, and provide decision makers with the latest information to adapt to challenges our lands are facing.
A big part of why I love partnering with Backcountry is that they have supported The Nature Conservancy since 2008 and continue to contribute funds that help protect and restore the amazing places where we live, work, and play. Every time you place on order you also have the option to personally donate to The Nature Conservancy to help support the amazing work they do!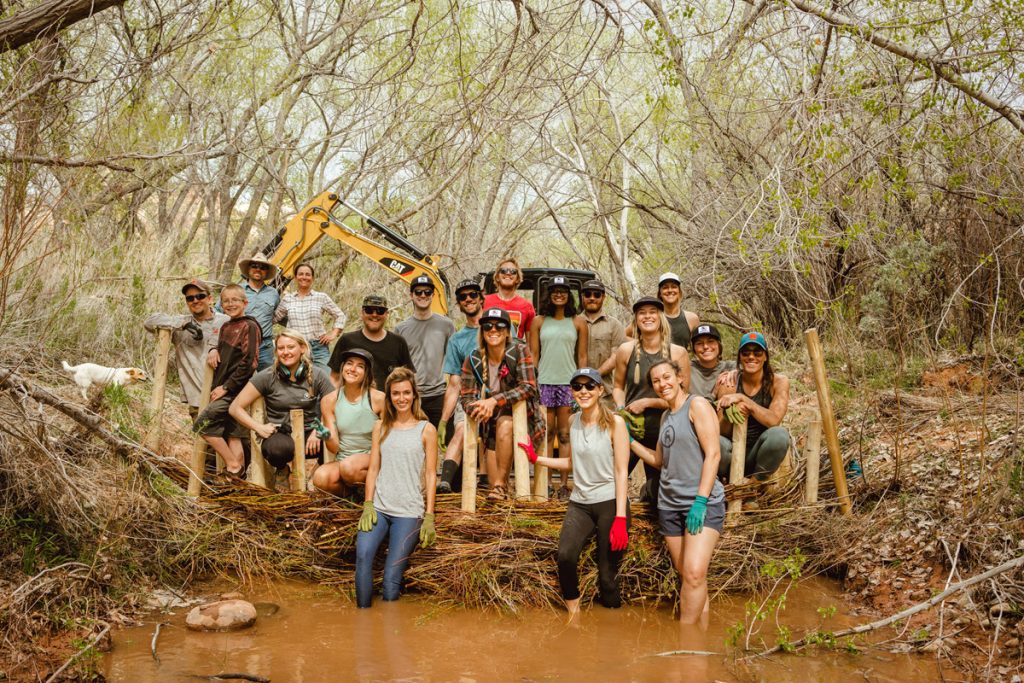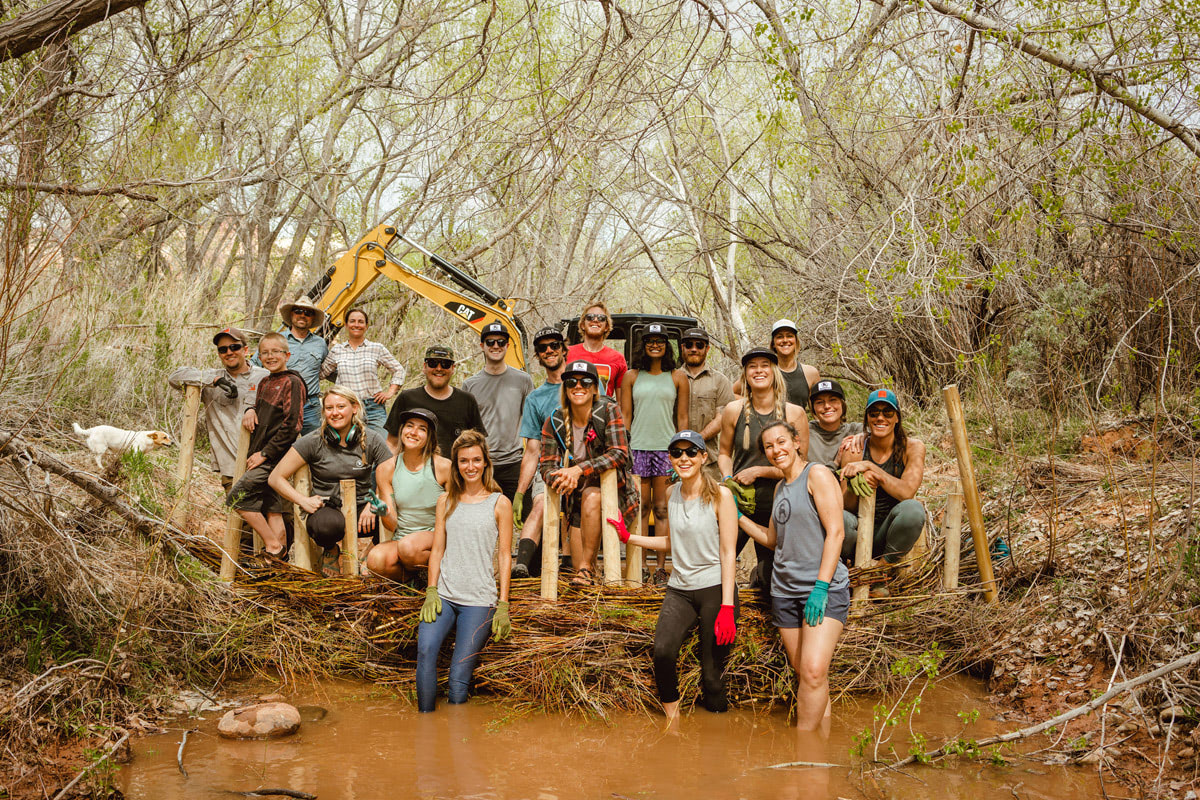 For this Stoke Series event we were also lucky enough to stay at the beautiful Under Canvas property in Moab, which offers a fun "glamping" experience and beautiful views. My favorite part was probably our morning yoga session ran by the very talented Arielle Shipe. Overall it was an incredible few days and definitely has me inspired for future outdoor adventures!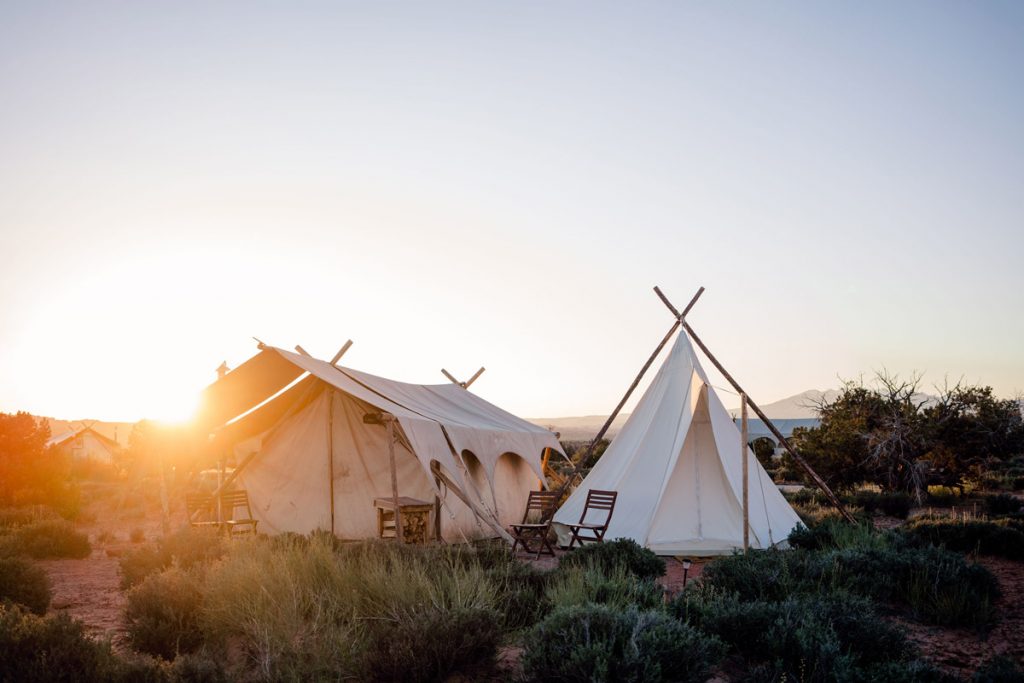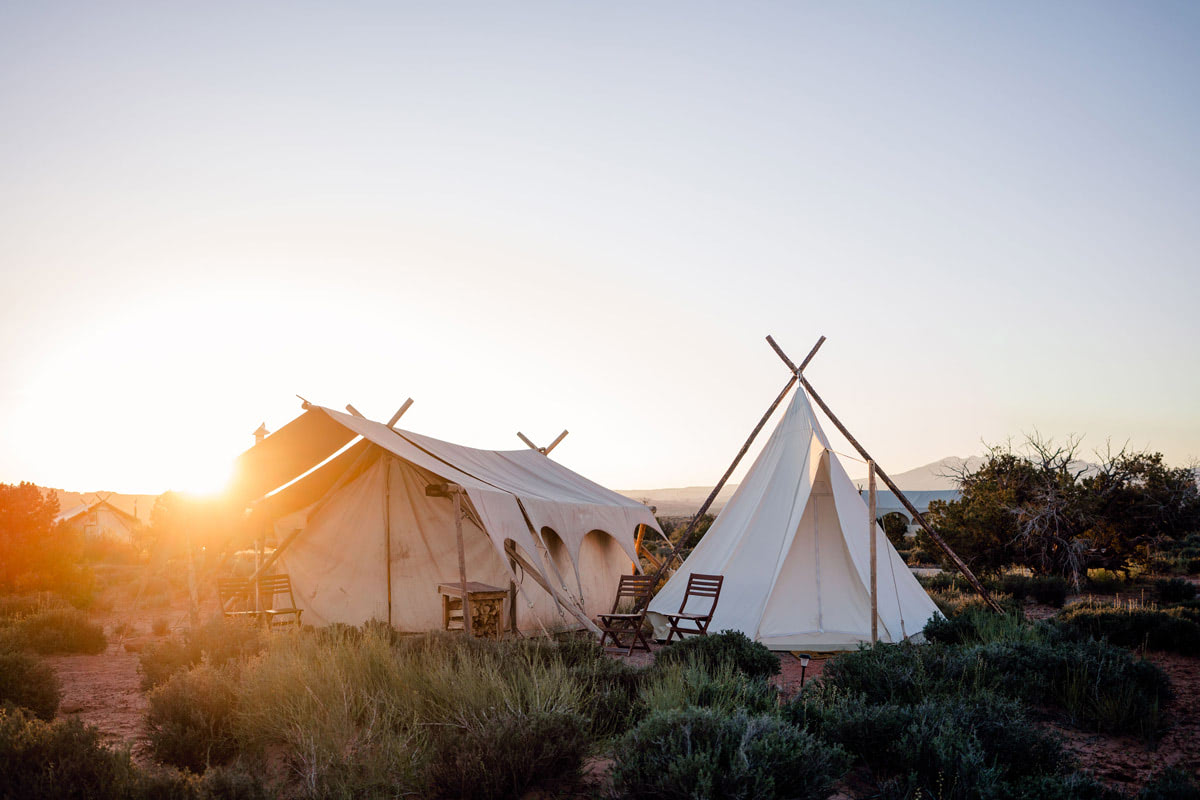 Other items I reached for this trip:
PIN FOR LATER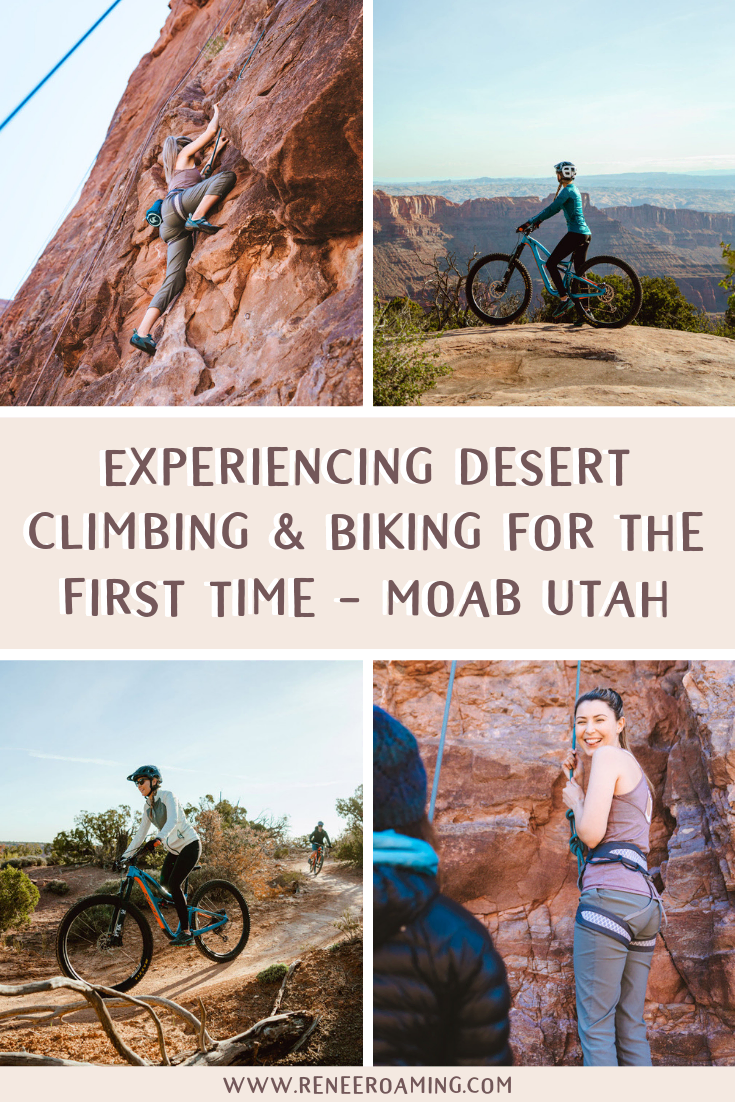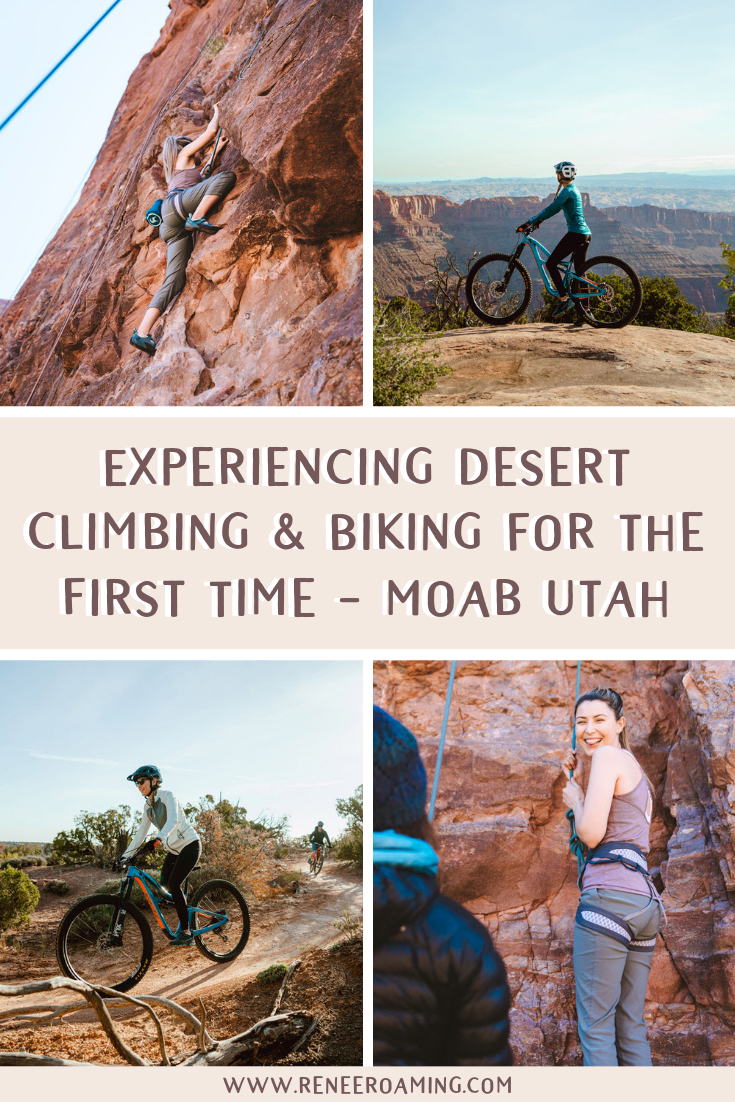 Disclaimer: Thank you to Backcountry for collaborating on this blog post. As always, all opinions are truthful and my own. The offer of 15% off does not apply on top of any other offer or discount, and it's one use per customer. This post does contain some affiliate links, which means if you buy something my blog will receive a small commission at no extra cost to you.