Kauai is one of those destinations that will leave you wanting to return time-and-time again. It's home to breathtaking scenery, some of the world's best beaches, insane hikes, and much more. In this blog post I am sharing 9 must-do Kauai outdoor adventures for your next island vacation!
I'm also sharing some "easier" things to do in Kauai that don't involve a ton of strenuous exercise… because vacations need a bit of rest time too! Lastly, you'll find a detailed map of all my recommendations, plus a handy packing guide to get you on your way.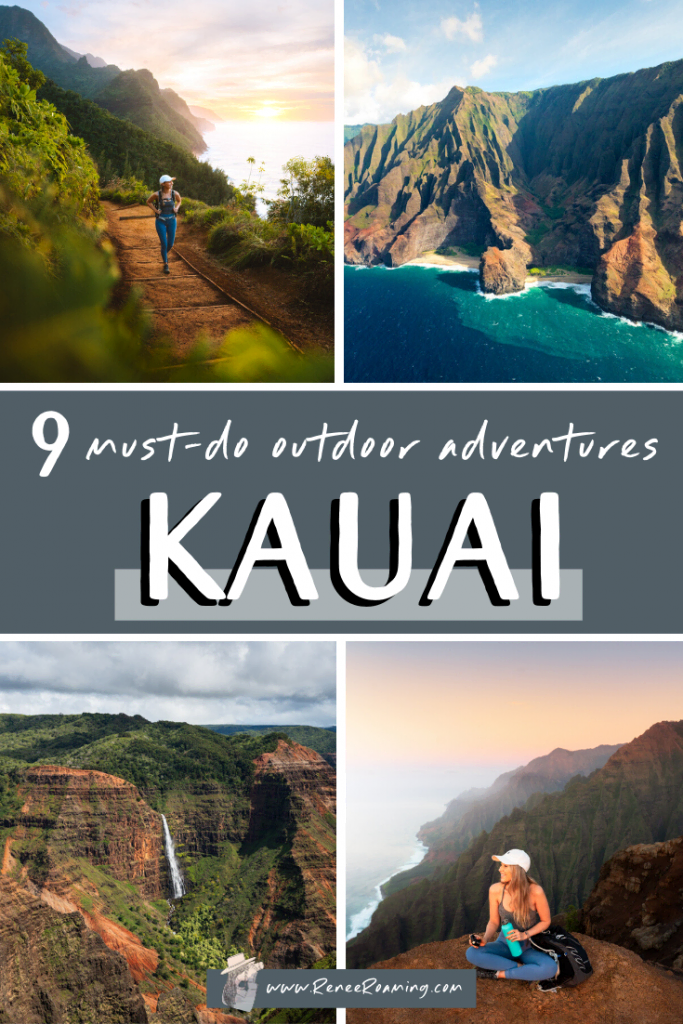 In partnership with Backcountry
Kauai Outdoor Adventures + Packing Guide
Explore Kauai responsibly
The island of Kauai is so incredibly beautiful and it's vital that we do our best to keep it that way! I urge you to read up on Leave No Trace principles and tips on how to be a responsible traveler before arriving on the island. To be specific, please be mindful of the following when exploring Kauai:
Follow local hiking etiquette and do your best to leave as minimal of an impact as possible on the areas you are exploring. My friend Chelsea Yamase has a wonderful blog post on this that is written from a locals perspective, check it out here.
Avoid single use plastics, never litter, and pick-up any trash you may see around the island. I have some packing ideas further down this blog post for simple swaps you can make to avoid single-use plastics. I also recommend reading this blog post by Elana Jadallah (her blog is such a wonderful resource for all things sustainability!)
Only use reef-safe sunscreens. Look for sunscreens without these coral-damaging ingredients: Oxybenzone, Butylparaben, Octinoxate, 4-Methylbenzylidine Camphor. Instead opt for mineral sunscreens with zinc oxide or titanium dioxide (my favorite brands are All Good and Raw Elements). Check out this handy guide for more information!
---
9 Must-Do Kauai Outdoor Adventures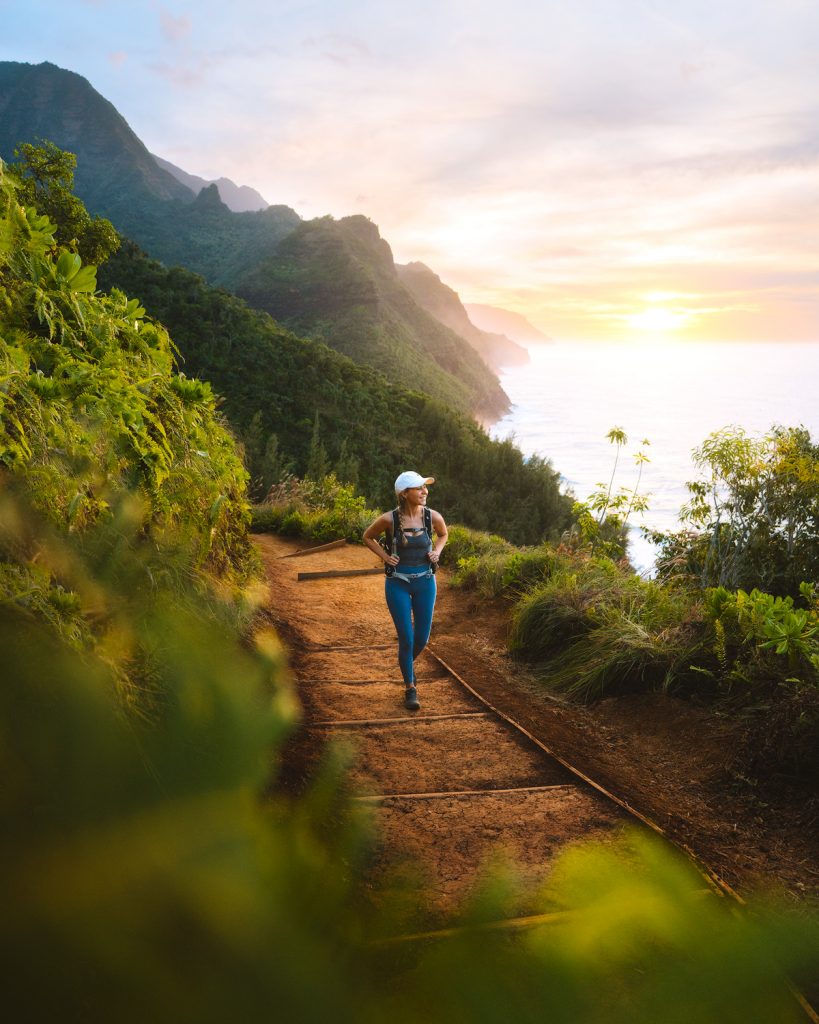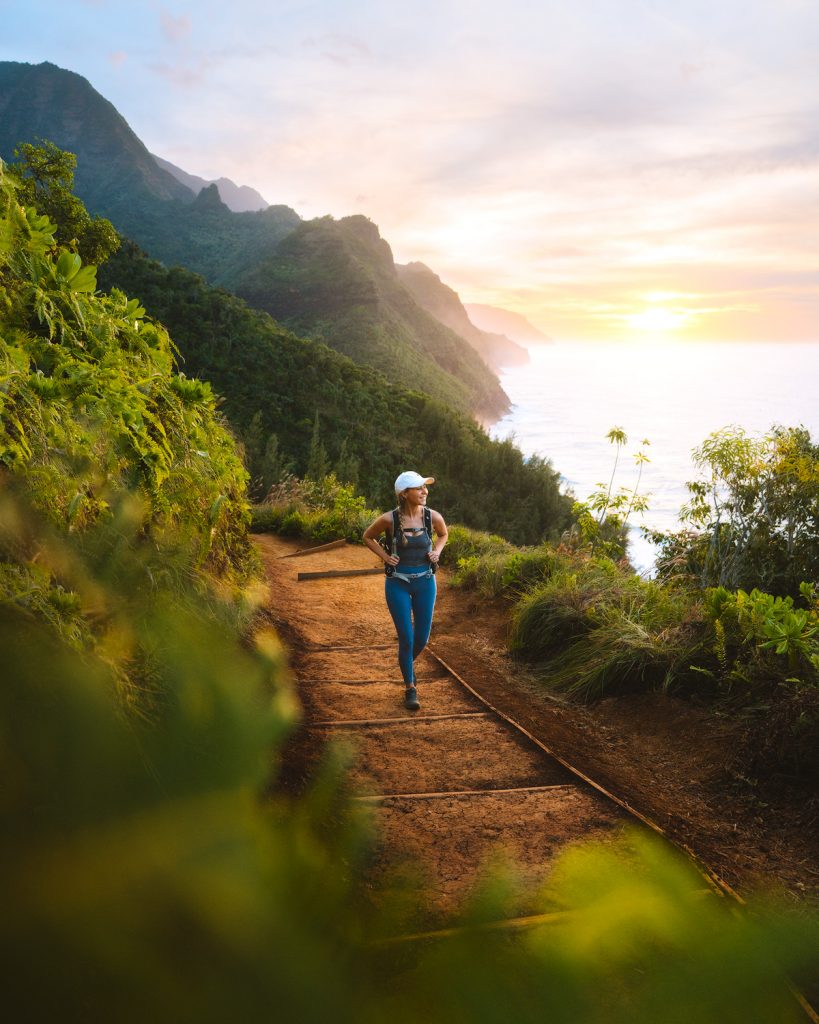 1. Hike the Kalalau Trail
One of the absolute best Kauai outdoor adventures is hiking the Kalalau Trail on the north side of the island. You may have heard that it's a strenuous and long trail, which it is…BUT there are also shorter options! The Kalalau Trail is located in both Hāʻena State Park and the Nāpali Coast State Wilderness Park, with the trail head beginning at the end of Kūhiō Highway.
To hike the entire Kalalau Trail it takes 11-miles (one way) and requires a permit, regardless of whether you plan to camp or not. (Permits can be acquired up to 90 days in advance via the park reservations portal). In saying that, anyone can hike the first 2-miles of the trail without a permit and I would highly recommend you do!
The first 2-miles of the Kalalau Trail will be bring you to Hanakapi'ai Beach and from there you can either turn back or proceed onto Hanakapi'ai Falls. You don't need a permit to day-hike Hanakapi'ai Falls as it is not technically part of the Kalalau Trail.
Caution: None of these trails should be hiked without adequate preparation beforehand.
Even the 4-mile round-trip Hanakapi'ai Beach Trail covers 1,131 feet in elevation gain, can get muddy in places, has been known to experience flash flooding, and is often very hot and humid. Refer to my recommended packing list at the bottom of this blog post for everything you should take on your hike.
Parking and transport can get a little confusing for accessing the Kalalau Trail. You need to acquire a parking permit for Hāʻena State Park ahead of time, with the exception of those who are Hawaii residents or have a Nāpali Coast State Wilderness Park camping permit. This can be reserved online but they do sell out very quickly. Alternatively, you can opt to take the Kauai North Shore Shuttle, which costs $15 and can be reserved online ahead of time.
While you are in Hāʻena State Park I would also suggest stopping by Ke'e Beach. This gorgeous beach can be accessed via a short 1/4-mile walk from the parking lot (and shuttle stop) and it is the perfect spot for swimming and snorkeling. Keep in mind that during the winter months the ocean can be too rough for swimming, so keep an eye out for caution signs or ask the local lifeguards.
---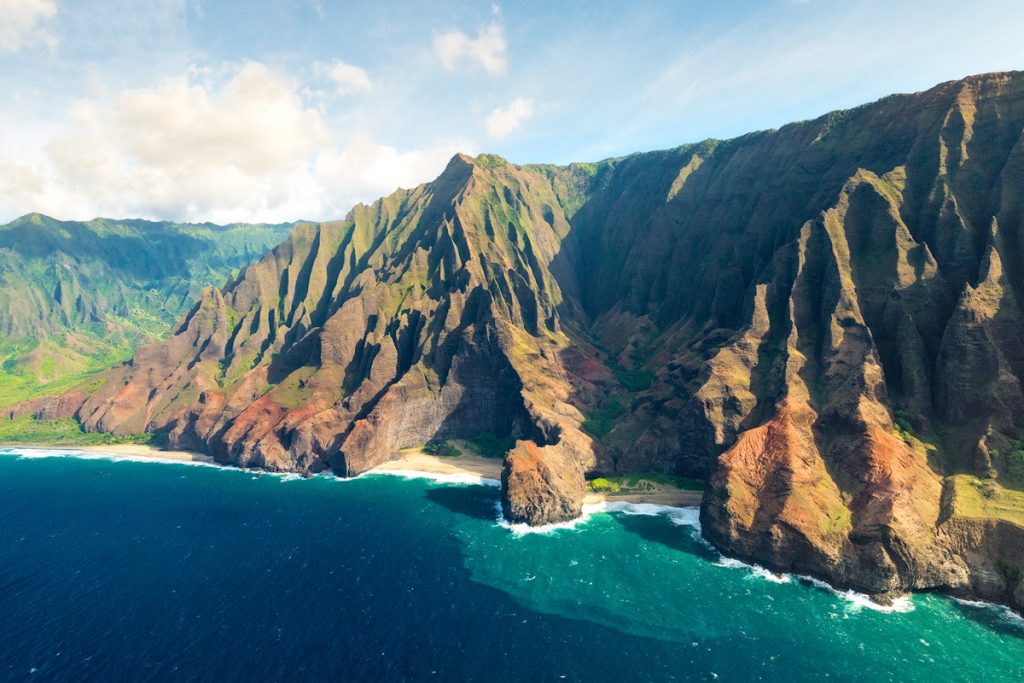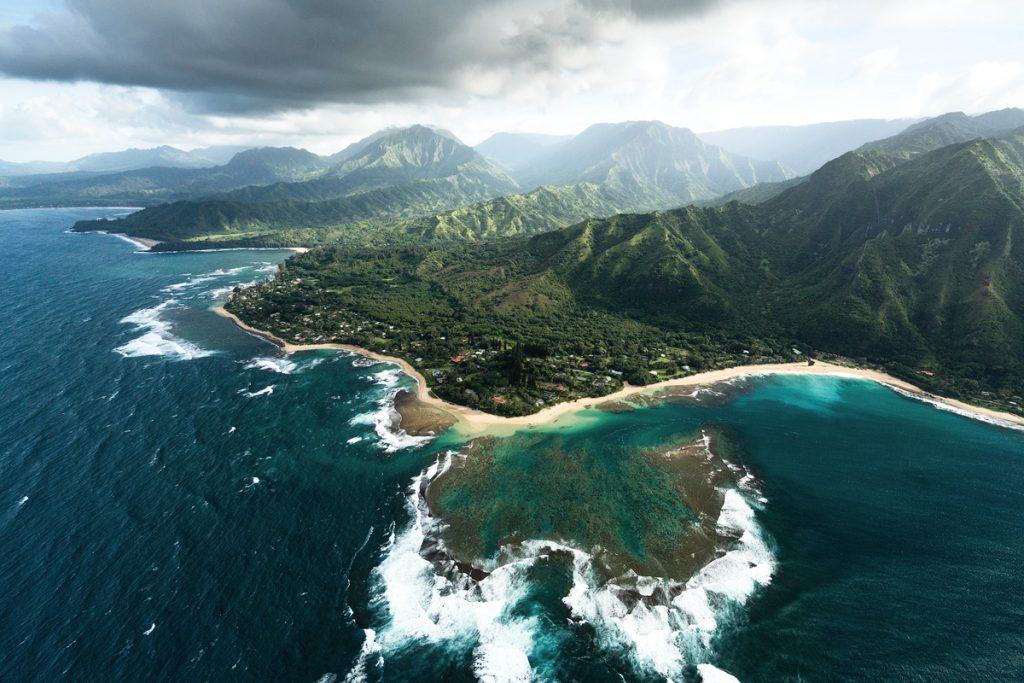 2. Take a doors-off heli tour
It's hard to beat a doors-off heli tour when it comes to the best things to do in Kauai! You don't have to select a doors-off helicopter BUT I would highly recommend it because it makes the whole experience even more epic… and thrilling!
There are a few companies to choose from when it comes to selecting a Kauai heli tour:
I would recommend doing your research and choosing the company that best suits your needs and budget. I have personally taken a doors-off photography heli tour with Mauna Loa but have also heard great things about their "Kauai Experience" tour.
Despite it being a few years ago now, I still remember the surreal feeling of flying by Manawaiopuna Falls (aka "Jurassic Falls") and into the Mt. Waiale'ale Crater. It seriously felt like we had been transported to another planet! Tours will also fly you into Waimea Canyon and navigate along the length of the Nā Pali Coast. If you have the budget to take a heli tour I say DO IT!
---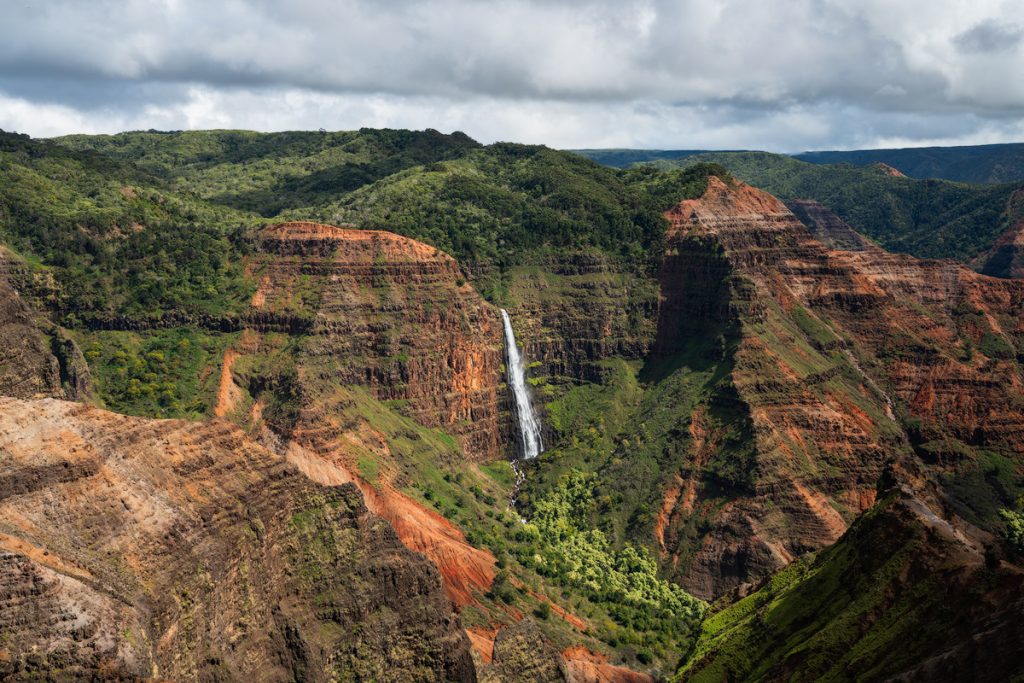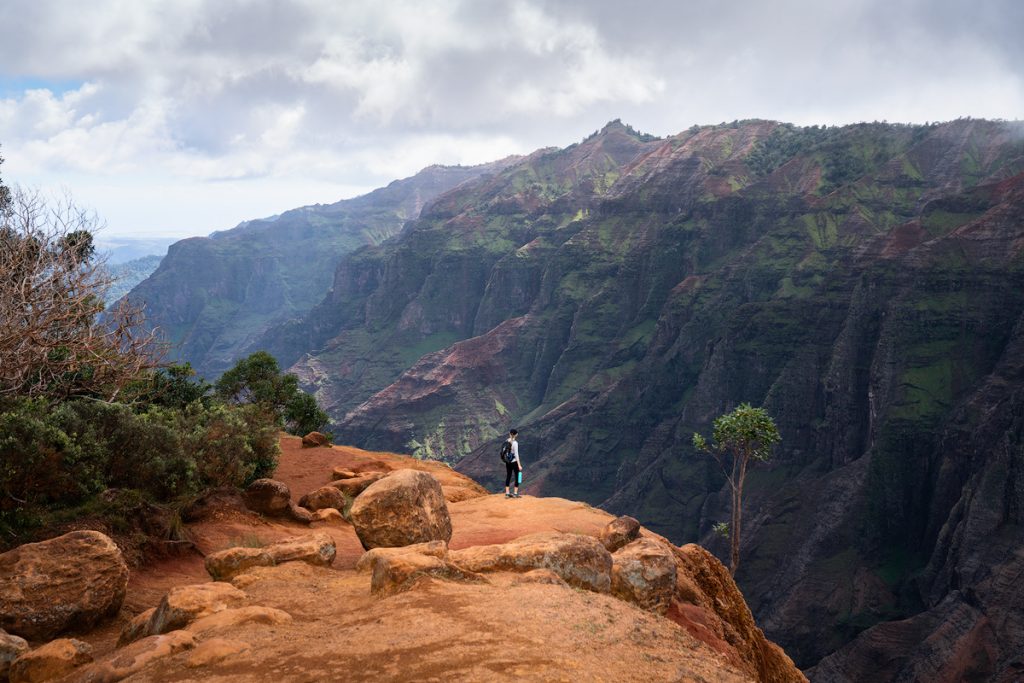 3. Explore Waimea Canyon State Park
Next on the list of must-do Kauai outdoor adventures is exploring beautiful Waimea Canyon State Park. Located on the west side of the island, Waimea Canyon is open year round and has been nicknamed "The Grand Canyon of the Pacific". It truly is a geological wonder that must be added to your Kauai bucket list!
Waimea Canyon stretches 14-miles long, 1-mile wide, and more than 3,600 feet deep. You can access the canyon via the main park road, Waimea Canyon Drive, and it takes approximately 24 minutes to access the main lookout if you are coming from Waimea (or 1 hour from Poipu, 1 hour 20 minutes from Kapa'a, and 2 hours from Hanalei). Entrance to the park is free but there is a $5 parking fee for non-Hawaii residents.
I would consider stopping by the main lookouts: Waimea Canyon Lookout (mile marker 10) and Puu Hinahina Lookout (mile marker 13), and also continue up Waimea Canyon Drive until you reach Kokee State Park (more on that further down the blog post). Then for a more in-depth experience of the park I suggest hitting one of the trails and getting muddy.
The Canyon Trail to Waipo'o Falls Trail is a fantastic 3.2 mile walk that will get your heart racing and provide beautiful views of the park. Note that this trail brings you to the top of Waipo'o Falls, not to a viewpoint of the falls. We met some people who presumed it was the other way around and I wouldn't want any of you to be disappointed! My husband and I really enjoyed this trail and would recommend it in conjunction with stopping at the main lookouts mentioned above.
---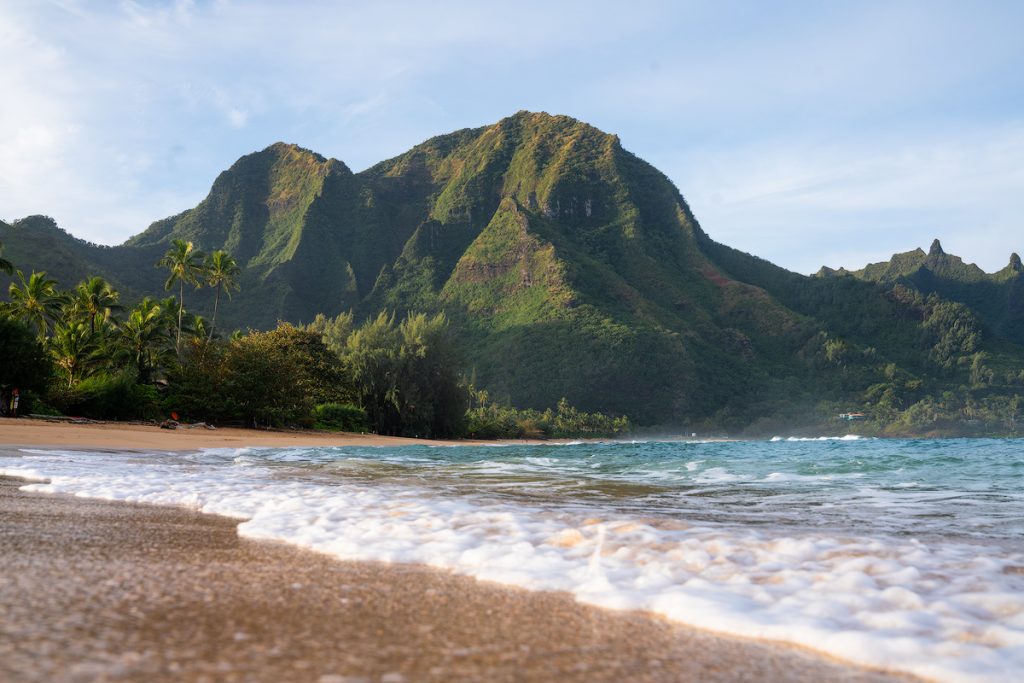 4. Swim at Tunnels Beach
Tunnels Beach may be one of the most beautiful beaches I've ever visited. Located on the north shore of Kauai, Tunnels can be accessed via car, bike, shuttle bus, or foot. The parking lot is quite small so be sure to keep this in mind when planning your visiting time and transport.
Also known as Mākua Beach, Tunnels provides epic mountain views, breathtaking blue water, and a really nice length for strolling along at sunrise or sunset. In the summer months Tunnels Beach is known for its premium swimming and snorkeling conditions, though the water is often best viewed from the sand during the winter months. (Always best to check surf conditions with the onsite lifeguard before swimming).
Going back to parking, please do NOT park on the street when accessing Tunnels Beach. This makes accessing the road and homes challenging for locals and will incur a parking ticket. As mentioned above, catching the Kauai North Shore Shuttle is a great option for accessing this part of the island.
---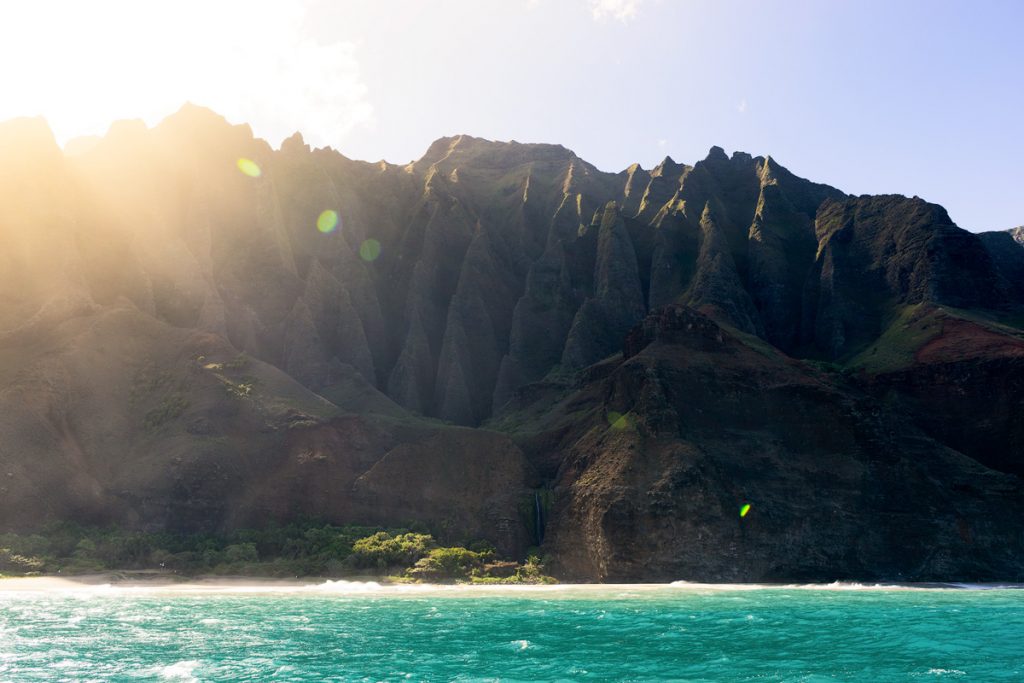 5. Experience the Nāpali Coast by boat
I have already recommended that you see the Nā Pali Coast by foot and air… but yes, you should also consider experiencing it by boat! Seeing the Nāpali Coast up close and personal via boat is a truly magical experience, and one very different to hiking or taking a helicopter tour.
Boat tours of the Nā Pali Coast typically leave from the southwest side of the island and have options for half or full day excursions. Some tours focus more on the adventure aspect and offer swimming and snorkeling, and others are more for sightseeing or watching sunset along the coast. Here are some great options to choose from:
I have personally taken the Nā Pali Beach Landing Raft Adventure Tour with Kauai Sea Tours. Our 24 ft ocean zodiac took us from Port Allen to the end of the Nā Pali coast, and back again. It was an adrenaline pumping, hold on tight kind of experience. We cruised into magnificent sea caves, had hundreds of Spinner Dolphins swim past our boat, and landed on a gorgeous beach for a short walk and lunch. We weren't able to snorkel that day due to high swell, though I could imagine that would have been fantastic!
---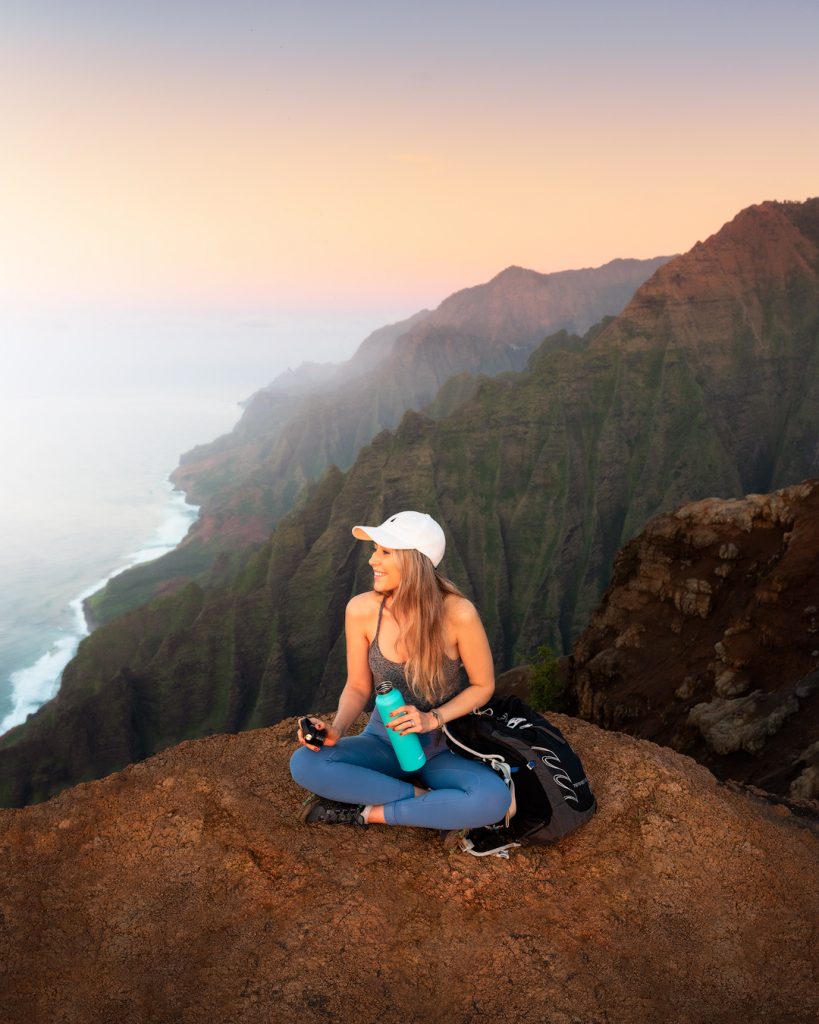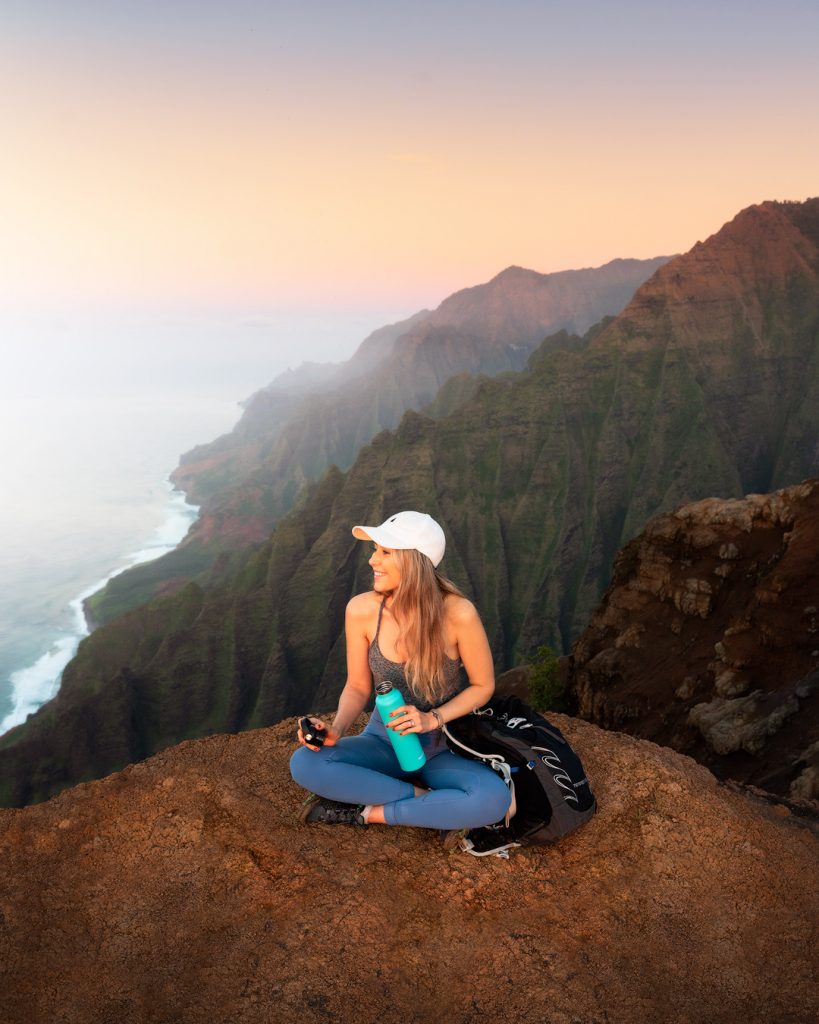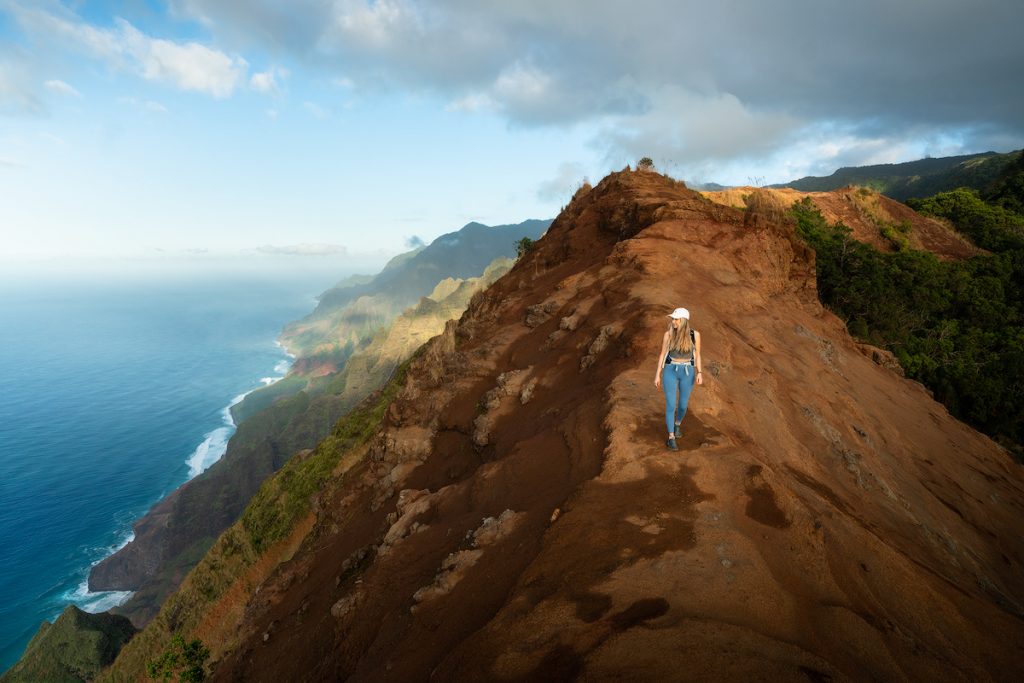 6. Take a ridge hike
Speaking of adrenaline pumping experiences… taking a ridge hike is another must-do Kauai outdoor adventure! There are various options around the island, though I recommend focusing on the northwest section in Kōkeʻe State Park.
Caution: Before recommending any specific hikes I would like to disclaimer that hiking Kauai's ridges can be dangerous and should be approached with caution. Research trail and weather conditions before going, be careful of your footing as the ridges are known for their crumbly nature, and always pack adequate water and other essentials.
Some of the ridge hikes in this area are maintained by Kōkeʻe State Park, others are accessible but less maintained and more rugged, and others are technically "closed" to traffic. Below are two that I would recommend from personal hiking experience, though I recommend you research current trail conditions before going.
The Honopu Trail has been my favorite ridge hike on Kauai thus far. It's relatively shorter than some of the other ridge hikes and the views are phenomenal! Although this trail isn't actively maintained by the state park, it's totally possible to hike as long as you are prepared with adequate clothing and navigation.
Be warned though that it isn't a trail for beginners. There is a decent amount of elevation gain (1600 feet), narrow sections with steep drop-offs, bushwhacking, and required navigation skills. To find the trail I would recommend checking out this blog post. We followed their instructions (along with our downloaded GPS maps) and didn't have any issues finding the trail head or a spot to park our car.
Be sure to wear long sleeves (pants and top) as the brush is sharper than it looks! I would also recommend downloading the trail map on Gaia to prevent any navigation issues. If you plan to stay out until sunset then you should definitely pack a headlamp and have a form of offline GPS. It would be easy to lose your way when hiking this trail in the dark.
The Awa'awapuhi Trail provides fairly similar views to Honopu but overall the trail is longer and has more elevation gain… BUT it is better maintained. You won't have to deal with as much bushwhacking or trail navigation in comparison to Honopu and I would recommend this trail for anyone who may be worried about those aspects.
This trail takes hikers downhill through lush rain forest and pops you out on the rim of the Awa'awapuhi and Nu'alolo Valleys. From this ridge top you will be standing at 2,500 feet looking down to sheer cliffs and the Pacific Ocean. The park service strongly advises visitors to not venture beyond the railing at the end of the trail as footing is extremely unstable.
My husband and I very much enjoyed the Awa'awapuhi Trail but were sadly mostly clouded out when we got to the viewpoint. This is a pretty common occurrence on the northwest side of the island and one you should be prepared for with adequate clothing layers (and patience!)
---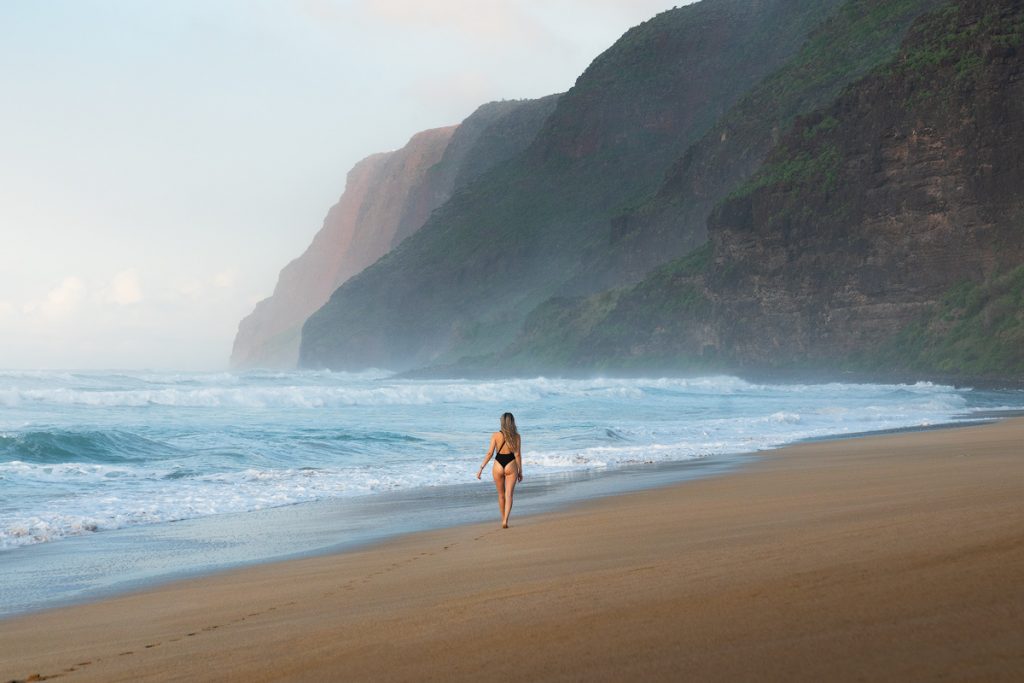 7. Adventure out to Polihale Beach
Polihale Beach is arguably Kauai's most beautiful… but it's a pain in the butt to access! Located in Polihale Beach and State Park on the west side of the island, visitors have to take a 5-mile unpaved and horrendously bumpy road to access this gorgeous stretch of beach. Note that four wheel drive vehicles are recommended and rental car companies may prohibit use of their vehicles on this park access road. We got out there in a small sedan but it was slow going! (Took us about 45 minutes each way)
I recommend heading out to Polihale for the afternoon and staying until sunset. There is also the option to camp in the park ($12 per person, per night) if you don't want to take the drive back in the dark. Sunsets are notoriously beautiful from Polihale, with views of the Nā Pali Coast and Niʻihau ('The Forbidden Isle').
Swimming at Polihale can be dangerous during the winter months, though summer is generally much calmer. There are no life guards at Polihale and if you do not know the conditions or aren't a strong swimmer, it's probably best you stick to walking along the beach and taking in the views from land. There is reportedly a sheltered lagoon at the southwestern edge of the beach that is better for swimming and snorkeling.
---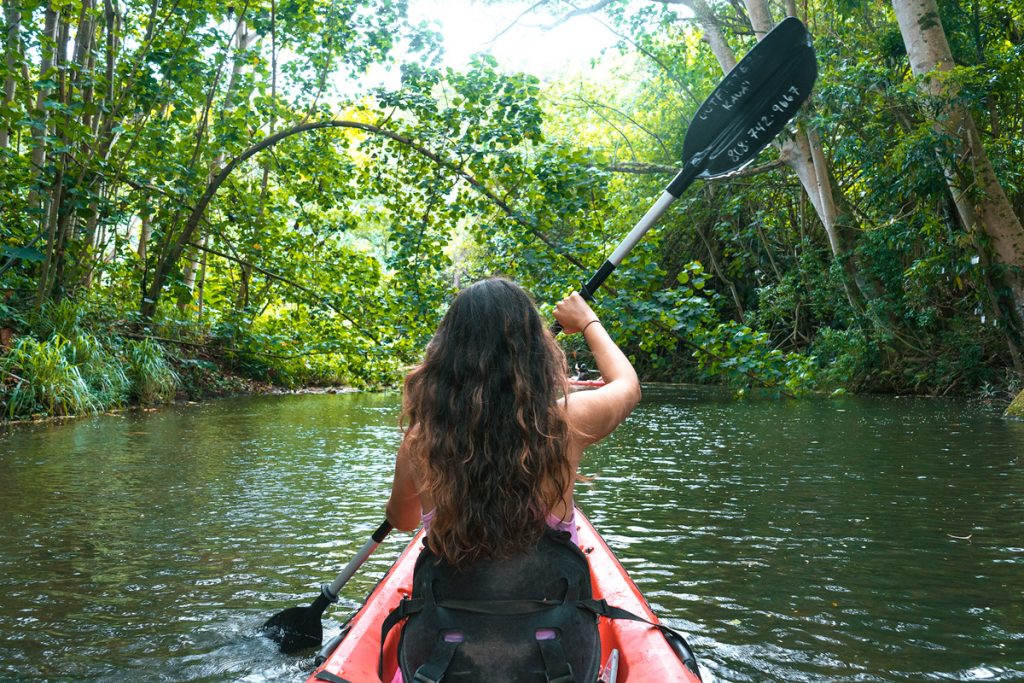 8. Kayak the Wailua River
Another fun Kauai outdoor adventure is kayaking the Wailua River and visiting Uluwehi Falls. Located on the east side of the island, the Wailua River is Hawaii's largest tropical river. You can opt to explore it solo (by renting a kayak) or book into a guided tour. My husband and I took the half-day Wailua Waterfall Kayak Tour with Outfitters Kauai and had a really wonderful time.
Our Wailua Waterfall Kayak Tour started off by paddling about 45 minutes up-river through lush vegetation and calm waters. We then landed our kayaks and hiked up approximately 20 minutes to the glorious Uluwehi Falls (also known as "Secret Falls"). A refreshing swim under the falls was certainly called for and very much enjoyed! Afterwards we ate some lunch and then hiked/paddled back. Overall it was a really fun adventure and one I would recommend.
---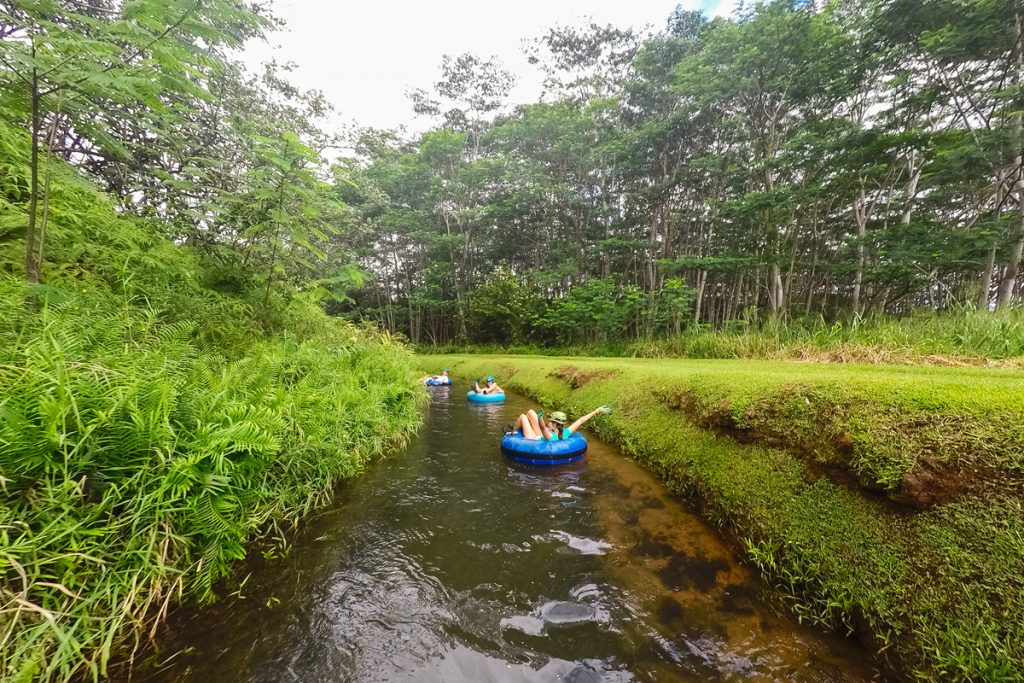 9. Go mountain tubing
Last on this list of must-do Kauai outdoor adventures is mountain tubing! The island has historic irrigation systems that were built in 1870 to bring water down from the mountains to sugar crops. Some of them are now open to mountain tubing and it's a surprisingly fun activity!
We opted to take the Mountain Tubing Adventure Tour by Kauai Backcountry, which is in fact the island's only mountain tubing outfitter. They kit you up with tubes, helmets, and headlamps before you begin your float through the lush rain forest. The mountain views were beautiful, especially of Waialeale Crater.
Overall the tour was more exhilarating and funny than I was expecting. It was hilarious watching everyone spinning around in their tubes, going through the little rapids and entering the dark tunnels. My husband and I had a great time and enjoyed the refreshing mountain water. I think this would be a really fun adventure for families too!
---
More amazing things to do on Kauai
Now that you know all the must-do Kauai outdoor adventures, let me share with you some more amazing things to do on the island. I guess you could say that these activities are a little less "active" and many of them are roadside stops or very short walks.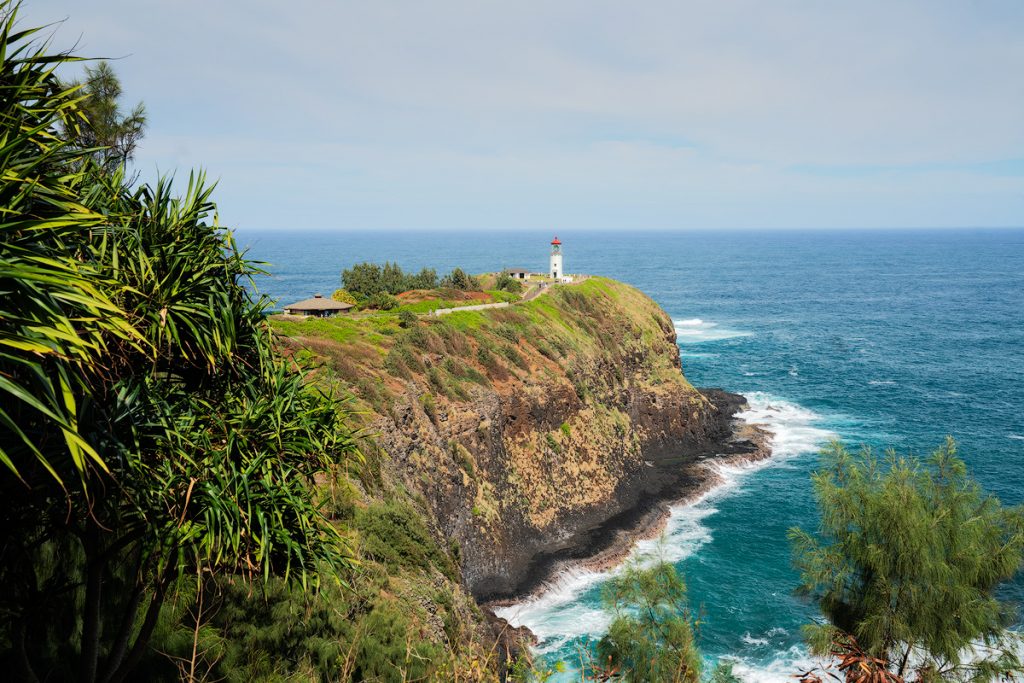 See the Kīlauea Lighthouse
The Kīlauea Lighthouse and Wildlife refuge was established in 1985 and is home to gorgeous ocean views, a quaint lighthouse, native coastal plants, and various Hawaiian seabirds. From the parking lot visitors only have to walk about 200 yards to the Daniel K. Inouye Kīlauea Point Lighthouse (built in 1913). The park is open Tuesday to Saturday from  10 am to 4 pm and admission is $10 per person (children 15 and under are free).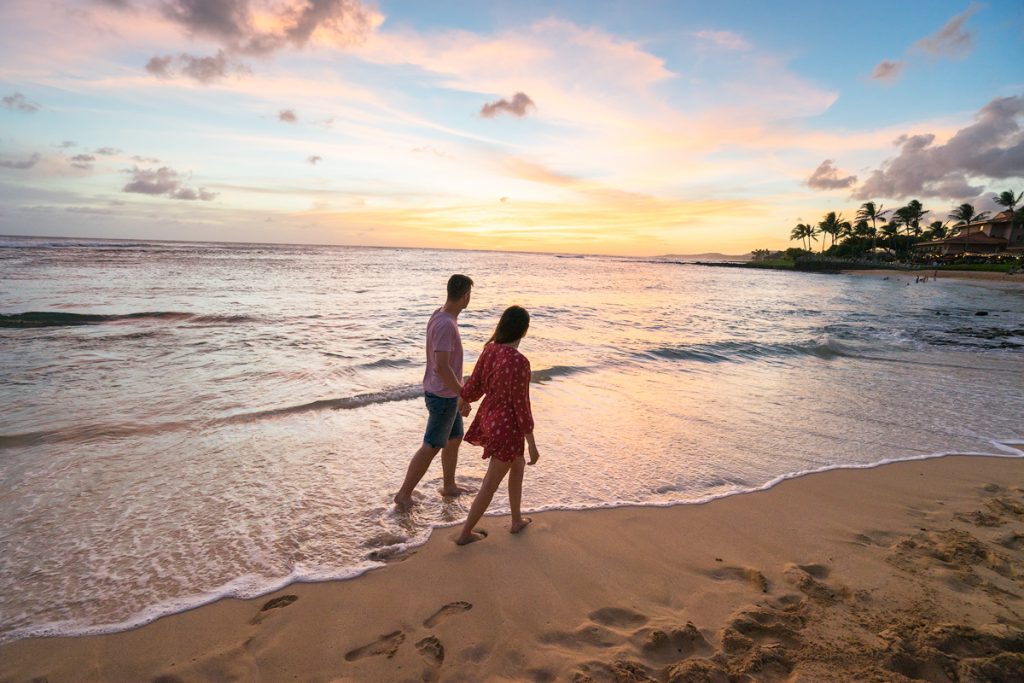 Experience Poipu Beach 
Poipu Beach Park is another must-see stop during your time exploring Kauai. This crescent-shaped beach is home to crystal clear waters, a natural wading pool, picnic facilities, and even the presence of an occasional endangered Hawaiian monk seal. (Always keep at least 100 feet away from monk seals and be mindful not to use flash photography). Poipu Beach has lifeguards or you can visit HI Ocean Safety for current surf, wind, and public safety reports.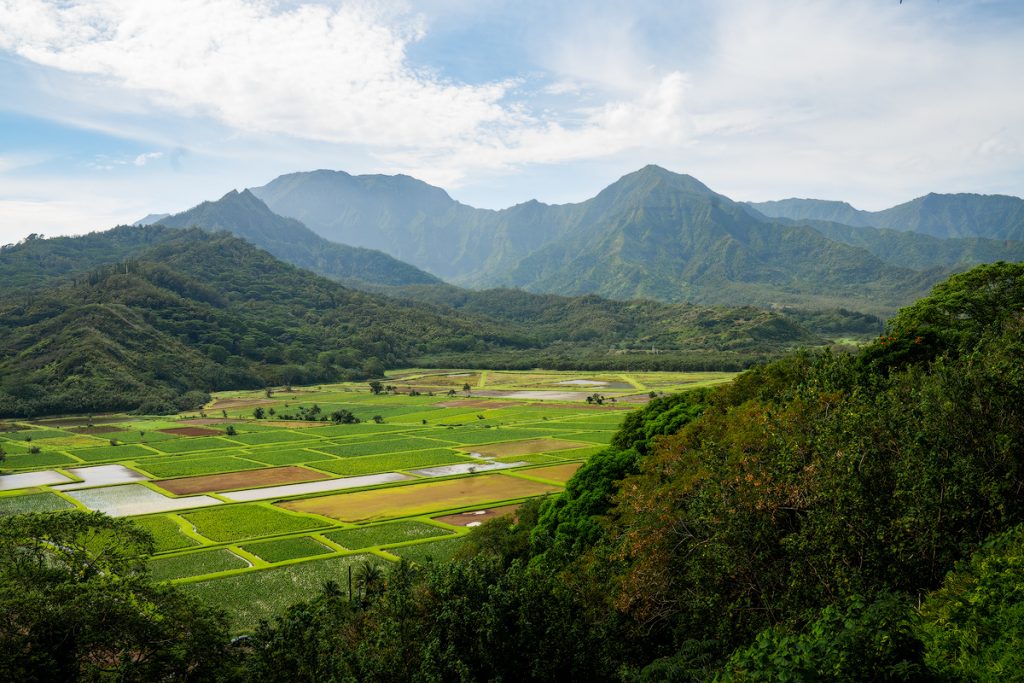 Stop by Hanalei Valley Lookout
If you visit the north shore (which I highly recommend you do!) then a stop at Hanalei Valley Lookout is definitely called for. This picture-perfect spot is right off Highway 56 and overlooks dramatic mountains and local taro fields. You may even get lucky and see a rainbow over the valley!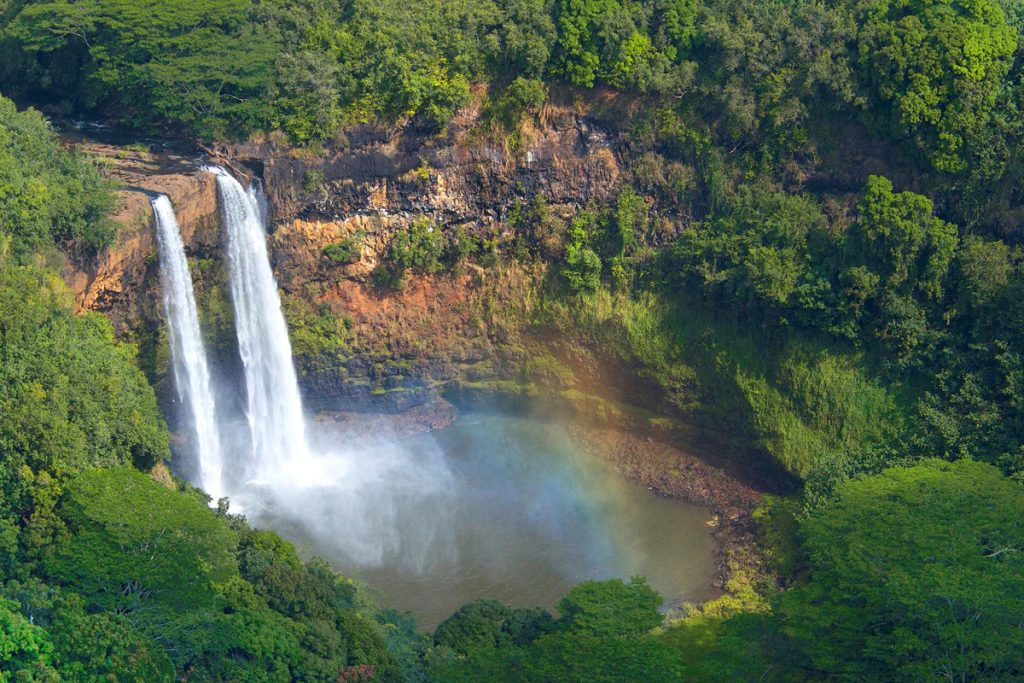 Visit Wailua Falls
Wailua Falls is best known for its beauty and for being featured in various films and TV shows, including "Fantasy Island" and "Tropic Thunder". Located at the south end of the Wailua River, the falls cascade down some 85 feet to a pool below. Anyone can view Wailua Falls from the roadside and although you technically can hike down to the base of the falls, it's not advised and you may get charged with trespassing.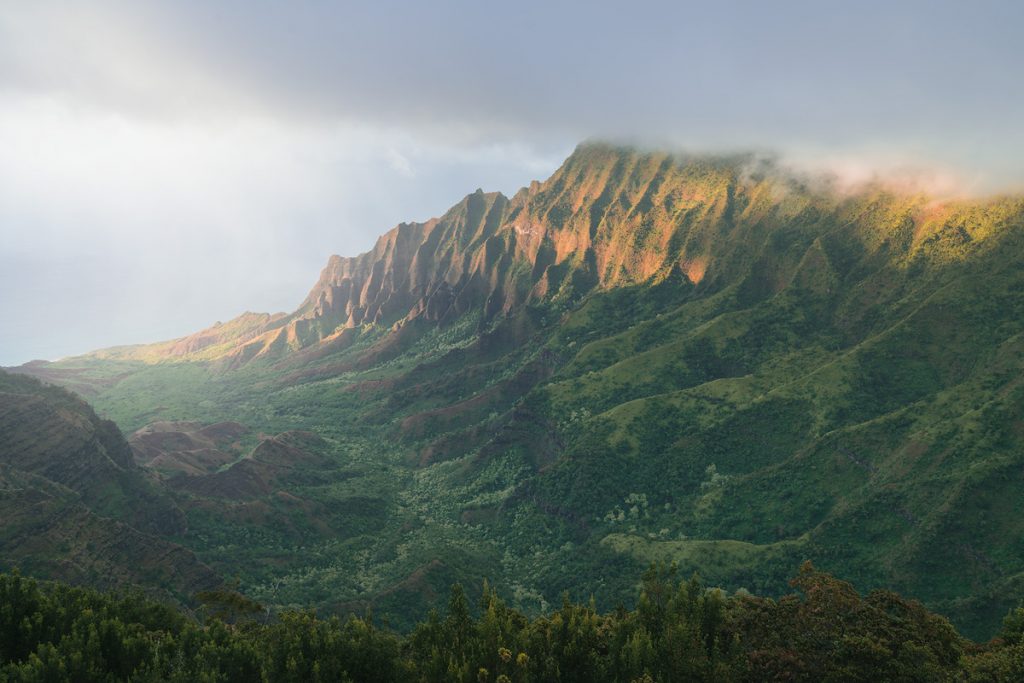 Visit the Kōkeʻe State Park lookouts
We already spoke a little about Kōkeʻe State Park and its beautiful ridge hikes. If you aren't up for hiking then I would highly recommend you check out the park's drive-up lookouts. Both the Kalalau Lookout (mile marker 18) and the Puu O Kila Lookout (mile marker 19) offer breathtaking views of the Kalalau Valley and Pacific Ocean. Well worth the stops!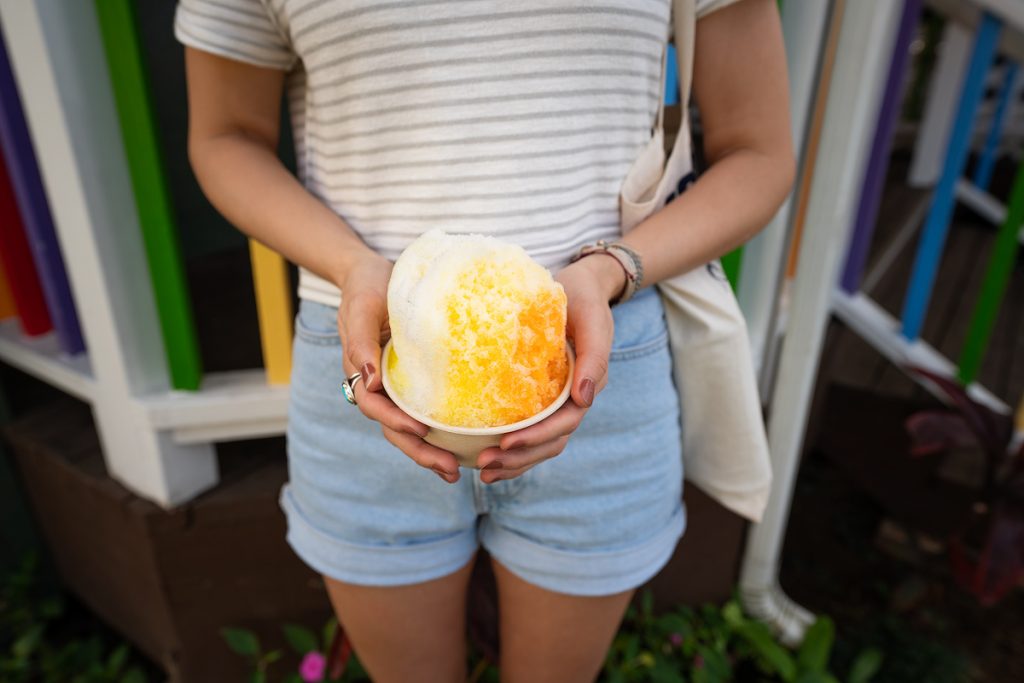 Eat all the delicious food!
Lastly, you simply cannot visit Kauai without eating some delicious food! There are so many great options to choose from but some of my favorites are: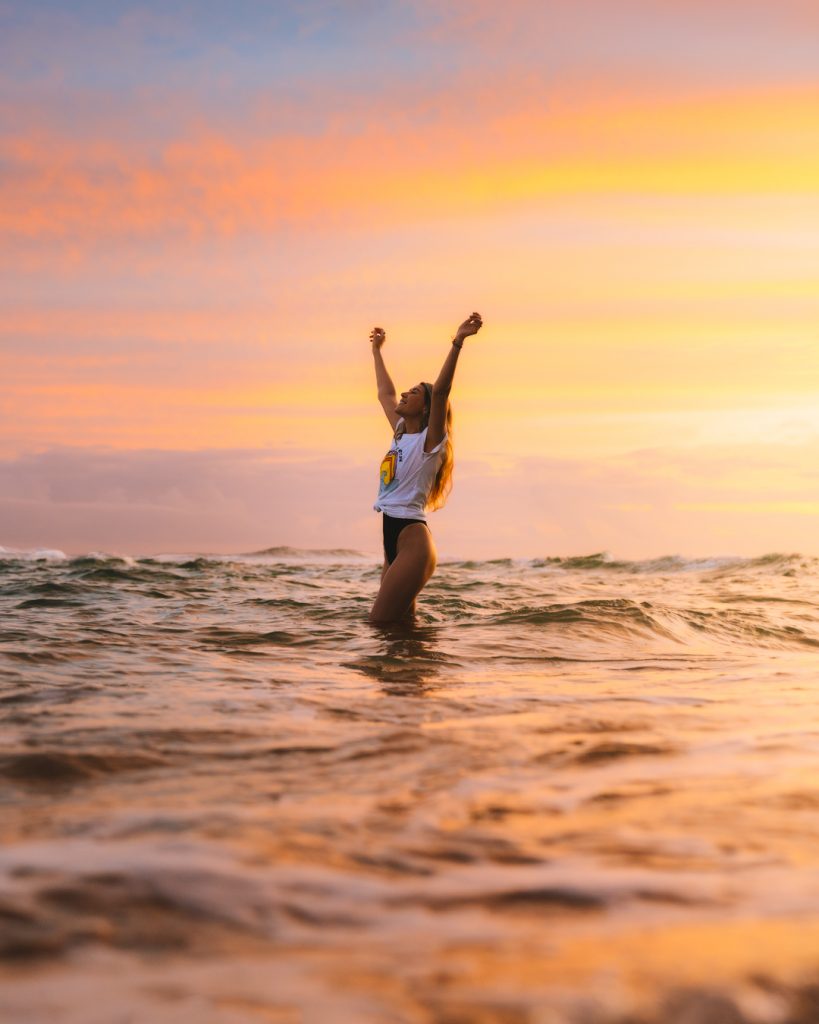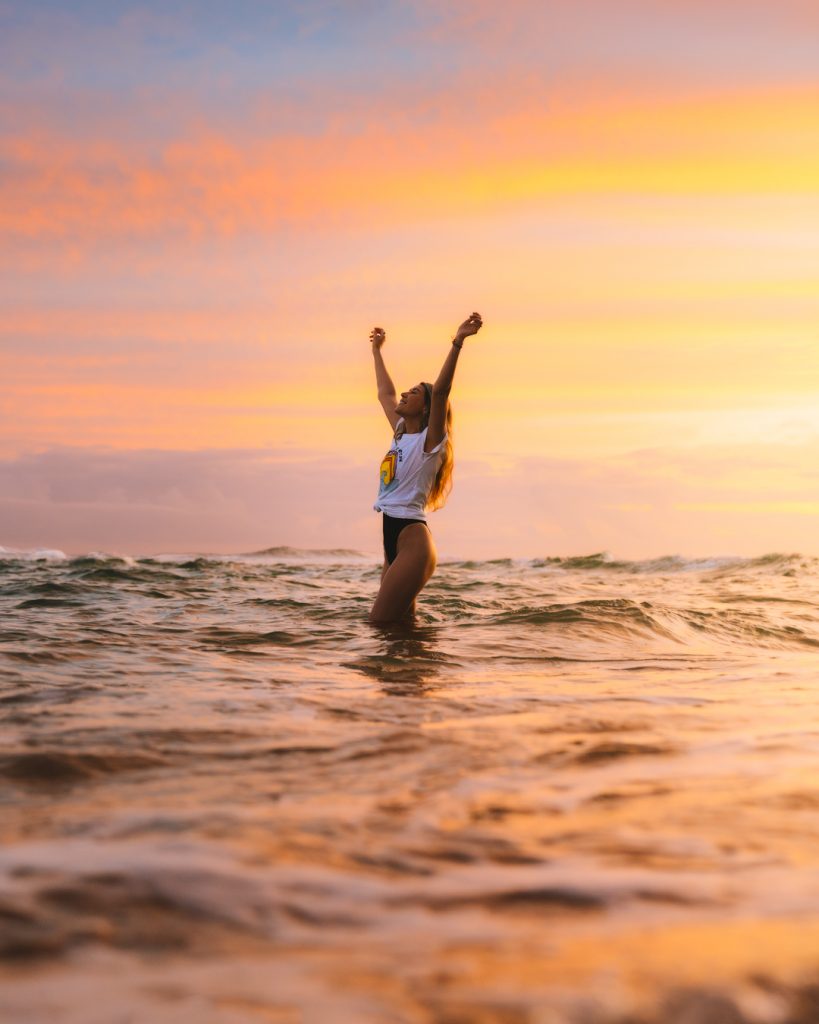 Map of Kauai outdoor adventures
Click on the map below for color-coded pins on Kauai's best outdoor adventures, some more amazing things to do, and my top food recommendations!
---
Kauai packing guide
Packing for a trip to Kauai is a little different to most tropical places, especially if you plan to get out on the trails! You will need to consider potentially muddy terrain, hot and humid temperatures, sun exposure, likely rain, and more. Below you will find my top recommendations for what to pack for your Kauai vacation!
This blog post is in collaboration with Backcountry.com. Like me, they are strong believers in encouraging people to get outside and experience this beautiful world we live in. For years now Backcountry have been my go-to online retailer for purchasing gear so that I can make these outdoor adventures happen. They partner with a range of sustainable brands, support incredible causes like The Nature Conservancy, and their Gearheads are always available to give advice and recommendations. Backcountry have kindly offered my readers 15% off first-time online orders using code RENEE15! *some exclusions apply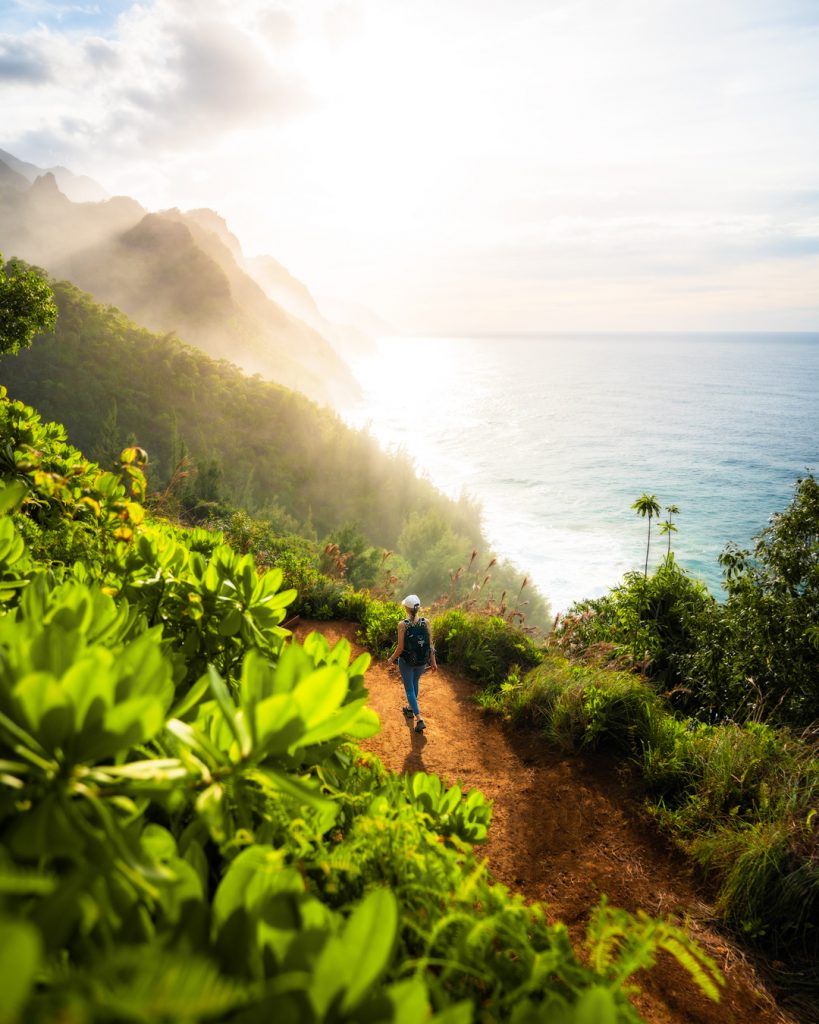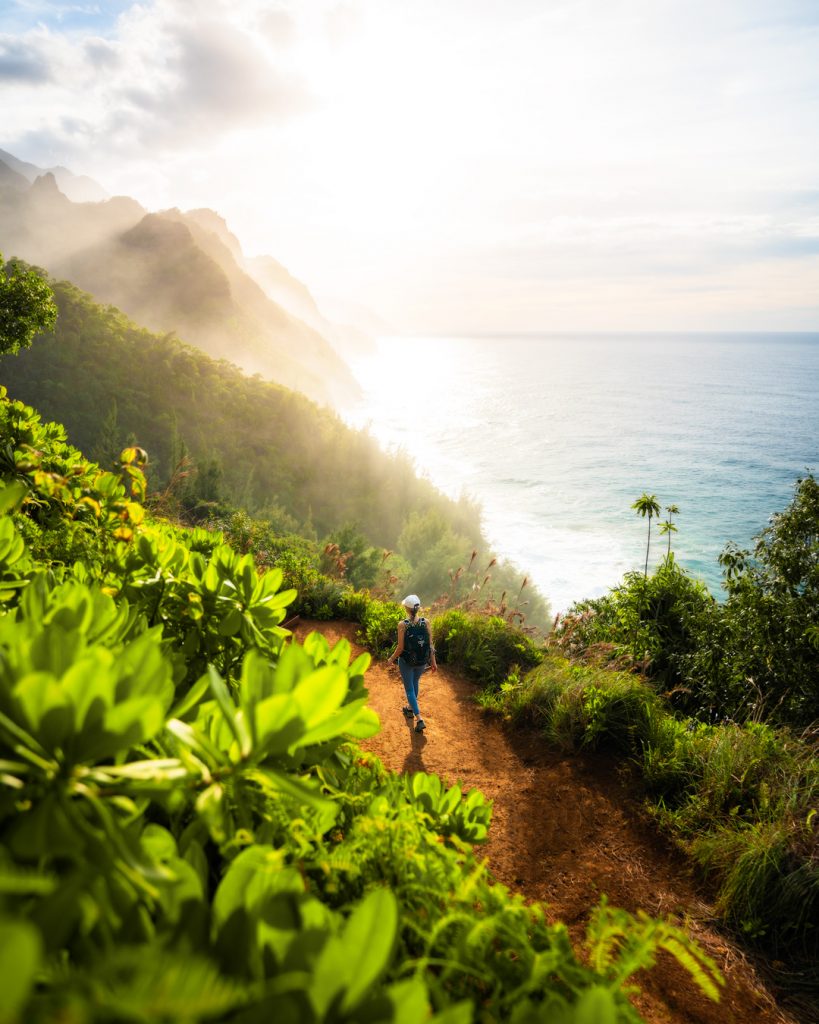 Clothing to pack
For clothing I would recommend bringing a mix of hiking attire, casual wear, swimming gear, and outerwear (yes it can still get chilly at times and it will likely rain at some point!) Each section is broken down below, along with links to some of my favorite pieces. Keep in mind that you should still research the current weather conditions/forecast before traveling… these are just guidelines!
Hiking attire
The trails on Kauai can get pretty muddy, you'll likely be hiking in hot/humid temperatures, bug bites are a consideration, and some trails have brush that can cut or irritate your skin. My preference for hiking on the island is to wear lightweight layers such as full-length leggings and a long-sleeve breathable top. This protects from the sun, bugs, and any scraps from overgrown trails. Then I will typically wear a sports bra underneath and hike with just that on if the conditions allow.
Outerwear
It can still get chilly in the evening and early morning in Kauai, especially when you are in the higher elevations (e.g. Waimea Canyon and Kōkeʻe state parks). It also rains fairly frequently, hence why the island is so green and lush! For outerwear, I recommend packing a fleece for warmth and a lightweight rain jacket. I also pack a light wind jacket for sun and bug protection.
Casual attire
What you pack for casual attire will be very person dependent. I typically take fairly relaxed pieces such as cotton tees, rompers, lightweight dresses, and quick-drying shorts. I would avoid taking anything too heavy unless you plan to spend most of your time at higher elevation.
Swimwear
Again, swimwear will come down to a personal preference. Keep in mind that you may want to take along a rashguard if you plan to surf, snorkel etc. One of my all time favorite sustainable swimwear brands is Vitamin A and I usually opt to pack at least one of their suits.
Footwear to pack
You won't need to pack too many pairs of shoes for your time exploring Kauai. I would recommend bringing a pair of lightweight trail runners (ones you don't mind getting dirty), a pair of outdoor sandals/water shoes, and a pair of casual sandals. If you plan to attend any nicer dinners etc. then I would also pack a pair of dress shoes.
Accessories to pack
There are some definite must-pack accessories for your time on Kauai. They include some kind of sun hat, a pair of sunglasses, reusable drink bottle, a day pack/hiking bag, and a quick-dry travel towel. If you are staying at a hotel then they may provide beach towels, but having a small travel towel may still be handy (and lighter in weight!) for packing on any waterfall or beach hikes.
Other items to pack
Last but not least, I would recommend you pack some other essentials to make your stay more comfortable and responsible. Some sort of canvas tote or beach bag will definitely come in handy and also help you avoid single-use plastic bags. Same principle applies to a reusable coffee mug, eating utensils, and drinking straws. I also suggest you pack bug spray, blister plasters, and reef-safe sunscreen.

---
More Adventure Inspiration!
Make the Most of Your Trip to Tulum, Mexico
Plan an Incredible Trip to the Big Island of Hawaii
Finding Paradise in the Islands of Tahiti
5 Best Things To Do on Oahu, Hawaii
PIN for later!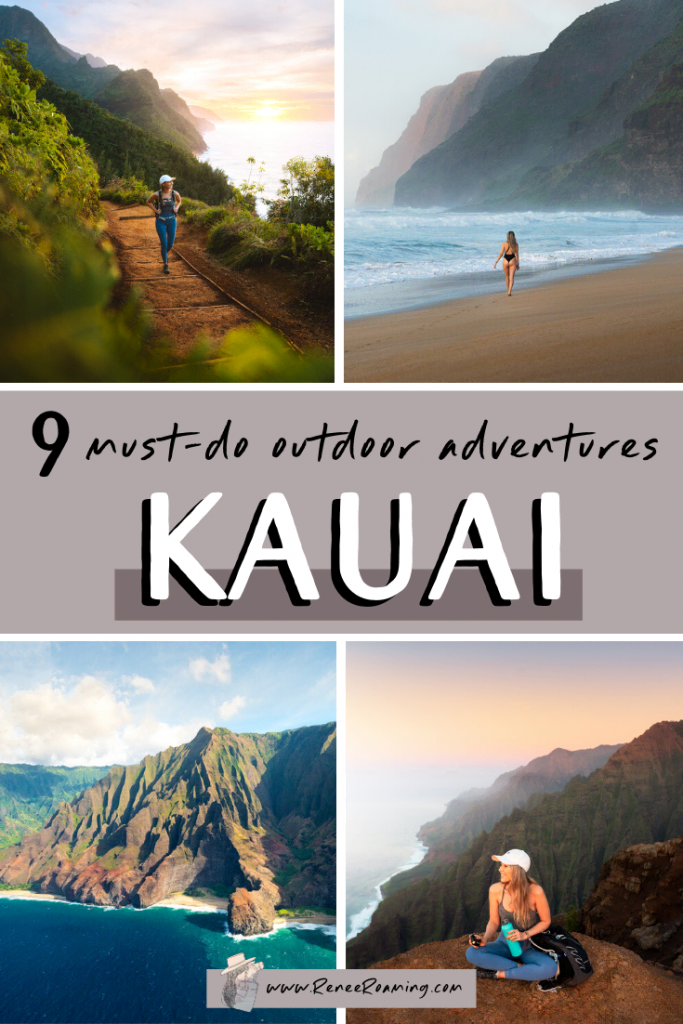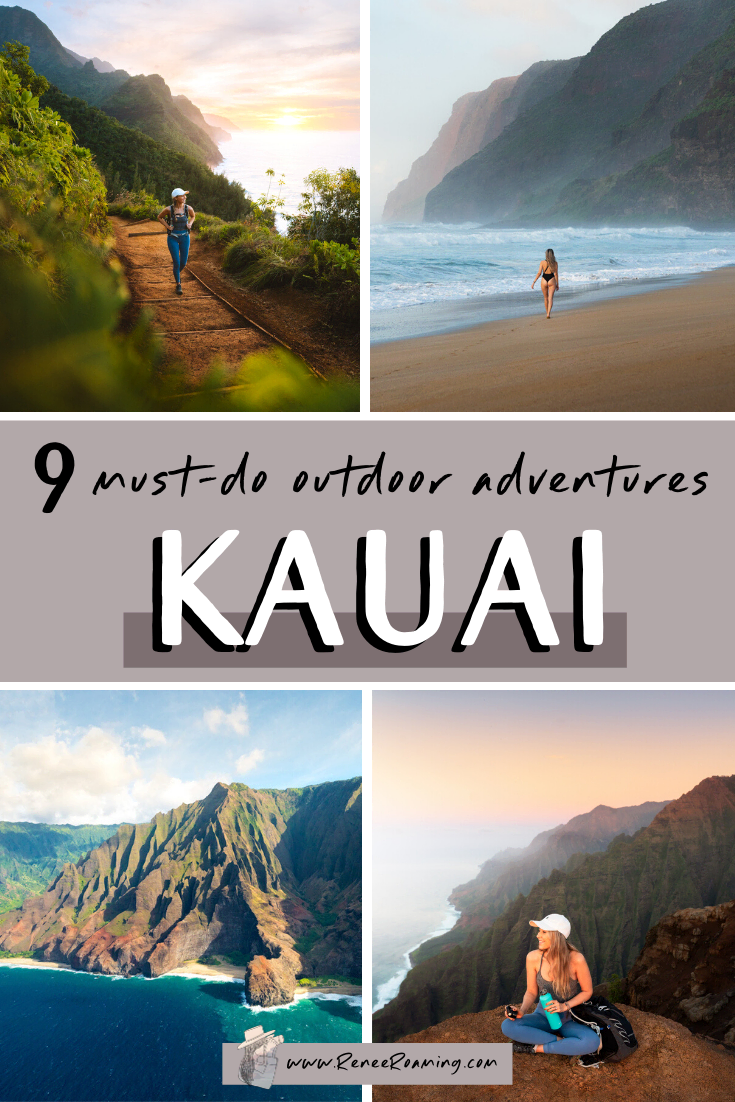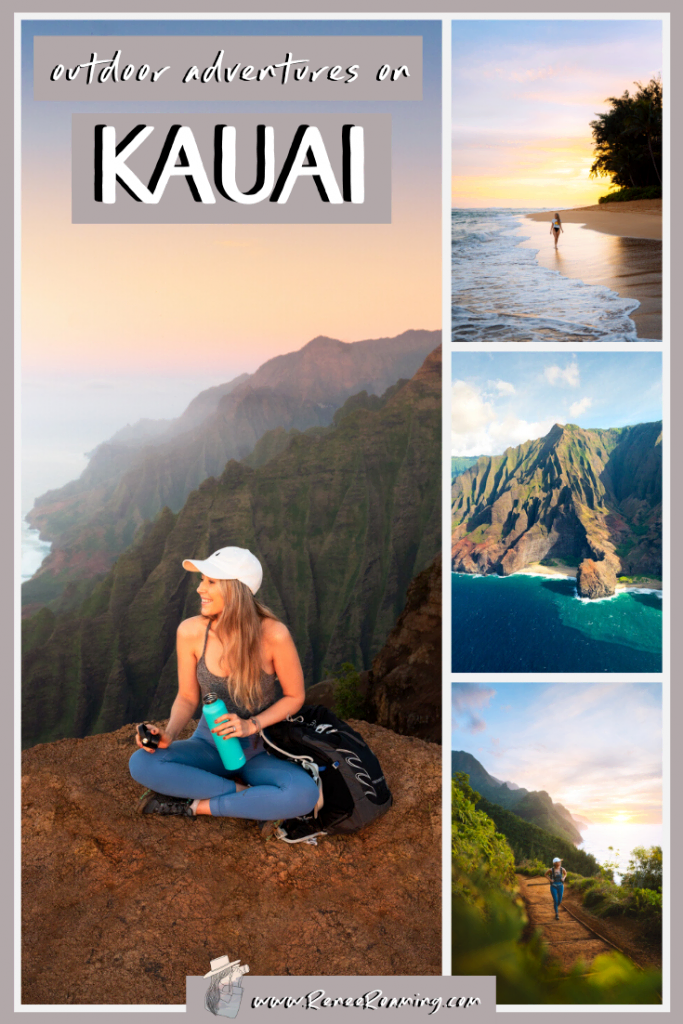 ---
Disclaimer: Thank you to Backcountry for collaborating on this blog post. As always, all opinions are truthful and my own. The offer of 15% off does not apply on top of any other offer or discount, and it's one use per customer. This post contains some affiliate links, which means if you buy something my blog will receive a small commission at no extra cost to you.