Iceland is wildly rugged and incredibly beautiful. After visiting for the first time in the summer of 2014, I knew I just had to return. My husband Matthew and I recently spent 15 days road-tripping around the land of fire and ice. In this post I will share with you our itinerary, along with some epic photography locations and tips for exploring Iceland.
WILD ICELAND – 15 DAY PHOTOGRAPHY ROAD TRIP

Arriving & Picking Up The Rental Car
We departed Seattle on March 1st and flew directly to Reykjavik. My favorite part of the flight was watching the northern lights dance across the sky from 37,000 feet – definitely a once in a lifetime experience! After landing we headed straight to pick up our rental car from Lagoon Car Rental. We chose a Toyota Land Cruiser for added 4×4 safety in winter, the option to go off the beaten path, and so we had room to sleep in the back.
Being March it was still super chilly so we didn't want to tent camp unless absolutely necessary. Overall, we were really happy with our rental – I miss those heated seats! Tip: definitely get the car WIFI device! That little thing had service nearly everywhere and meant we could use google maps and also stay connected to social media along the way.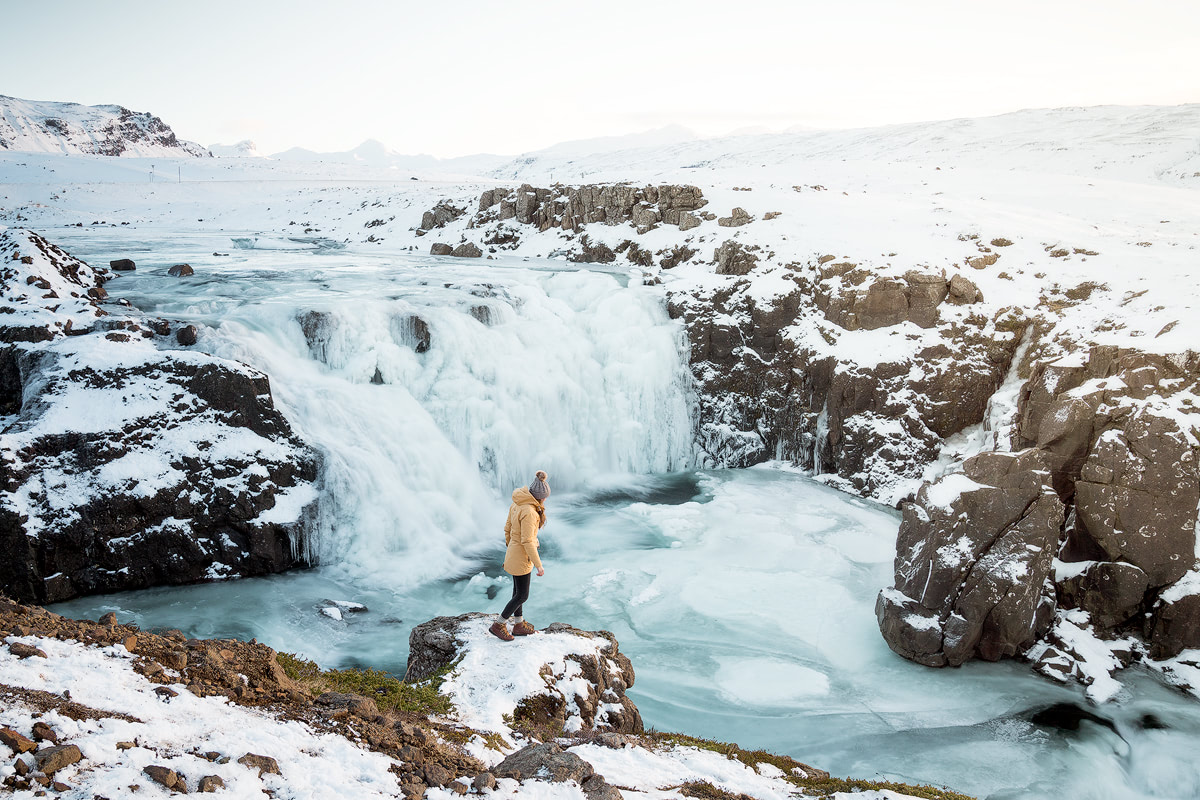 You're probably wondering why we would choose to sleep in our car and not in guest houses/hotels? The answer is simple – to save A LOT of money. Hotels in Iceland cost at least $100 USD per night (and often much more) but you can nearly always find somewhere to camp for free instead. We also chose to cook most of our own meals during this trip as restaurant food in Iceland is very pricey. Matthew and I like to cut costs wherever we can… which is one of the many reasons we can continue to travel and live our current lifestyle.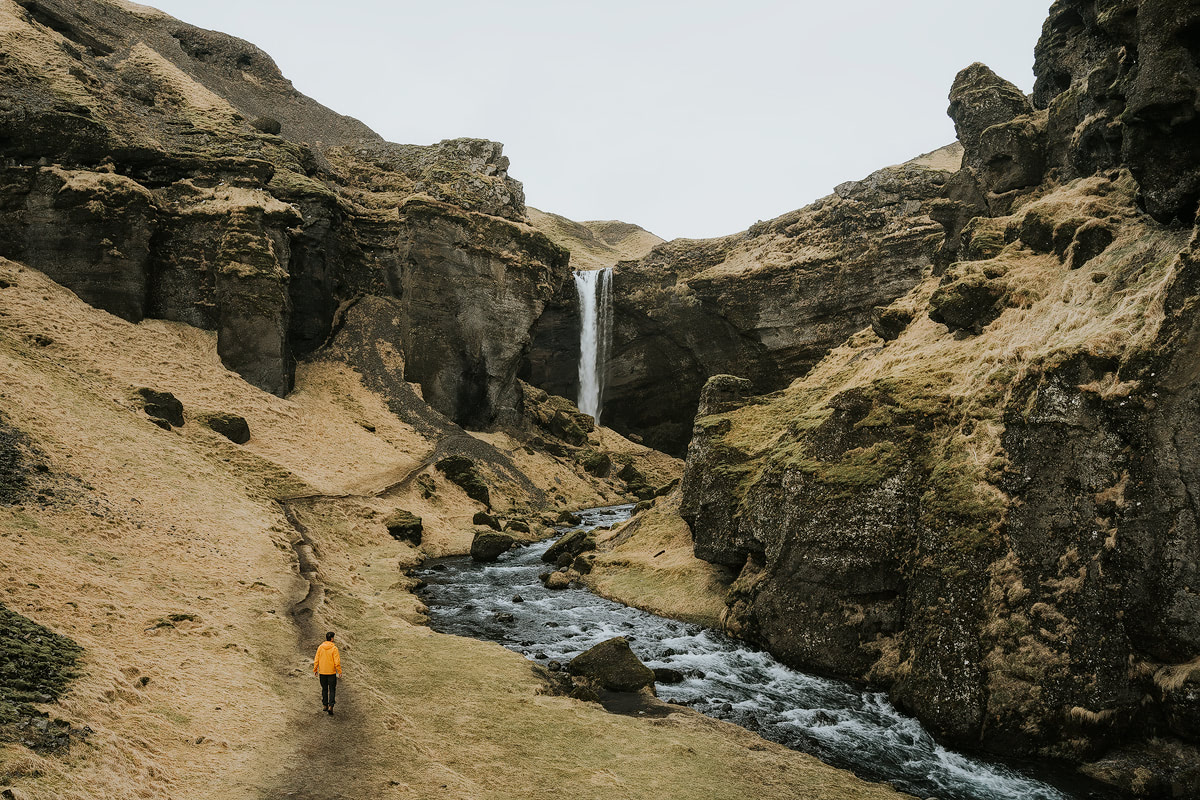 Itinerary
So onto the trip itinerary! We pretty much drove around the Ring Road (Hwy 1) in a clockwise direction, starting and ending in Reykjavik. We had zero plans and pretty much chased the best weather and photography spots we could find. This type of travel has its pros and cons but I personally love the freedom of not knowing where each day will take us.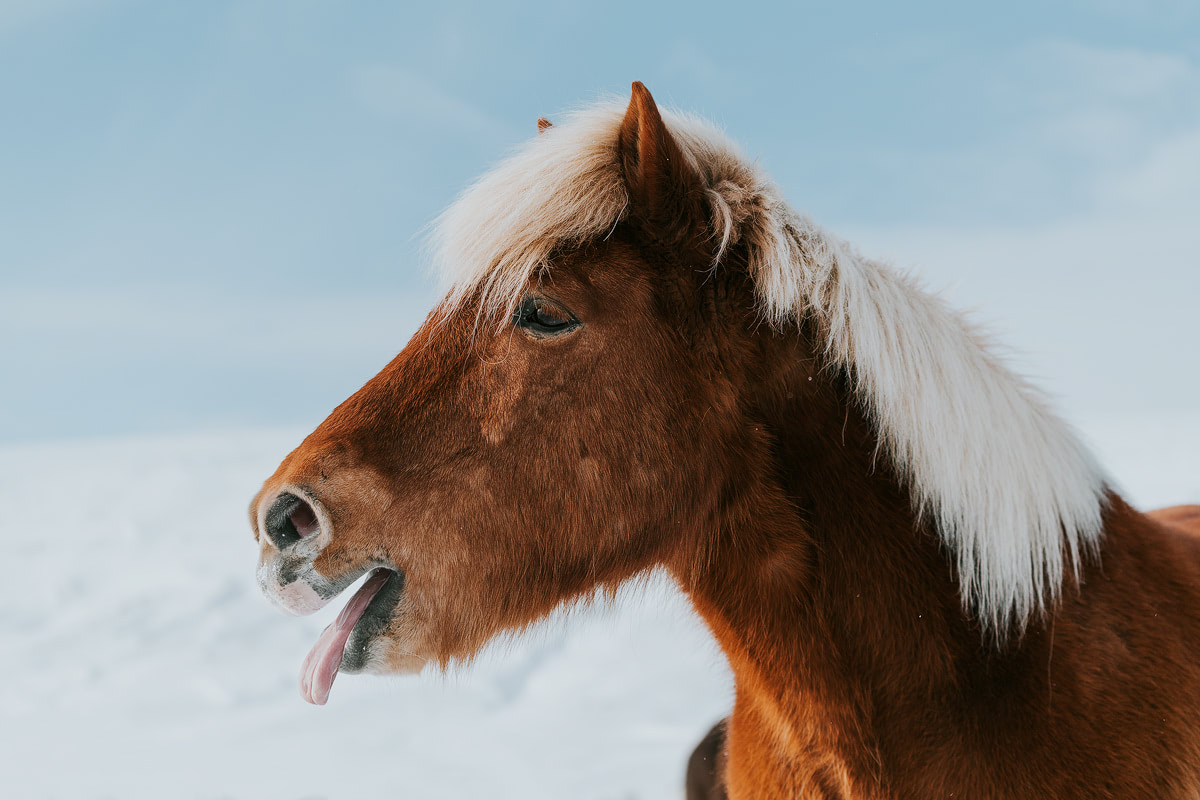 Our first destination for day 1 was the Snæfjellsnes Peninsula. We found a gorgeous beachside hot pool along the way and decided to soak after a long day of traveling. You will notice that there are some locations that I will disclose in this blog post and others that I won't. I'm not doing this to be mean or annoying, I simply want to be mindful of the farm owners and local people who have asked for places not to be geotagged.
We all know how much Iceland travel has blown up over the past couple of years… I'm mean HECK it was at least 10 times busier this time around compared to 2014. I think part of the fun of road trips is finding your own adventure and places off the beaten path. In saying that, I will be sharing the names of most of the popular places we went to in Iceland because unfortunately there aren't many "secret gems" anymore.
Wherever you visit during your time in Iceland, I urge you to be responsible and respectful as you go about your trip. Don't litter, follow the rules, do the right thing… be a good human.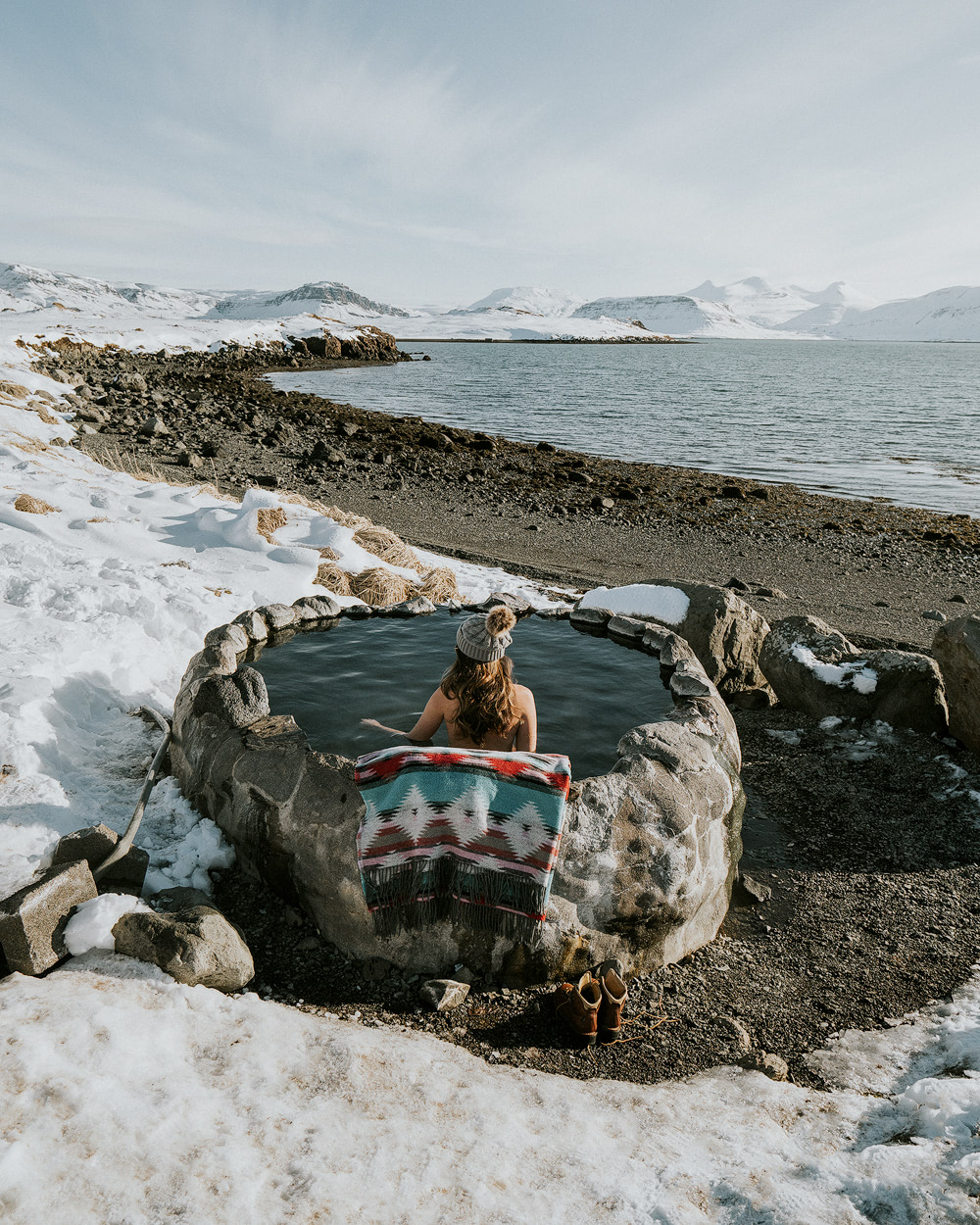 After soaking we continued onwards to Grundarfjödur. Picturesque Kirkjufell mountain and its nearby waterfall (Kirkjufellfoss) were our first stop. Unfortunately, there were about 100 people there so we soon moved on in search for a quieter spot to shoot sunset. We came across a gorgeous little house and cove on the other side of the Snæfjellsnes Peninsula.
Sunset was insane that night! We had 360-degree pink fairy floss skies… such a treat for our first night back in Iceland. We were lucky enough to get a glimpse of the northern lights straight after sunset, so we raced back to Kirkjufell to capture the show.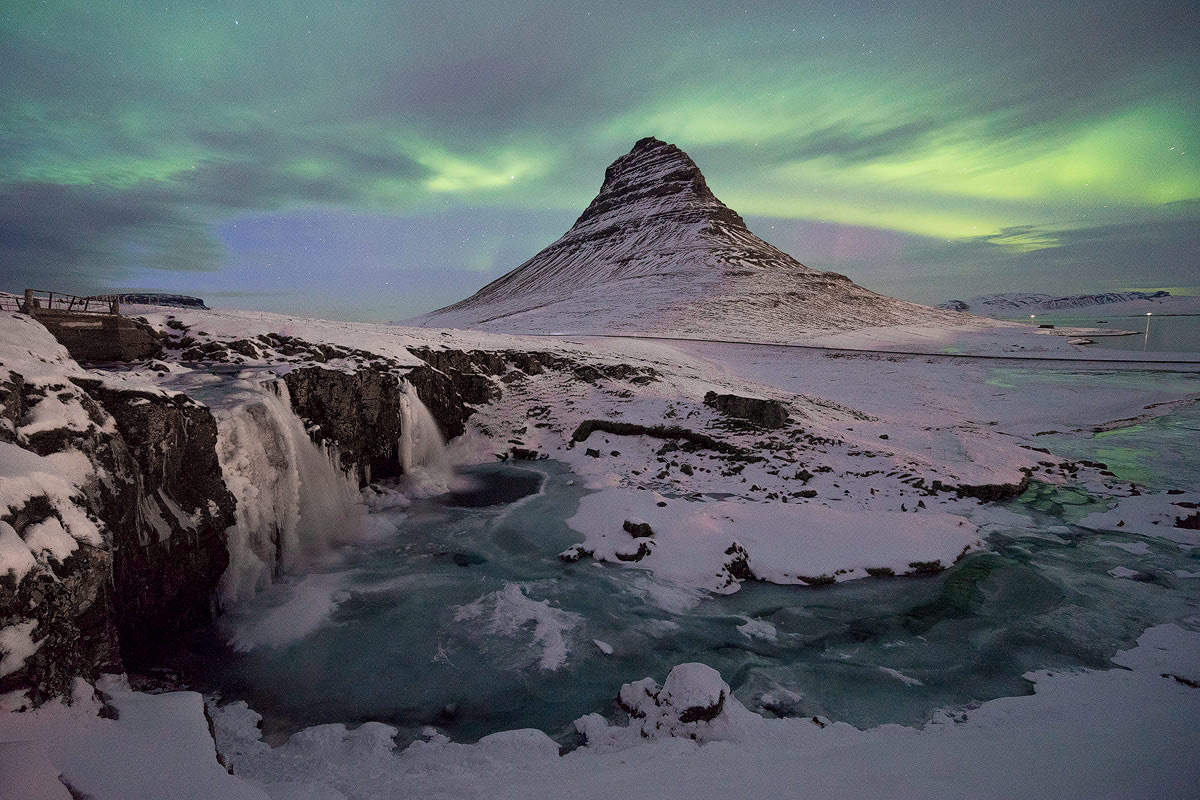 On day 2 we started heading north. We stopped at numerous pull-outs along the way to photograph local churches, farms, horses, rivers and waterfalls. Sometimes it felt like we literally couldn't drive more than a mile without needing to pull over and admire the view.
We eventually made it to a place called Hvítserkur in the northwest of Iceland. The location boasts a rock formation on a black sand beach – maybe not much to see for the average tourist but interesting for photographers. We slept the night nearby and shot sunrise at the beach the following morning. It was absolutely gorgeous but SO cold. My poor fingers and toes were stinging despite wearing thick winter socks, toe warmers, leather boots and two pairs of gloves… brrrrrrrr.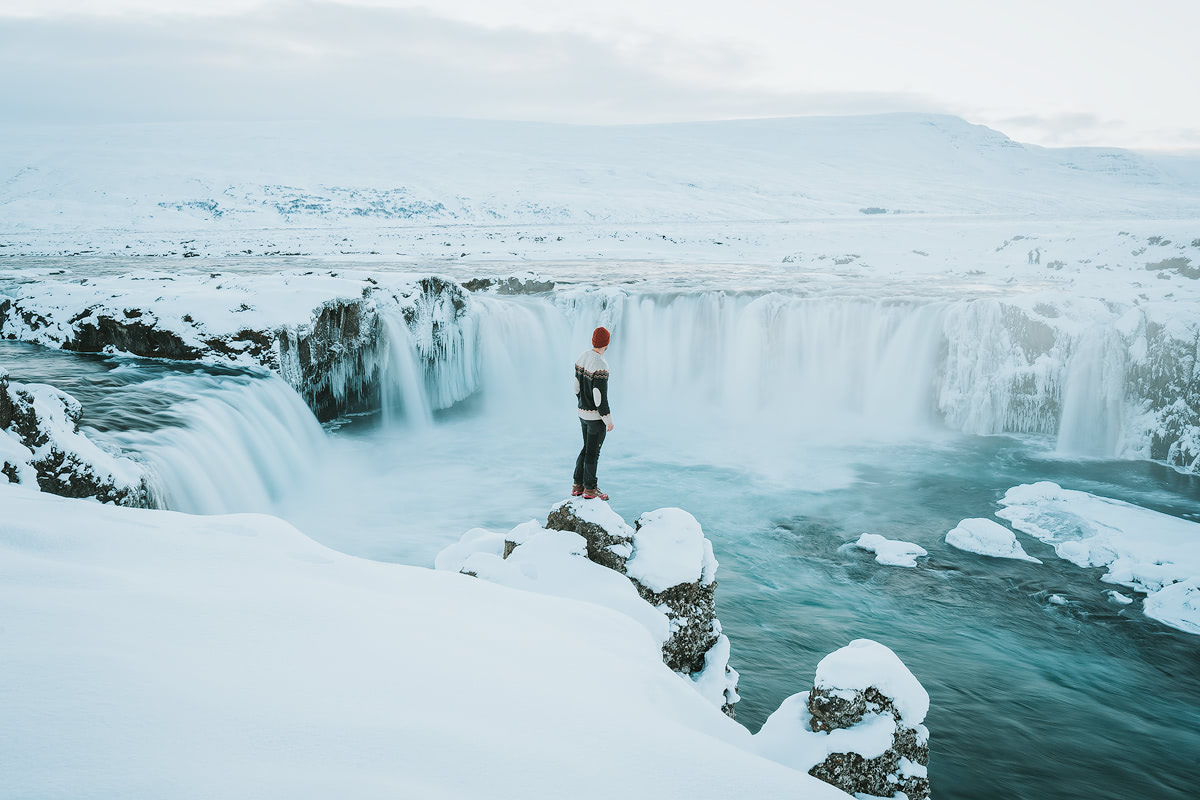 After shooting sunrise on day 3 we started our drive east along the ring road. By this point we were desperate for a proper meal so decided to grab some food in Akureyri. This cute town is definitely worth stopping at and I would highly recommend the food at "Akureyri Fish and Chips".
After leaving town, we eventually made our way to Goðafoss (Waterfall of the Gods), located in north-central Iceland. Unfortunately, we didn't get the sunset or sunrise we were hoping for at Goðafoss but it was still incredible to witness nonetheless. Before heading further east we stopped by another local waterfall for an epic winter adventure. It was turning out to be the day of waterfalls!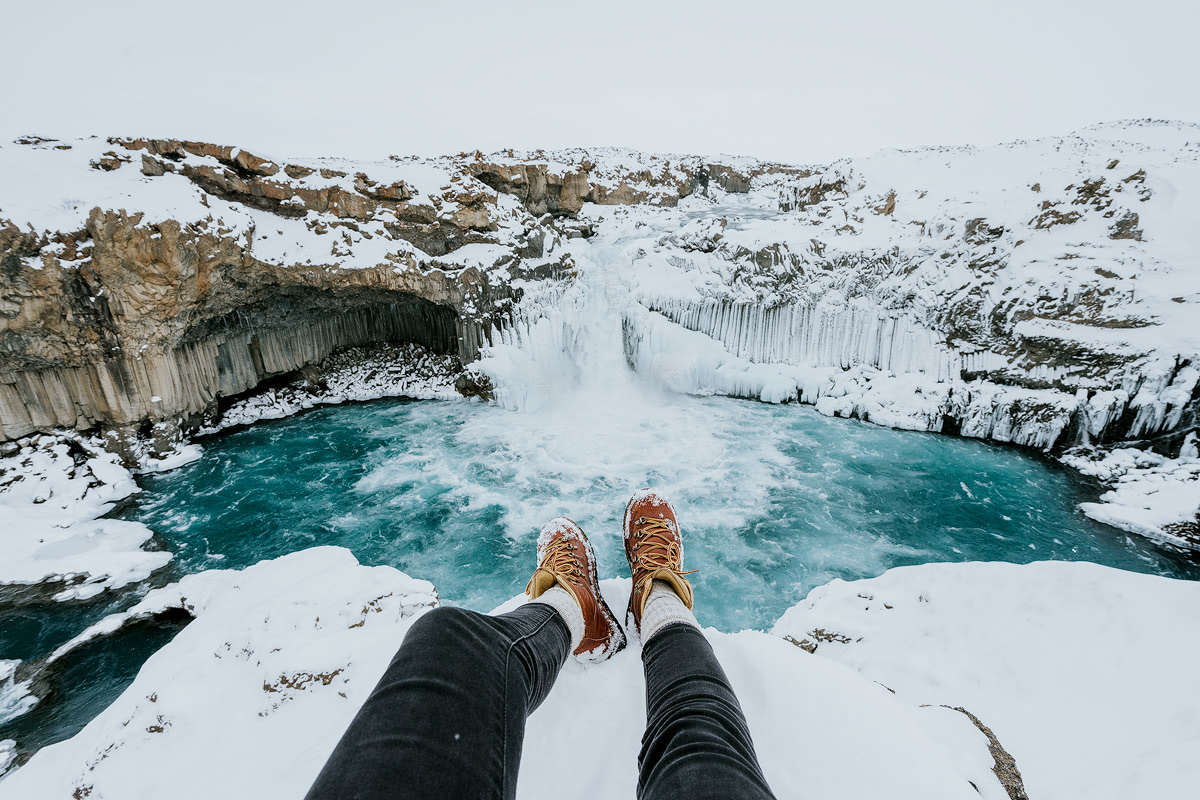 Day 4 of our trip involved a morning drive up to the quaint town of Húsavík on the north coast of Iceland. Despite smelling very strongly of fish, this tiny town had the cutest harbor and old wooden church. After exploring Húsavík, we decided to drive onto the Mývatn region, where we spent the day checking out all the craters and geothermal spots. I couldn't resist ending the day at the Mývatn Nature Baths. It was magical watching the sunset over the snowy mountains through the mist from the ice blue lagoon.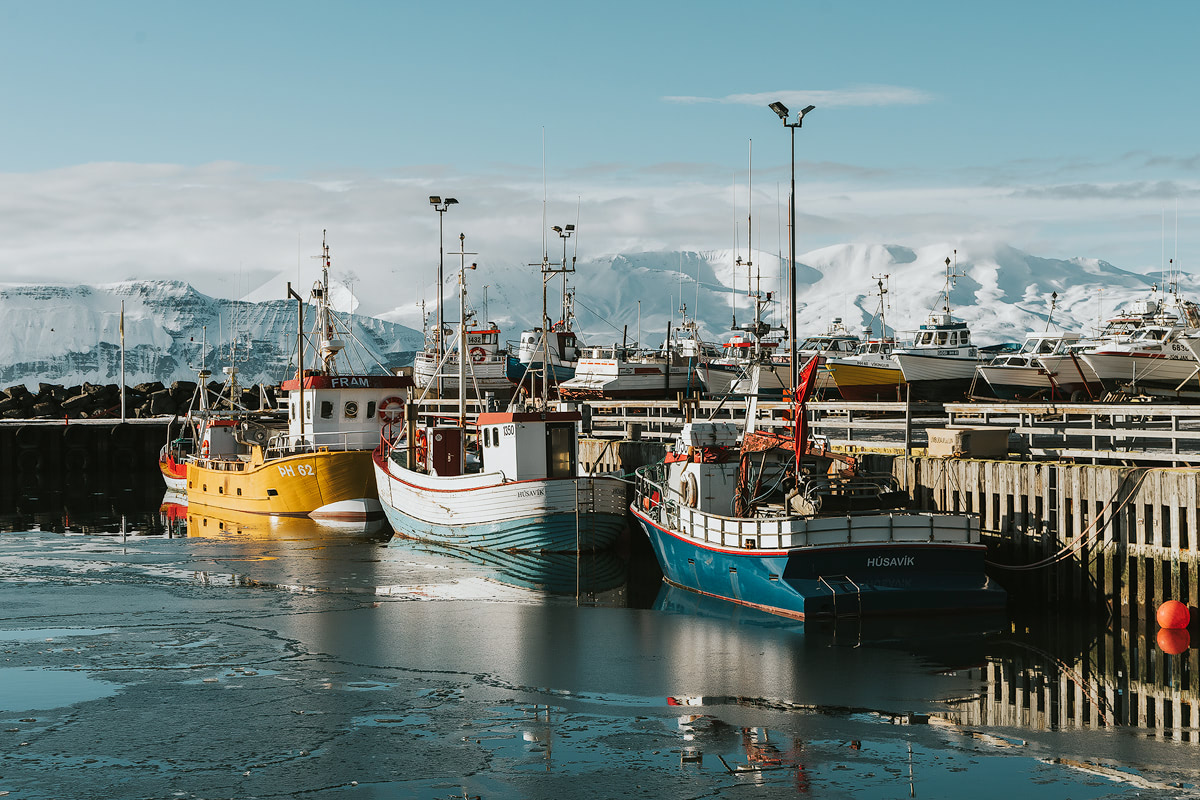 After a much needed sleep-in the following on day 5, we headed out to explore some waterfalls, namely Dettifoss and Selfoss. I was particularly excited to witness Dettifoss – the most powerful waterfall in Europe. Both falls did not disappoint!
To top it all off, that night we had another amazing show of the northern lights during our drive to the East Fjords. We couldn't resist getting a cheesy couple photo under the lights… because you only live once right?! Check out this post for my tips on snapping amazing couple photos when traveling.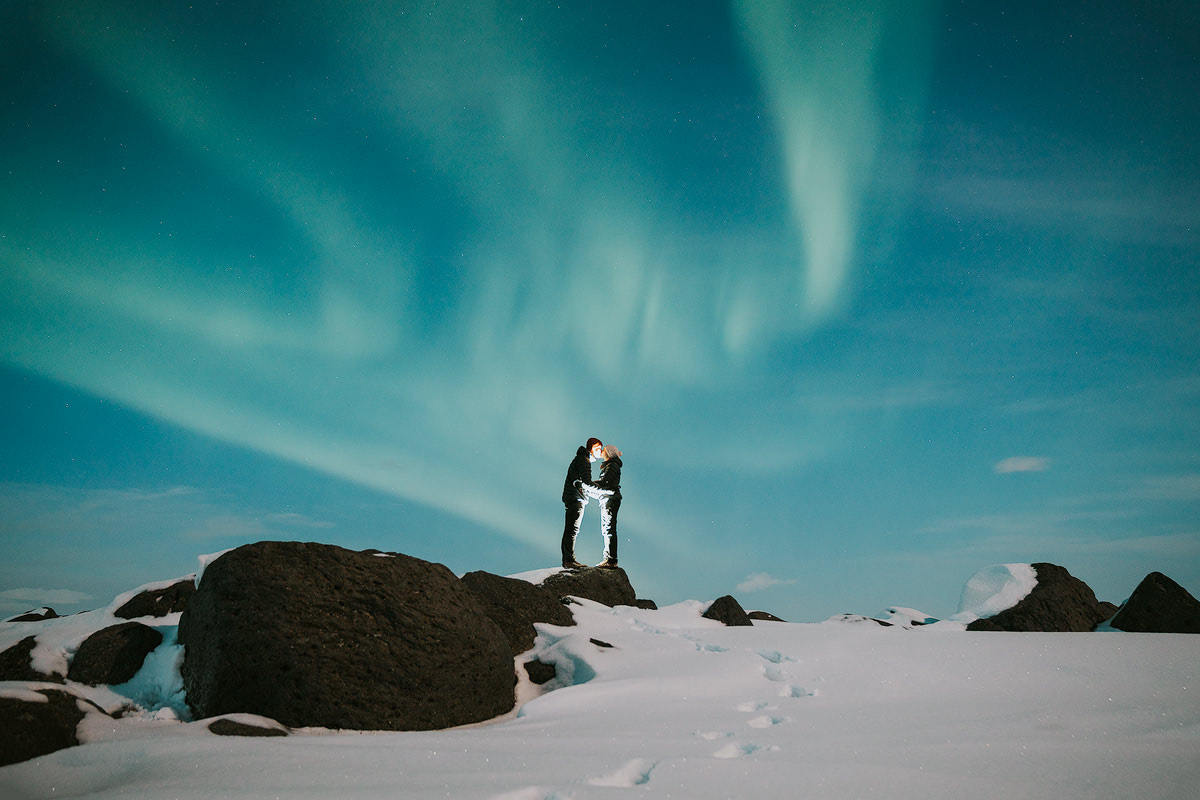 Days 6 was filled with views of majestic fjords, snow-capped mountains, and the wild ocean. Our drive along the East Fjords was spectacular and involved hours of using our drone as we best attempted to capture the beautiful scenery. We stopped in Höfn for a bite to eat at Hafnarbuðin, an affordable diner style restaurant. The lobster roll was delicious!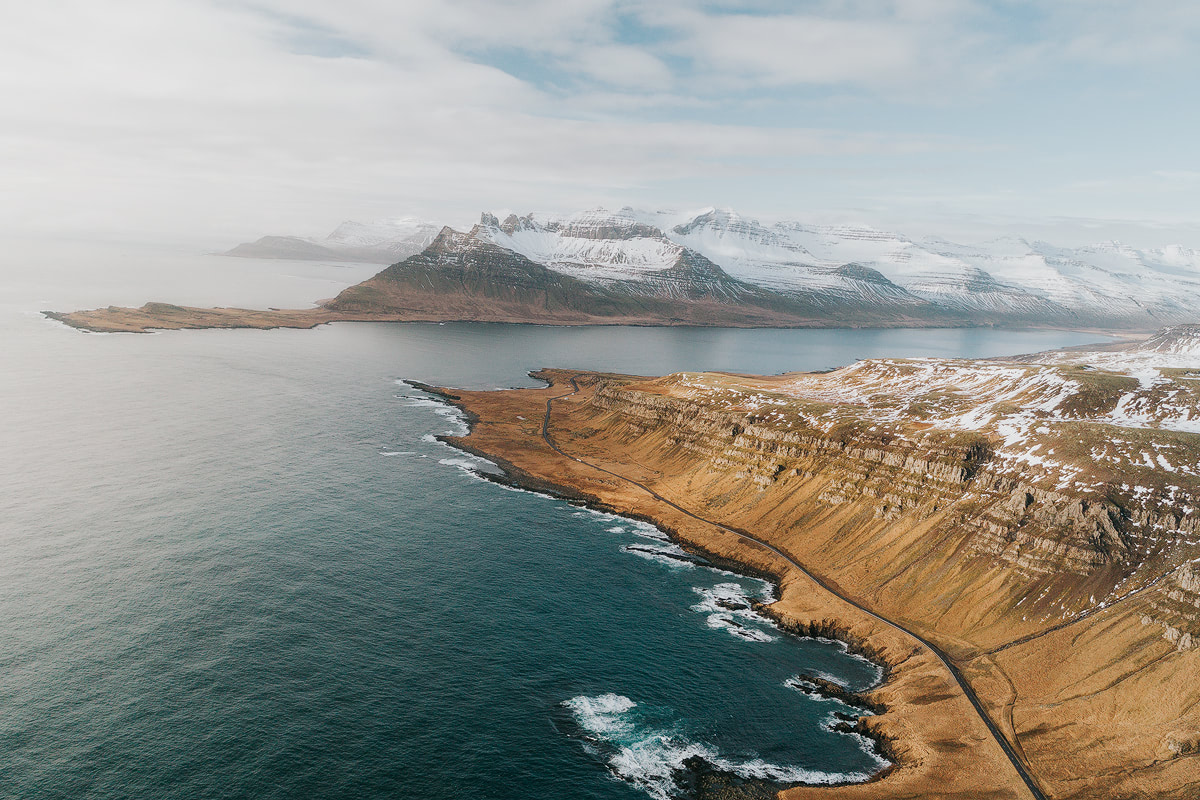 Our sunset destination that night was Vestrahorn, which is also known as Stokksness. The area is famous for its majestic mountains and black sand dunes. It was crazy to see how commercial it had become since our last visit, but regardless of the crowds, it was still absolutely stunning. We were treated to a gorgeous sunset that night and some more nice light at sunrise the following day.
On day 7, before leaving the area Matthew and I decided to hike across the beach and around the side of the mountains. It was interesting to see the remains of old stone houses and we even bumped into some reindeer. The owners of the land have built a Viking style movie set in front of the mountains, which is also worth a little walk around.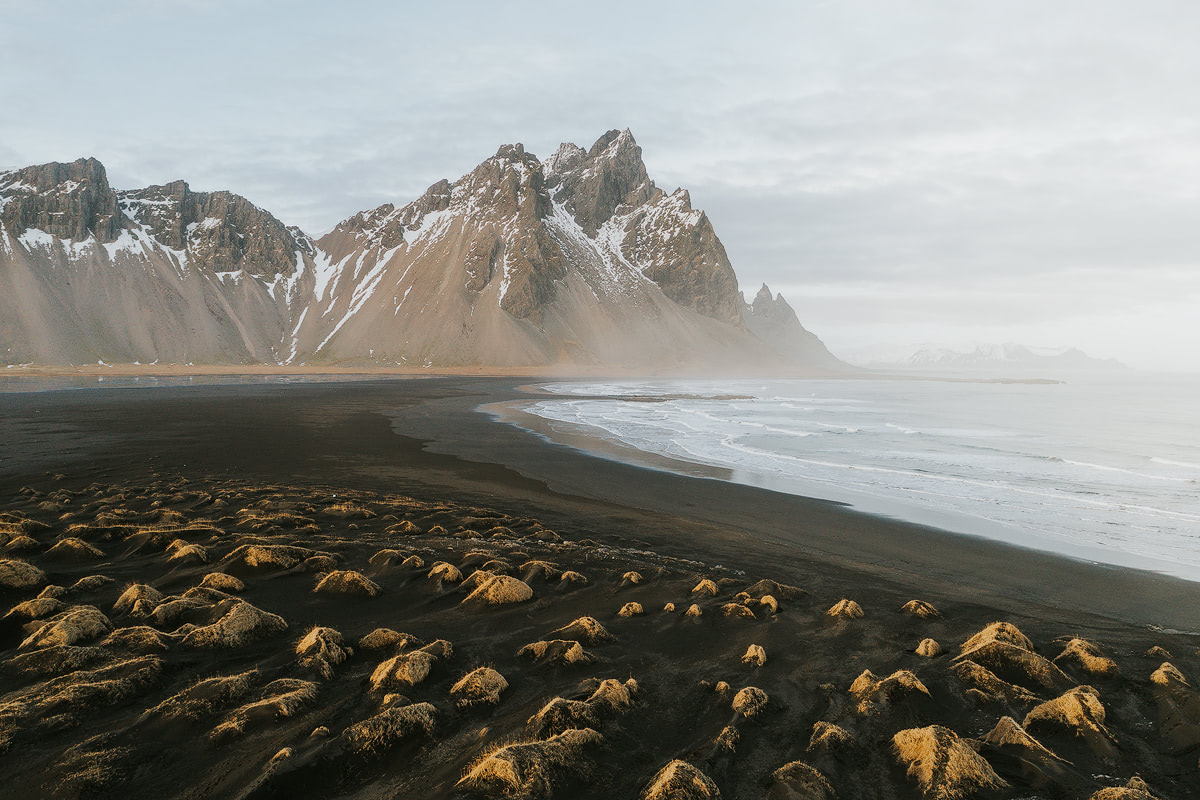 Our next stop was Jökulsárlón, a glacial lagoon branching off from Vatnajökull Glacier. This place is somewhere you need to see with your own eyes to believe. The blue lagoon is filled with icebergs that drift out to the Atlantic Ocean and lay in chunks on a black sand beach. If you're lucky enough you can see seals swimming around and coming up onto the ice. The only downside is that the area can get quite busy with tourists. We decided to shoot sunset at the lagoon and sunrise on the black sand beach on day 8.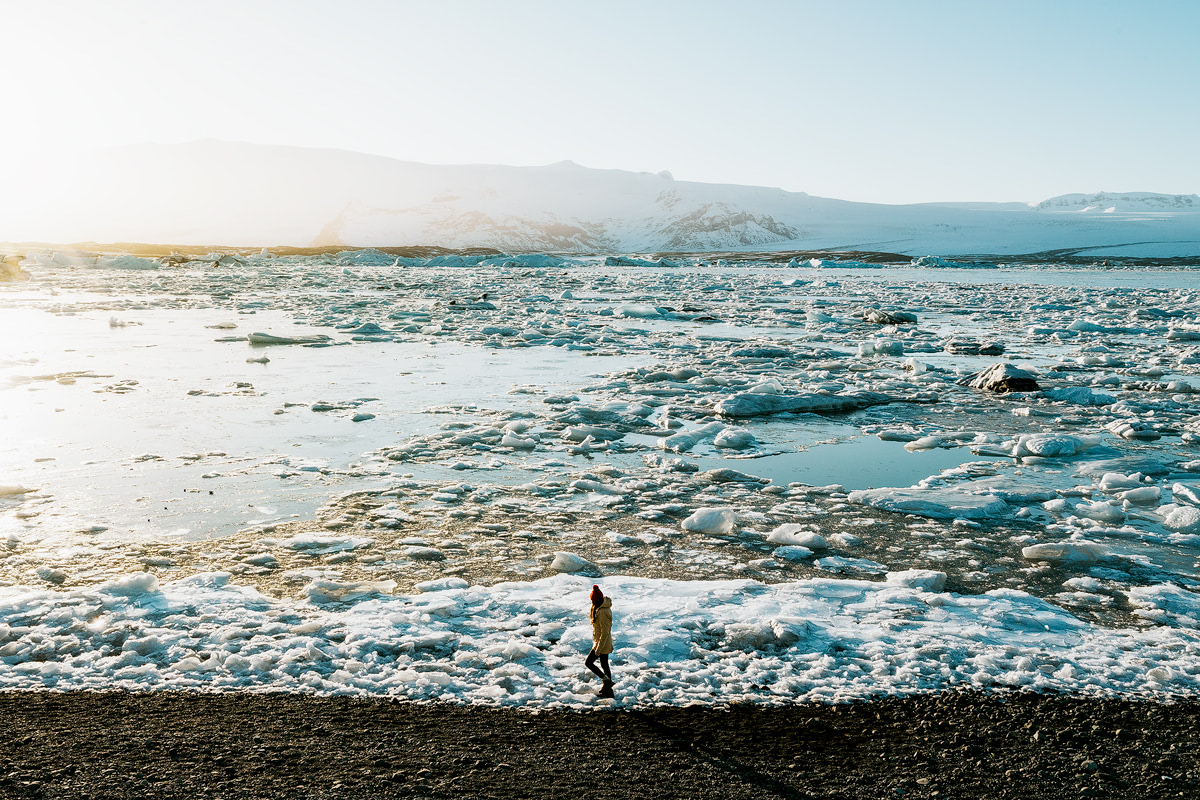 After shooting sunrise at Jökulsárlón we decided to head west along Hwy 1 towards the town of Vík. We cruised along, stopping at various glaciers and points by the roadside. My favorite was Svínafellsjökull – a gorgeous ice blue glacier with a frozen lake at the base. We took our time exploring the area and capturing aerial footage on our drone. The weather was looking ominous that night so we decided to check into the most affordable hotel we could find in Vík – Hotel Puffin. It's always heaven having a shower and a cosy night sleep after numerous nights camping…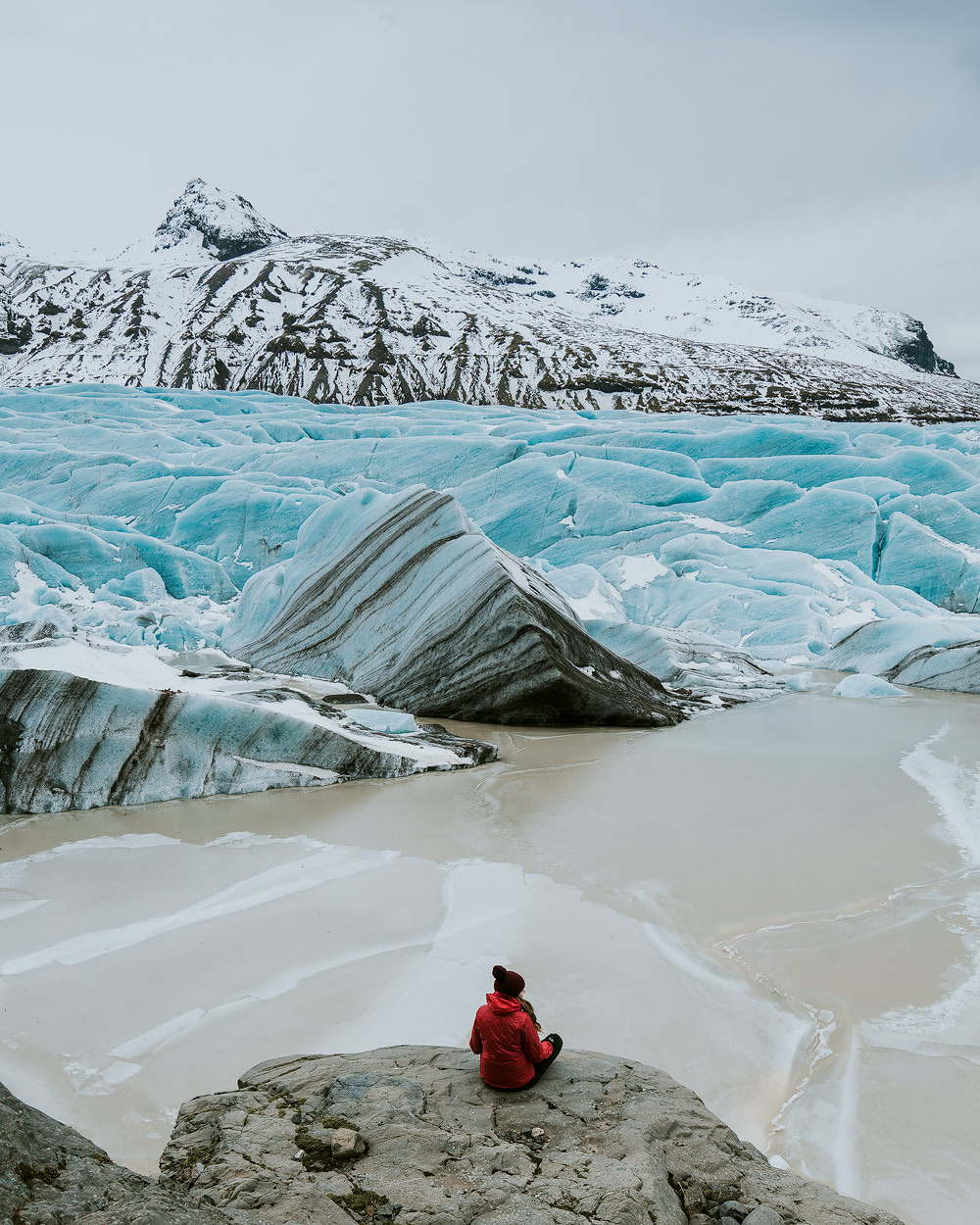 Days 9-11 were spent exploring the sights nearby Vík, including the Dyrhólaey Lighthouse and cliffs & Reynisfjara black sand beach. We also returned to the ever so beautiful Skógafoss and Seljalandsfoss waterfalls. The south of the island is much more crowded than the north but 100% worth exploring in my opinion. My favorite moment on the south coast was a sunset at the Dyrhólaey cliffs. Matthew and I hiked down just a little away from the crowds. It was just us, hundreds of birds and an epic view (see below).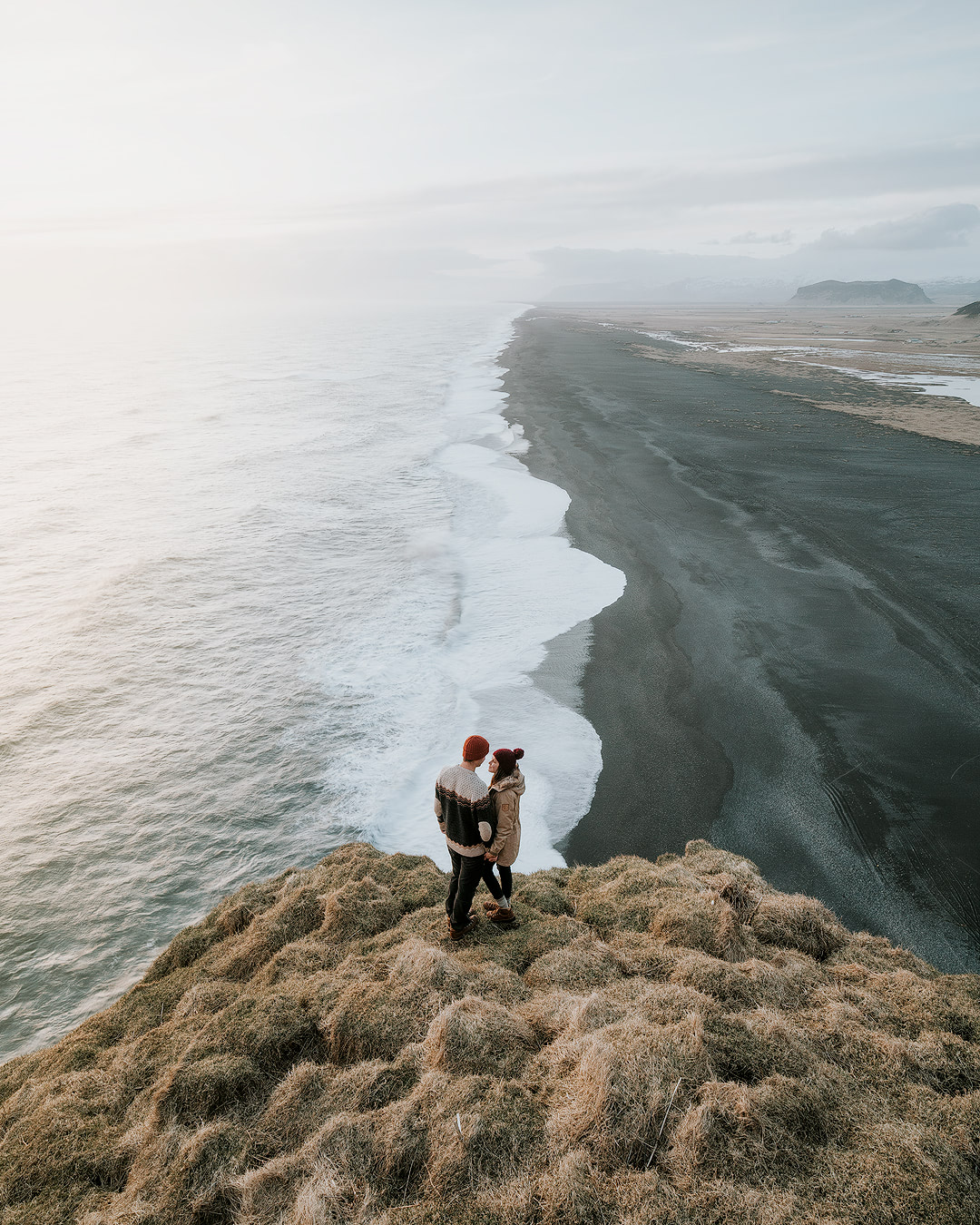 During our days exploring Vík we also backtracked east to Fjaðrárgljúfur canyon. It was an overcast day which suited the scene perfectly and gave our photos a moody vibe. The Fjaðrá river flowing through the canyon is a beautiful blue color and includes a few waterfalls.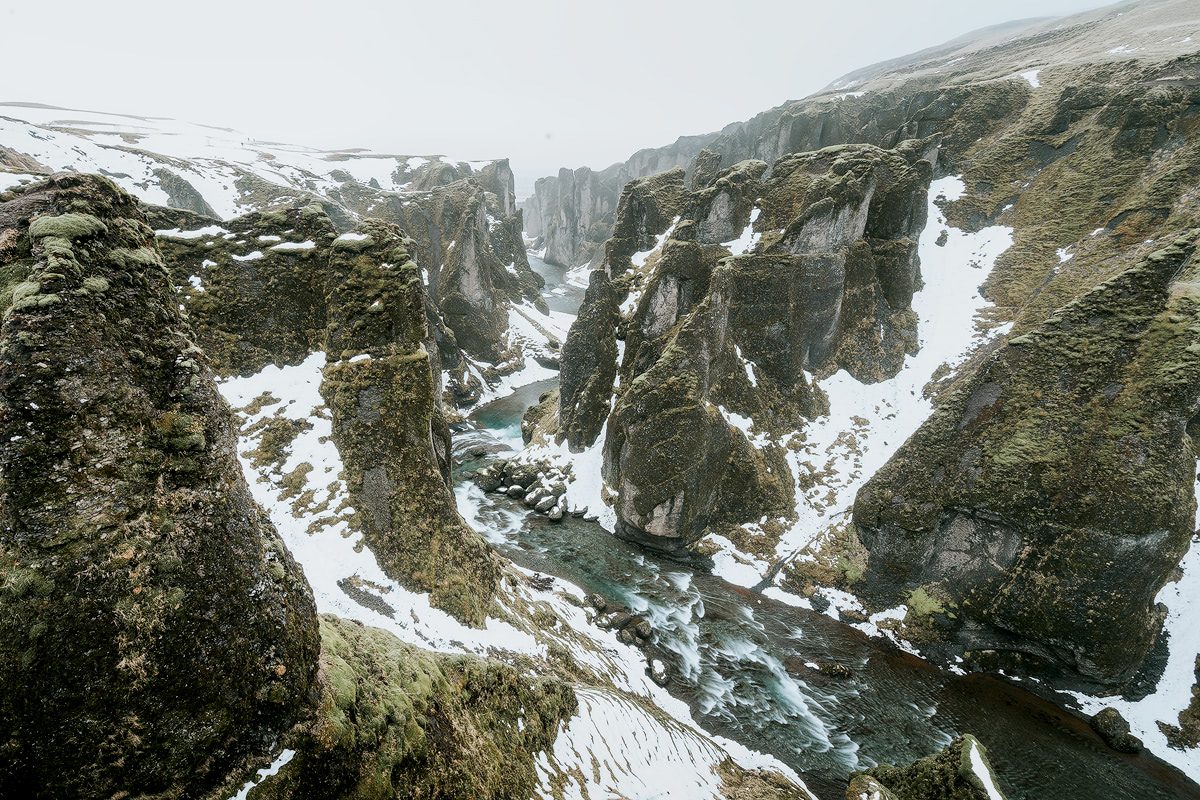 Our last couple of days in Iceland were spent exploring the Thórsmörk area, located north of Seljalandsfoss. Volcano Huts kindly hosted us for the night, which gave us the opportunity to explore the nearby canyons, rivers and mountains.
We had an amazing time and I would love to return in summer when the hikes are a little more accessible. After leaving the Thórsmörk area we decided to stop by some rivers on our way back to Reykjavik. We flew the drone to capture an aerial perspective of the crazy river patterns and colors. I could seriously post an entire blog post on just these river shots… it was so gorgeous.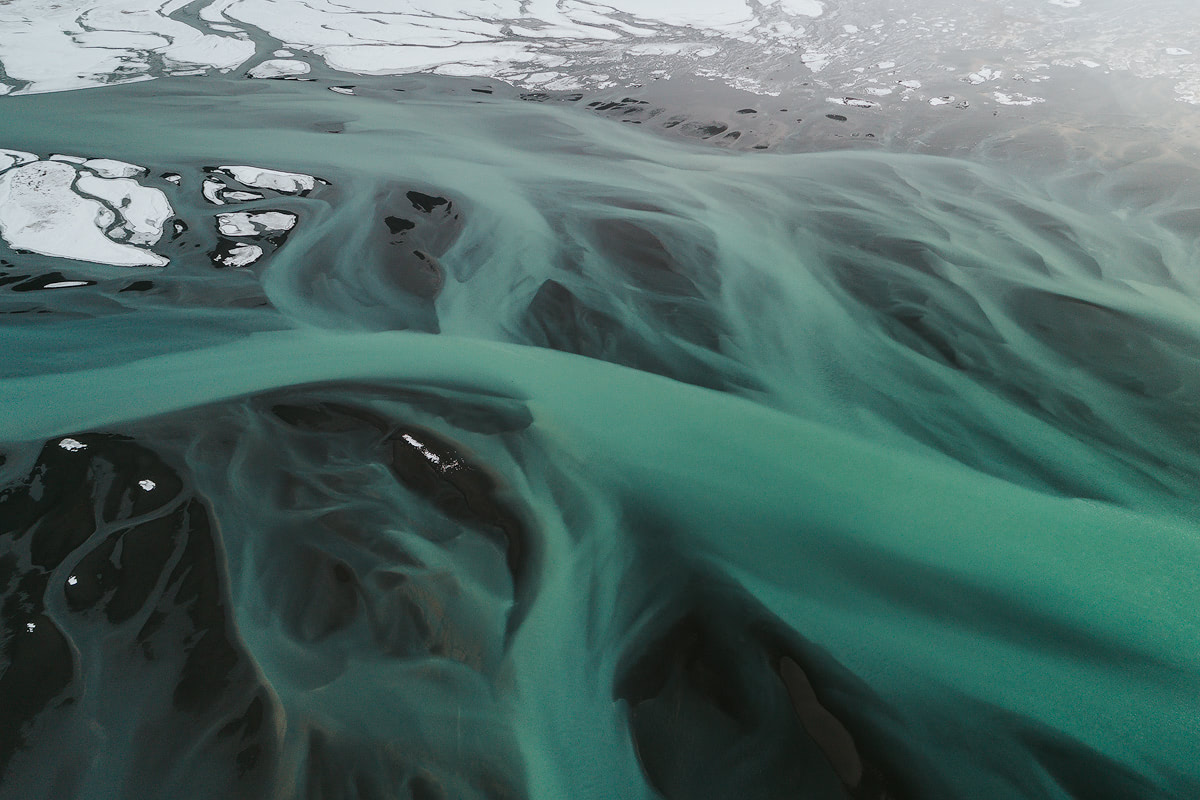 It was time to head back Reykjavik, rest up for a day and start preparing for our next trip to the Faroe Islands. We were exhausted from our non-stop adventuring but stoked with everything we got to experience. Iceland is one of those countries that I could return again and again to and still be surprised by its beauty. I think my next visit will be in early summer for the midnight sun, and so that I can finally witness the central highlands and get out to the west fjords.
I hope you enjoyed this trip report! Share your favorite location in Iceland in the comments section below! 
PIN FOR LATER!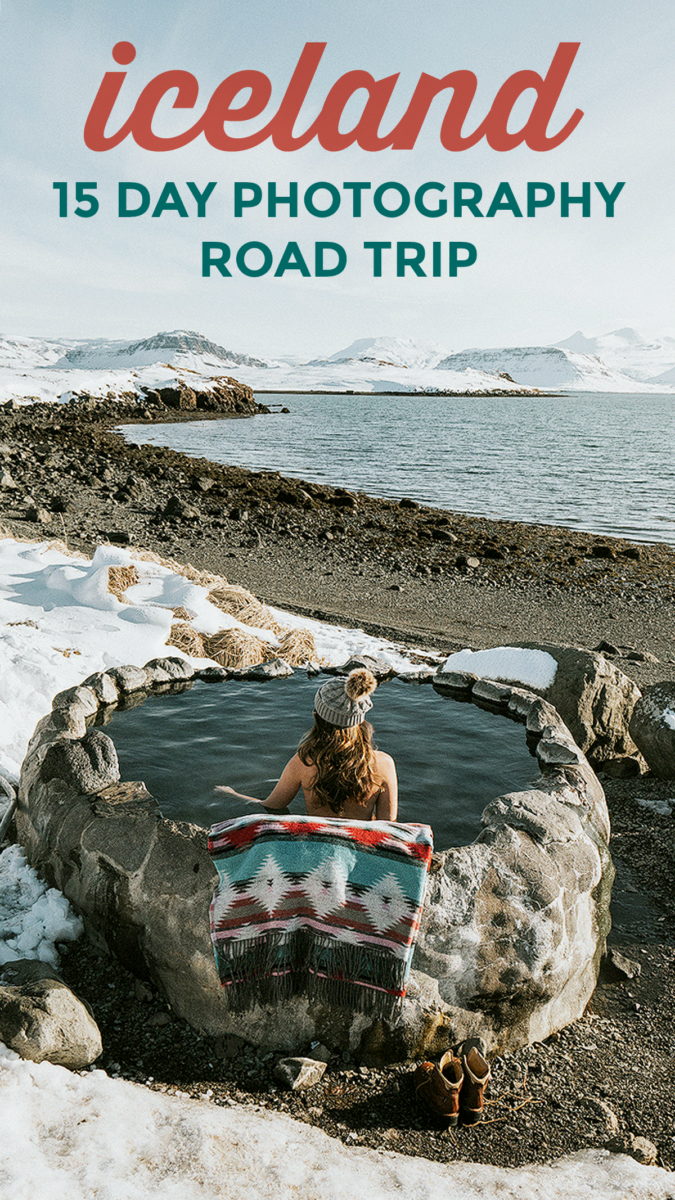 Disclaimer – My husband and I were provided a rental car for this trip from Lagoon Car Rental and the night of accommodation at Volcano Huts was also sponsored. As always, all reviews and opinions are honest and unbiased.