Lapland, Finland is the ultimate winter travel destination! This dreamy part of the world has it all… think reindeer sleigh rides, dog sledding, northern lights, amazing hotels, authentic saunas, snowmobiling, snowshoeing, and much, much more!
In this blog post, I'm sharing all the insider tips on everything you need to know for planning your own trip to Lapland, Finland. Including how to get there, which regions to visit, the best things to do, and recommended places to stay.
This trip was in collaboration with Visit Finland. As always, all opinions and reviews are completely my own and truthful. We had such a great time in Finland and I'm excited to share what we got up to!
The Ultimate Guide to Visiting Lapland, Finland in Winter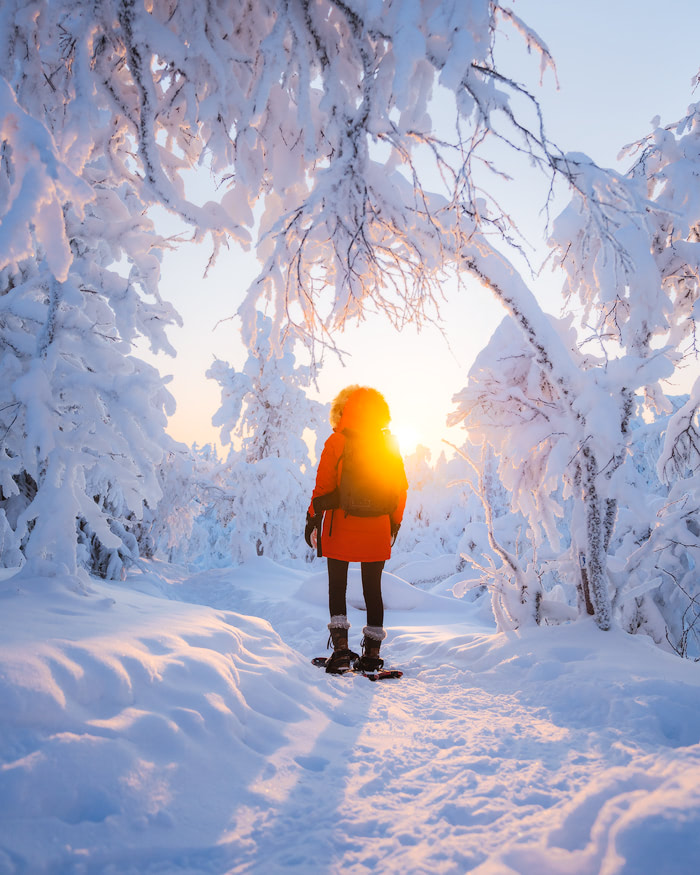 Lapland Travel Basics
Best time to go: Dec to March
Visit time: 5 to 7 days
Getting around: rental car
Currency: euro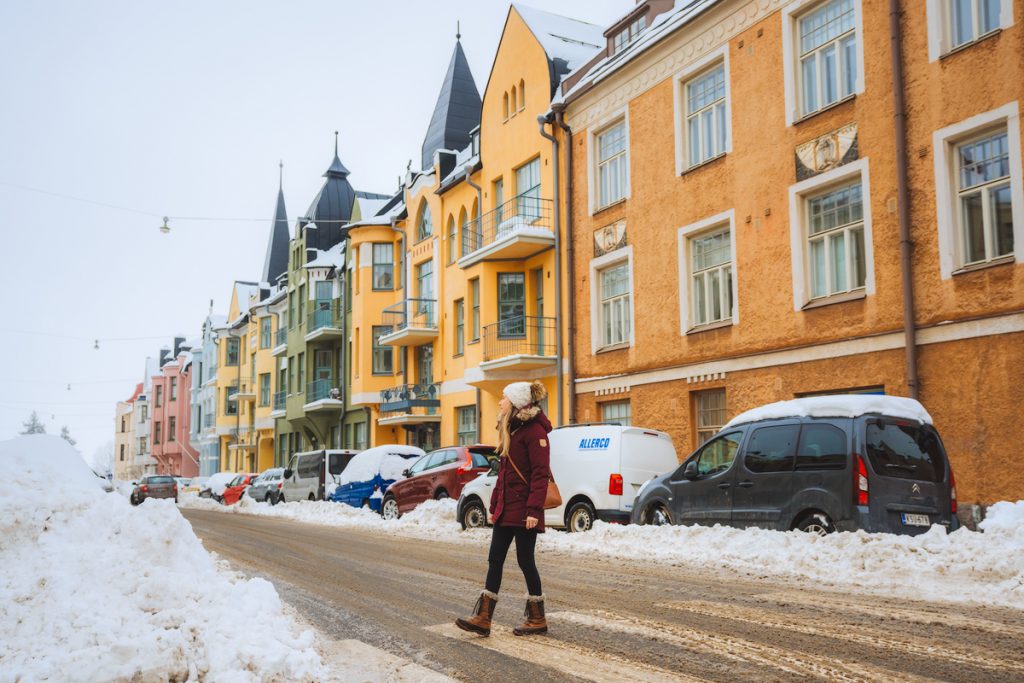 Getting to Lapland
It's fairly easy to get to Lapland, Finland. The first step is to fly into Helsinki, which has daily flights to/from many major cities in North America, Europe, and Asia.
My husband and I flew with Finnair from Seattle to Helsinki, with a stopover in NYC. We opted to stay one night in Helsinki so we could explore a little of the city and get a feel of southern Finnish culture. In just one afternoon we managed to walk a few miles around the city, seeing places like Market Square, the Helsinki Cathedral, Uspenski Cathedral, and some of the picturesque residential streets.
We spent the night at Hotel St. George Helsinki, which was conveniently located alongside City Park and a short walk from the train station. Their rooms and customer service were impeccable – would highly recommend it! During your stay in Helsinki, I would also suggest eating at Pizzeria Via Tribunali. A reader recommended it to us and we had the most delicious and authentic pizza… which was not necessarily our expectation for a Nordic trip!
To get from Helsinki to Lapland you can either drive or catch a domestic flight from Helsinki Airport. The flights are fairly affordable with Finnair, so I would recommend that option over driving long hours on potentially icy winter roads.
During winter there are regular flights to destinations such as Kittila, Ivalo, Kuusamo, Kemi, and Rovaniemi. We opted to fly into Ivalo to begin our journey (more information below on how to choose the best Lapland destinations!)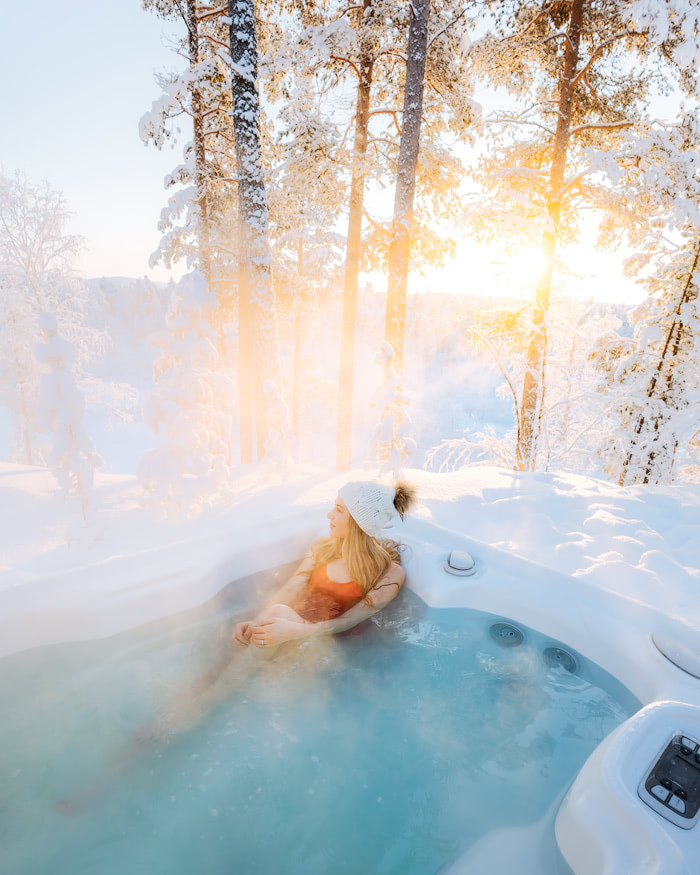 Which region to visit
The Lapland region of Finland is made up of numerous municipalities and towns. Each destination offers different sights, activities, and hotels. Listed below are some of the main winter destinations and what they are best known for. Note that there are more locations than these, but I tried to keep things reasonably condensed!
Levi: skiing, northern lights, beautiful hotels, reindeer excursions, husky safaris, snowshoeing
Inari / Ivalo: northern lights, reindeer excursions, husky safaris, snowmobiling, Sámi museums and cultural experiences
Saariselkä: skiing, northern lights, snowshoeing, reindeer excursions, husky safaris
Ruka / Kuusamo: skiing, snowshoeing, reindeer excursions, husky safaris
Ylläs: skiing, snowshoeing, northern lights
Kemi: sea icebreaker tours, arctic swimming in the Baltic Sea
Kilpisjärvi: northern lights, snowshoeing, solitude
Rovaniemi: Santa Claus and all things Christmas!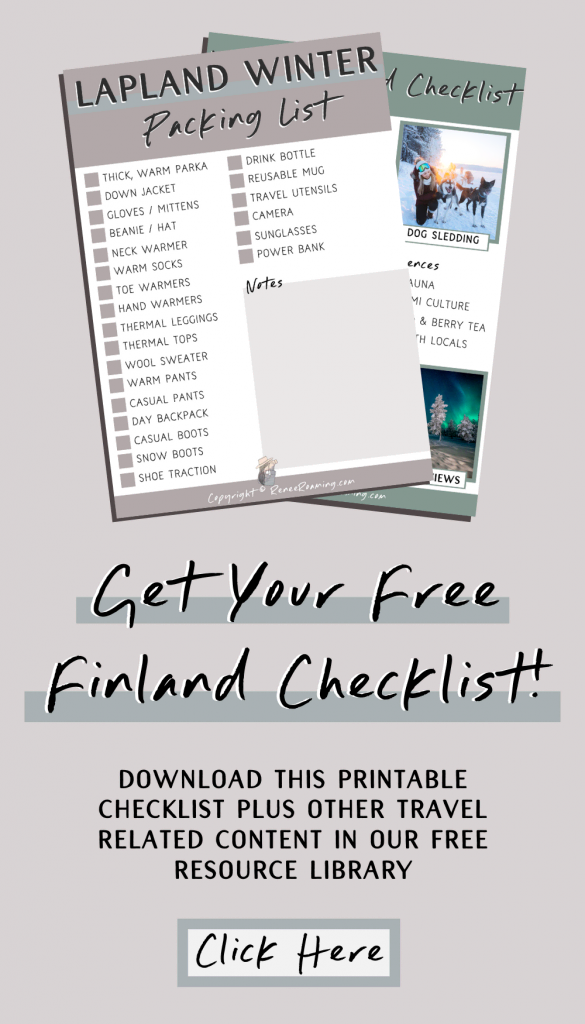 We opted to split our week-long trip into the following destinations and I think it was the perfect mix! I also felt like a week was a good amount of time to explore Lapland, though a couple more days would have been happily welcomed!
1 night in Helsinki
2 nights in Inari
1 night in Saariselkä
3 nights in Levi
This gave us some nice variation and a chance to explore multiple areas. You could also certainly stay one week in a single destination – either option would work and it depends on how you like to travel! The Visit Finland website has some great information about each destination if you want to delve further into the specifics. I will also be posting destination-specific blog posts within the coming weeks – so watch this space!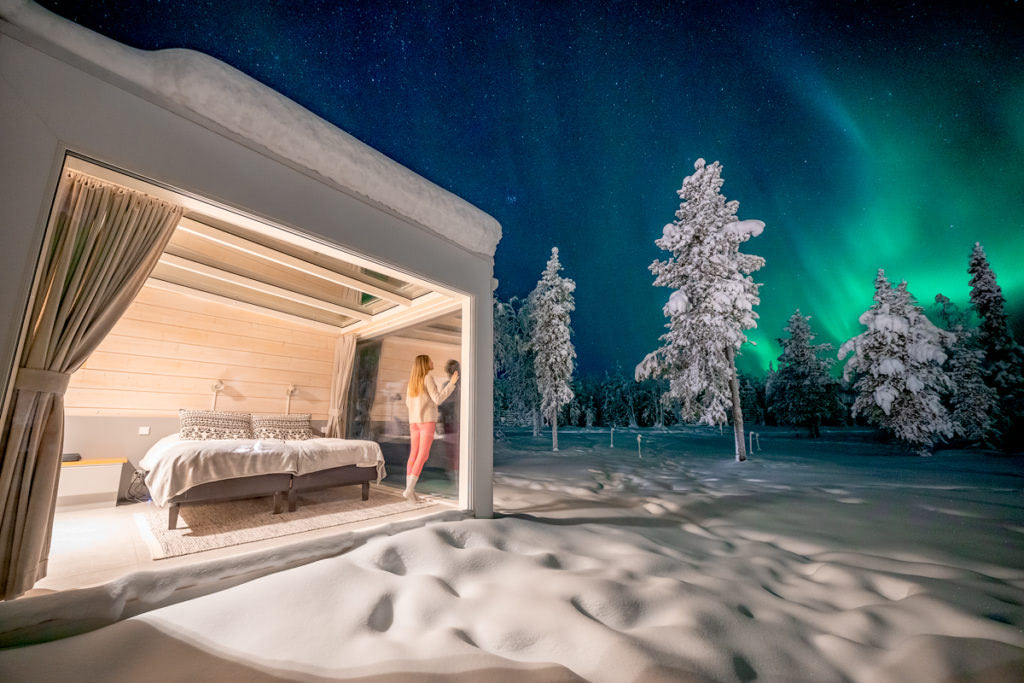 Where to stay
We've all seen those incredible photos featuring the aurora cabins and tree-houses of Lapland, right?! My husband and I were lucky enough to stay in a few bucket-list-worthy hotels during our trip BUT do keep in mind that they aren't the only options available. There are a variety of lodging options to choose from in Lapland – ranging from more affordable to more pricey.
Traveling as a family or in a group? You are probably best to rent a large cabin that has multiple rooms, a kitchen, communal areas, etc. This will help keep costs down and allow for more flexibility around meals and travel. In Levi, we stayed 2 nights in one of Polar Star Travel's beautiful log cabins, which was even fitted with a private sauna!
You can still experience Lapland, Finland on a budget! In saying that, I am not going to pretend it's a super affordable place to travel during the winter months. Some more budget-friendly lodging options can be found on Airbnb, ranging from shared accommodation, private rooms, and even entire cabins/homes. You could also look into options such as couch-surfing and house-sitting/swaps.
Best things to do
Lapland, Finland is one of the world's best destinations for unique winter adventures and activities. I mean, how many places can you take a sunrise husky sledding tour, a midday sauna experience, a sunset snowshoe, and finish the day with a northern lights snowmobiling tour?!
There are countless options of tours and self-guided adventures to take during the winter months in Lapland. I have listed some of the most common below and will go into more depth in my upcoming blog posts!
Visit a reindeer farm and take a sleigh ride/safari
Take a husky dog sledding adventure
Try out skiing or snowboarding down a Finnish "fell" (mountain)
Go on a snowshoe hiking adventure
Enjoy an arctic hammock relaxation tour in the forest
Have an authentic sauna and hot tub experience
Watch the northern lights on a dedicated tour or from an aurora cabin
Take a snowmobiling adventure on a frozen lake
Walk through a man-made ice and snow gallery
Toboggan down a fell under the northern lights
Learn about and immerse yourself in the local Sámi culture
Take a photography tour on capturing Lapland's unique beauty
Sample Lappish food and learn about local culinary culture
Try out ice fishing on a frozen lake
Take an arctic swim in the Baltic Sea
Experience an icebreaker sea excursion
Visit the home of Santa Claus
I would say my favorite activities of the trip were experiencing the northern lights, snowshoeing up a fell to watch the sunset, taking a reindeer sleigh ride, and being treated to an authentic Finnish sauna… but I LOVED everything we did!
One thing to keep in mind is that it can be quite cold when doing these activities.
For example, we had a cold snap during our visit and it was -35C the morning we took a reindeer sleigh ride and also in the evenings when we were viewing the northern lights. Having adequate winter clothing and gear is imperative – find out what to pack for a trip to the Arctic in this blog post!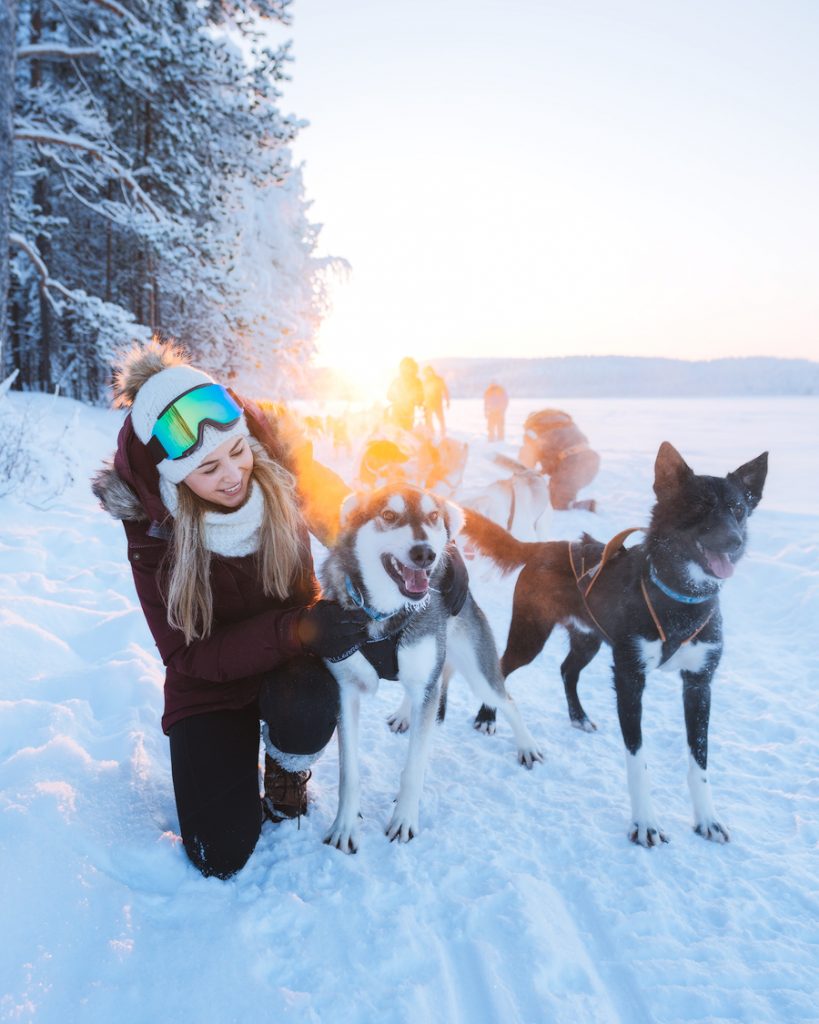 I hope this blog post was a nice starting place for your Lapland, Finland trip planning. As previously mentioned, I will be publishing more blog posts on this topic (destination specific guides, how to best experience the northern lights and more) – watch this space! Let me know in the comments if there is something specific you would like me to share.
PIN for later