I just returned home from a 12 day trip exploring The Islands of Tahiti and let me tell you… they are the epitome of PARADISE! I'm talking white sand beaches, crystal clear blue water, epic mountains, lush forests, delicious food, and the kindest locals.
In this blog post I am sharing what we got up to during the first part of our trip, specifically on the islands of Mo'orea, Taha'a, and Raiatea. Don't forget to also check out my French Polynesia packing guide and my post specifically on our week-long stay on Bora Bora.
This trip was in collaboration with Tahiti Tourisme North America for their Pick Your Paradise campaign. They have made it really easy to choose adventures focused on your preferred style of travel – click here to unlock your own custom itinerary for exploring The Islands of Tahiti!
The Islands of Tahiti: Finding Paradise in Mo'orea, Taha'a, and Raiatea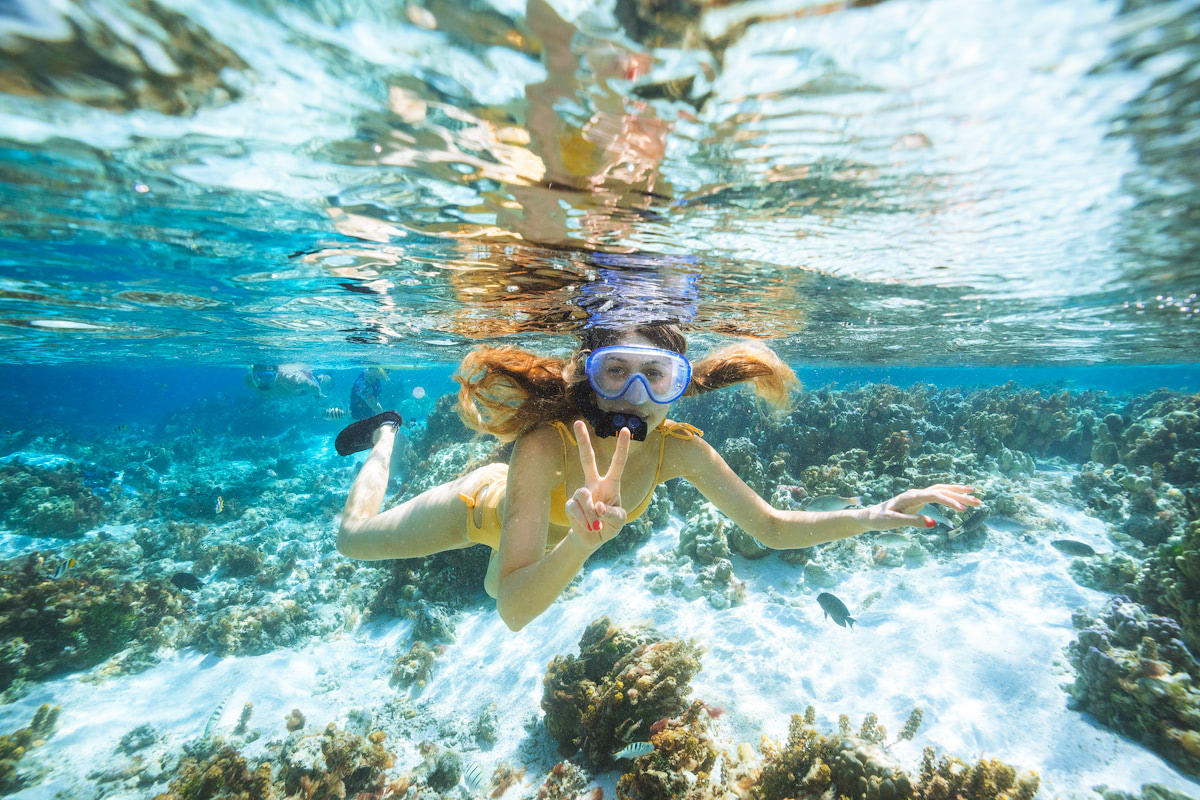 Located in the Pacific Ocean, The Islands of Tahiti are home to the most idyllic island paradise imaginable. I am kind of embarrassed to admit that prior to this trip I had no idea that French Polynesia is made up of 118 islands. In fact, I had only really heard of Bora Bora and knew little about the other islands. So if you're a newbie like I was, here are some quick stats!
Quick Stats
Country: French Polynesia (also referred to as The Islands of Tahiti)
Location: South Pacific Ocean, halfway between California and Australia
Climate: tropical with an average ambient temperature of 27°C (80°F)
Peak Season: May – November
Size: 4,167 sq km (1,609 sq miles)
Population: 277,000
Languages: Tahitian and French
Currency: CFP franc
---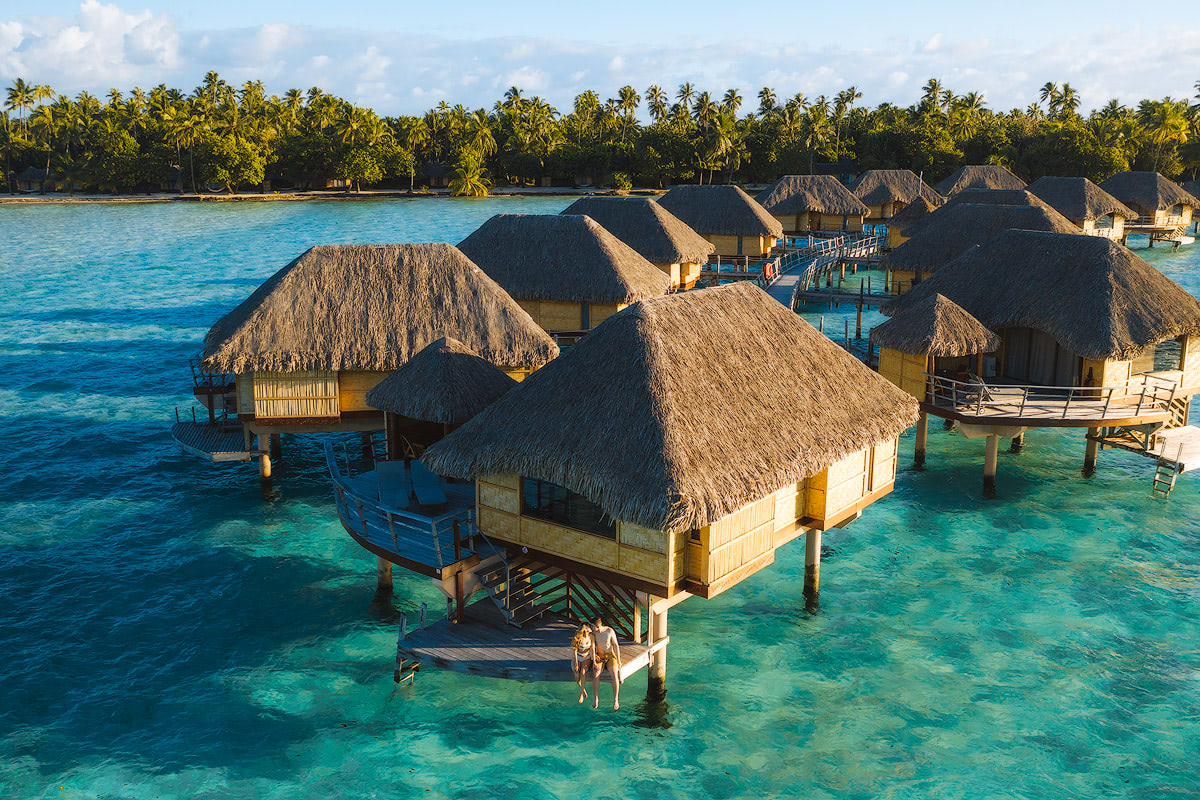 Day 1: Arrival & Tour Raiatea
Our trip began in San Francisco when we boarded a flight to Fa'a'ā International Airport, on the island of Tahiti. We flew direct from the US with FrenchBee, a low-cost French airline that flies between Paris and Tahiti 2-3 times each week (with a stopover in San Francisco). This was a small group trip consisting of some new and old friends (plus my hubby!) You can check out everyone's work here: Garrett King, Cas Sheridan, Slater Trout, Matthew Hahnel.
We arrived in Tahiti at 5 am, quickly freshened up and boarded another flight to the island of Raiatea.
Our flight had a short stopover at Huahine Airport, a total travel time of about 1 hour, and some beautiful window views! (Tip – always get the window seat for any flight taken in French Polynesia!)
Previously named Havai'i, the island of Raiatea means "faraway heaven" and is considered the homeland of ancient Polynesians. From here it is said that in 1000 AD Polynesians ventured in outrigger canoes to places like Hawaii and New Zealand, with Raiatea now recognized as one of the most sacred places in all of The Islands of Tahiti.
We took a half day tour of Raiatea with Tahiarii Pariente from Polynesian Escape, including touring cultural sites and learning about Polynesian voyaging. Lunch this first day was at Fish & Blue, a beachside restaurant serving a combination of delicious local and French flavors.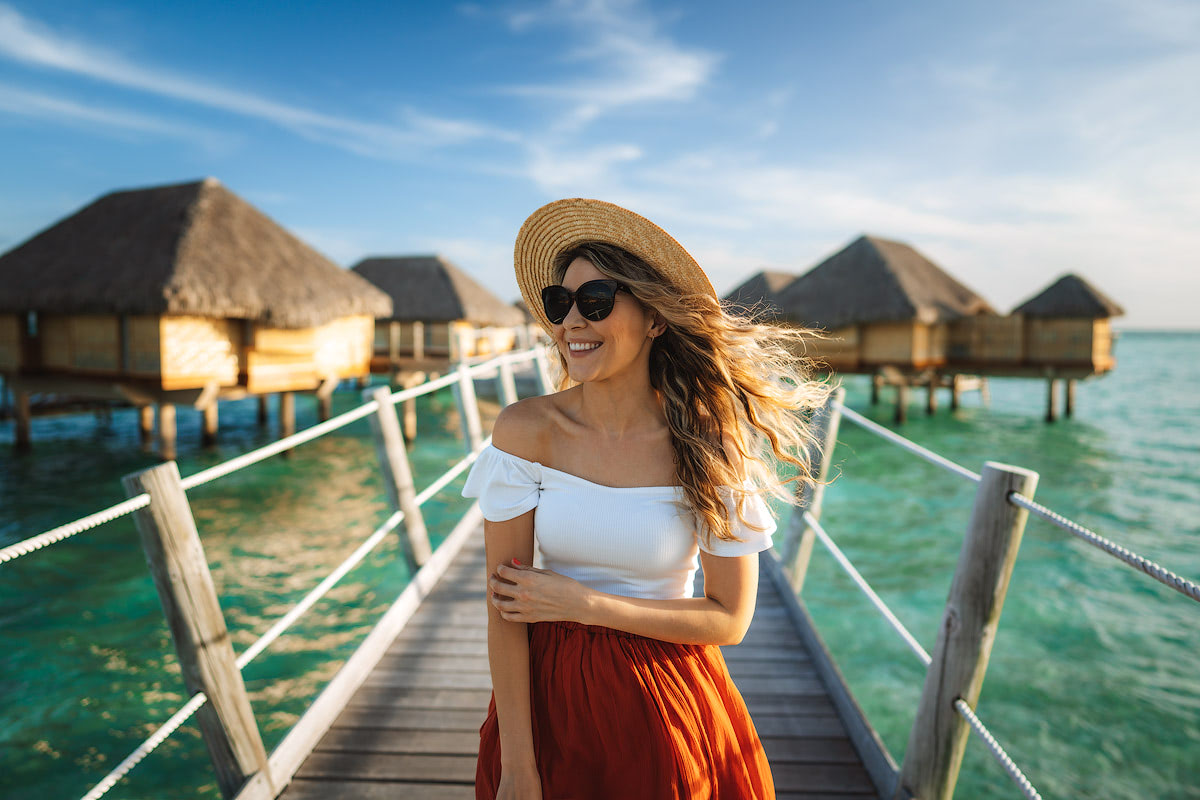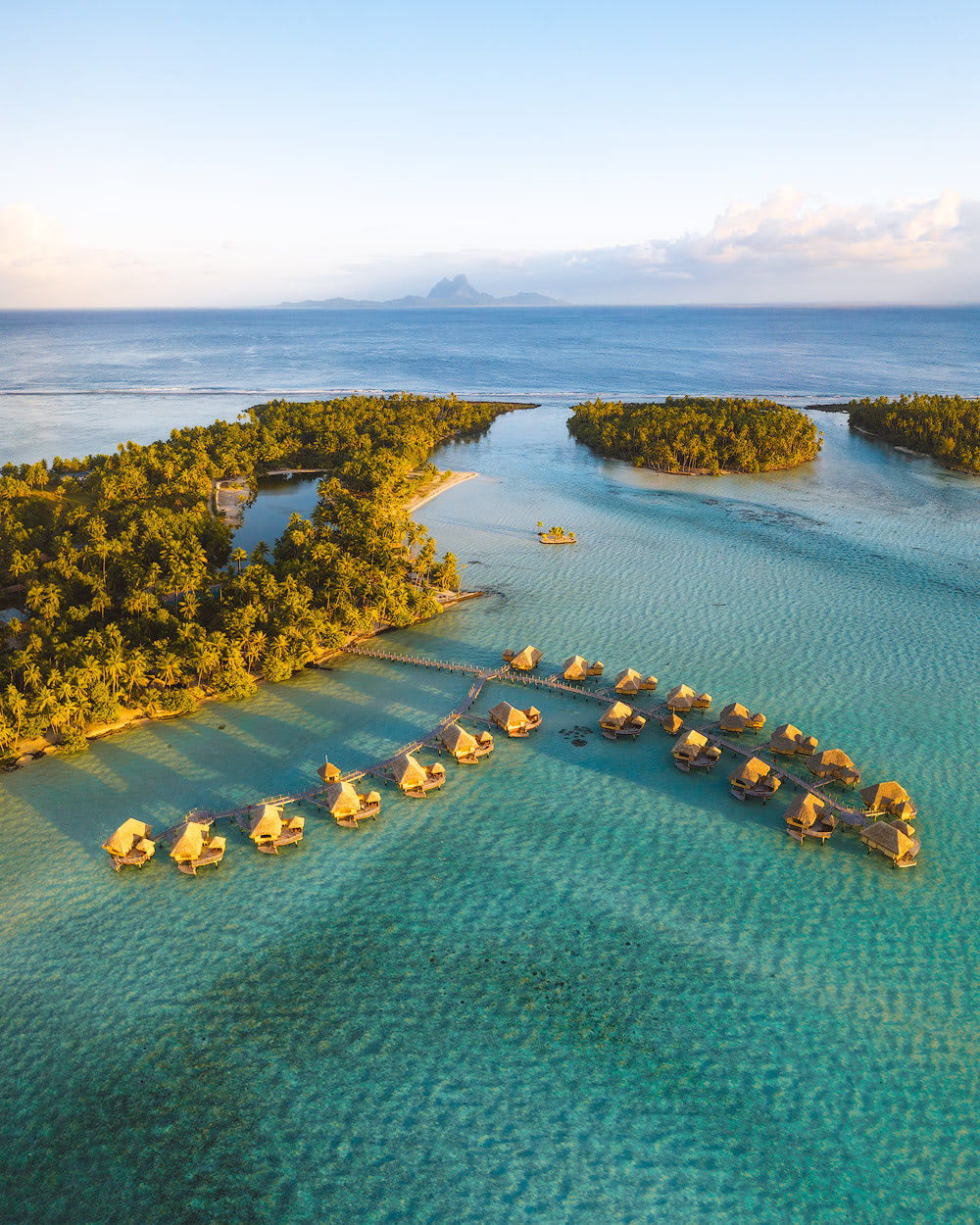 After exploring Raiatea, we caught a boat from the north part of the island over to Le Taha'a Island Resort & Spa.
Situated on a private island, Le Taha'a is a 5-star property home to some of the most beautiful water I've ever seen. This was also our first time staying in an overwater bungalow and the whole experience was truly amazing. After shooting sunset that evening we all jumped into the warm ocean and swam beneath the stars. There is minimal light pollution out at Le Taha'a so we were treated to some epic Milky Way views… such a magical sight!
Sadly we dropped our camera's memory card in the ocean at the end of day 1 and subsequently lost all of our photos from Raiatea… That's the first time something like that has ever happened to us and naturally we were pretty bummed out about it! We did however manage to savor some photos from Le Taha'a and figure it's now just a good excuse to return to Raiatea someday 😉
---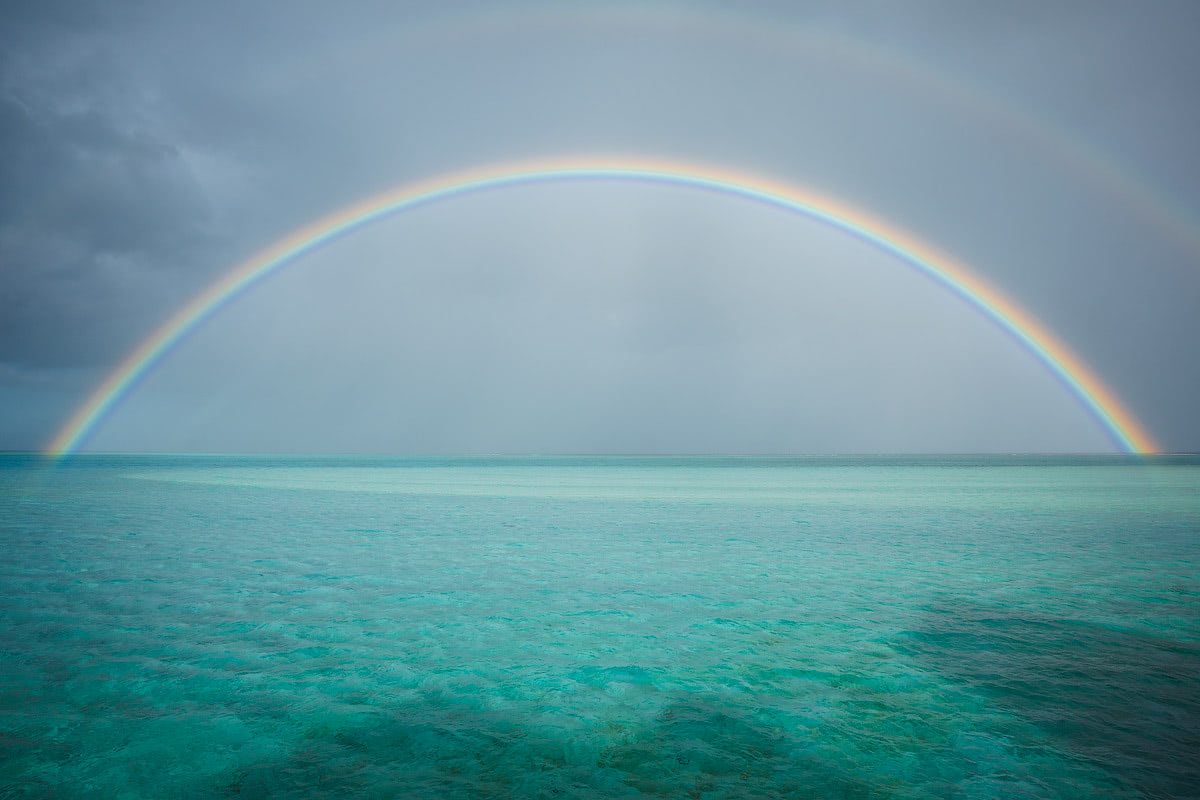 Day 2: Scenic Flight & Explore Taha'a
Day 2 exploring The Islands of Tahiti was EPIC! It all started with a canoe breakfast delivered to our bungalow by the lovely staff at Le Taha'a Island Resort. Jean, one of the staff, even offered to take us around for a little paddle before leaving. What a surreal start to our day! To top it all off, we were treated to views of the most incredible double rainbow over the Pacific Ocean… (yes, we were definitely pinching ourselves!)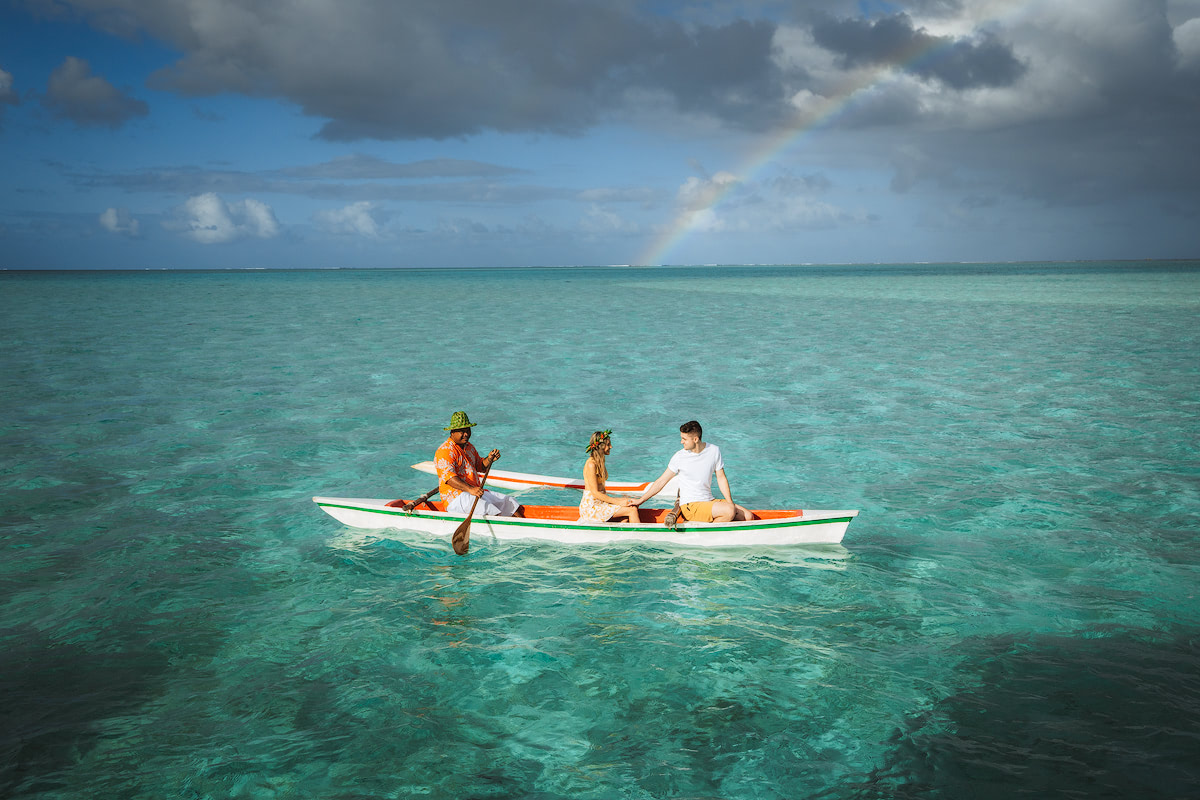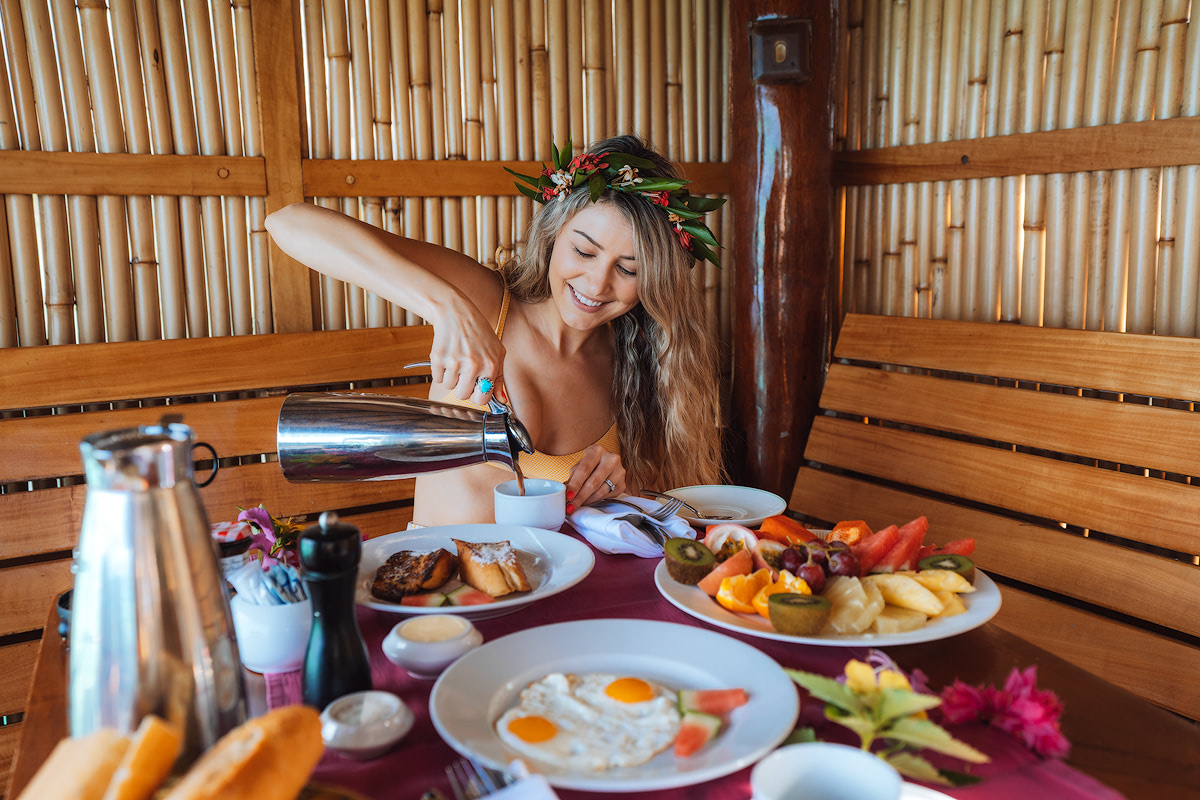 After breakfast we straight away headed on a seaplane excursion with Tahiti Air Charter. This wasn't my first time encountering views from a seaplane, but flying in the tropics was a whole different experience to the flights I've taken in places like Alaska! We flew over Raiatea, Tupai, and Bora Bora, which were all out-of-this-world beautiful. My favorite part was probably seeing Bora Bora's famous Mount Otemanu from the air, which got us all very excited to visit the island a few days later!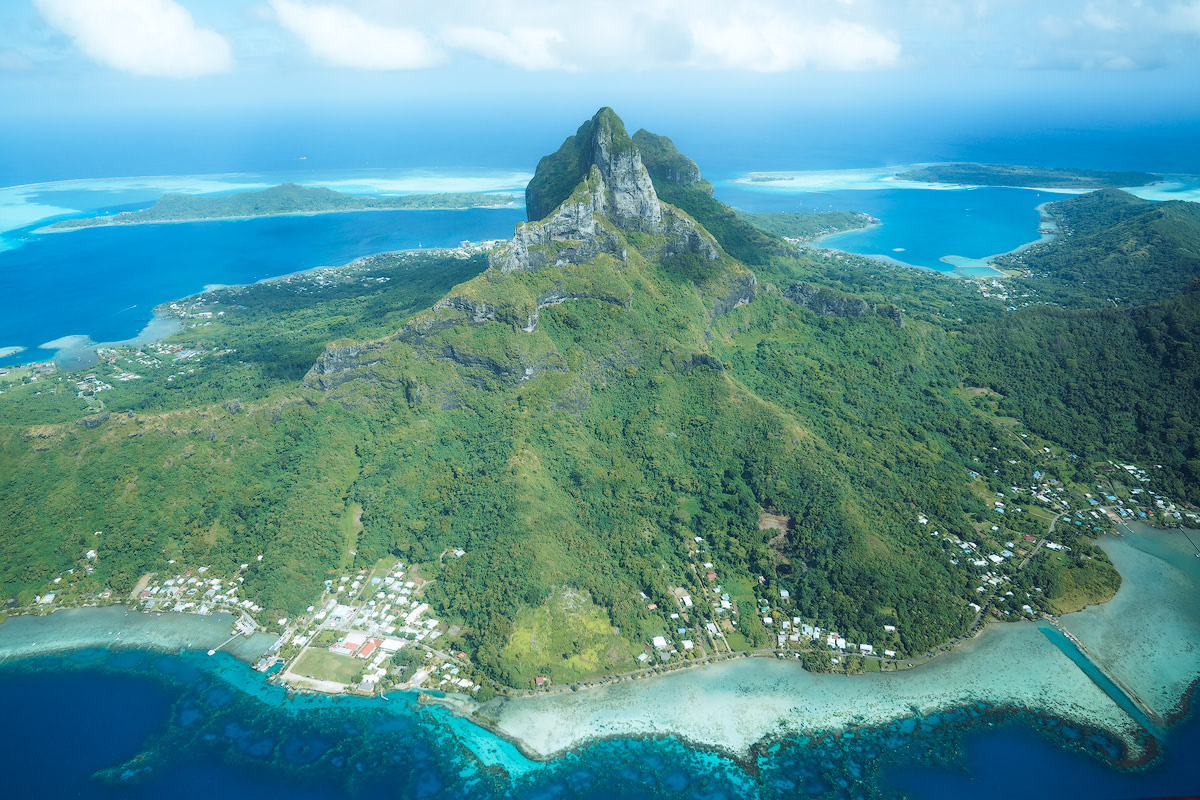 Our next adventure for the day was exploring the island of Taha'a with Terainui Tours.
We visited a local vanilla farm, rum factory, and a family-run pearl farm. It was fascinating to learn about the island's natural resources and see first-hand what beautiful exports Taha'a is producing. Before this tour I had NO idea there was such a in-depth process to pearl farming!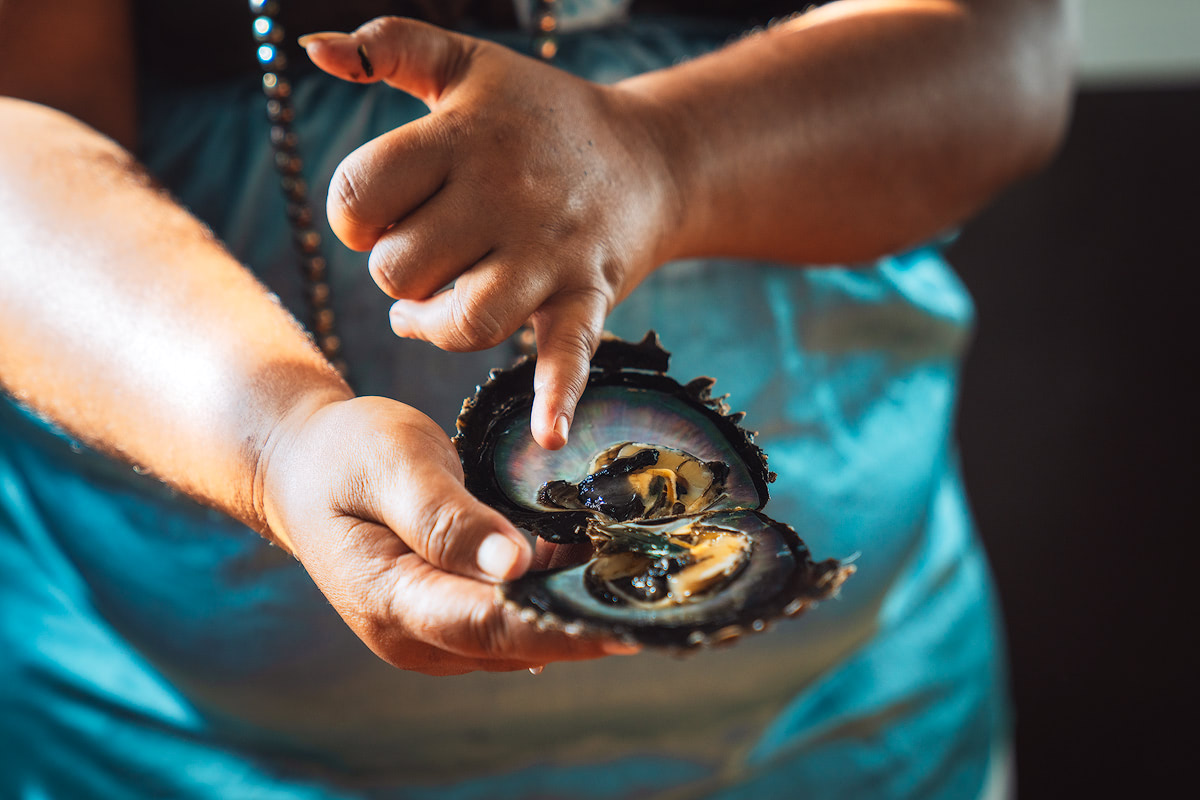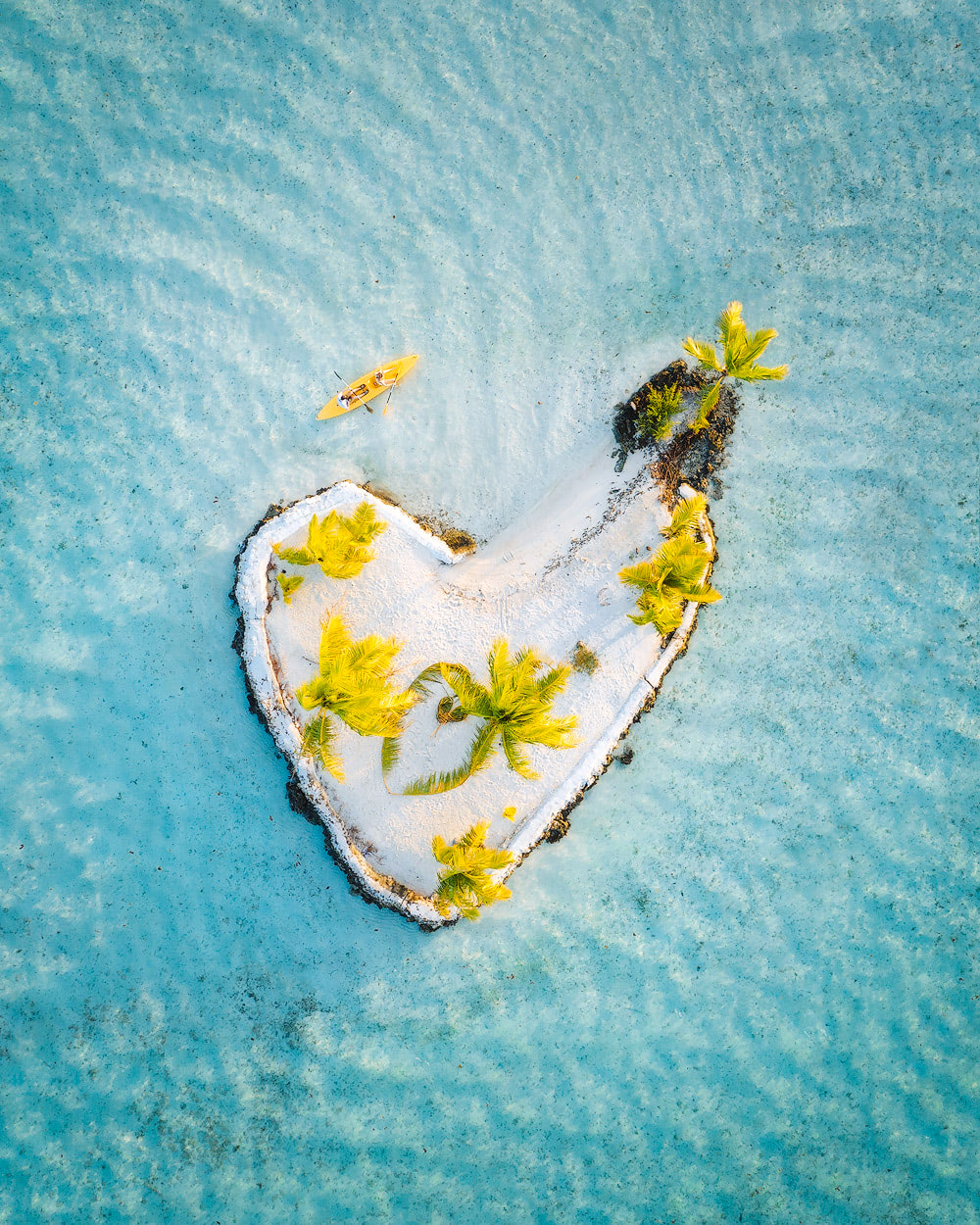 We ended the day with a paddle around the crystal clear waters of Le Taha'a, with Garrett helping Matt and I capture some fun aerial shots. Oh, and we couldn't help ourselves but have another night time swim under the stars! It's always fun being in the Southern Hemisphere and spotting the Southern Cross, a constellation I grew familiar with as a kid in Australia.
---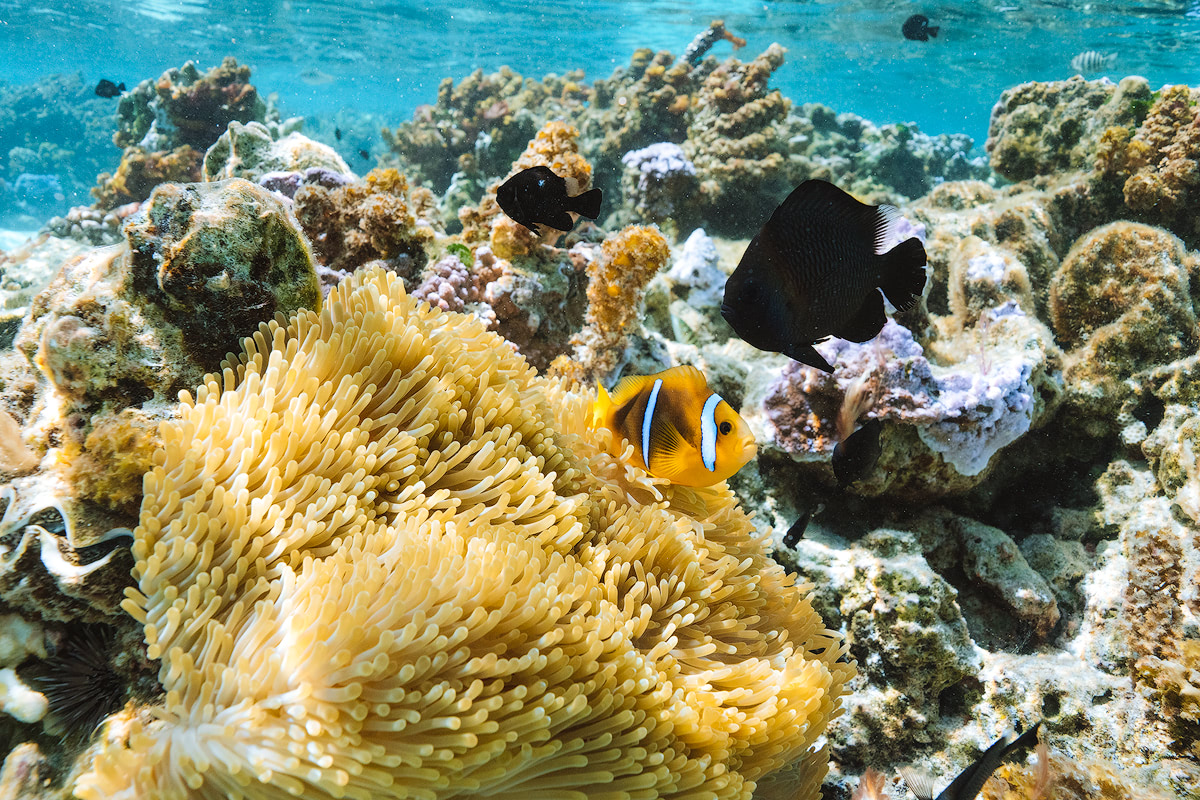 Day 3: Drift Snorkeling & Travel to Mo'orea
Day 3 was another for the books! We began the morning with a guided snorkeling tour of Le Taha'a Island Resort's incredible coral garden. Our guide, Jean, was there to show us the access points so we could swim with the ocean drift, as well as all the best spots to view coral and fish.
We saw countless different types of fish (including NEMO!) and plenty of colorful corals… it truly was an amazing experience! It was also fun getting to play around with our new camera housing and capture some underwater images. For those who are interested, we went with the Aquatech Elite II A7 Series III (for our Sony a7RIII).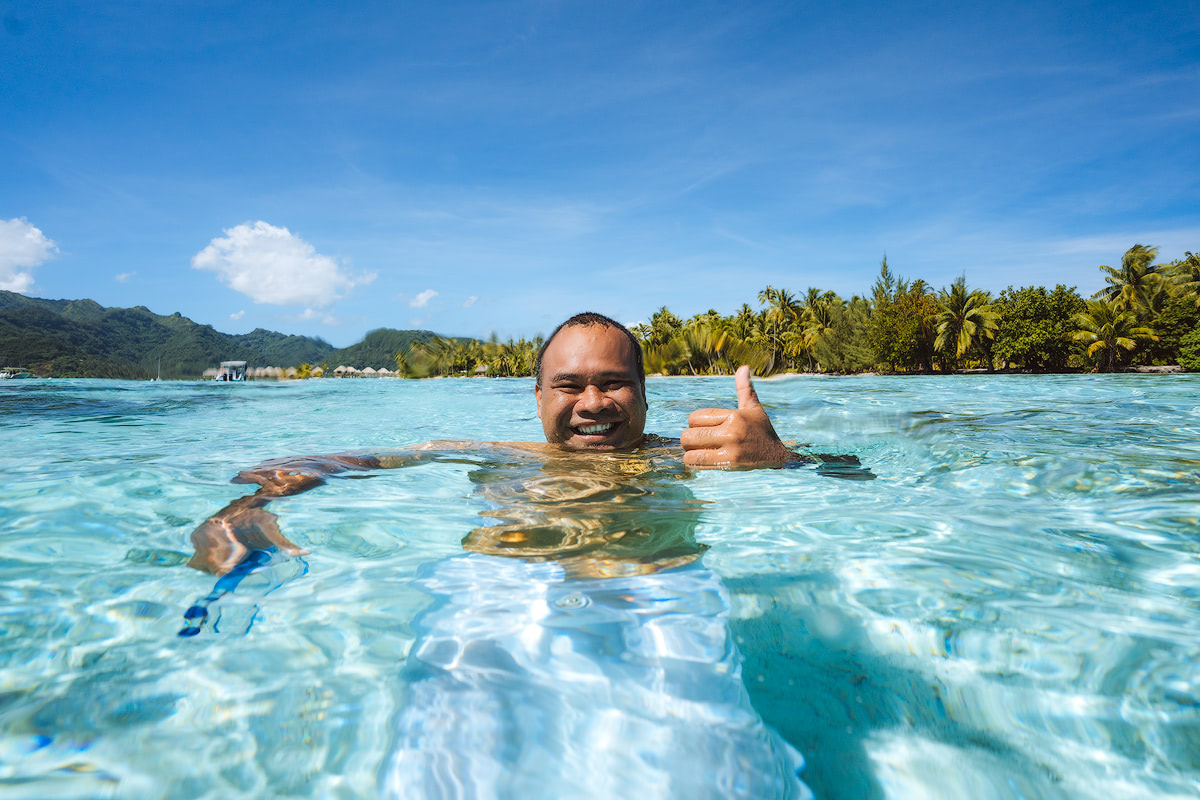 The rest of our day mostly involved traveling from Taha'a to Mo'orea. This consisted getting a boat back to Raiatea, a plane to Tahiti, and then a ferry to Mo'orea. It sounds like a lot of effort but each leg of the journey was surprisingly short. I actually really enjoyed the ferry ride over to Mo'orea and we were even treated to a beautiful sunset during the journey.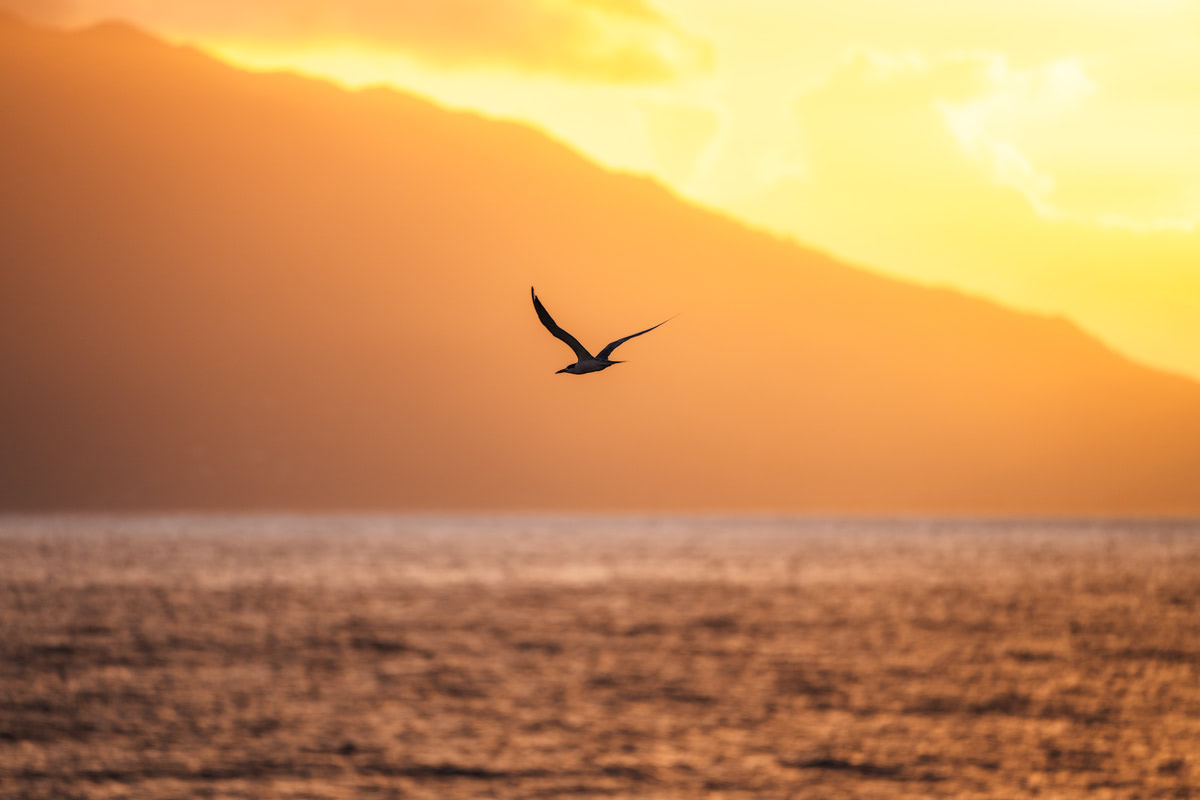 The best part of the evening was experiencing a traditional Polynesian performance, which the Hilton puts on once per week. It was mesmerizing watching the performers dance, sing, and expertly wield fire knives. Dance is a very important part of the Polynesian culture and something all travelers should try and experience during their visit to the Islands of Tahiti.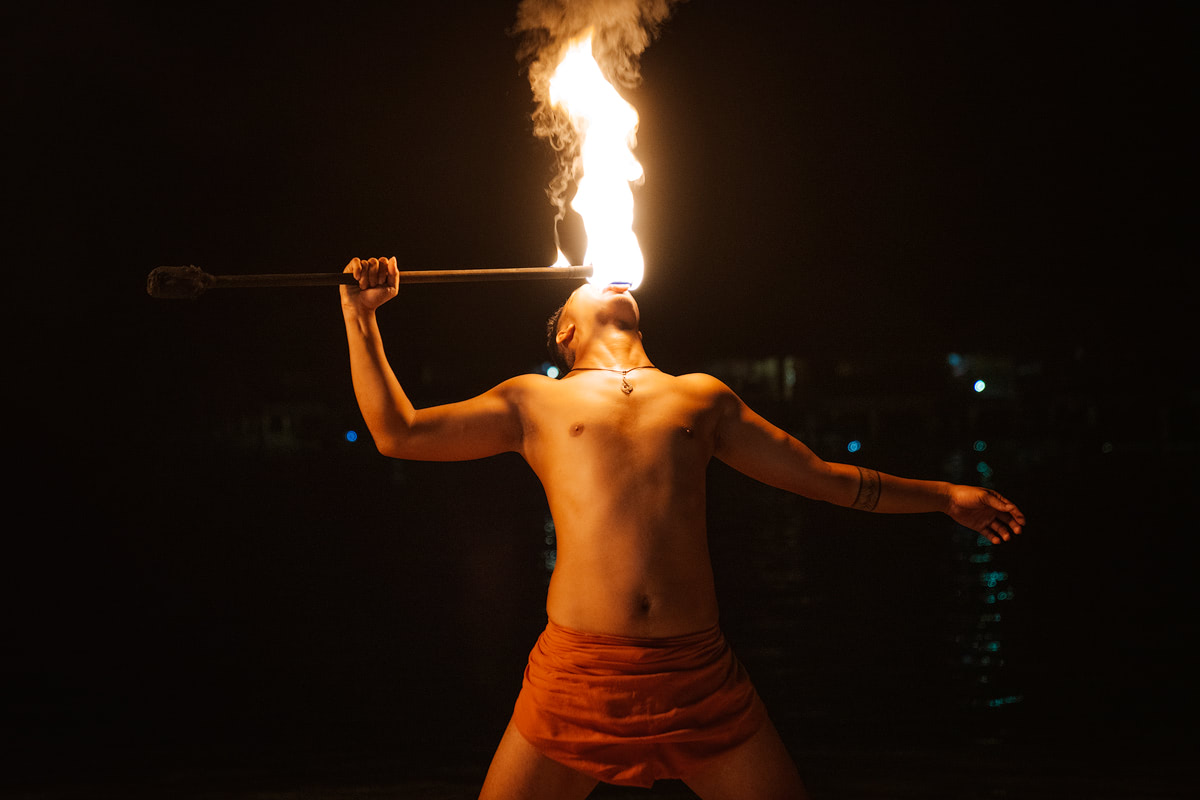 After the performance we headed to our accommodation for the next two nights, the beautiful Hotel Manava Beach Resort & Spa Mo'orea.
---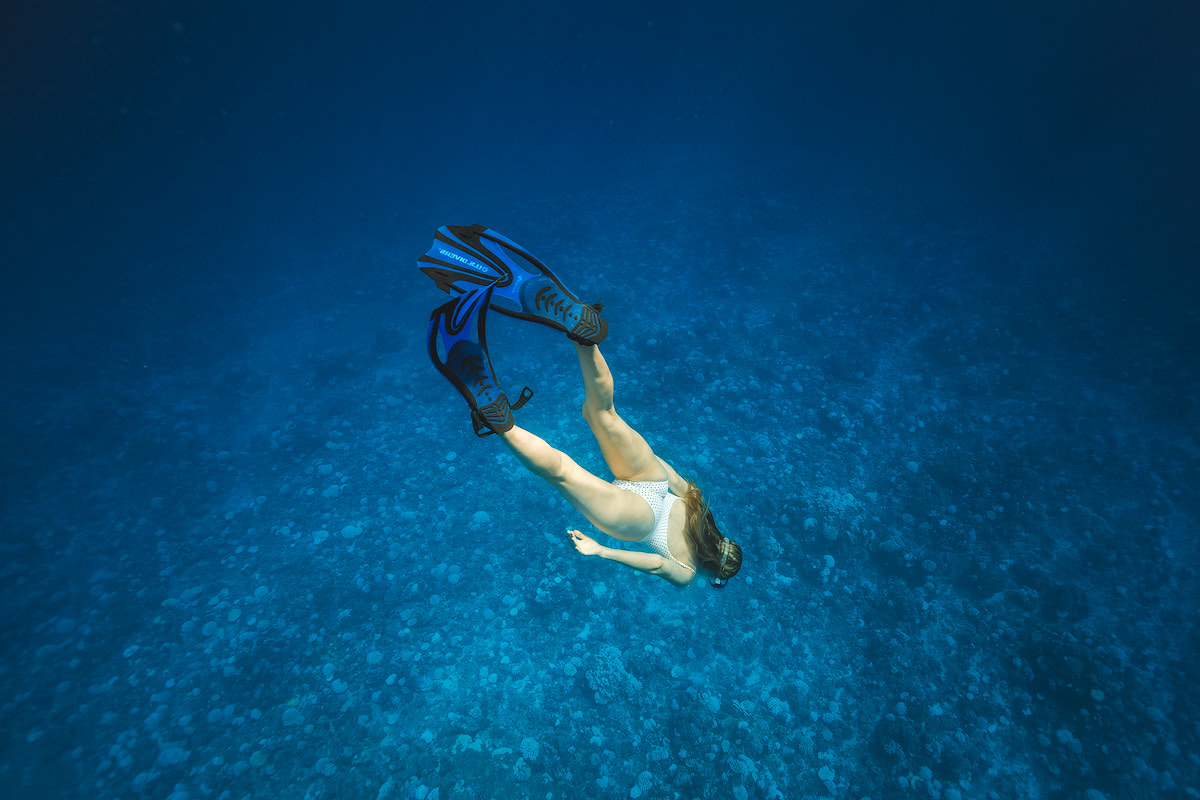 Day 4: Mo'orea Lagoon Tour & Motu Dinner
By this point of the trip I was honestly wondering how it could possibly get any better… well, I was in for more surprises! Mo'orea absolutely blew us away! The island is home to the most beautiful colored water, majestic mountains, lush vegetation, and some of the kindest people I have ever encountered. It was as if we had literally stepped onto Te Fiti in the movie Moana haha (yes, I was totally vibing to that soundtrack this trip!)
Our main activity for today was an eco lagoon excursion with Corallina Tours and the amazing Coral Gardeners team. Founded by Titouan Bernicot, Coral Gardeners is an incredible organization working to save the reef and restore coral populations through action and education. We were lucky enough to get shown first hand the important work they are doing and even got to adopt our own coral!
It's said that if nothing is done then the planet's coral reefs will all be dead by 2050.
Coral reefs are the oceans lungs and half the oxygen we breath comes from the oceans… therefore No Reef = No Ocean = No Air. You can read more over at coralgardens.org and I would encourage you to give back by choosing to adopt a coral. It's only 25 € and you will even be given a certificate with the GPS coordinates of where your coral is planted!
Our lagoon tour also included free diving instruction with shark conservationist Denis Grosmaire. This was my first time swimming in water of that depth and clarity and it was definitely a surreal experience. Plus, we got to swim with some reef sharks and have a delicious motu lunch at Coco Beach. What a day!
To top it all off, that evening Matt and I were treated to a romantic candle lit dinner on a private island. The experience was ran by Teva and Johana from Temoana Tours and they were the sweetest couple! They really went above and beyond to make our dinner special and although the dinner was wonderful, meeting them was probably the best part of the whole experience. Would highly recommend!
---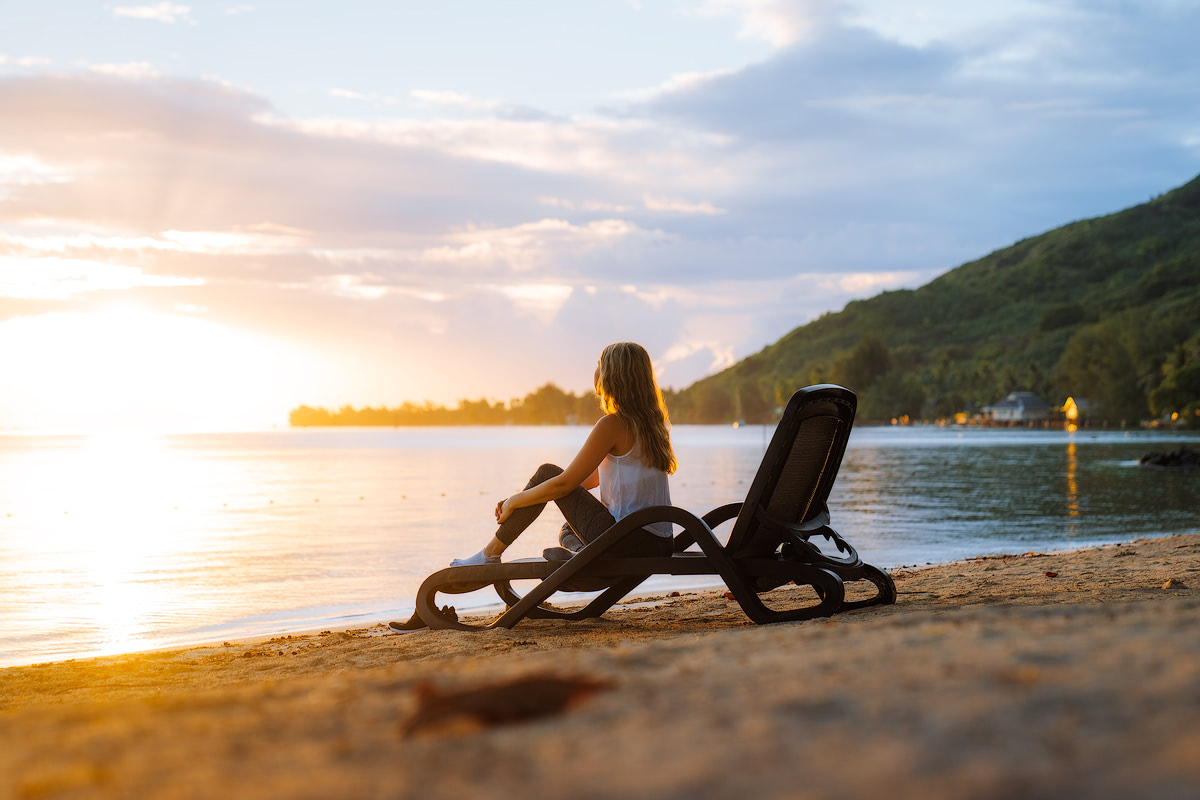 Day 5: Mo'orea Hiking & Travel to Bora Bora
We rose early on day 5 to witness sunrise at Hotel Manava Beach Resort & Spa Mo'orea. In fact, I think we were up for every single sunrise this trip (and we also always caught every sunset). That's pretty much how it is on every trip Matt and I take. It can definitely be tiring but it's also totally worth it to have destinations crowd-free with gorgeous golden light!
For sunrise we took a quick dip in the Manava's beautiful infinity pool and also captured some images along the beach by our bungalow. Our next stop of the day was the buffet breakfast, where we both thoroughly enjoyed the made-to-order omelette's, chocolate crepes, and fresh fruits.
Next on our schedule was a hiking excursion with Polynesian Adventure.
We opted to trek the Three Coconuts Trees Pass trail, which I believe is 6.6 km (4.1 miles) and 274 meters (900 feet) of elevation gain. The views were outstanding and it was really nice to hear our guide explain about local plants and traditions along the way.
Don't make the same mistake us us and only bring a small amount of water! We were sweating A LOT due to the overall heat and humidity and I would recommend taking along at least 2 litres of water per person. I would also suggest wearing closed-toe shoes, and pack sunscreen, mosquito repellent, snacks, sunglasses, and your camera.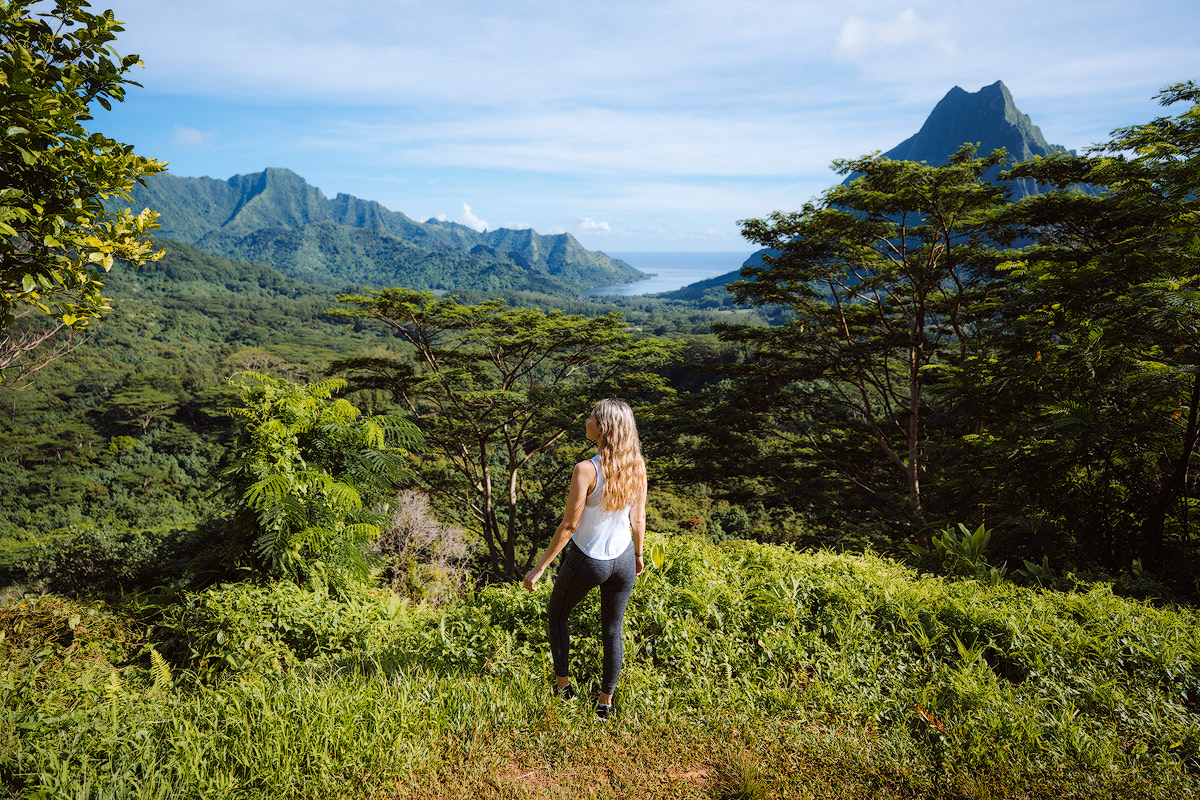 After our hiking adventure we freshened up and heading for the airport to begin the second half of our French Polynesia trip – a week on Bora Bora!
Stay tuned for an in-depth blog post on our time in Bora Bora and don't forget to check out my packing guide for the Islands of Tahiti.
Thanks for reading!
---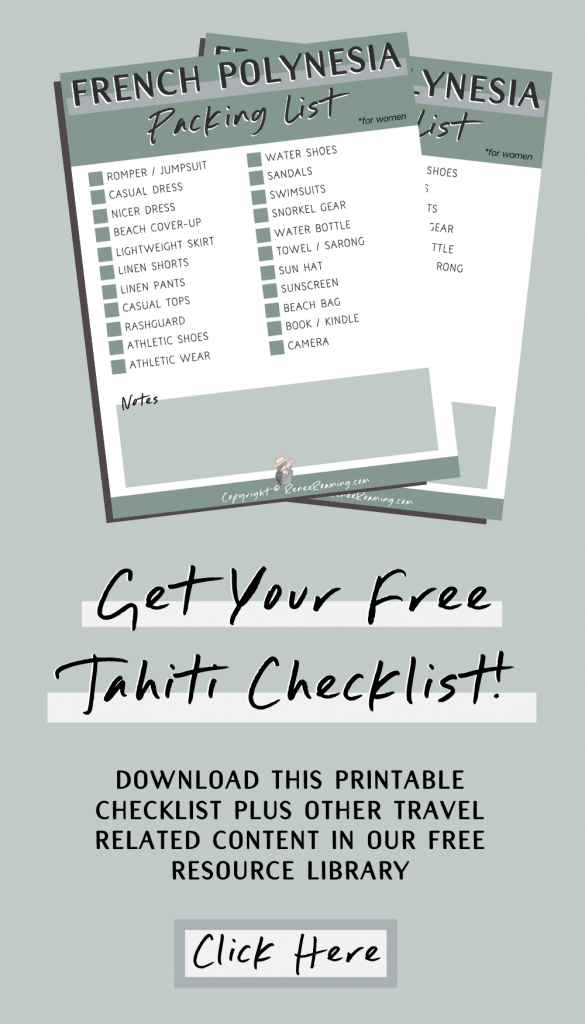 ---
PIN For Later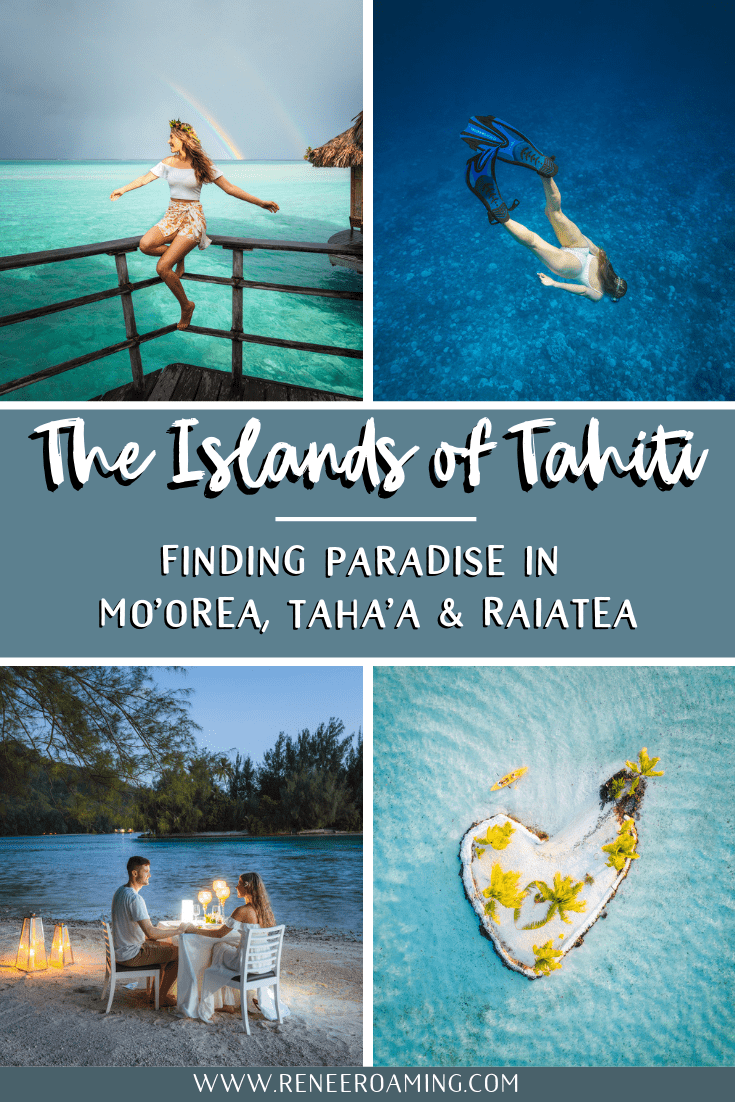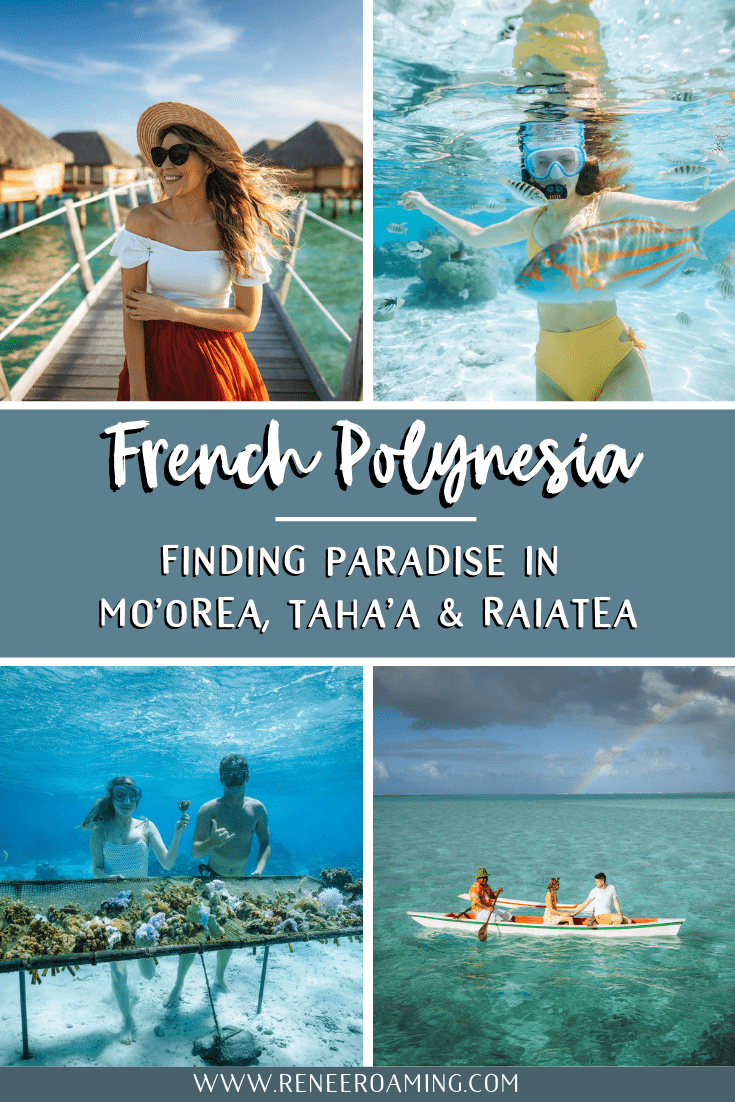 More Trip Inspiration
The Ultimate Romantic Couples Getaway to Bora Bora, French Polynesia
What to Pack for a Tropical Vacation to The Islands of Tahiti
Make the Most of Your Trip to Tulum, Mexico: The Ultimate Guide
Couples Adventure Getaway to British Columbia, Canada
How to Take Stunning Travel Photos as a Couple
5 Best Things to Do on Oahu, Hawaii
Disclaimer: This trip was in partnership with Tahiti Tourisme North America. As usual, all opinions and thoughts are honest and my own.