Bora Bora is undoubtedly one of the most romantic and beautiful destinations in the world! My husband and I recently spent 12 days exploring French Polynesia, and Bora Bora was probably our favorite part of the trip. In this blog post I'm sharing all of the details on how to get there, when to visit, where to stay, the best activities to do, and more!
I also have blog posts about our time in Mo'orea, Taha'a and Raiatea as well as what to pack for a trip to the Islands of Tahiti, if you want to check them out!
This trip was in collaboration with Tahiti Tourisme North America for their Pick Your Paradise campaign. They have made it really easy to choose adventures focused on your preferred style of travel – click here to unlock your own custom itinerary for exploring The Islands of Tahiti!
The Ultimate Romantic Couples Getaway to Bora Bora, French Polynesia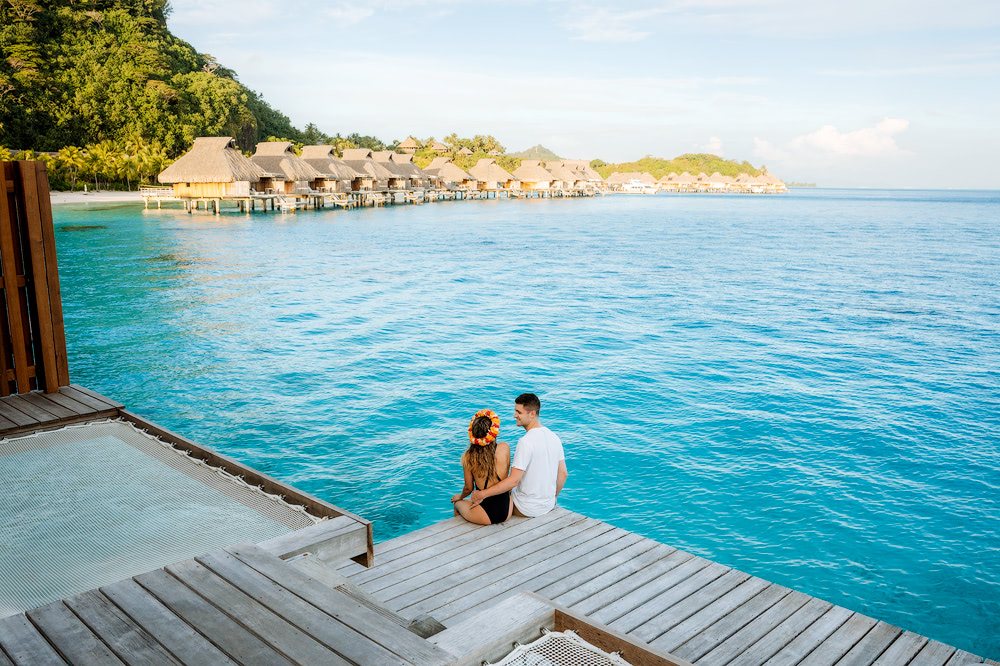 Getting to Bora Bora
Getting to Bora Bora is relatively easy, though it can be a long journey depending on where you are coming from. Your first step will be to fly into Fa'a'ā International Airport on the island of Tahiti. From there you can take a domestic flight to Bora Bora, which usually takes about 50 minutes.
My husband and I opted to fly direct from San Francisco to Fa'a'ā International Airport with FrenchBee, a low-cost French airline that flies between Paris and Tahiti 2-3 times each week (with a stopover in San Francisco). We first explored some other islands in French Polynesia before taking a flight from Mo'orea to Bora Bora with Air Tahiti.
Ideal Time to Visit
You can visit Bora Bora any time of the year, though June through October are generally considered the "peak" months for tourist visitation. During this time you will generally experience the "dry season", which generally means less rain, reduced humidity, and slightly cooler temperatures.
Many people also choose to visit during the shoulder months of April, May and November, when the weather is still beautiful but the resorts are less busy (and often slightly cheaper). My husband and I visited in early May and found the weather to be absolutely perfect!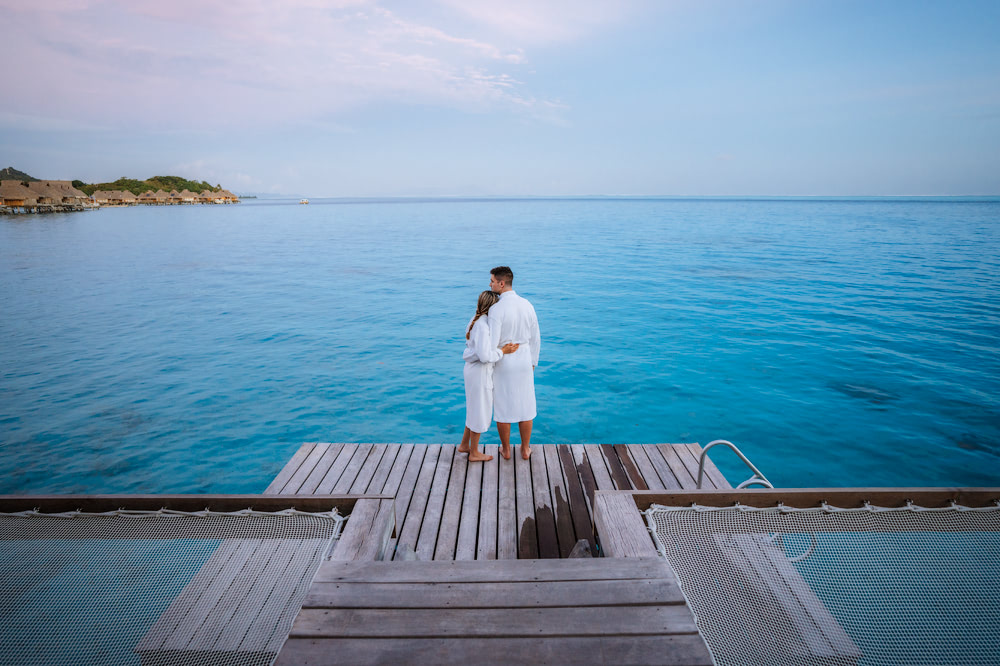 Where to Stay
Bora Bora has loads of options for accommodation! First you need to decide whether you want to stay at a resort, guesthouse, vacation rental, or on a cruise/yacht. Most people who think of Bora Bora picture beautiful overwater bungalows and resort style amenities… which is the romantic experience my husband and I were looking to have! Just keep in mind that it isn't the only type of lodging available.
We opted to split our 7 nights on Bora Bora between the Conrad Bora Bora Nui (4 nights) and the Four Seasons Resort Bora Bora (3 nights). We enjoyed both resorts for similar and also different reasons, which I will share in detail below.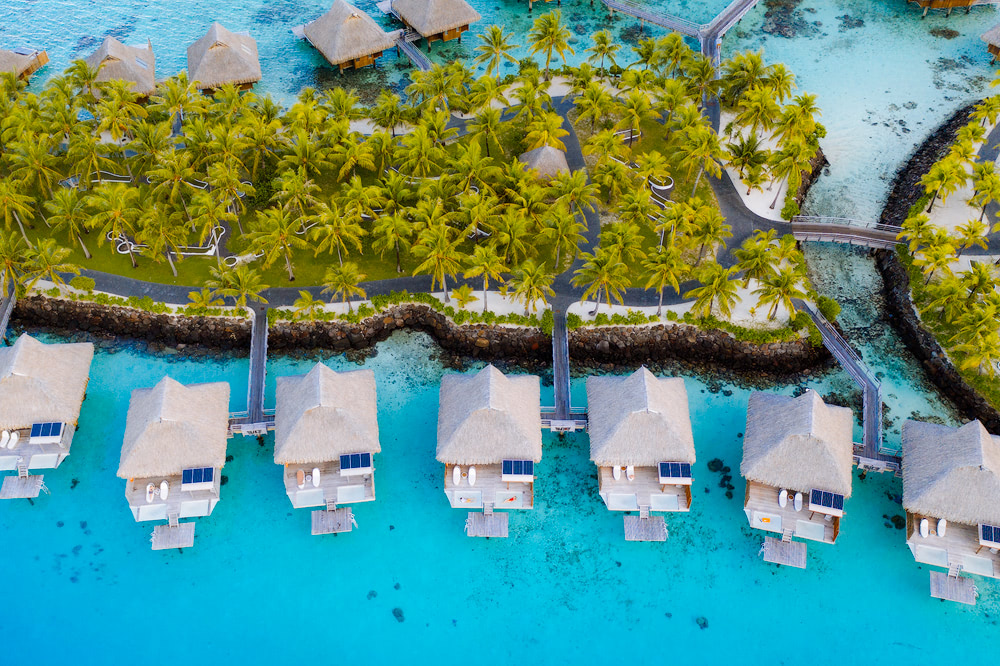 Conrad Bora Bora Nui
We absolutely loved our 4-night stay at the Conrad Bora Bora Nui! The resort is located on a private island around the backside of Bora Bora, so although you don't get as many views of Otemanu (Bora Bora's iconic mountain), you do get to experience more solitude and calmer waters. In fact, the protected feeling of the resort and calmer water conditions was one of our favorite things about staying there.
The Conrad Bora Bora Nui has a range of different room styles and we opted to spend our 4 nights in a King Deluxe Overwater Villa. The room itself was so well put together, spacious, modern, and had everything we could have wanted. Some of my favorite things were the rainforest shower, bluetooth surround speakers, and massive bath tub.
Our villa had a huge deck featuring floating overwater hammocks, sun lounging chairs, and a freshwater shower. We could swim right off the edge without fear of being swept out to sea and the water was crystal clear! One of our most memorable swimming experiences was floating and staring up at the stars one night, right off the deck of our own private villa. It was so peaceful and calming…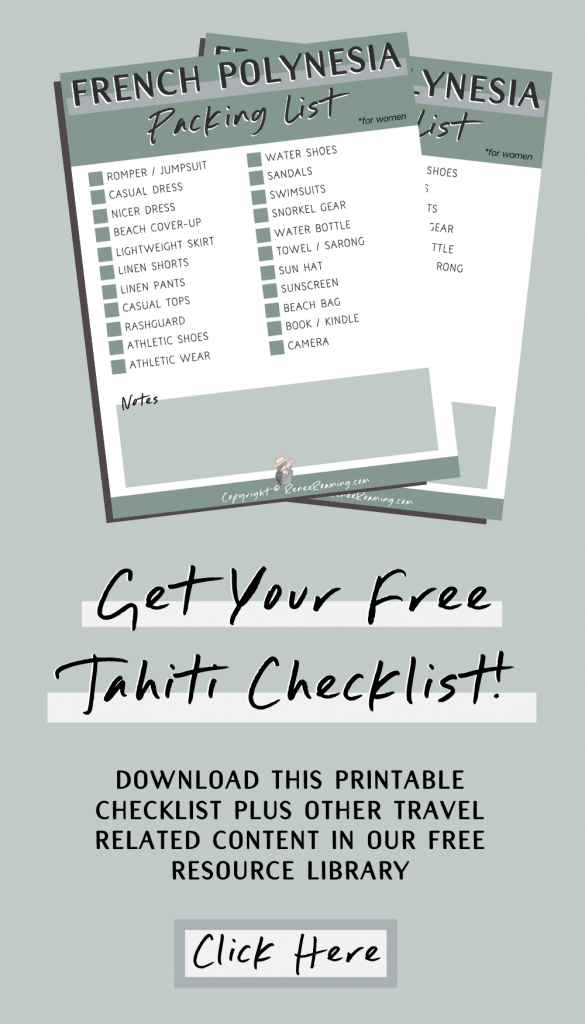 Another feature we loved about The Conrad Bora Bora Nui was that you had the opportunity to ride bikes around the resort.
We found this to be so fun and also a great way to quickly get around! Other on-site activities included mini golf, SUP boarding, kayaking, swimming in the infinity pool, tennis, and snorkeling. In fact, the resort had some magnificent coral gardens and we saw plenty of colorful fish!
We definitely enjoyed the food options at The Conrad, with our favorites being the amazing buffet breakfast spread and the Upa Upa lounge bar and sushi restaurant. It was also great getting to attend a traditional Polynesian performance one night, which included fire dancing and beautiful songs. On top of this, every staff member we met was super friendly and always willing to go above and beyond to make our stay special. Overall, we had a truly amazing time staying at The Conrad and I couldn't recommend the resort enough!

Four Seasons Resort Bora Bora
Staying 3 nights at the Four Seasons Resort Bora Bora was such a dream! Over the years I had seen countless photos of this resort, and to then experience it in real life was quite surreal. We opted to stay 3-nights and I feel that was the perfect amount of time given we had already been on Bora Bora for half a week.
The resort has numerous villa options, including overwater bungalows with and without pools, and gorgeous beachfront villas. We had a One-Bedroom Mountain View Overwater Bungalow Suite for our 3-night stay and also had the opportunity to tour and take photographs in one of the epic One-Bedroom Otemanu Overwater Bungalow Plunge Pool Suites. It really was a treat getting to see magnificent Mount Otemanu from nearly every corner of the resort!
We noticed the water on this side of Bora Bora seemed to be slightly more turquoise (and absolutely beautiful!) but it was also prone to be a little more rough and choppy. We did swim most days but also found the current to be quite strong when swimming right off our bungalow – just something to keep in mind! The resort had some more protected areas that you could swim, including protected beaches, gorgeous lagoons, and an infinity pool (with cute poolside cabanas!)
Another thing we really loved about the Four Seasons Bora Bora was all the beautiful walking paths situated around the resort's protected lagoon.
It felt like you had stepped into the jungle and we very much enjoyed strolling around and watching fish swim below us in the lagoon. The lagoon was teeming with gorgeous corals and colorful fish, with complimentary snorkel equipment provided for all guests.
Every meal we ate at the Four Seasons was delicious and we liked how there were a range of dining options, including more affordable casual eats. I also loved that the resort was making a conscious effort to reduce their plastic use. During our stay we didn't see any plastic straws, cutlery, plastic water bottles, or single-use disposable toiletries. How cool is that?! Overall, we had a wonderful stay at the Four Seasons and would return in a heartbeat!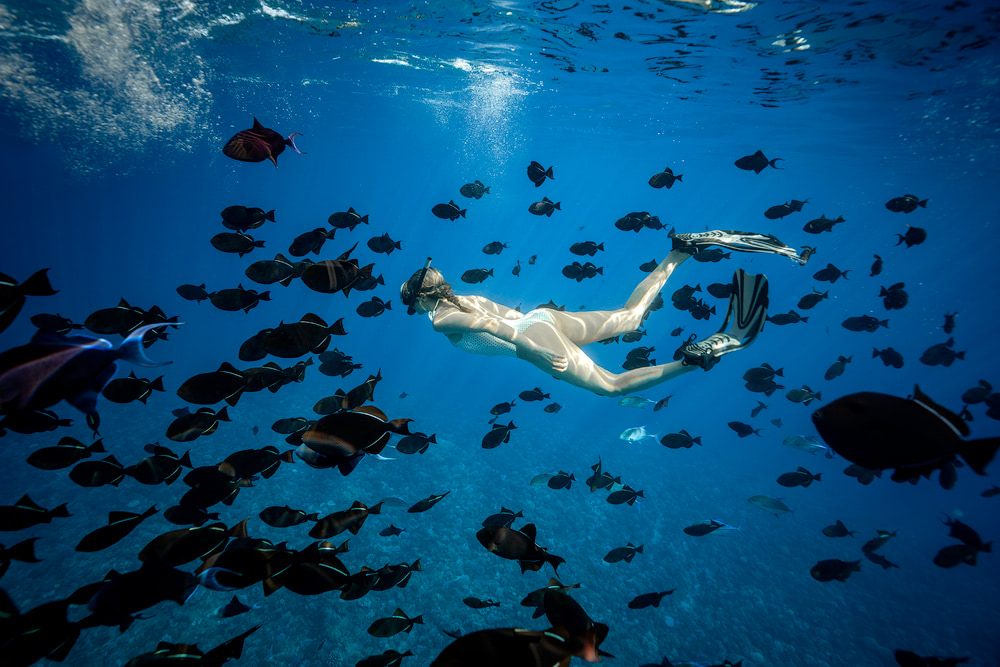 Best Things to Do
Some people visit Bora Bora purely for a relaxing and romantic getaway, whilst others are looking for a bit of adventure as well. My husband and I enjoy vacations that include beautiful scenery, opportunities to relax, and also fun activities to try out. Bora Bora definitely has all three!
To give you an idea, below are some of the activities you can take part in:
Stand-up paddle boarding
Dolphin and whale watching
Kayaking/canoeing
Snorkeling
Scenic flights
Jet skiing
Swim sharks and rays
Sailing/boat tour
Sky diving
Parasailing
Beach volleyball
Kitesurfing
4×4 safari tour
ATV excursions
Fishing tours
Scuba diving
Hike Mount Pahia
Explore Vaitape
If you are looking for more romance focused activities then the following are an option:
Private island ("motu") picnic or dinner
Couples massage or spa treatment
In-bungalow dining experience
Couples canoe breakfast
Scenic flight over Tupai (heart shaped island)
Sunset cruise and star gazing
Our two favorite excursions were jet skiing and getting to swim with skarks and rays. I will feature all the details below in case you want to try them out!
Jet Skiing
We opted to take a jet skiing tour with Moana Adventure Tours during out visit to Bora Bora. Our private tour lasted for about 2 hours and had us take a full circle of Bora Bora's picturesque blue lagoon. Our guide also included a stop on a private motu (island) where he taught us how to cut open our own drinking coconuts. The whole experience kind of felt like we had stepped onto the set of Moana :p
This was a really fun adventure and one I would recommend to anyone looking to try something new on the water. We hadn't jet skied before but our guide showed us the ropes and had us cruising along in no time! My favorite part was probably the fact that we were able to see Mount Otemanu from all angles as we encircled the lagoon – such a cool experience!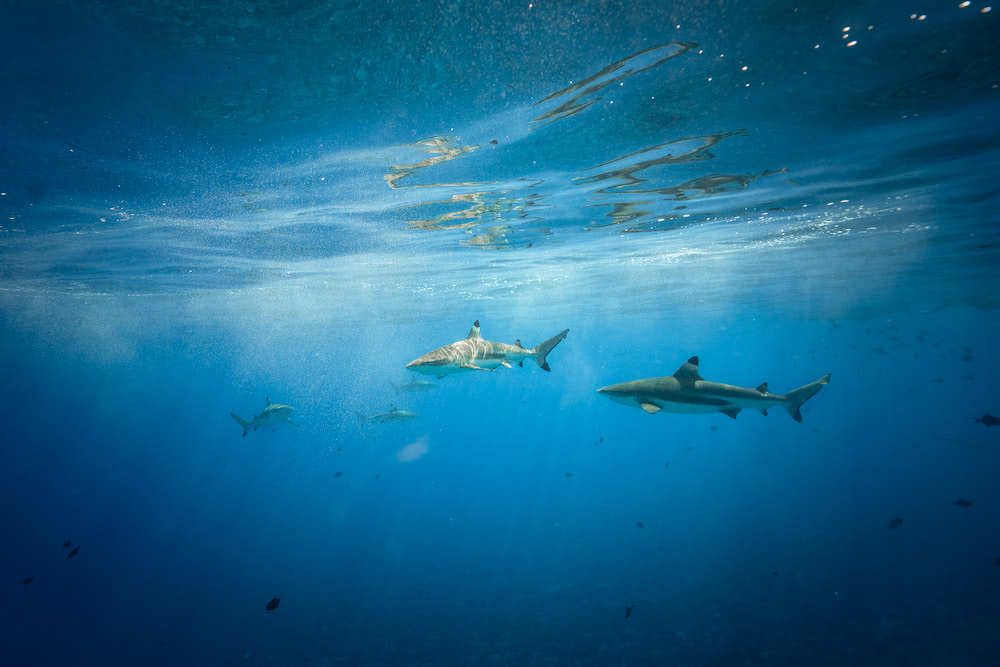 Swimming with Sharks & Rays
Probably my favorite day of the entire trip was taking a lagoon boat excursion with Welcome Toa Boats. We were picked up from The Conrad's pontoon in a beautiful luxury boat that included its own water slide, outdoor and undercover seating, freshwater shower, and bluetooth speakers – so fun!
Our first stop of the day was swimming with sharks… something I was initially quite scared to do! Our guide explained to us why we shouldn't be scared to swim with reef sharks, and with that information we put on our snorkels and jumped overboard! It was a phenomenal experience and one I can't really put into words. I would highly recommend you try it out for yourself!
After swimming with sharks we moved onto a more shallow part of the lagoon where we could interact with stingrays. These guys were so soft and friendly! I thoroughly enjoyed receiving their slippery hugs haha. We did also spot a few sharks and some colorful fish at this location.
Next we headed to a quiet part of the lagoon, just off a private motu (island). We were greeted by another one of Welcome Toa's boats and a delicious barbecue lunch (served with fresh coconuts and champagne). After lunch we headed to one last snorkeling spot before being dropped back at the resort. What an epic day!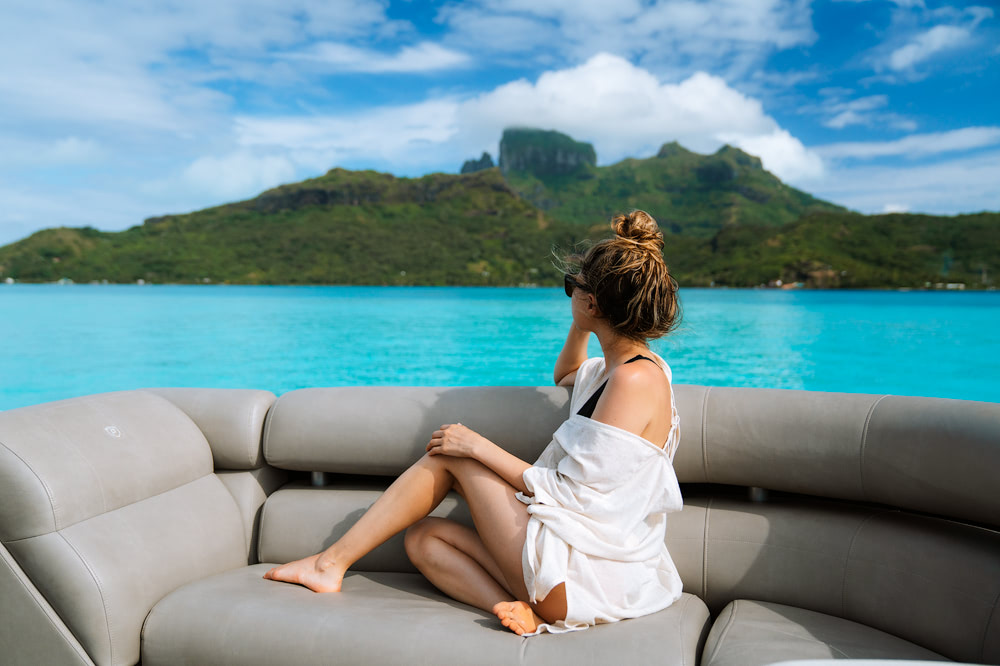 What to Pack
I wrote a whole blog post on what you should pack for your vacation to the Islands of Tahiti – click here to check it out! In summary, you will want to pack clothes that are light, flowy, and comfortable, plenty of swimsuits, reef safe sunscreen, a sun hat, and water friendly shoes. Read the whole list of recommendations in my packing guide!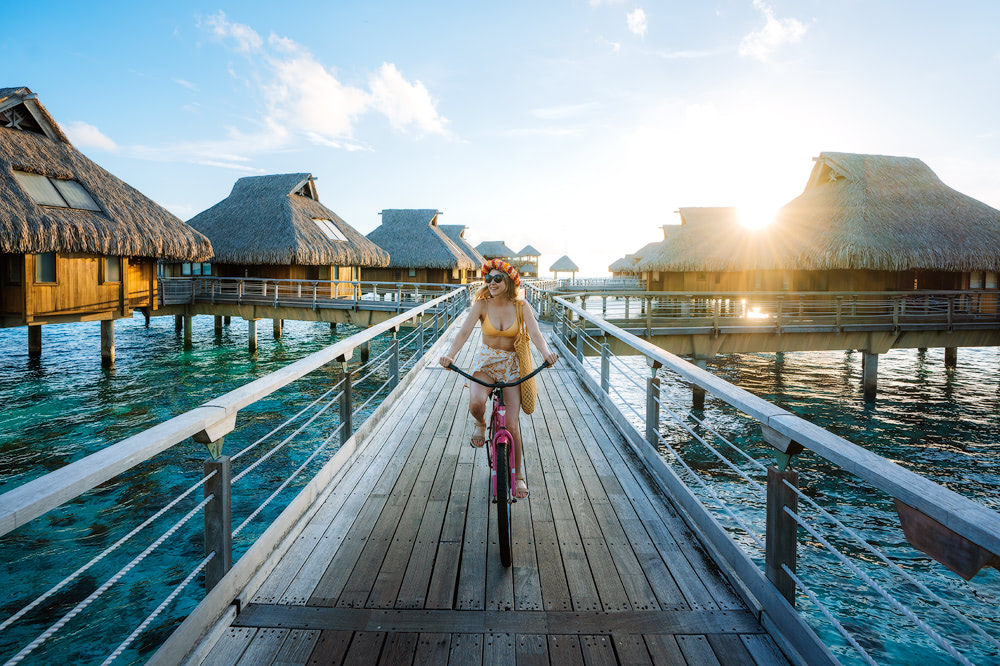 Useful Tahitian Phrases
We enjoyed using some Tahitian words and phrases during our trip to Bora Bora, though overwhelmingly most locals were able to speak English. Here are some you may wish to keep handy for your own trip!
Hello: 'Ia ora na (yo-rah-nah)
Goodbye: Nana / Parahei (nah-nah) / (paa raa hey)
Thank you: Mauruuru (mah-roo-roo)
Yes: E (ay)
No: 'Aita (eye-tah)
Please: 'ee (ay-ay)
How are you?: Maita'i oe (my-tie oh-ay)
I am good: Maitai (my-tie)
I am very good: Maitai roa (my-tie row-ah)
Cheers: Manuia (ma-new-ya)
Excuse: me 'ee (ay-ay)
How much does it cost?: E hea moni teie (ay hey-ah mon-knee tay-ee-ay)
I don't understand: Aita i papu ia'u (eye-tah ee pah-poo ee-ah-oo)
---
PIN for Later!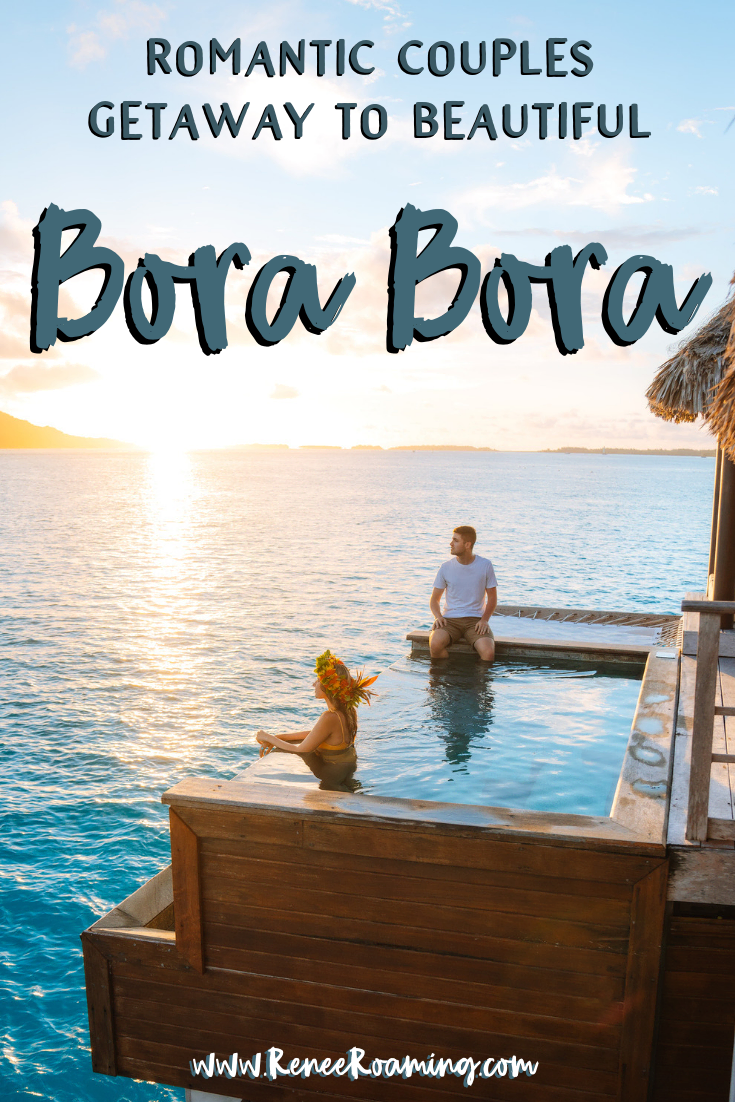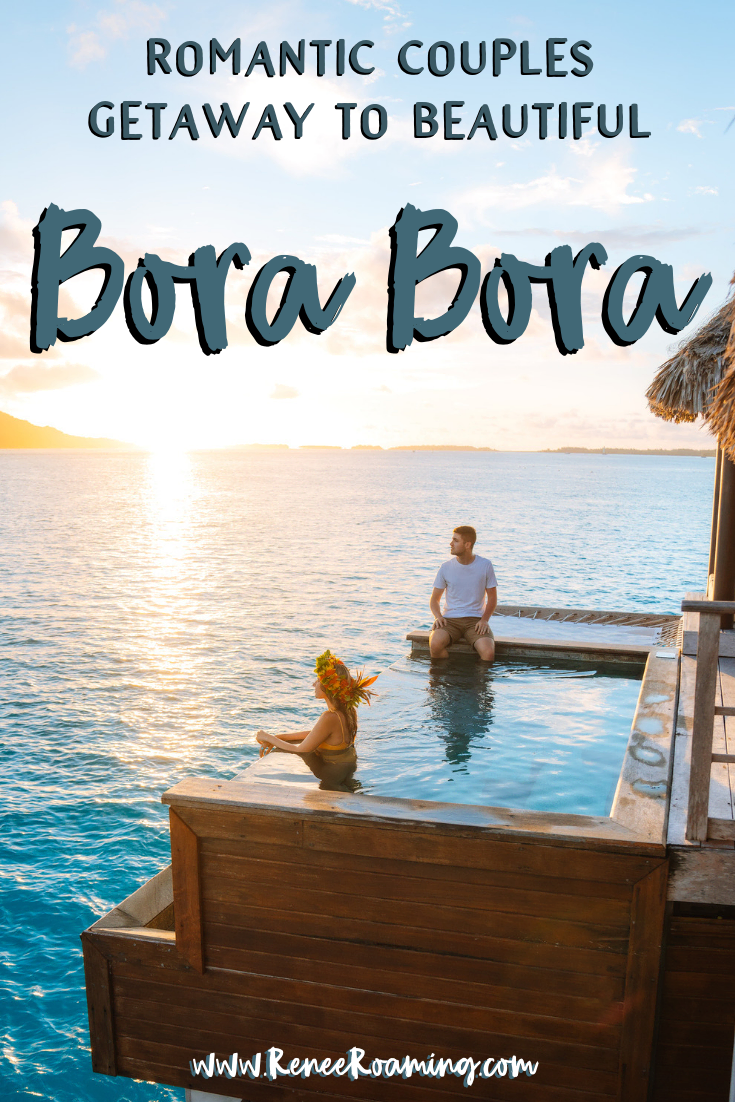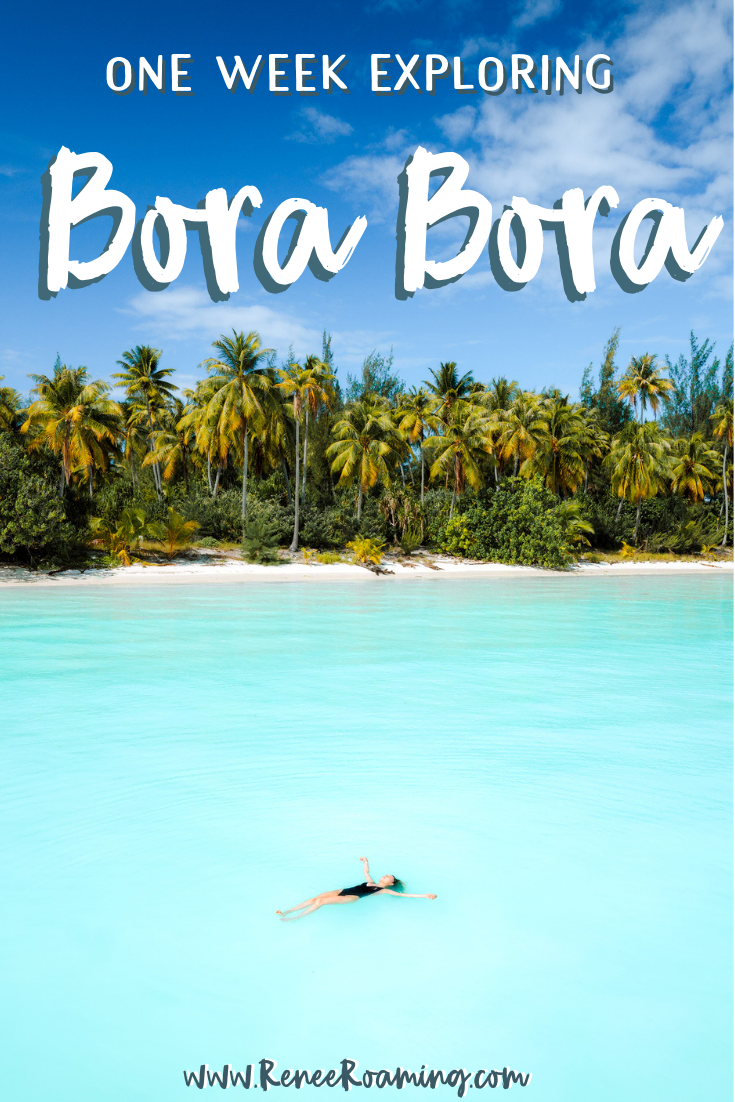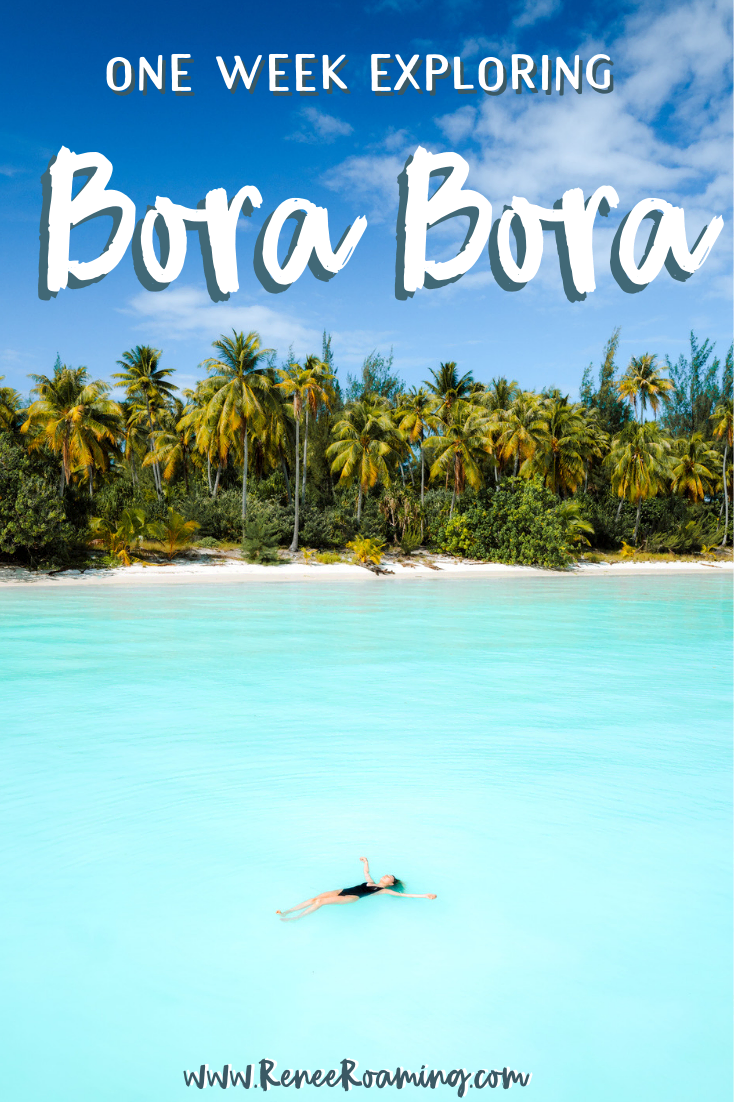 More Tropical Trip Inspiration
The Islands of Tahiti: Finding Paradise in Mo'orea, Taha'a, and Raiatea
What to Pack for a Tropical Vacation to The Islands of Tahiti
Make the Most of Your Trip to Tulum, Mexico: The Ultimate Guide
Kauai Trip Report: Highlights from a Week in Paradise
5 Best Things to Do on Oahu, Hawaii
---
Disclaimer: This trip was in partnership with Tahiti Tourisme North America, Conrad Bora Bora Nui, and Four Seasons Resort Bora Bora. As usual, all opinions and thoughts are honest and my own.