It's never too late to learn to ski! Some kids are lucky enough to enjoy ski school from the age of 3, but the vast majority of us did not have that privilege growing up. If you're an adult thinking about learning to ski for the first time, you've come to the right place. This beginner's guide to skiing covers all the basics, including how to get started, what gear you'll need, and insights on what it's like to learn from scratch.
Disclaimer: This blog post is in collaboration with Backcountry.com and features some affiliate links. This means I get a small commission if you make a purchase (at no extra cost to you). Use code RENEE15 to get 15% off your first Backcountry order (some exclusions apply). You can also learn more about my affiliate policy here. Thank you for the support!
Beginners Guide to Skiing
I only just learned to ski during the 2021-2022 season, at 32 years of age. It's something I've wanted to try for many years but was hesitant for a few reasons. Would I be the only adult in a lesson of 3 year olds? What if I spend a lot of money on lessons and lift tickets and then don't enjoy it? What if I just totally suck? 😂
These are all valid concerns and it's totally normal to feel scared about learning a new skill. Though I will say, I am now totally hooked on skiing! I love it so much more than I expected to and now I wish I had of learned years ago!
This beginner's guide to skiing will answer all your questions and concerns! And don't fret, I have partnered with a ski pro to make sure all our information is accurate and up to date. So you're getting expert opinions and beginner insights… the perfect combination to set you up for success!
Why Learn to Ski as an Adult?
Maybe you just moved to a new town with a great local mountain or you want to find more ways to stay active during the winter months. Lots of avid hikers learn to ski as a transition to backcountry skiing which has rapidly gained popularity in the last few years. No matter your inspiration, I hope this guide helps you feel conquer your fears and gets you excited to hit the slopes!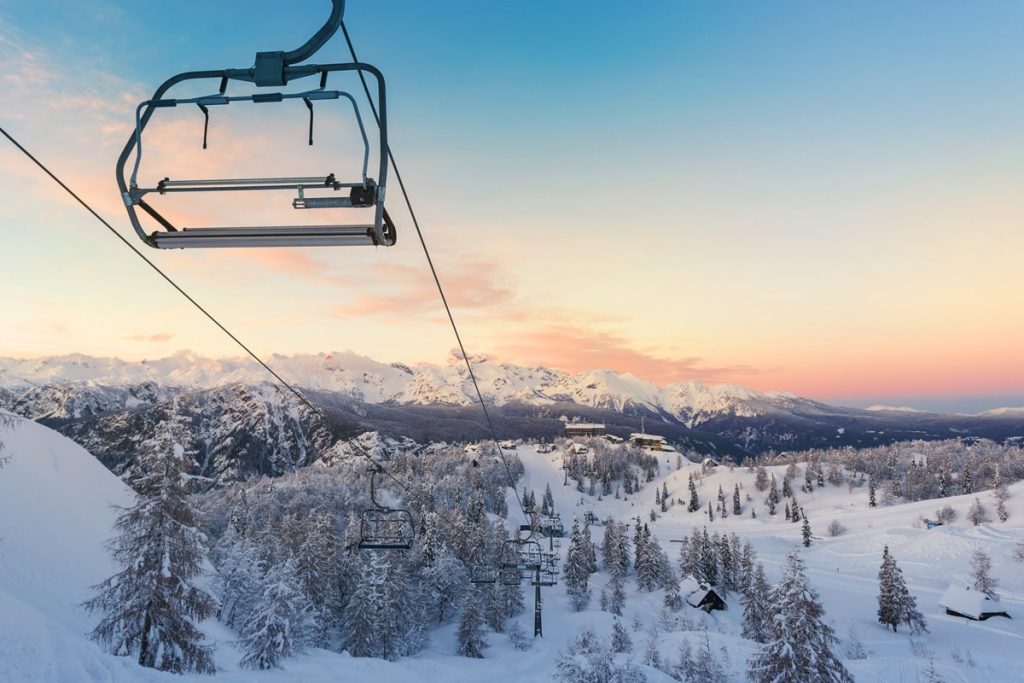 How To Get Started Skiing
Even just getting started planning your first time skiing can feel intimidating! Let's start by covering a few key things: where will you be going, how will you learn, and what will you need to pack?
How To Choose a Ski Resort
Practice makes perfect, so it is definitely a good idea to opt for a mountain somewhere convenient to where you live (if possible.) The more often you can go, the more likely you are to progress your skills and have fun! Here in the Pacific Northwest, the Summit at Snoqualmie is a great spot for beginners and experts alike. Getting familiar with the mountain's website and trail map before you go skiing is a good way to feel more confident when you're there. Knowing where to park, meet your lesson, and how to find the beginner and progression areas are good things to check out, especially when you're visiting somewhere new!
Should You Take Ski Lessons?
Totally! Maybe you have a partner or friend that has been skiing for a while and offered to teach you – that's great! I'd still recommend starting with a few lessons with a certified instructor or coach. This way you'll make sure you have a really firm understanding of the fundamental basics before you start to progress. Once you've got the hang of getting around the slopes, skiing with more advanced partners is a great way to push outside your comfort zone and observe some of their skills!
Group lessons with a professional ski instructor can be more affordable, but the group sizes can get a little large, so be sure to ask questions when you're signing up. If you have the means, private and semi-private lessons are a great way to maximize your time on the mountain and get more personalized attention. It's always more fun learning with a buddy!
Buy Your Lift Ticket Online
Most beginner-friendly mountains will have intro packages that include a lesson, lift ticket, and often rentals, too! Since it's important to keep practicing, you can often find deals on multiple lessons at a discounted rate. Most lessons will include a full day lift ticket that is valid even after your lesson. It's a great idea to use that time to practice some of the new skills you just learned (after a snack break, of course.)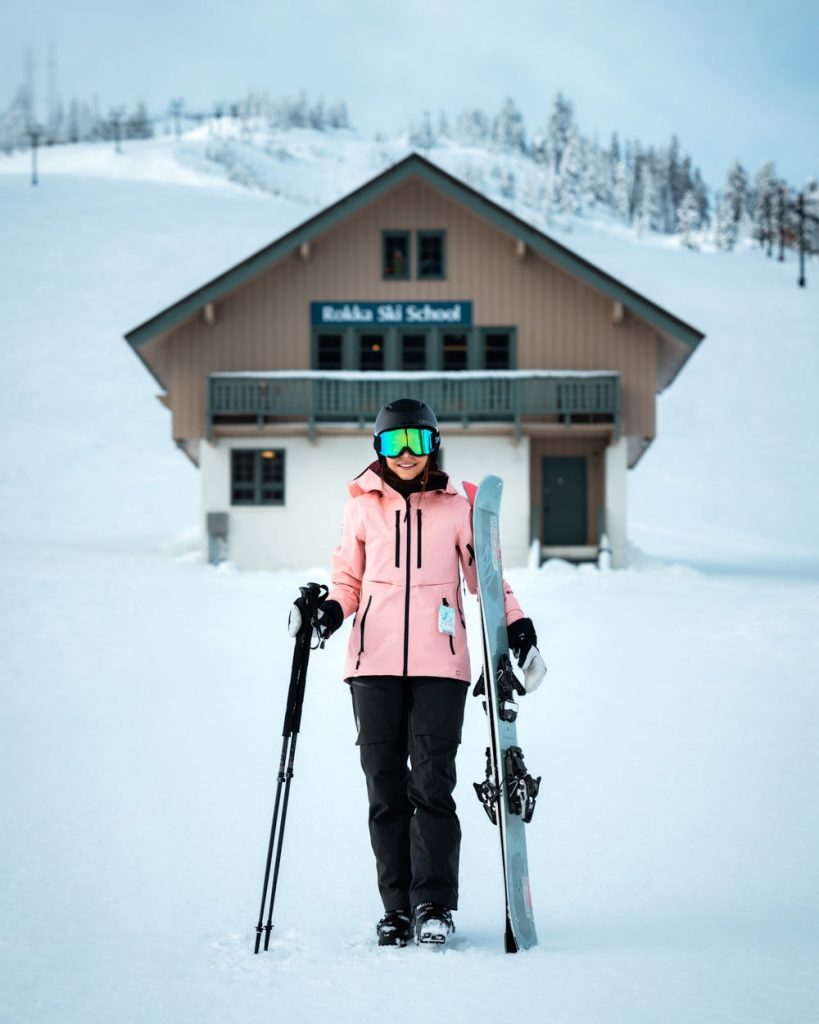 Beginner Ski Gear Essentials
Investing in ski gear of your own can be expensive and intimidating, so it can be a good idea to rent gear, at least a few times when you're first starting out! Many ski areas and local gear rental shops will have options for daily, weekend, or even season-long ski rentals. Keep in mind that weekends and popular destinations could sell out of rental equipment, so it's a good idea to call ahead and make reservations at least a few days in advance.
If you're ready to purchase some of your own gear, read on for some suggestions of great skis, boots, poles, and everything else that you'll need when on the mountain. It can be intimidating not knowing what to pack for a new adventure, so this list is a great way to get started!
What To Wear Skiing
Staying warm is an important part of making sure you're having fun, especially since you'll be spending some time in lift lines, listening to your instructor, and trying to learn new skills. Like most outdoor activities, layering is super important! When in doubt, opt to add an extra layer – you'd probably rather be a little too warm versus too cold.
Baselayers
You'll probably be working up a sweat practicing those turns, so having a moisture-wicking base layer against your skin is important. Merino wool is a great way to stay warm and dry with your first layer. One of my favorite base layers for winter days is the Smartwool Merino Long Sleeve on top and the Smartwool Classic All-Season Merino Bottoms. On extra chilly days, I like to wear a thicker, warmer pair of leggings, like the Smartwool Thermal Merino Baselayer or the Patagonia Capilene Air Bottoms.
Mid Layer
This one really depends on the weather outside! If it's a mild winter day, the Backcountry Synthetic Insulated Hooded Jacket is a great choice. On a really cold day, you might choose to double up on your mid layers, or add a down jacket like the Arc'teryx Cerium LT – my personal favorite for cold days!
Pro tip: adding an insulated vest like the Patagonia Nano Puff Insulated Vest will help keep your core warm without restricting your arms with too many extra layers.
Shell Jacket
Your outer layer is what keeps you protected from the snow and wind. Typically a shell jacket does not provide insulation, which is why the mid layer is so important! The Backcountry Cottonwoods Gore-Tex Jacket is what I've been wearing and I love the oversized hood that fits over my helmet to keep me extra warm on those windy, stormy days. A heavy duty shell not only protects you from the elements, but also from sharp ski edges, snags on lifts, and all the other things out there on the mountain. Make sure your jacket has lots of pockets for snacks (and other essentials.)
Ski Pants or Bib
Bibs are the way to go if you dream of skiing deep powder someday! They're also great to make sure all your layers stay tucked in and no cold drafts sneak down your back (the worst feeling.) The Backcountry Cottonwoods Gore-Tex Bib keeps me dry even after a full day in the wet snow, and they even convert into pants when you zip off the top section. Consider sizing up if you're going to be adding thicker layers underneath!
Merino Wool Socks
There's nothing worse than feeling a seam or crease stuck inside your ski boot all day, so starting with a good pair of wool socks is key! You might be tempted to find the thickest, warmest pair of socks you can find, but it's important to keep a proper fit in your ski boots. Medium weight merino wool socks will work best to keep your feet warm and dry, while still fitting well in your boots. The tall style ski sock is a good idea, and my favorite pair is the Darn Tough Ski Sock.
Gloves / Mittens
This one is definitely a personal preference. Gloves give you more dexterity, but mittens tend to keep your fingers warmer! The Hestra Heli Mitten is one of the warmest mittens you can find while still being able to grip your ski poles well. The Hestra Heli Glove is a good option if you like to wear gloves. Pro tip: if your hands tend to get really cold, go a size up in your mittens and add a liner like the Seirus Glove Liner for extra warmth!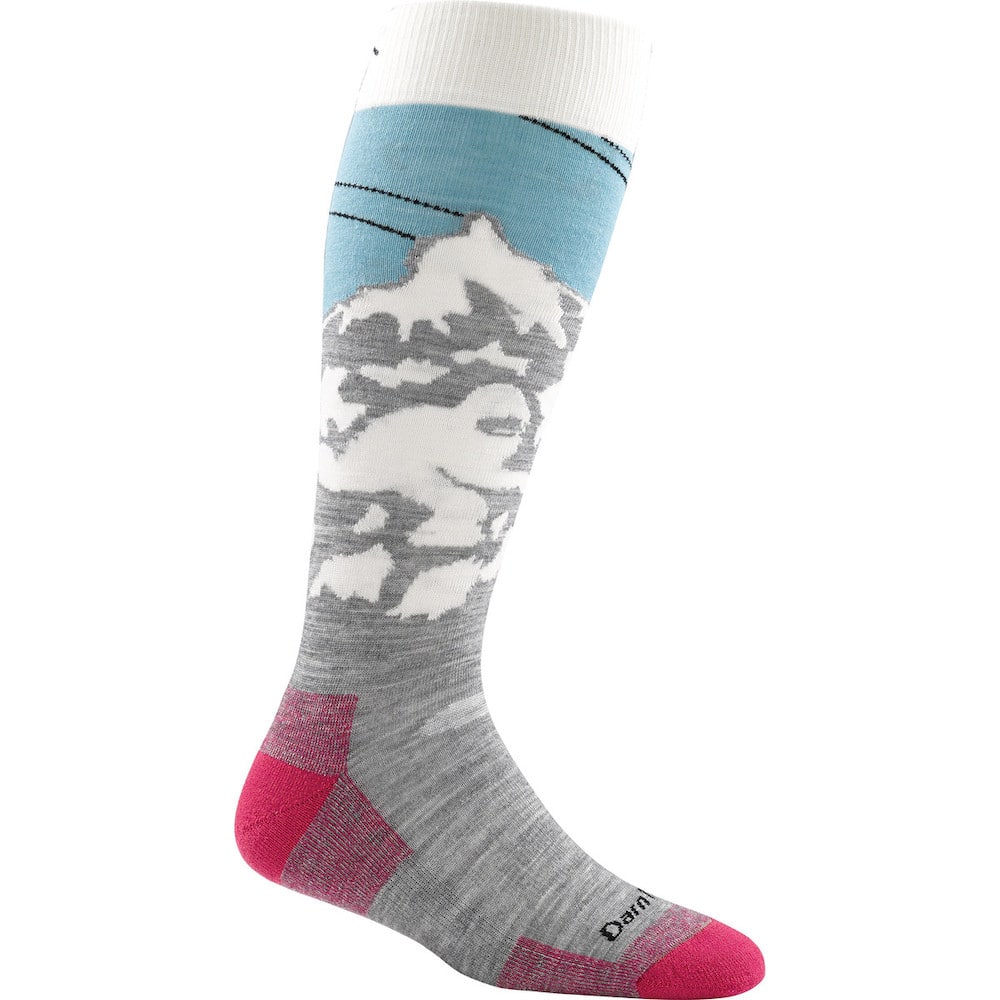 Helmet
Having a helmet that fits YOUR head (not your friend's/brother's/mom's head) is really important, especially when you're learning to ski! Both beginner skiers and experts alike take tumbles, but having a proper helmet makes sure we're able to get back up and keep having fun. The Smith Vantage MIPS Helmet is one of the highest rated ski helmets out there for both comfort and protection. The Giro Avera MIPS Helmet is another great option for protection that's a little more budget friendly.
Ski Goggles
The Smith Squad Goggles are a cult favorite, and for good reason. These have a high quality Chromapop lens in a frame that fits many face shapes. Most brands now offer a magnetic style ski goggle that lets you swap lenses out quickly when conditions are changing. The Smith I/O Mag Goggles are more of an investment, but worth considering if you'd like to have high quality lens options for stormy days and sunny days that are easy to change out.
Pro tip: make sure you try your goggles on with your helmet before you head to the mountains so you can make sure they fit well together! You want the top of your goggles to be snug against the bottom of your helmet.
Neck Gaiter / Balaclava
If you're covering your mouth and nose (which you'll definitely want to keep warm!) the moisture from your breath is going to get absorbed by your gaiter. Merino and quick drying synthetics are your friend here – avoid fleece if you can! Fleece will get wet and freeze, making for a not very fun experience. The Skida Tour Neckwarmer is a lighter option for warmer days when you might want to add a little style to your outdoor kit! Balaclavas provide warmth for your head and ears as well as your neck. The BlackStrap Hood Balaclava has been a favorite of ski enthusiasts for years – plus they're made in the US!
What else Should You Bring Skiing?
Now that you've got all your gear together, there are just a few more essentials to make sure you've got before you head to the mountain.
Wallet (+ ID)
Phone
Lift ticket or lesson confirmation (if you purchased online)
Snacks
Water
A warm hat for when you don't want to wear your helmet around the ski area
Dry change of clothes for the drive home (I recommend a nice pair of cozy socks!)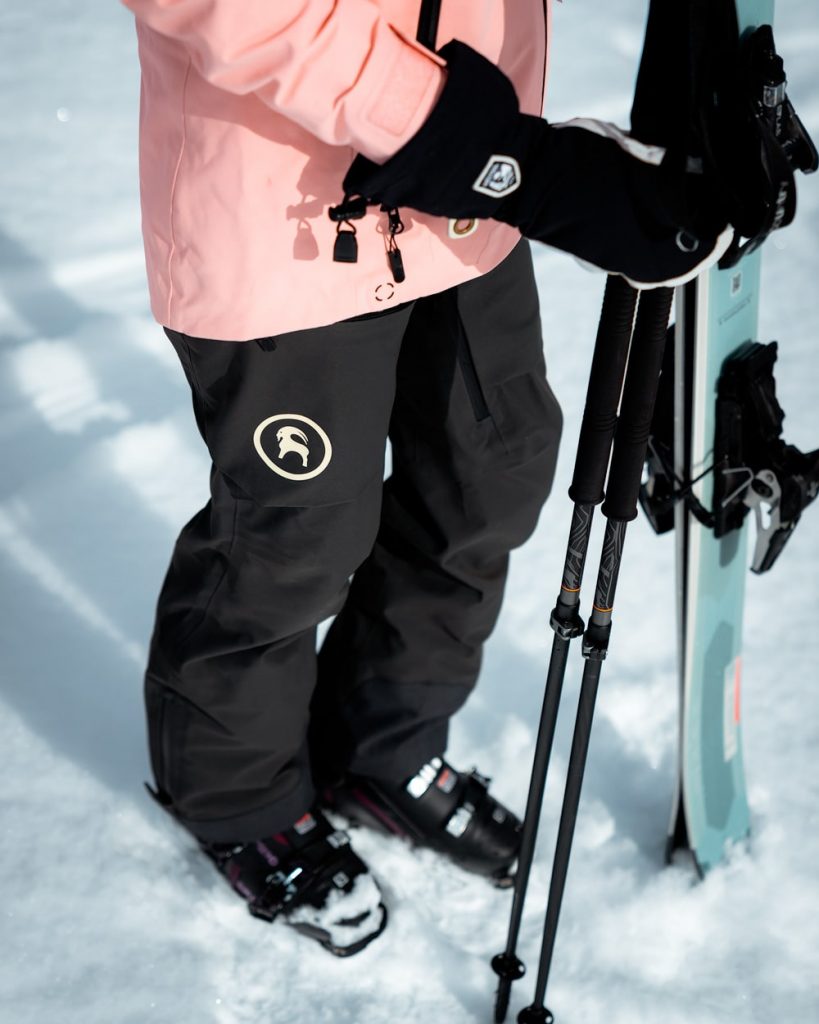 How To Choose The Right Skis
On your first few visits to the mountain, you'll probably want to consider renting your skis, boots, and poles. These are often included in the cost of lessons and are a good way to keep your budget down when you're starting out. Renting or demoing is also a great way to test out different styles of skis and figure out what you enjoy the most!
One of the cool things about skiing is how much different terrain there is out there. The snow in New England is very different from the snow in Washington, which is different from the snow in Colorado! Determining where you'll be skiing regularly helps you pinpoint a good pair of skis. There are some great options that perform well in a wide variety of conditions, like the Salomon QST Lumen 99 Skis or the Blizzard Black Pearl 97 Skis. Your local gear shop is a great place to demo new models before you buy, and they will often credit the cost of demoing towards the skis if you decide to purchase a pair! You can even find good deals on lightly used demo models at the end of the ski season in your local shops.
The bindings you'll use depend primarily on the skis you choose, your skiing ability, your size, etc. Visiting your local ski shop is a good way to get advice and find a few options. Always have a professional mount your bindings to your skis and have them checked regularly to make sure they're working properly and safely! Pro tip: make sure you bring your boots when you're picking out bindings or getting your bindings mounted to your skis so the technicians can size them correctly to your boot size! If you think you might want to try ski touring someday, the Salomon S/Lab Shift Alpine Touring Binding is a great choice that transitions seamlessly from skinning uphill to skiing downhill. The Tyrolia Attack 11 Binding is a more affordable option if you'd like to focus primarily on downhill skiing.
The Scott 540 Poles are a great, budget friendly pair of poles to start out with if you want to purchase your own. If ski touring (also known as skinning, or backcountry skiing) sounds like something you'd like to try out, it's worth investing in a pair of adjustable length poles with large powder baskets. I have been using the Backcountry Plinko Carbon Ski Touring Poles and I like that they are really lightweight, but they still feel sturdy!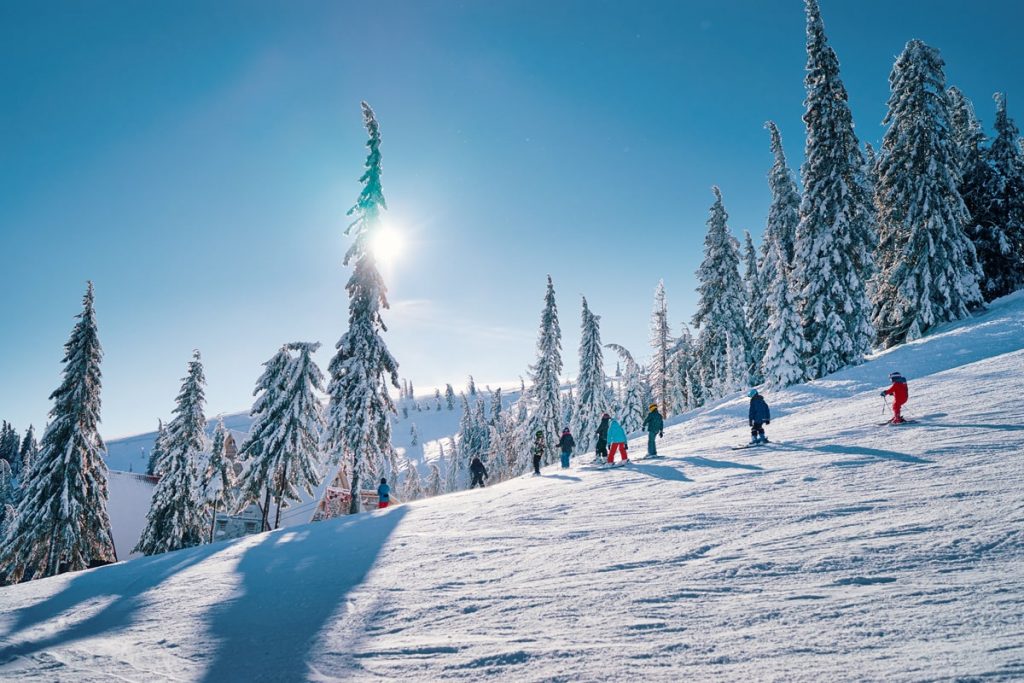 How To Choose The Right Ski Boots
Most places that offer gear rentals will offer boots, too! Ski boots might be even more personal and important than the skis themselves. If you're going to invest in your own pair of boots, be sure to take the time to try on different styles and get a feel for what works for you!
Ski boots are sized differently than the shoes you wear every day, but don't panic! The mondo system used for ski boot sizing is simply your foot's length measured in centimeters. You could convert from your existing shoe size to get an estimate of your ski boot size, but any rental or gear shop will be able to help find the perfect fit. Keep in mind that ski boots are meant to feel snug!
I have been using the Salomon Shift Pro 90 Alpine Touring Boot. Even if you aren't planning on doing any ski touring, boots that come with "Walk/Hike Mode" are a nice way to make things easier on yourself when walking around the resort or parking lot. Pro tip: adding in a pair of supportive insoles to your boots, like the Superfeet Insoles, is a great way to keep your feet happy all day long.
A lot of factors go into determining the perfect fit of ski boots, like stiffness, width, traction, skiing ability, and more! visiting is professional bootfitter is a great idea when you're ready to invest in your own pair of ski boots. They can help you find the right fit for your individual foot shape while considering your ability level and goals for the season!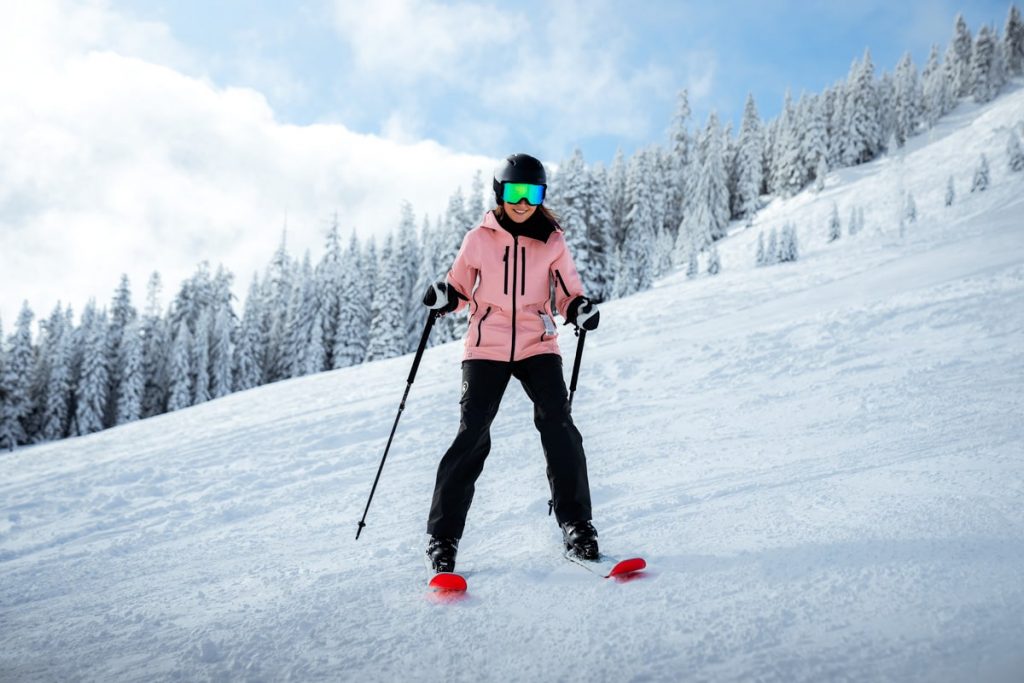 Learning How To Ski
It's totally normal to feel intimidated and nervous when trying new things, and that definitely holds true for skiing! I found it really helpful to make a list of the things I felt particularly anxious about and looked those things up online before I even went to my first lesson! I'm including a few of those very thoughts in this section and hopefully this will help ease some of your fears!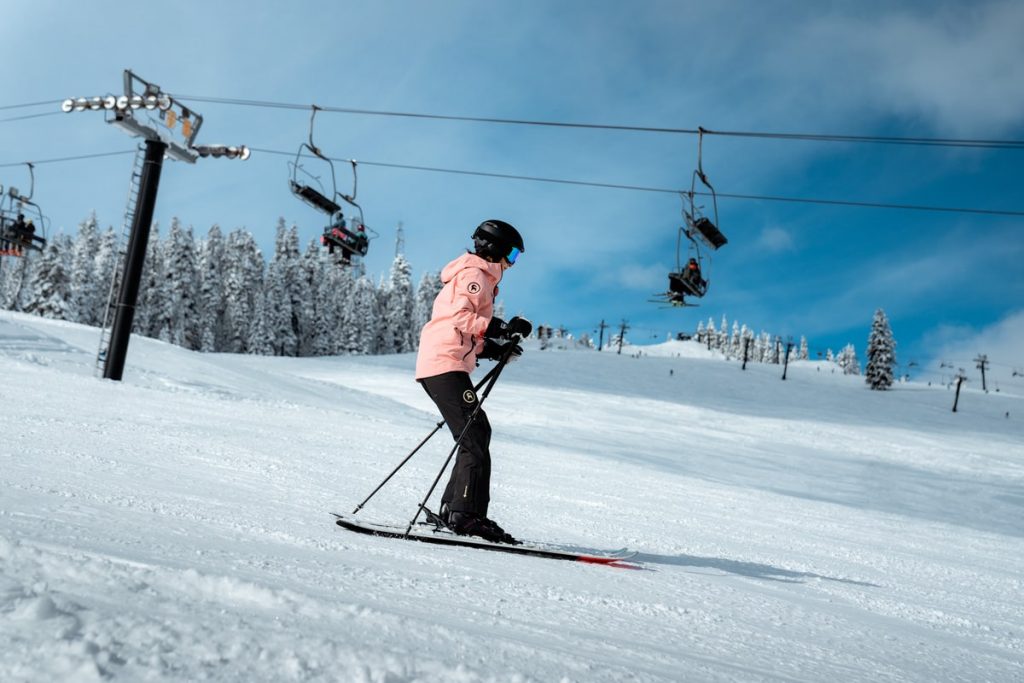 Start on the Bunny Hill
It might be obvious, but you'll want to start on the easiest slopes. Most ski areas have designated learning areas with a few flat sections to practice getting in and out of your skis and to get the feel of how skis slide on snow. Next up is the magic carpet or a beginner lift! I was nervous about how to get on and off the lift, but watching videos like the one below was really helpful. You'll be mastering that pizza and wedge in no time!
Knowing how to easily get up if you fall is another good tip to study before your first day on the hill. Here is a great video with two helpful methods to get back on your feet if you wipe out.
Technique Tips for Beginner Skiers
I found this video to be really helpful in explaining some of the skills that are essential for beginner skiers. Having an understanding of these concepts helped me pick them up quickly during my on snow lessons, which made the day way more fun! This covers everything from how to properly get into your ski boots, riding chairlifts, correct stance, the importance of bending your knees (!!), getting off the ground after a fall, and different kinds of turning and stopping techniques.
If you feel stressed or anxious during your lesson or while you're skiing, don't be afraid to ask for help! Remember, we were all beginners at some point, and learning is supposed to be fun. This is a great blog by Kaelee Chang about learning to ski as an adult, and she offers some great tips on how to find an empowering and supportive community, especially here in the Pacific Northwest, but across the country as well.
How To Stay Comfortable During a Day of Skiing
There's a lot to remember as first time skiers! Here's my list of top tips to keep the day safe and enjoyable.
Stretch before you hit the slopes and after you get back to the car, just like you would with any exercise!
Go easy when you're just learning and take lots of breaks. You're here to have fun, remember?
Hydrate, hydrate, hydrate. This one can be tricky to remember in the winter when it's cold, but it's still really important. Packing an extra reusable water bottle with electrolytes, like Nuun Tablets, is a good idea.
Throw a few snacks in your pockets for when you get hungry. Clif bars and other small, dense snacks make great pocket snacks.
Wear sunscreen! Especially on sunny days, the glare from the snow can be brutal on your skin. That goes for windburn, too. Be sure to cover up and keep your skin happy!
Keep your phone warm so the battery doesn't die in the cold! Best to keep this in an inside pocket, closer to your body heat.
Keep your goggles off your forehead so they won't fog up. When you take your helmet off during breaks, take your goggles off your helmet and stow them safely inside the helmet. This will keep pesky lens scratches at bay and the foam padding will hold up longer!
Call it quits before you're too tired, especially if you have a longer drive home at the end of the day.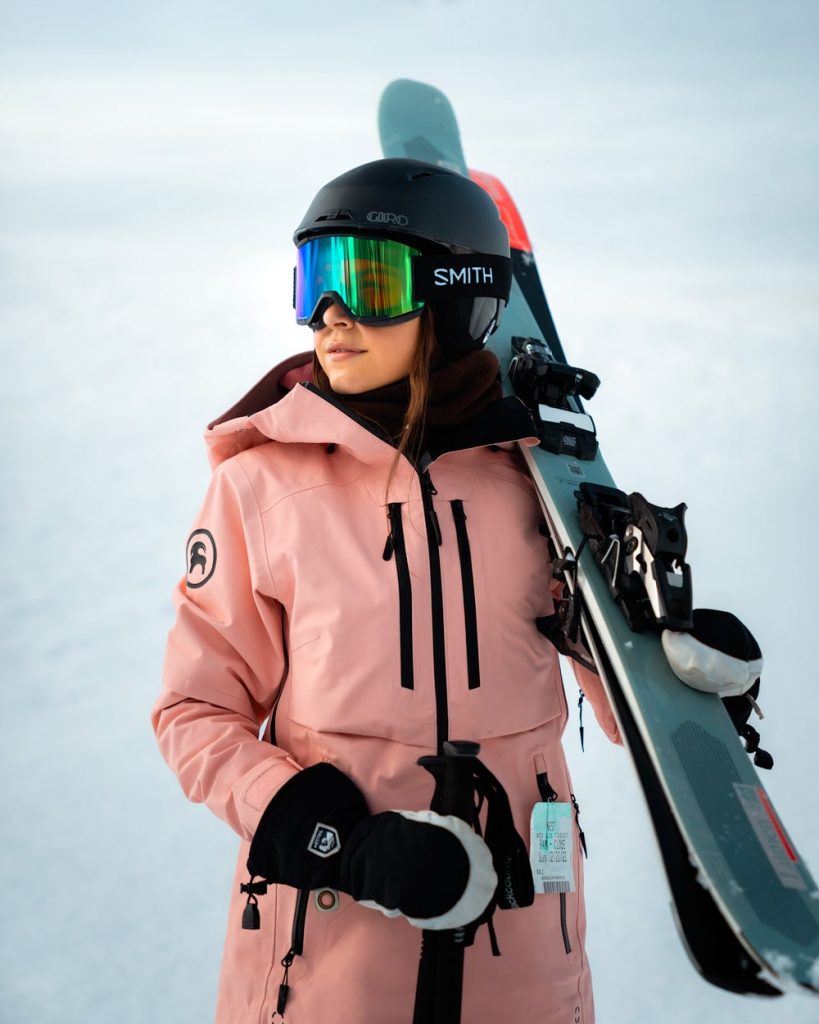 Final Thoughts on Learning to Ski
I hope this beginner's guide to skiing inspires you to hit the slopes and start learning! I'm having such a good time and I'm already hooked after just a few lessons. The most important thing is to keep having fun so you'll keep coming back for more, and practice makes perfect! Seasoned skiers – what do you wish you knew before you first started learning to ski? I'd love to hear your thoughts on learning to ski as an adult!
---
PIN for Later!