I have been a full-time travel photographer and blogger for almost 2.5 years now. That involves spending most of my time on the road and editing on the fly. It's super important to me to have a laptop that is not only travel-friendly but also incredibly powerful. I recently had the opportunity to test out the new Dell XPS 15 2-in-1 laptop during a trip to the Canadian Rockies. Now, I will be 100% honest with you… I went into the trip a dedicated MacBook user and returned home a PC convert. In my opinion and experience, the XPS 15 2-in-1 is the best laptop for photo editing and travel blogging. Let me tell you why.
** Read to the end for a chance to win your own Dell XPS 15 2-in-1!**
The Best Laptop for Photo Editing & Travel Blogging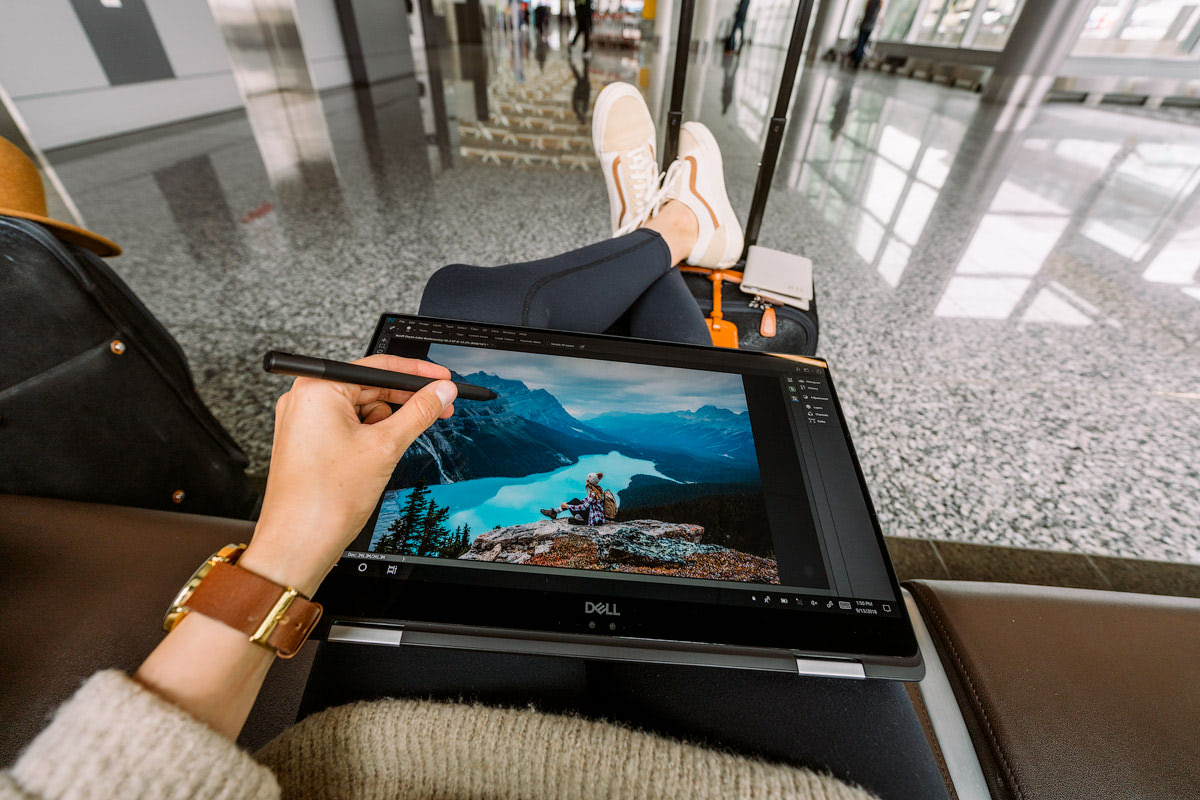 My new go-to laptop
So why is the Dell XPS 15 2-in-1 the best laptop for photo editing and travel blogging? Let me first start by giving an overview of what I look for in a laptop. Coming from the perspective of someone who does this full time and is picky with technology…
My must-haves for a laptop are:
Travel-friendly – must be portable, fit into my camera bag, and easy to use on-the-go
Powerful – must perform well for advanced processing and handle large files with ease
Color accuracy – I need my photos to look as they were shot and for the colors to be as accurate as possible
Sleek design – of course I want it to look nice too!
After testing, I can say that the XPS 15 2-in-1 ticks all the above boxes. It's Dell's smallest, thinnest, and most powerful 15-inch 2-in-1, and I can definitely say that it's upping my editing game. As I was switching from a MacBook Pro, it did take me 1-2 days of re-learning and practice to get used to PC again. Funny story – my first ever laptop was a Dell Inspiron some 11 years ago! I felt so cool heading off to university with the latest in tech (and it was pink, come on!) How things have come full circle…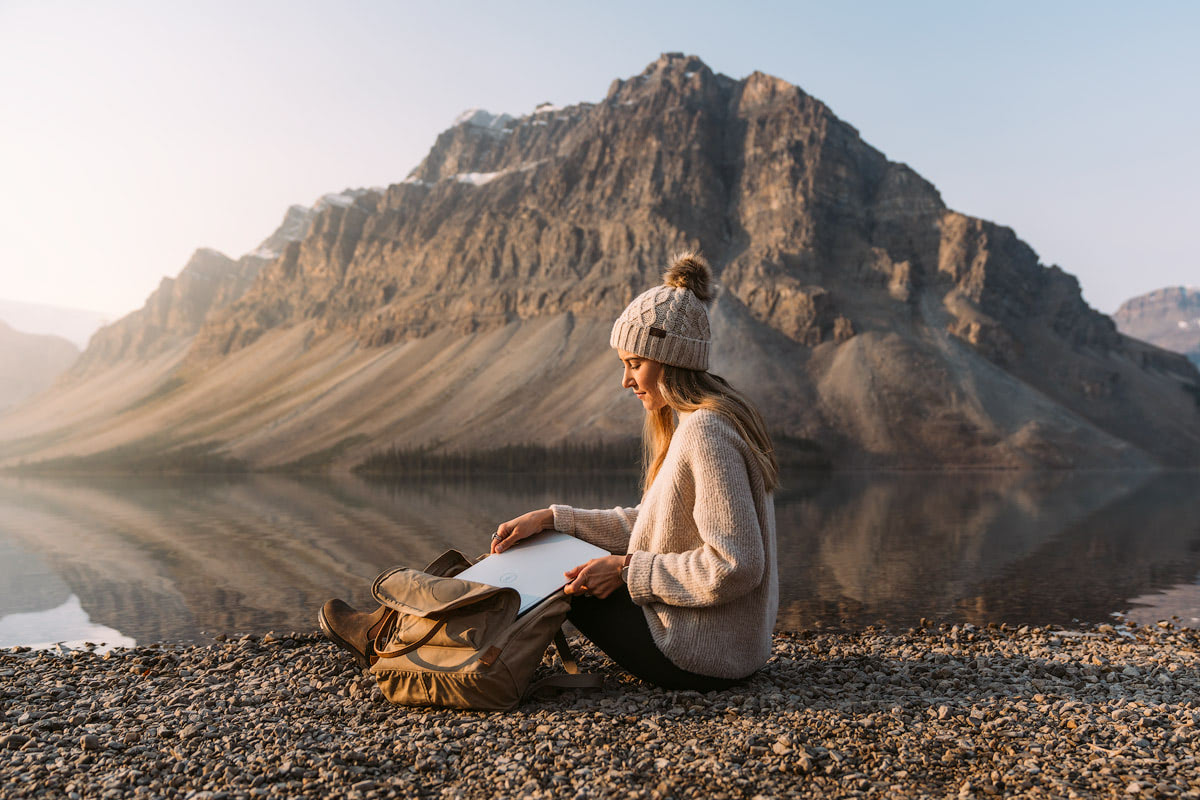 4k Touch Display
In my opinion, the 4K touch display is a major reason why the Dell XPS 15 2-in-1 is the best laptop for photo editing. With my MacBook, I would always struggle with editing in tight situations and it was pretty much impossible to edit properly on the plane. As soon as the person in front tilted their seat back, it was game over. I love that the XPS 15 2-in-1 can be switched into tablet or tent mode. This reduces the room it takes up and therefore allows me to edit on planes, in the car, at the airport, in cramped hotels, and even when car camping (all of which I have tested out!)
The 4K touch display can be navigated with fingers or with the Dell Premium Active Pen. My personal preference is to use the Active Pen in one hand and then use my other hand to zoom in/out and move around my image as I edit. For reference, I edit in Adobe Lightroom, Photoshop and also dabble in Premiere Pro, all of which work well with the 4K touch display and Active Pen. The Active Pen also magnetically attaches to the side of the laptop, though I prefer to keep it in a small pouch with my hard drives, as I am terrible at losing things like that!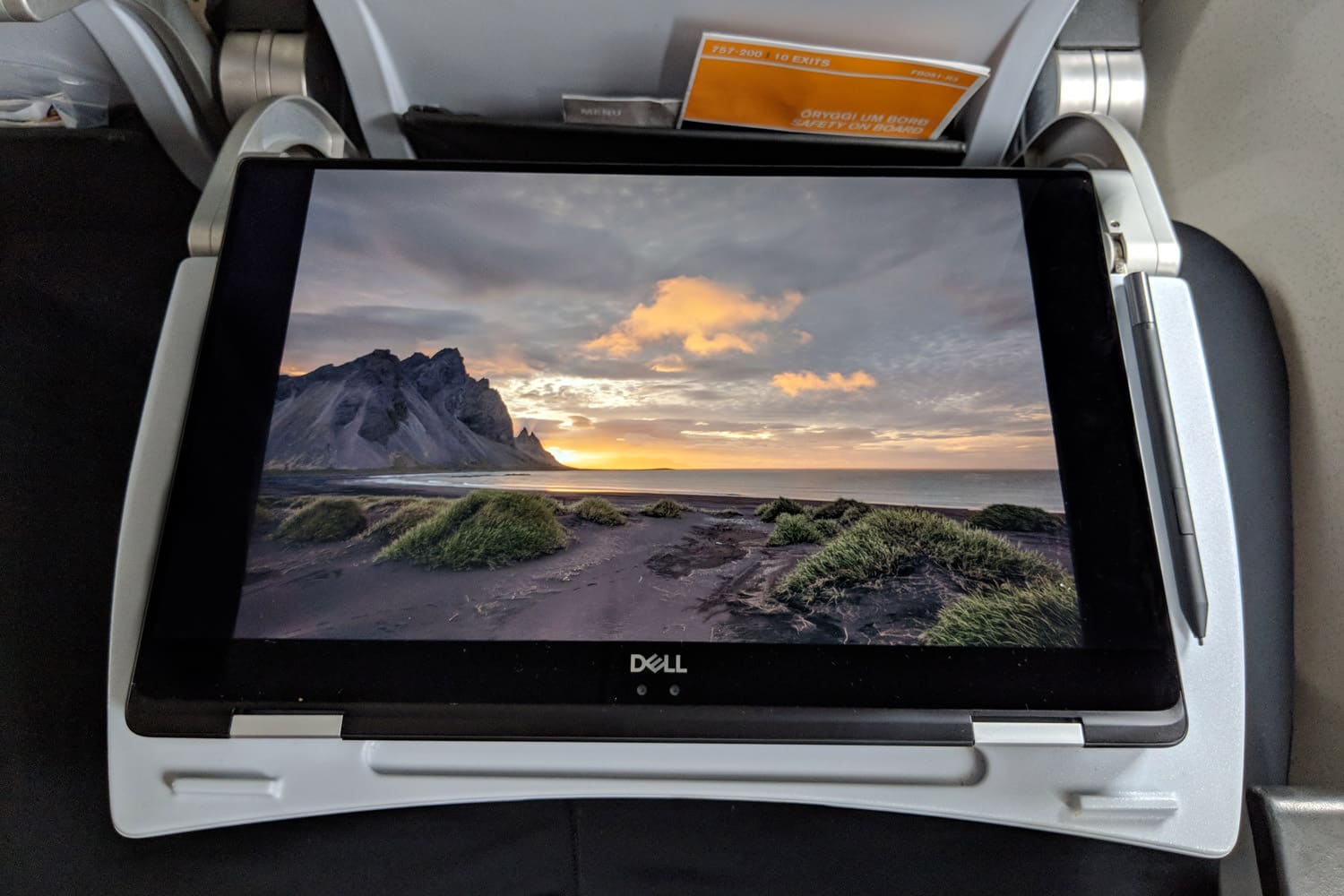 The XPS 15 2-in-1 uses UltraSharp QHD+ resolution (3200 x 1800), which essentially means the colors are accurate and vibrant, and the image is super sharp. According to Dell, the display covers 99% of the sRGB color space as well as 98% of Adobe1998, which is very important for photographers and videographers. Another aspect of the 4K display that I love is that Dell focused on making sure it reduced reflections and was bright enough to use in broad daylight.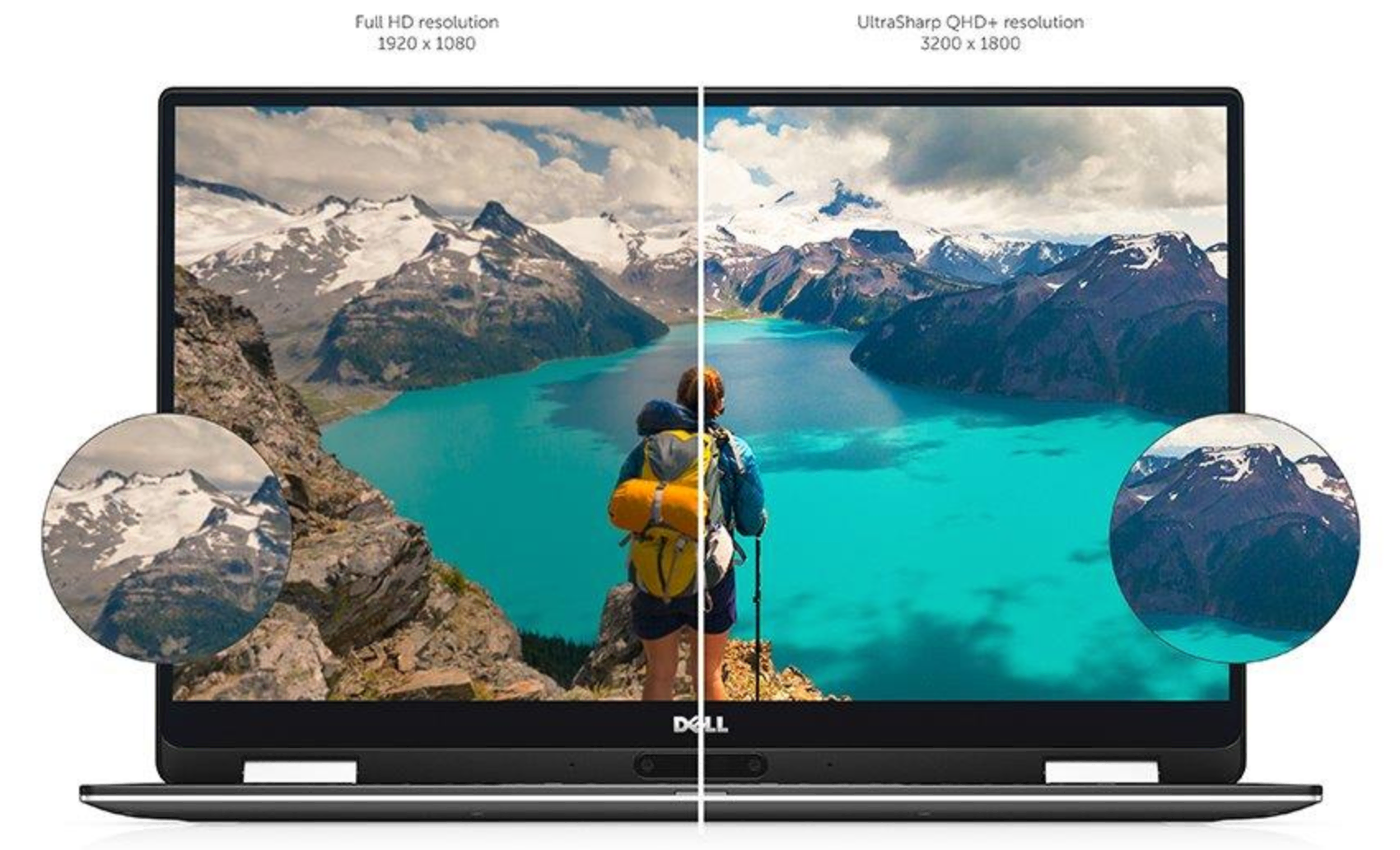 Performance
I have been very impressed with the overall performance of the XPS 15 2-in-1. To get into the tech specs, it features an impressive quad core 8th Gen Intel® Core™ processor with Radeon RX Vega M graphics and 4GB of dedicated high bandwidth memory. For me, this essentially means that XPS 15 2-in-1 can handle my 42 megapixel Sony files, processes quickly in Adobe Lightroom and Photoshop, and can even handle 4K video editing in Premiere Pro.
When it comes to battery life, I have found the XPS 15 2-in-1 will last me about 6 hours between charges. This will be when I am using it for a mix of online work (emails, blogging, browsing) and photo editing. This isn't anything to dance around about, but it's decent and comparable to what my MacBook would last.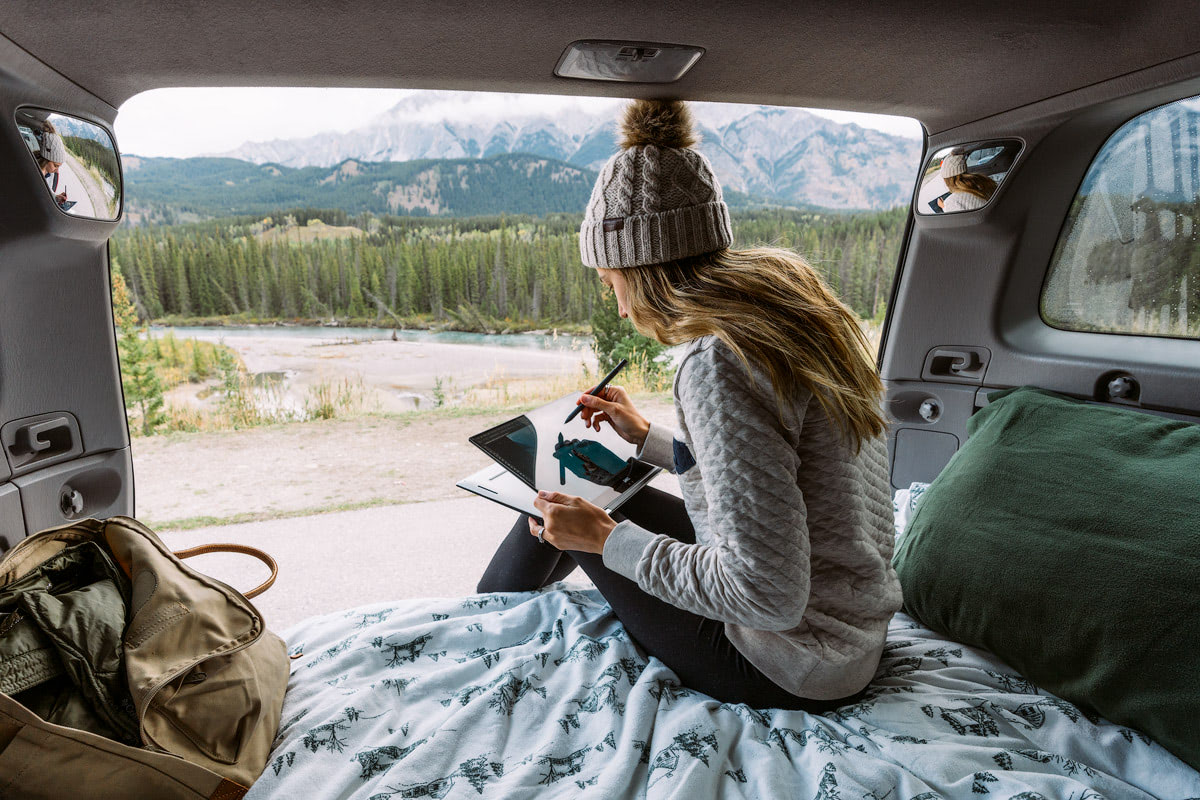 Laptop vs desktop
So now that you know why the XPS 15 2-in-1 is the best laptop for photo editing, let's talk about the laptop vs desktop debate. My current set-up involves the XPS 15 2-in-1 for traveling and then I hook it up to an external monitor when I am home. I also use a wireless keyboard and mouse at home, plus I am in process of acquiring a Wacom Intuos Pro so that I can utilize the stylus functionality in either scenario.
I do plan to build a customized PC for my office eventually (well, let's face it, my nerdy husband will do that for me), but will continue to use my XPS 15 2-in-1 when traveling. Desktop computers can be designed for more powerful 4K video editing, gaming etc. For what I do (travel blogging, photo editing, browsing the web), I would choose a laptop over desktop if made to pick.

Sustainability
There's one more reason why the XPS 15 2-in-1 is the best laptop for photo editing and travel blogging. It's eco-friendly! I absolutely love that Dell has created a power efficient laptop that is designed with smarter materials and sustainable/recycle-friendly packaging. It's one of their most environmentally responsible products and includes Dell's Ocean Plastics Packaging—plastic trash that's been recovered from waterways and remade into useful materials.
Here are the stats:
Saving our seas: Twenty-five percent of packaging material consists of ocean plastics collected from coastal areas, while the remaining 75% is made up of other recycled plastics.
Power efficient: The XPS 15 2-in-1 is ENERGY STAR® certified.
Smarter materials: Free of materials like cadmium, lead, mercury, and some phthalates, it's also EPEAT® Gold registered and BFR/PVC-free
Recycle-friendly: 90% of the laptop's parts can be easily recycled or reused.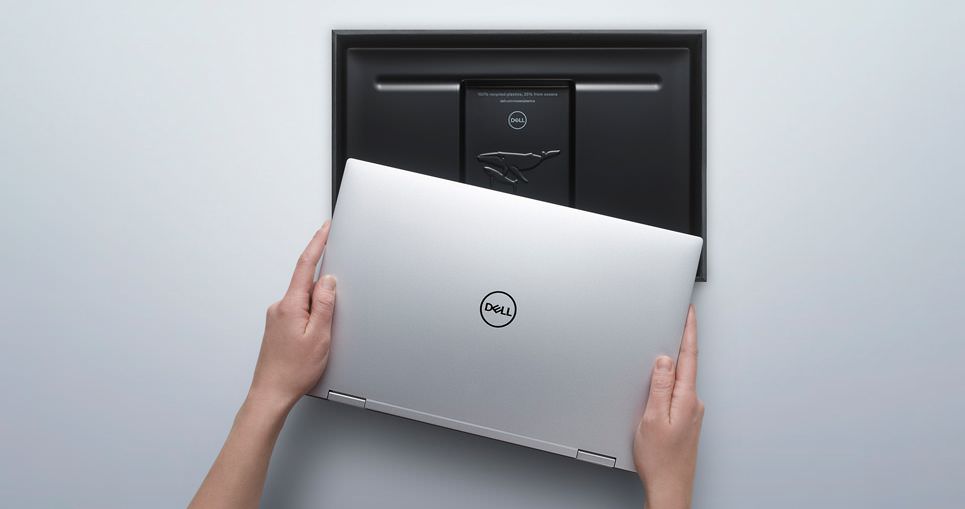 Downsides
Despite being the best laptop on the market for me, the XPS 15 2-in-1 does have a couple of downsides. Similar to most new laptops, the XPS 15 2-in-1 includes Thunderbolt 3/USB C port design. This means you will need to invest in a dongle/adapter until the rest of the world catches up. Another downside is the inclusion of a MicroSD card reader instead of a full SD card slot. This essentially means I need to use my adapter to read my memory cards, which I am using anyway for my hard drives, but it still would have been a nice added touch. Lastly, I personally use an iPhone X and have missed the ability to use AirDrop. Dell has assured me that they are working on an alternative to this, so stay tuned.
Overall, these are minor downsides that don't come close to outweighing the benefits I am getting from the XPS 15 2-in-1.

Giveaway!
I bet you now want the chance to win your own Dell XPS 15 2-in-1?! I've teamed up with the other talented photographers on our Canadian Rockies trip, who also agree the XPS 15 2-in-1 is the best laptop for photo editing on-the-go, and we are giving one away! The competition is running over on Instagram and clicking the photo below will take you directly to the giveaway post. Good luck!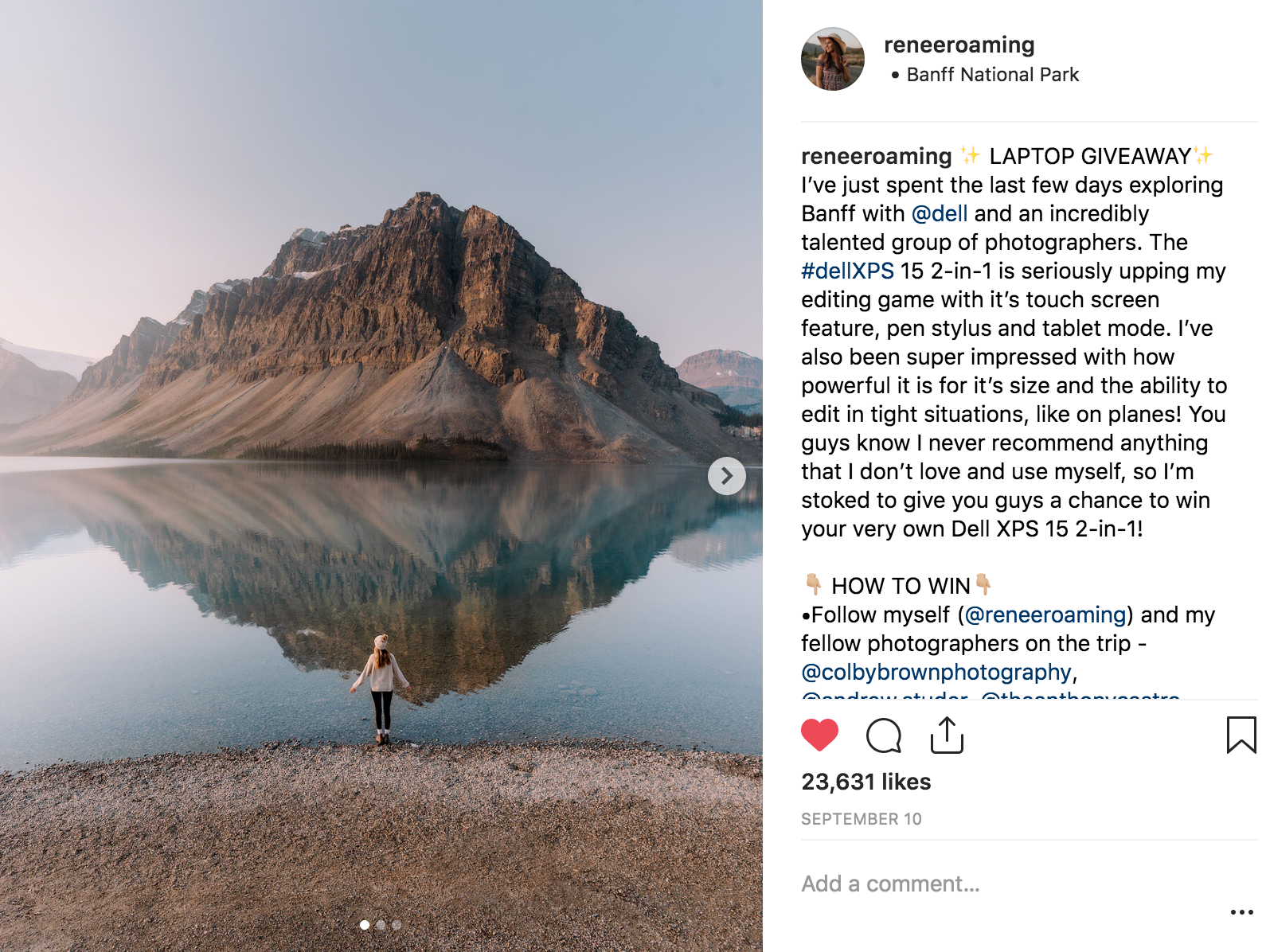 ---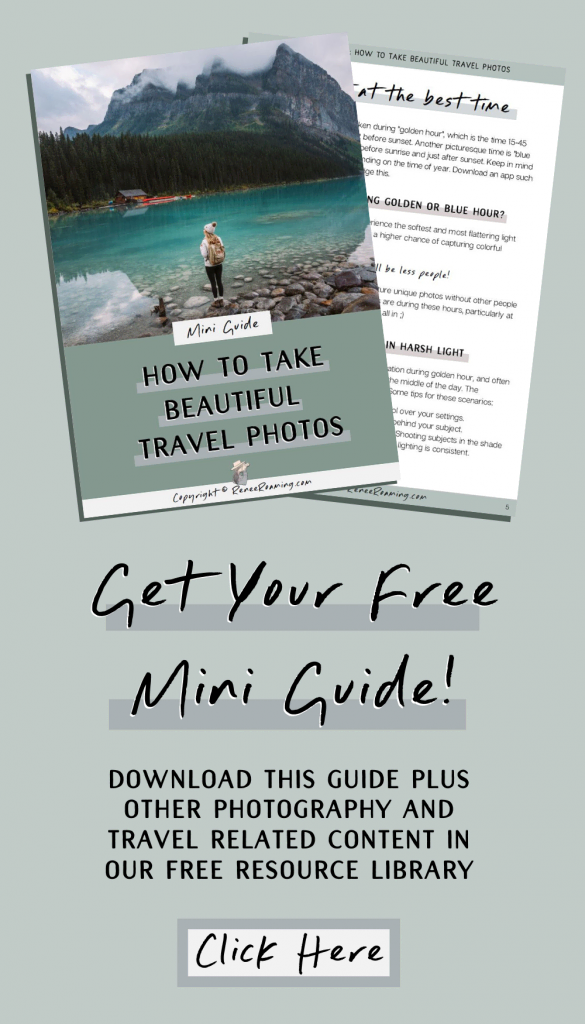 ---
PIN for later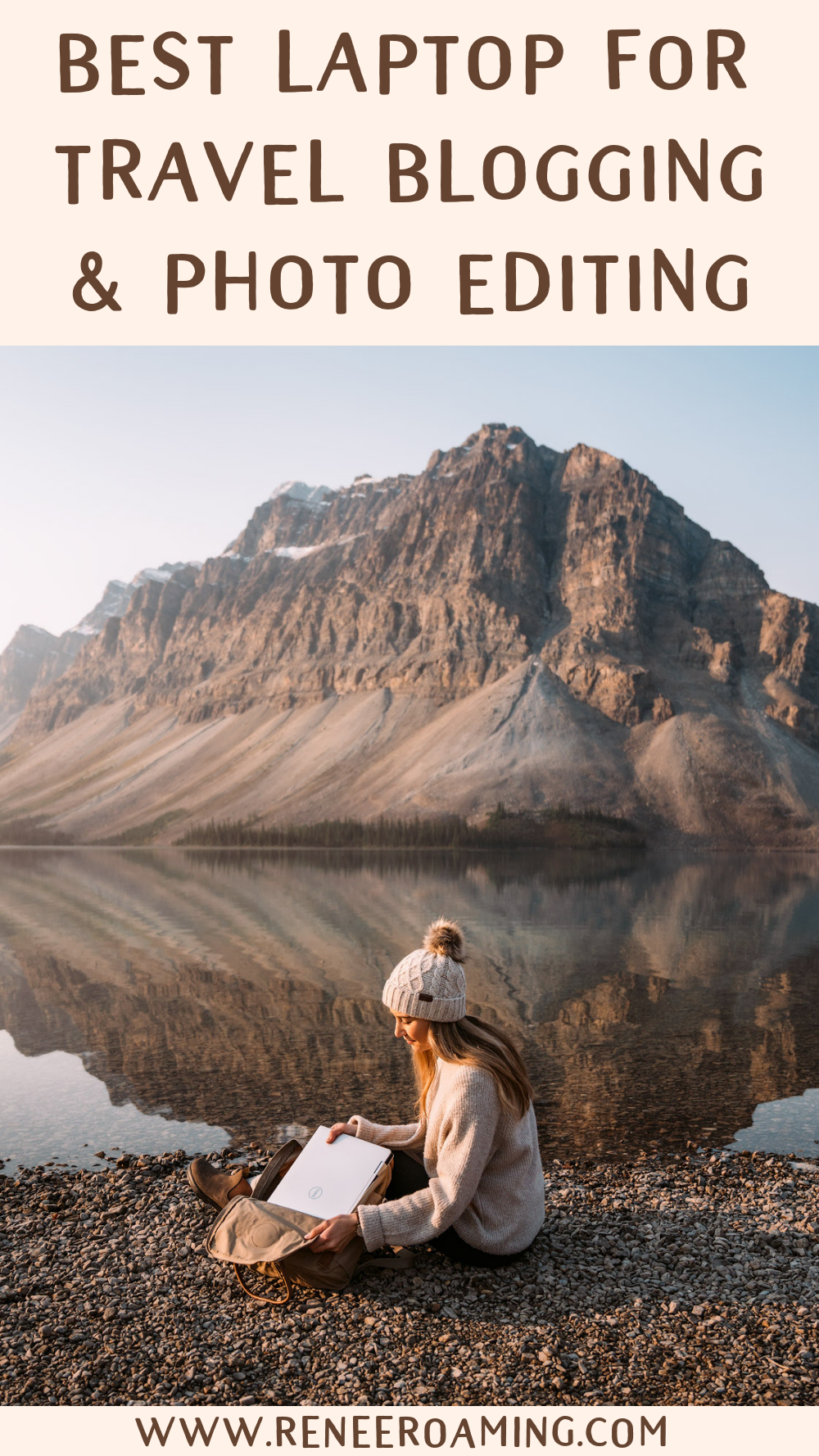 Related Posts
Travel Photography Gear – What's In My Camera Bag
How to Take Stunning Travel Photos As A Couple
Wild Iceland: 15 Day Photography Road Trip
Night Photography Tips & Tricks
Disclaimer: A massive thank you to Dell for partnering on this trip and post with me. When hearing how much I love the XPS 15 2-in-1 they asked me to give you guys an honest view. All opinions, thoughts, and experiences are completely my own and truthful. I would never deliver you guys a dishonest review! Thanks for reading, I hope you found it to be helpful.