My love for the national parks began in 2012 when I first visited North America. My husband and I road tripped across the US and Canada for three months, stopping at a handful of national parks and monuments. I still remember stepping into Yosemite Valley for the first time and being absolutely blown away by the sheer size and beauty of the park. Not only did it make me want to visit every single one of the parks (which I went on to in 2017), but it instantly left me understanding the importance of protecting these natural spaces.
It seems that I'm not the only national park nerd out there and many of you have requested some help with park themed gifts for the holidays! For this blog post I've partnered up with Parks Project to help you find the perfect gifts for any national park lover in your life!
Holiday Gift Guide for National Park Lovers



If you're a national parks fan and haven't heard of Parks Project before… well, then you must be living under a rock! The brand was foundered out of love for the parks and to help support their protection through funding and advocacy. To date, Parks Project has donated more than $700,000 to our parklands, logged 4000+ volunteer hours, and currently support over 50 non-profit groups protecting parks and public lands in the US and Canada. I love how each of their collections supports a unique project and the brand is fully transparent about where the donations go. Click here to read up more about their projects and partners.
Note: for holiday orders, Parks Project's last day for standard shipping is December 17th. After that, there are options with FedEx expedited.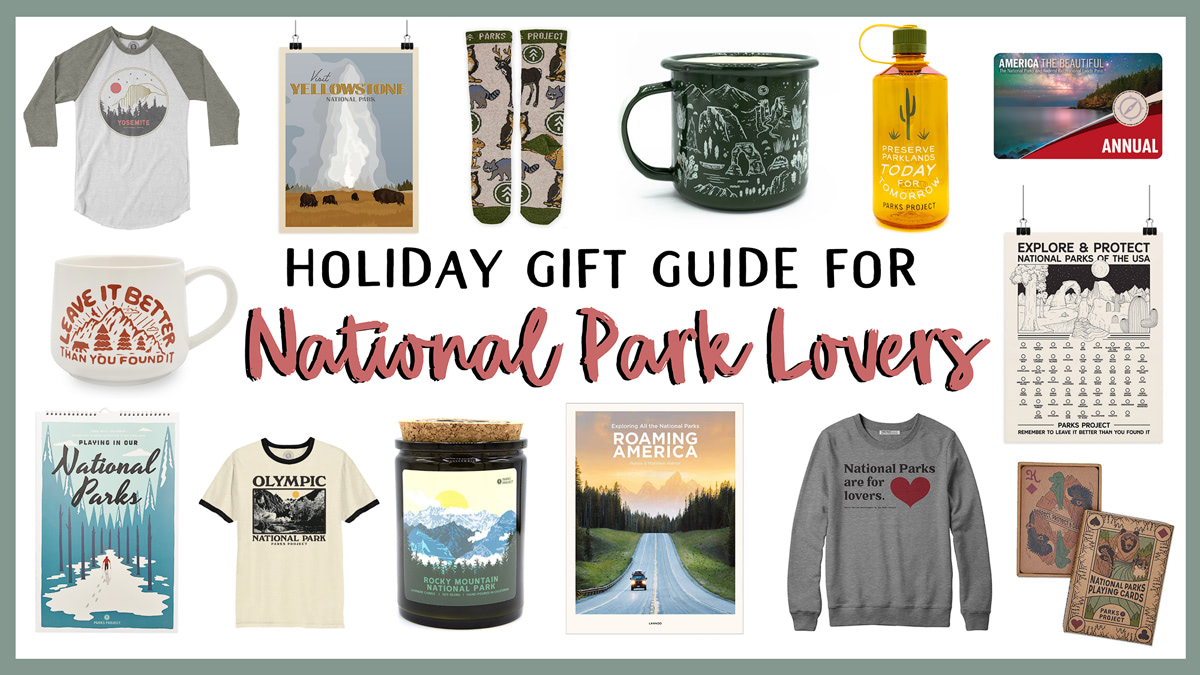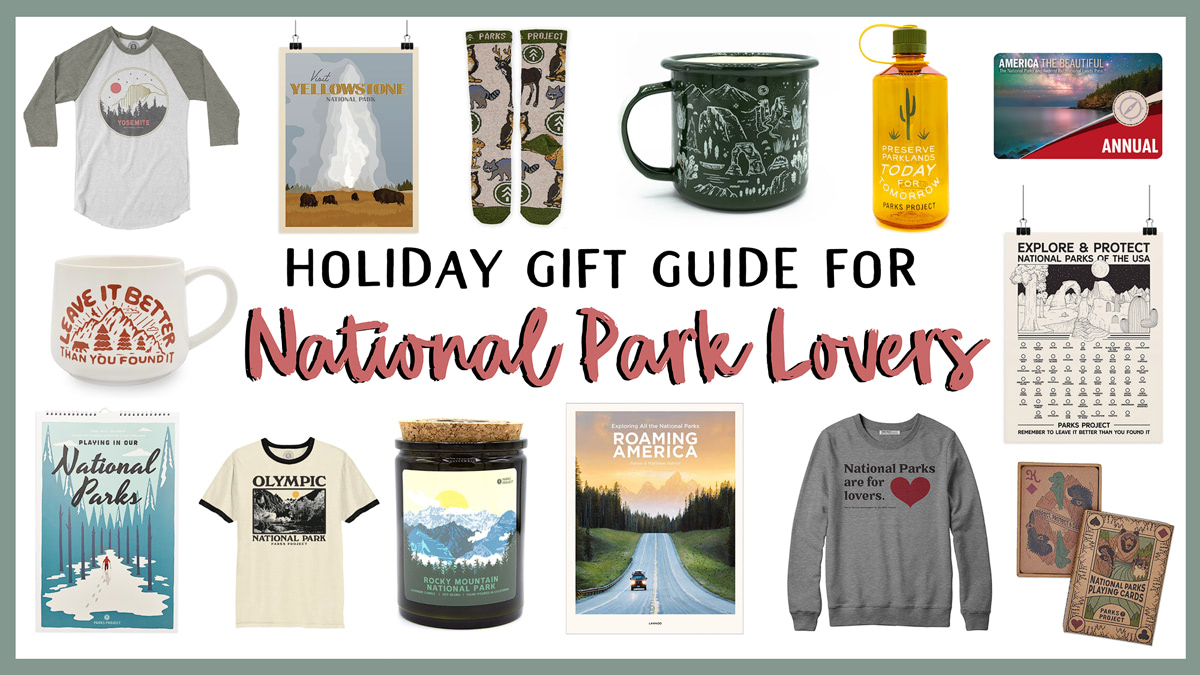 Park Specific Gift Ideas
Do you know that special someone who has a soft spot for a particular national park? Parks Project have a bunch of park specific items that would make wonderful gifts – here are some of my favorites:
Yosemite Mod Dome Raglan: A unisex (and ultra soft) raglan that helps fund the Yosemite Conservancy. For each product sold from this Yosemite collection, one meter of trail is restored in the Park. How cool is that?!
Visit Yellowstone National Park Poster: This vintage style Yellowstone poster supports restoring and repairing Yellowstone National Park's heavily used network of trails.
Olympic Photo Ringer Tee: A vintage inspired t-shirt that supports Washington's National Park Fund. Perfect for any PNW lover!


Gifts for Couples
Finding the perfect gift for your significant other can be tough! Here are some fun gifts to consider if your special someone loves national parks:
National Parks Are For Lovers Fleece Sweatshirt: This super soft sweatshirt is unisex. So you can even get yourself a his and her version (yessss, be that couple!) Also, 5% of the purchase price for each product sold from the Parks for Lovers collection is donated to the National Park Foundation.
Take Me To The Parks Winter Woods Candle: This candle smells SO good and is perfect for the holidays! I'm talking freshly cut fir, cinnamon spice, caramelized oak, and a hint of sweet berry.
National Parks Mapped Mid Century Poster: This vintage style poster will help you keep track of all the national parks you have visited as a couple… and inspire future visits!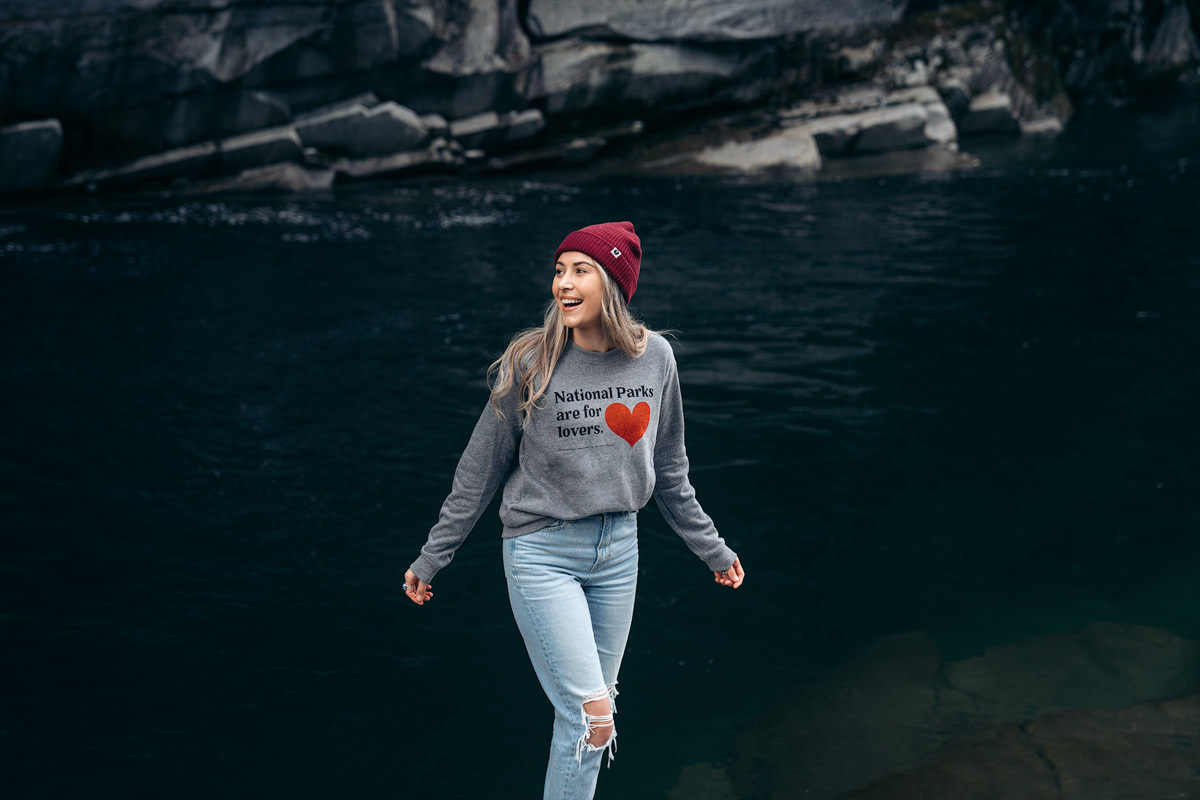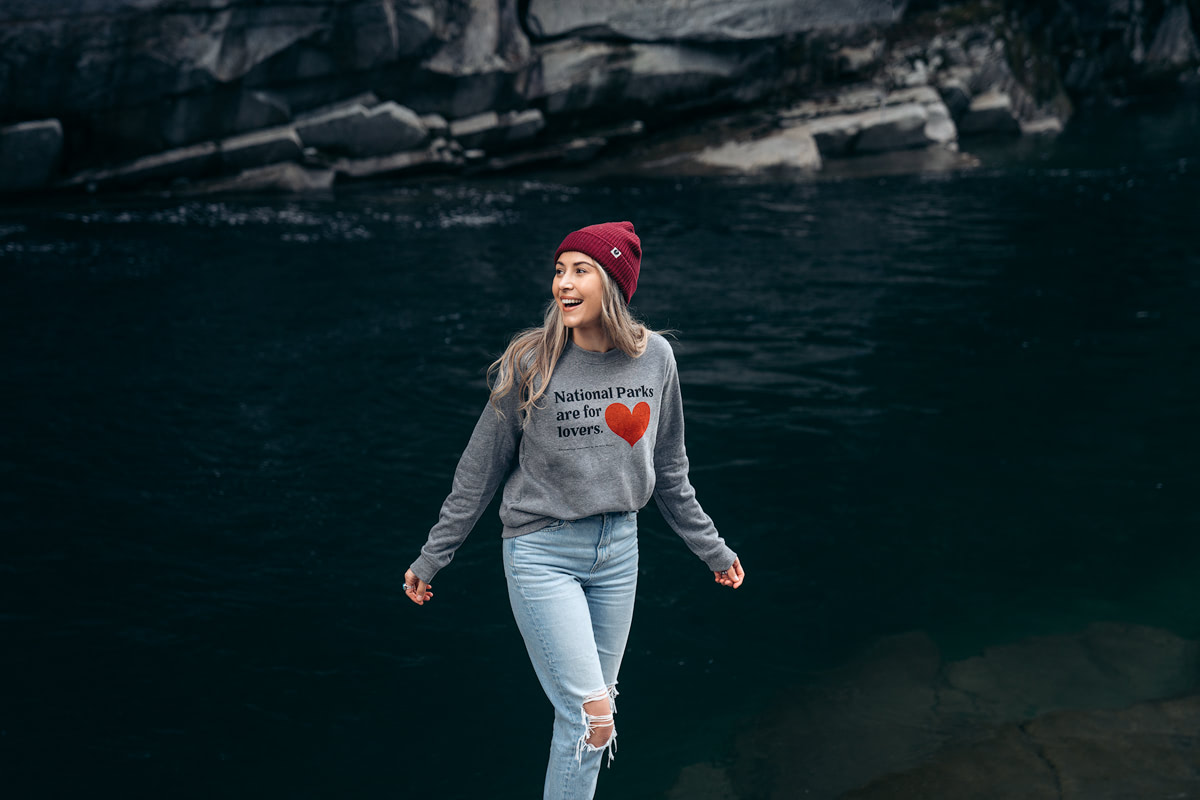 Gifts for the Frequent Park Visitor
Have that someone in your life who is on a mission to visit as many parks as possible? Or maybe they have a local park that they visit multiple times a year? Consider these gifts for the frequent park visitor in your life:
All National Parks Fill-In Poster: A fun way to tick off and display the national parks you have visited! I love that it's responsibly sourced and made in the USA.
America The Beautiful Annual Parks Pass: This ones a no-brainer! The America The Beautiful Annual Parks Pass will provide free entrance to any national park and federal recreation lands for a full year, including up to 4 adults who are traveling together. At only $80 USD, this pass will save any frequent park visitor some serious cash over the course of 12 months!
Roaming America – Exploring All the National Parks: Combining breathtaking imagery, useful planning information for each national park, suggested itineraries, best-of recommendations, and more… Roaming America is the perfect book for any national park enthusiast! (Disclosure, I am the author and my opinion is obviously biased 😜)


Gifts for National Park Loving Kids
Kids are so fun to buy for! I love their enthusiasm for nature and exploring the beautiful world we live in. Consider these park inspired gift ideas for any nature obsessed kiddos you in your life:
National Parks A-Z Coloring Book: A fun coloring book that also includes little facts about each national park! Every product sold supports youth education.
National Parks Wildlife Playing Cards: A beautiful set of national park themed playing cards that are compact enough to be packed on any adventure.
The National Parks Fill-In-The-Blanks Adventure Journal: Something they can pack on their next camping adventure! This national park inspired fill-in -the-blank adventure journal is the perfect companion for a long road trip. Plus, each sale supports the National Parks Conservation Association.


Gifts for the National Park Hiker
Struggling to find a gift for the avid hiker in your life? Consider these goodies:
Preserve Parklands Water Bottle: You can't go wrong with gifting a practical and stylish reusable water bottle! This 32 oz, BPA free bottle is perfect for backpacking, day hikes, road trips, or every day life.
Pacific Crest Trail Tee: The PCT is every hiker's dream… I love that this unisex, ultra-soft, slim fit tee helps support the Pacific Crest Trail Association's Trail Maintenance Fund.
Leave No Trace Bandana: Bandanas can be used for so many functions on and off the trails – headband, sun protection, neck cooler/warmer, towel, reusable face wipe, hair tie, napkin etc. Even better, this awesome bandana supports the Leave No Trace Center for Outdoor Ethics.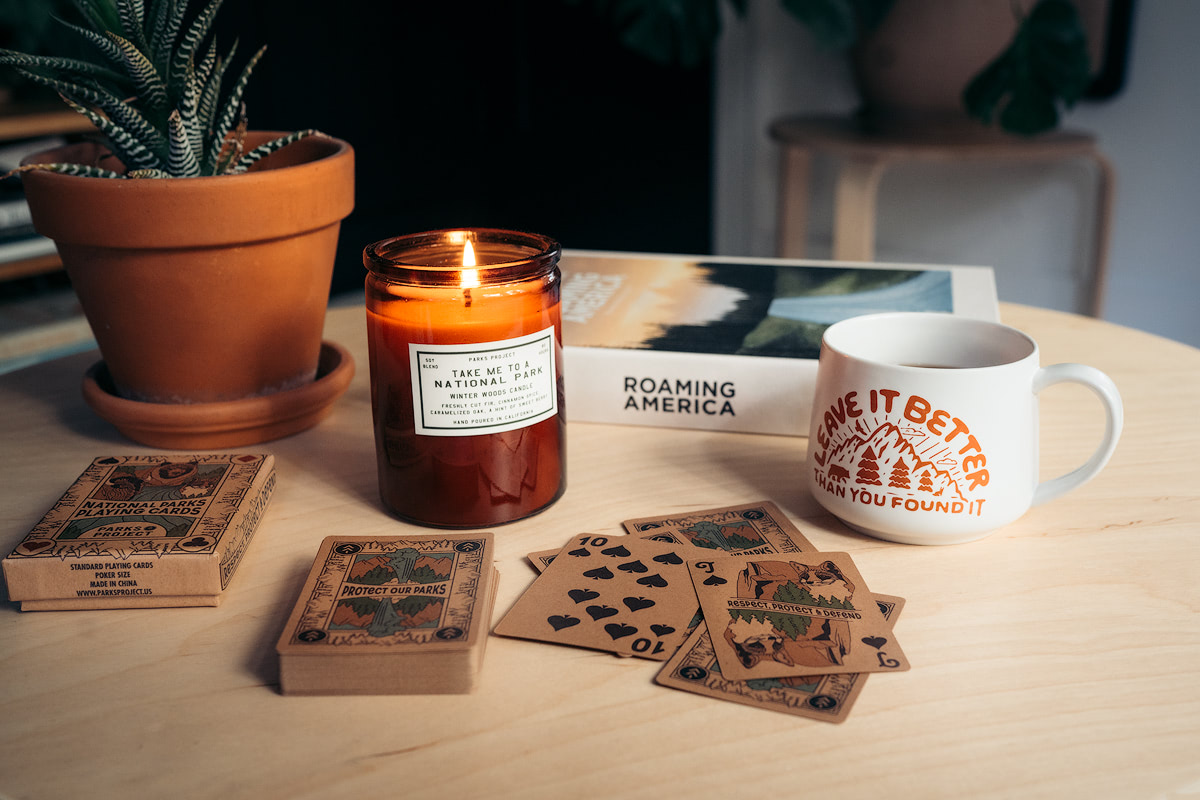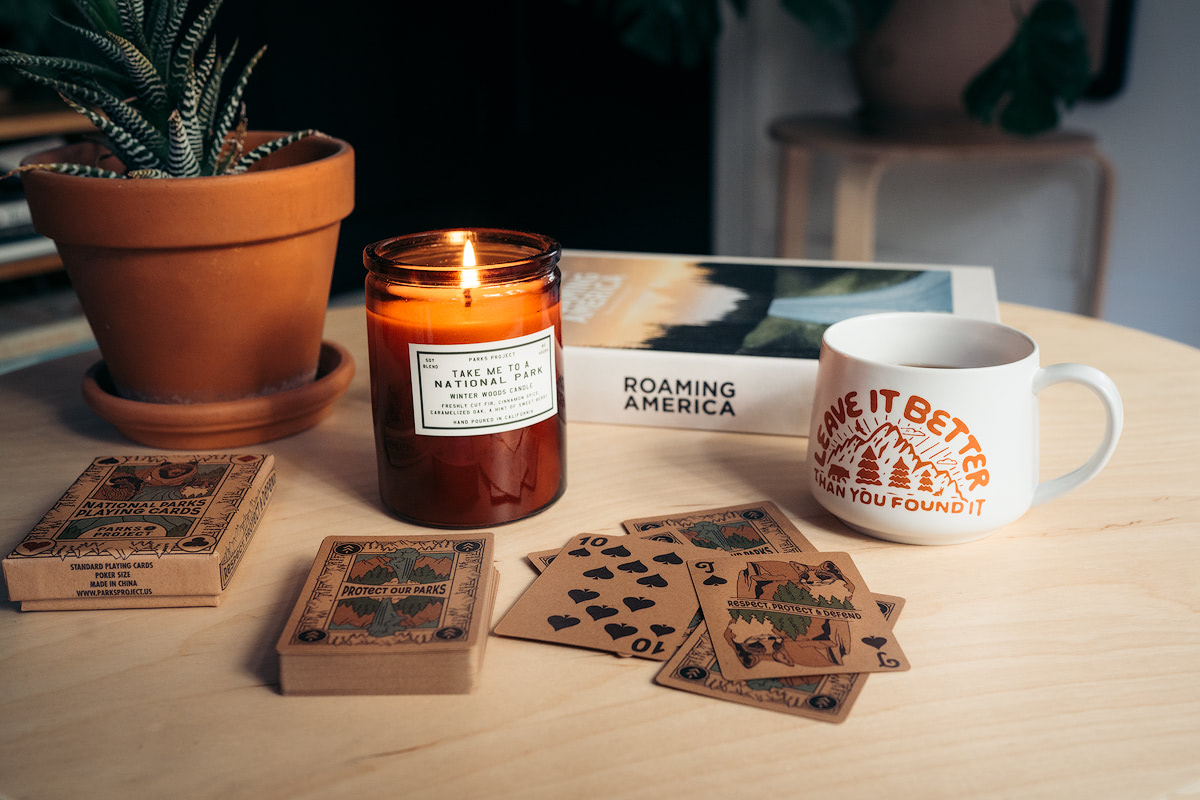 National Park Related Home Goods
Parks Project has an amazing range of national parks related home goods. Here are some of my favorites for gifting these holidays:
Playing In Our National Parks 2020 Wall Calendar: An aesthetic but practical wall calendar for keeping track of 2020. Every month features a different park, including fun national park related dates and birthdays!
Leave It Better Ceramic Mug: This 11 oz mug is super cute but also supports an important cause. For every product sold from Parks Project's Leave it Better collection, they give back 5% of your purchase price to the National Parks Foundation to support the Open OutDoors for Kids Program.
Rocky Mountain National Park Lavender Candle: A delicious smelling candle that is hand poured in California with soy-blend wax. It has an 80 hour burn time, cork lid, and smells like subalpine lavender, spring wildflowers, and fresh chopped wood… perfect for helping to picture yourself in the mountains!


National Park Gifts under $20
Looking for stocking stuffers or a last minute Secret Santa gifts? Here are some affordable and fun options:
Stranger Places Enamel Mug: A 12oz enamel mug that is campfire safe and perfect for outdoor adventures! Each sale supports the National Parks Foundation.
Critters Socks: These cute nature themed socks are made in the USA from cotton grown in North Carolina. For every product sold from Parks Project's Trail Crew collection, they give back 5% of your purchase price to the NPF to support the Open OutDoors for Kids Program.
Leave It Better Motel Keychain: A fun, educational, and ultimately practical key chain for any outdoor lover!


For the National Park Lover Who Doesn't Want Gifts
Not everyone enjoys receiving physical gifts during the holidays. Here are some alternative options still within the national parks theme:
Membership to a national park's "friends group": Most national parks have a non-profit "friends group" that helps support the park, e.g. a well known one is the "Yellowstone Forever" friends group for Yellowstone National Park. You can donate to one of these groups in order to obtain an annual membership, with the donation going towards supporting that particular park. Memberships usually range between $24-$45. And can be purchased at national park visitor centers or online through each specific friends group.
Donation to the National Parks Foundation: The National Parks Foundation is the official charity partner of the US National Parks. In addition, they work in the parks we all love to protect them for future generations. For those who don't like physical gifts but still enjoy supporting the parks, consider donating to the NPF in their name via either a once off payment or reoccurring monthly donations.
America The Beautiful Annual Parks Pass: As mentioned earlier on in this gift guide, gifting an annual national parks pass is a wonderful gift idea for the frequent park visitor in your life, especially if they don't like receiving "typical" gifts.



PIN for later!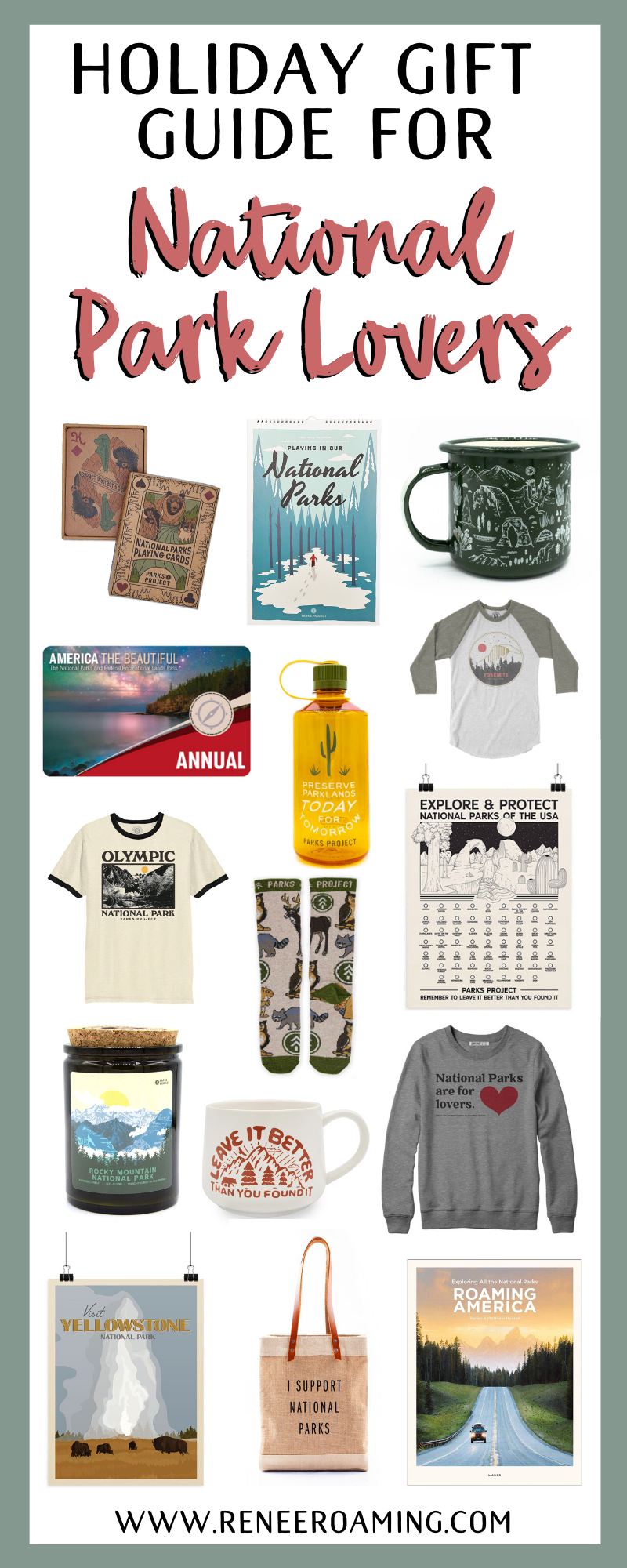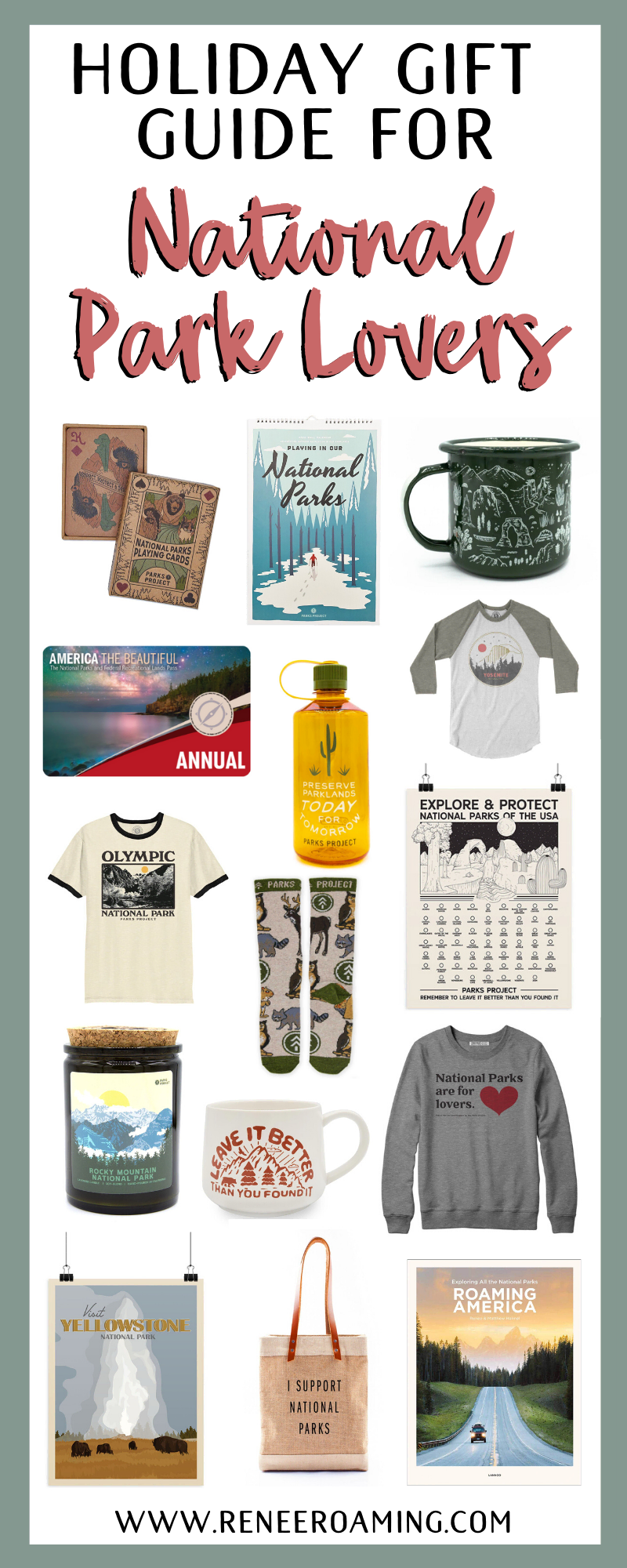 ---
More Gift Guides
15 Thoughtful Gift Ideas for Travel Lovers
Meaningful Holiday Experiences & Eco-Friendly Gift Guide for Outdoor Lovers


Disclaimer: Thank you to Parks Project for collaborating on this blog post. As always, all opinions are truthful and my own. This post contains some affiliate links, which means if you buy something my blog will receive a small commission at no extra cost to you.