If you are a fan of breathtakingly beautiful lakes, you absolutely NEED to visit the Canadian Rockies. My first visit was in 2012 and since then I have returned 3 times, with another visit planned for later this year. My favorite things to see when exploring areas like Banff, Yoho and Jasper National Parks are the turquoise lakes with dramatic mountain backdrops. Interested in planning your own trip? Read on to find out the top 6 must-see Canadian Rockies lakes.
As I am guessing you will want to take photos of these stunning lakes, I have also included some photography tips and outfit inspiration. A massive thank you to Backcountry.com for partnering on this post. They are kindly giving you guys 15% off your first order, which should help you gear up for any upcoming fall adventures! Use code RENEE15 at checkout (offer expires September 30, 2018) *some exclusions apply*
Top 6 Must-See Canadian Rockies Lakes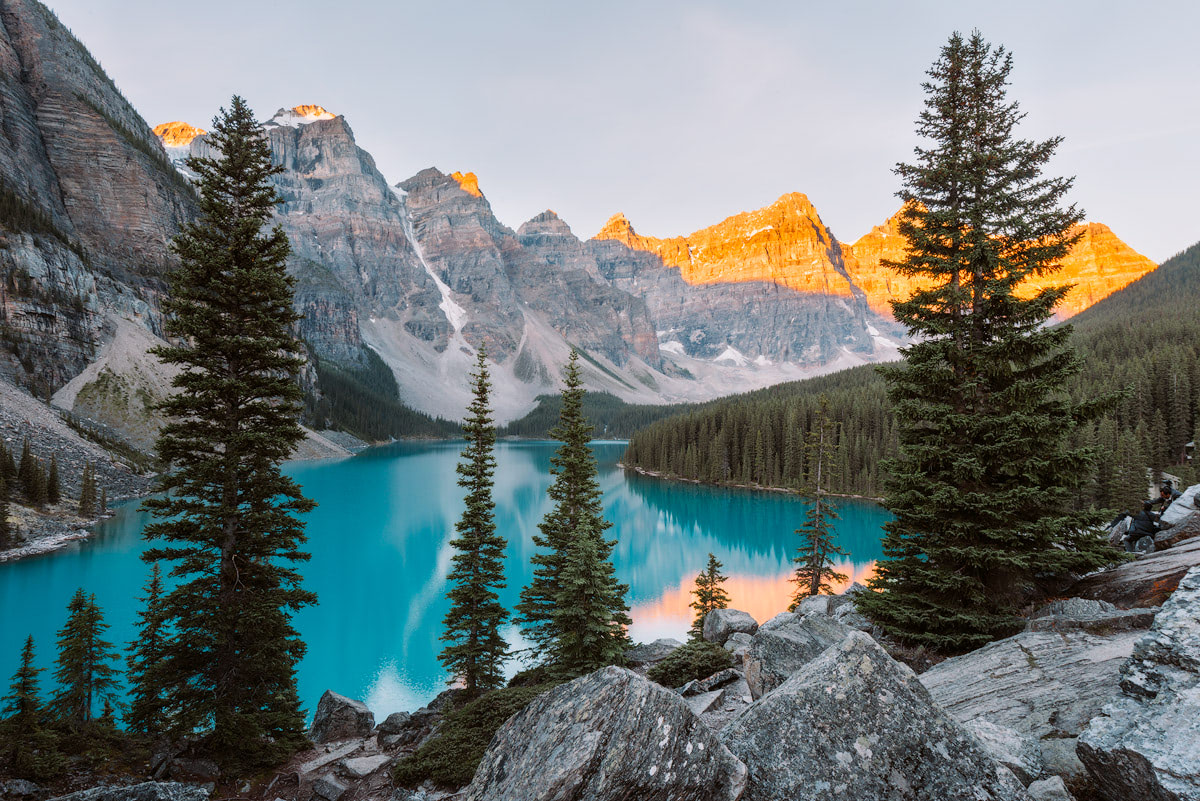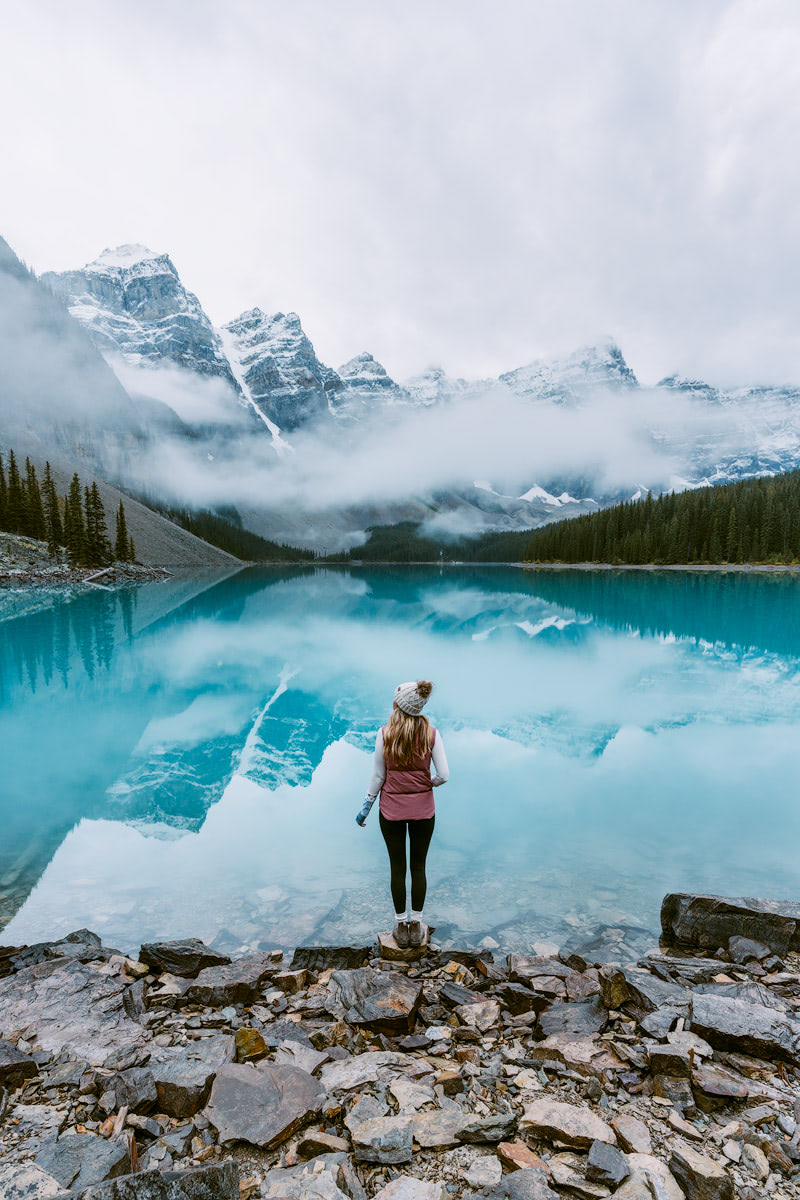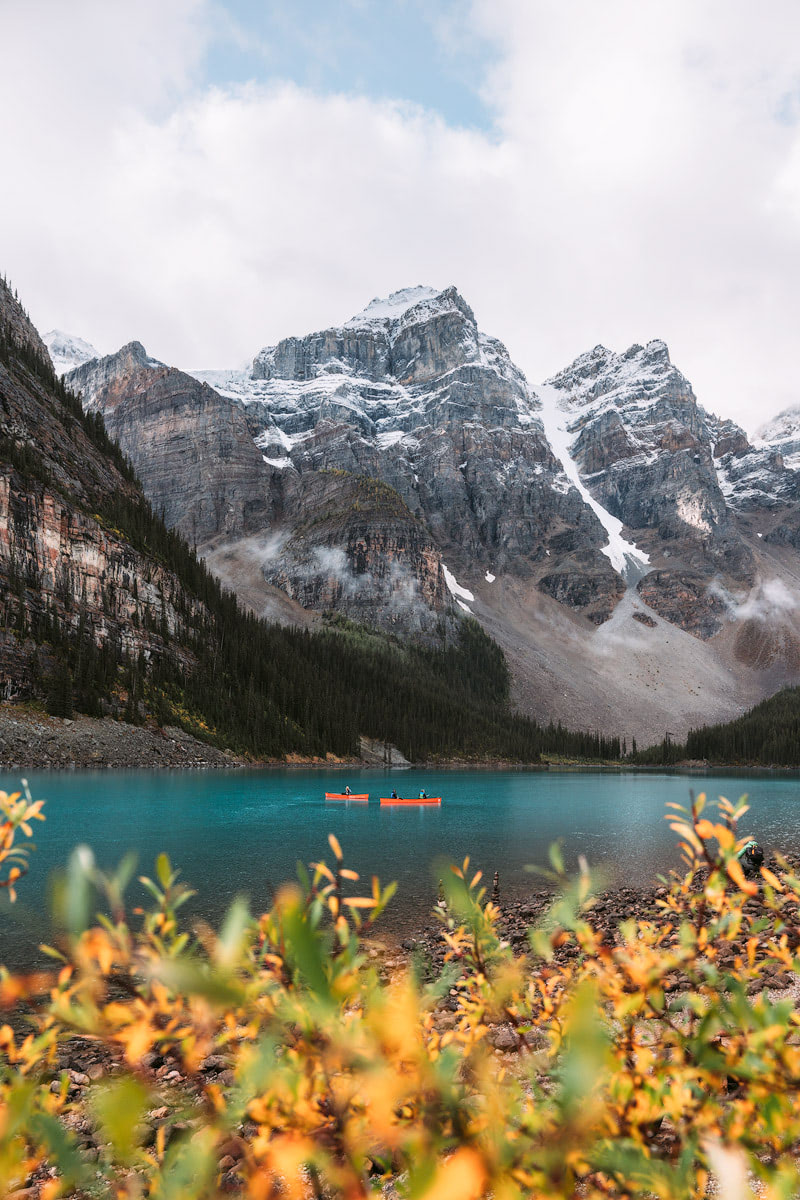 1. Moraine Lake
Topping the list of must-see Candian Rockies lakes is none other than beautiful Moraine Lake. This picturesque lake was one of the first places I visited in the Canadian Rockies, and boy did that put things off to a great start. Located in Banff National Park, Moraine is an easy lake to visit. There are viewing options right from the parking lot or alternatively a short walk up the infamous rock pile for more elevated views.
Though pricey ($105 CAD for one hour), getting out paddling on the lake is a fun way to explore the turquoise water, get away from the crowds, and take in the views. There are also numerous hiking trails that lead from the lake, which provide alternative and arguably more stunning views of Moraine, the Valley of the Ten Peaks, and nearby Mount Temple.
It's not surprising that Moraine Lake is one of the most photographed locations in the country and it should be at the top of your list of places to visit! My tip would be to arrive 45-60 minutes before sunrise to ensure you get a parking spot, avoid the tour buses, and get stunning morning light on the mountains.
---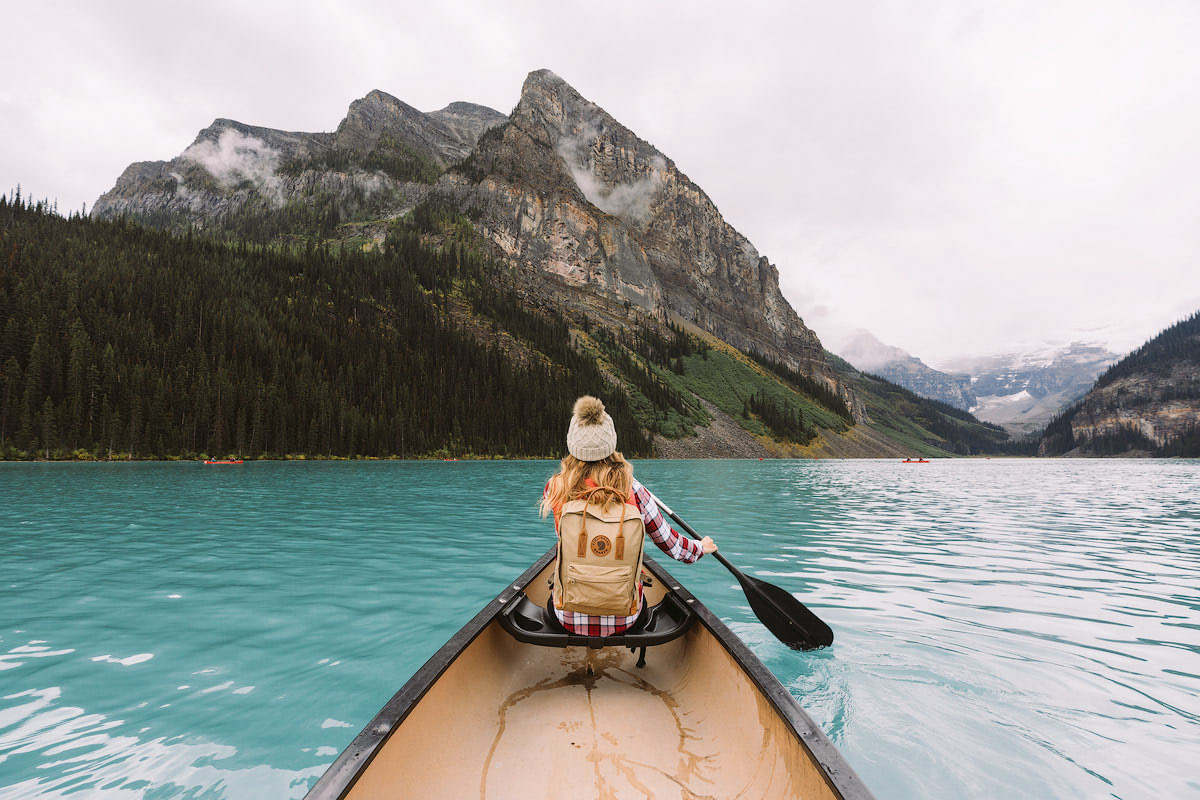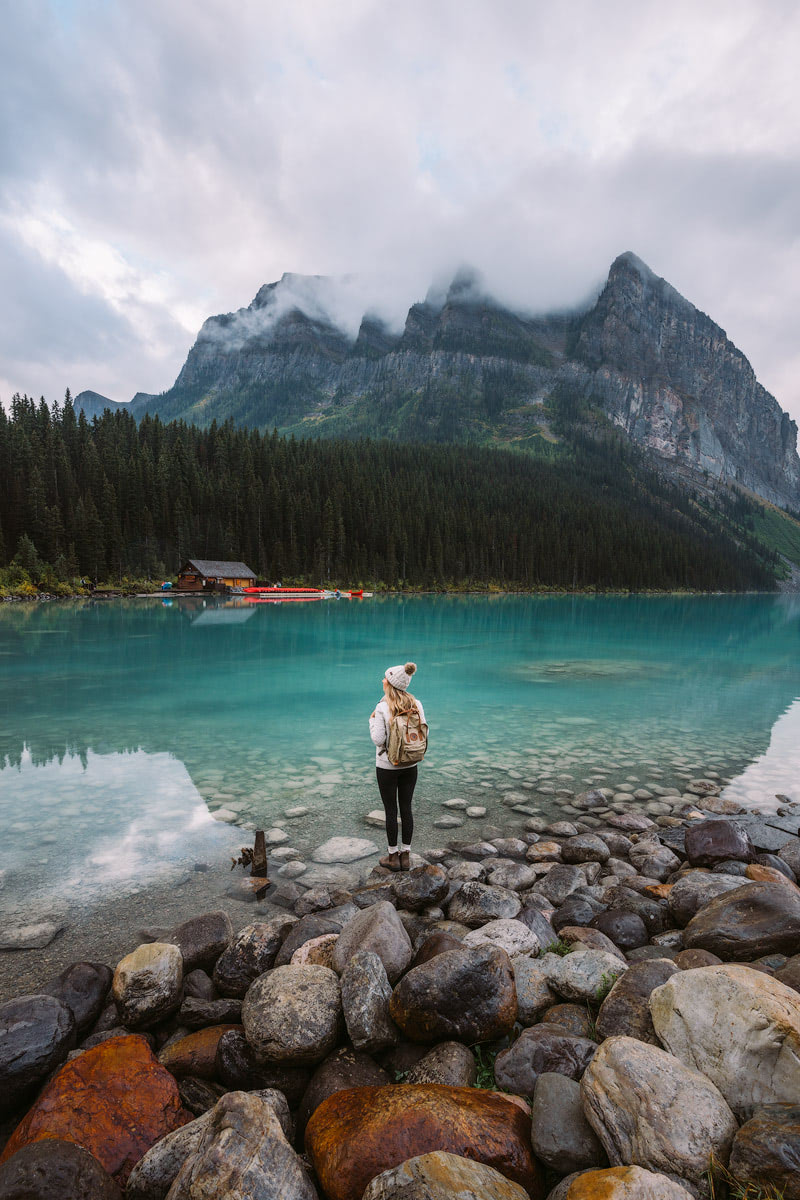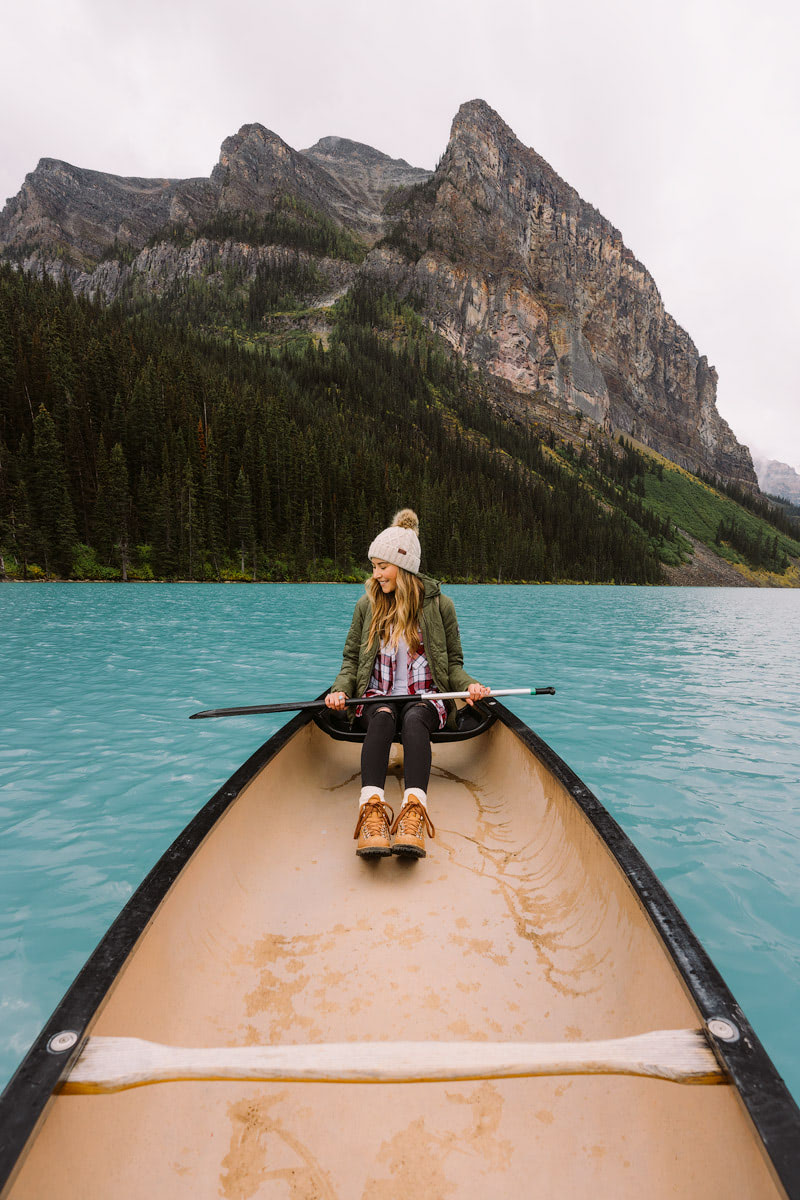 2. Lake Louise
Everyone has heard of Lake Louise, right?! For good reason too, because Lake Louise deserves the worldwide fame and celebration. The milky turquoise color of Lake Louise is so vibrant that on a sunny day it's almost hard to believe. Soaring mountains provide an epic backdrop and the fairy-tale-like Fairmont Chateau Lake Louise makes it all seem like a dream.
Located nearby Moraine Lake in Banff National Park, it probably won't surprise you that this kind of convenience and breathtaking beauty comes with large crowds. The trick is to go at sunrise or sunset (my preference is sunrise) for fewer people and more space along the lake-shore. I would also recommend getting out on the lake to experience that crazy blue water up-close. You can bring your own kayak/canoe or rent one for $115 per hour.
Getting out on one of the nearby hiking trails is another great way to explore the area. Some to consider are Fairview Lookout, Big Beehive, and the Big Agnes Tea House. The lake is frozen from November – early June which allows for ice skating and other winter activities.
---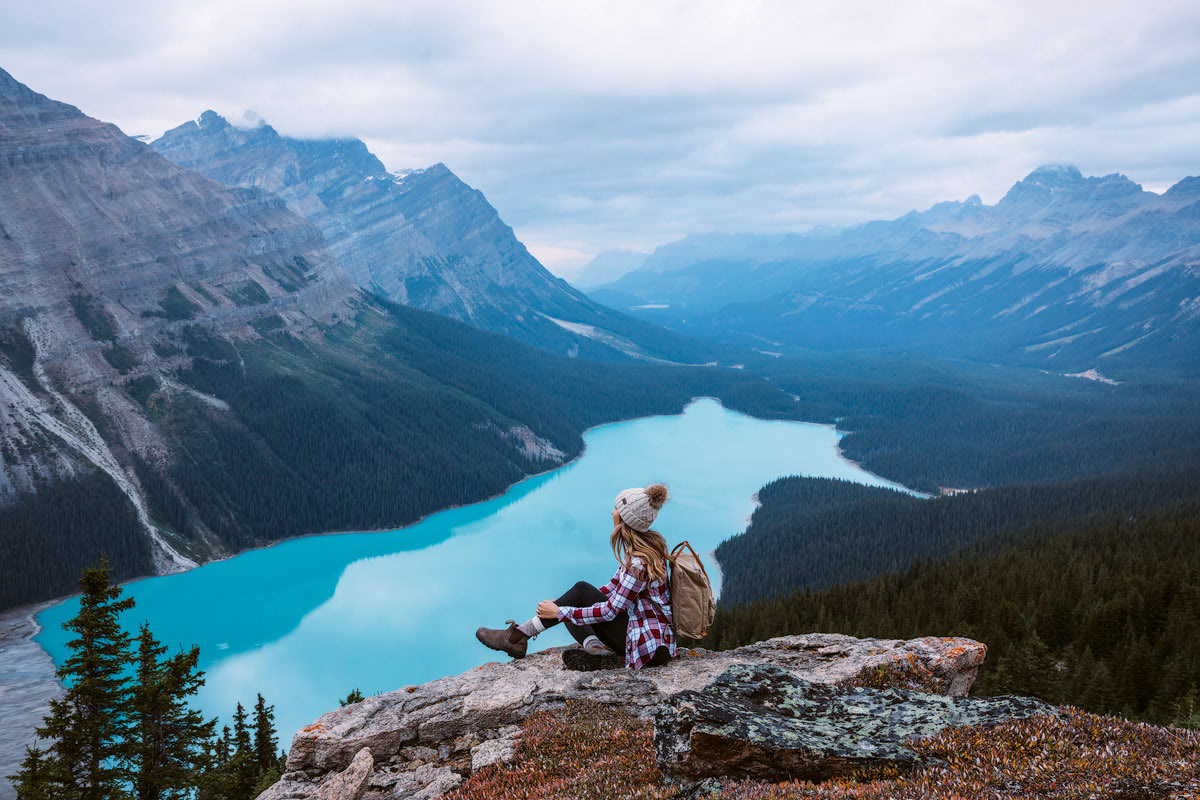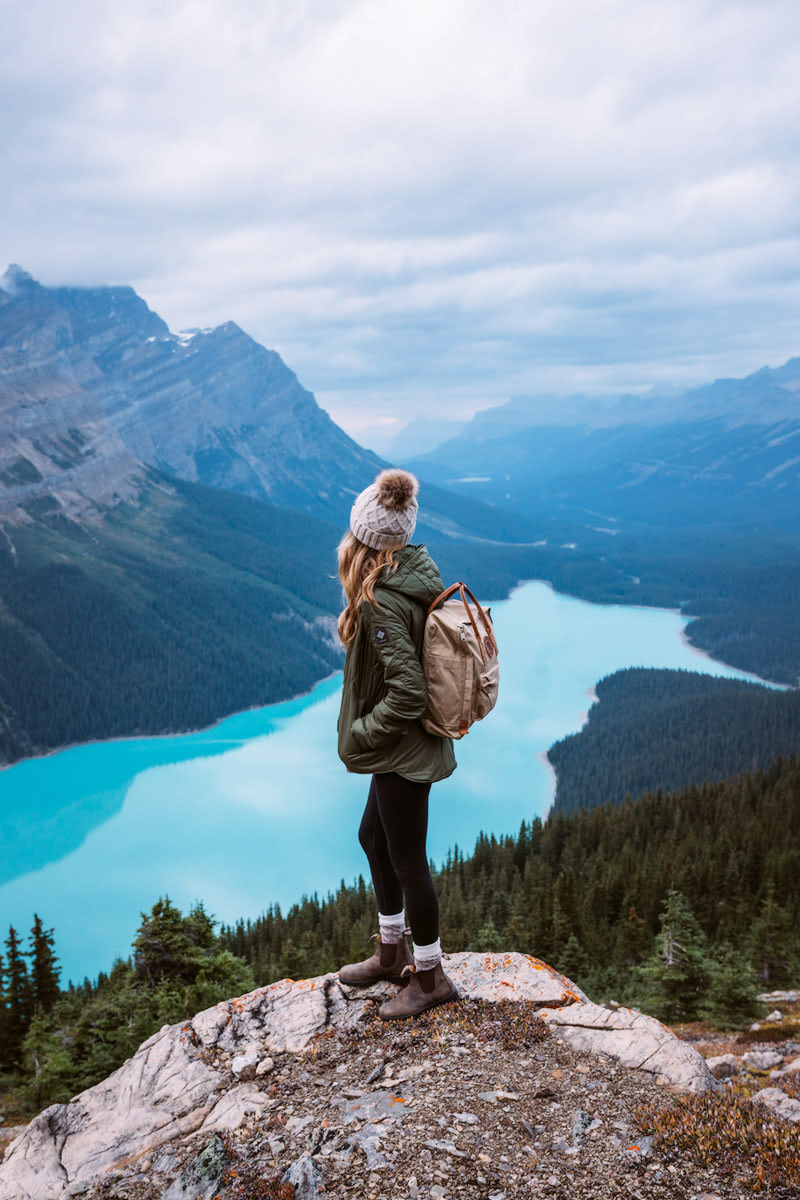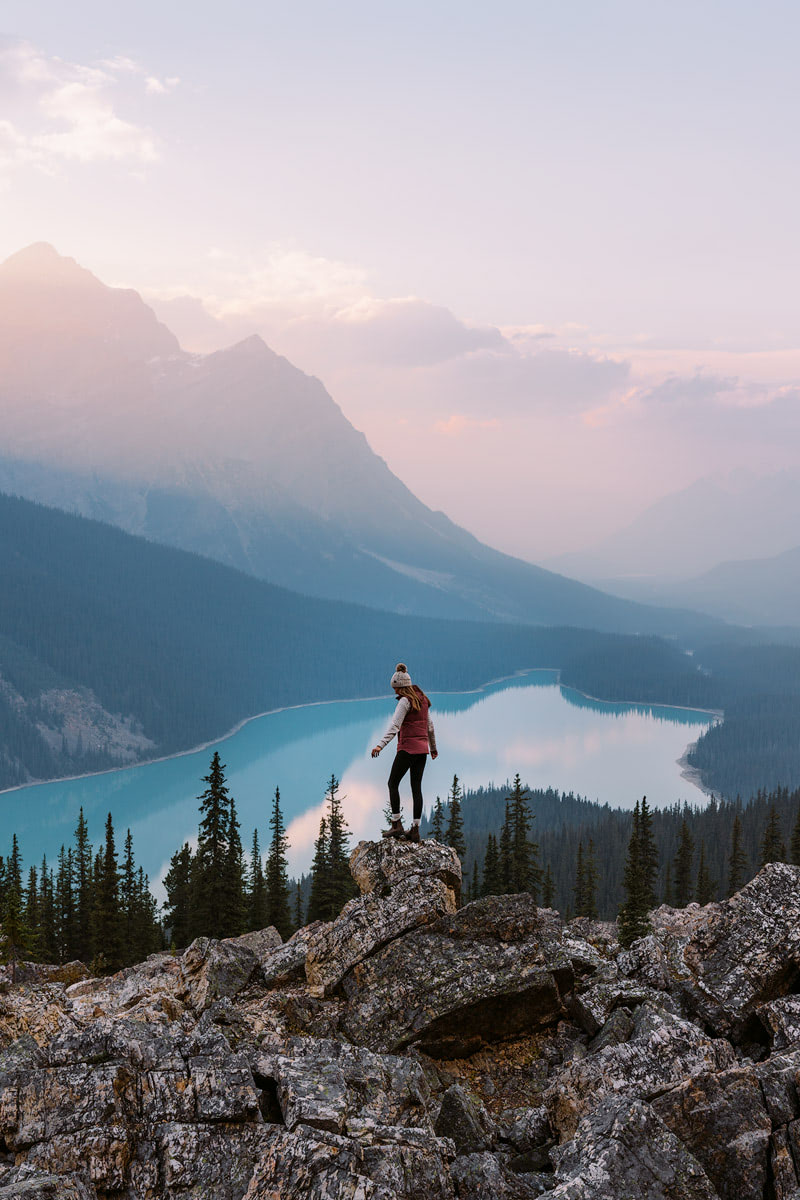 3. Peyto Lake
Another on our list of must-see Canadian Rockies lakes is beautiful Peyto. Similar to Moraine and Louise, Peyto Lake is located in Banff National Park and can be accessed via the famed Icefields Parkway. The lake gets its magnificent blue color from Peyto Glacier (part of the Wapta Icefield) and subsequent minerals.
It's a short uphill walk from the parking lot to a viewing platform with spectacular views of this foxy lake – many visitors say Peyto Lake looks like a fox, wolf or a seahorse (my vote is a fox!) Alternatively, visitors can take a short trail up to Bow Summit for an elevated view and fewer people. Sunrise and sunset are both ideal times to visit Peyto Lake for gorgeous light and minimal crowds.
---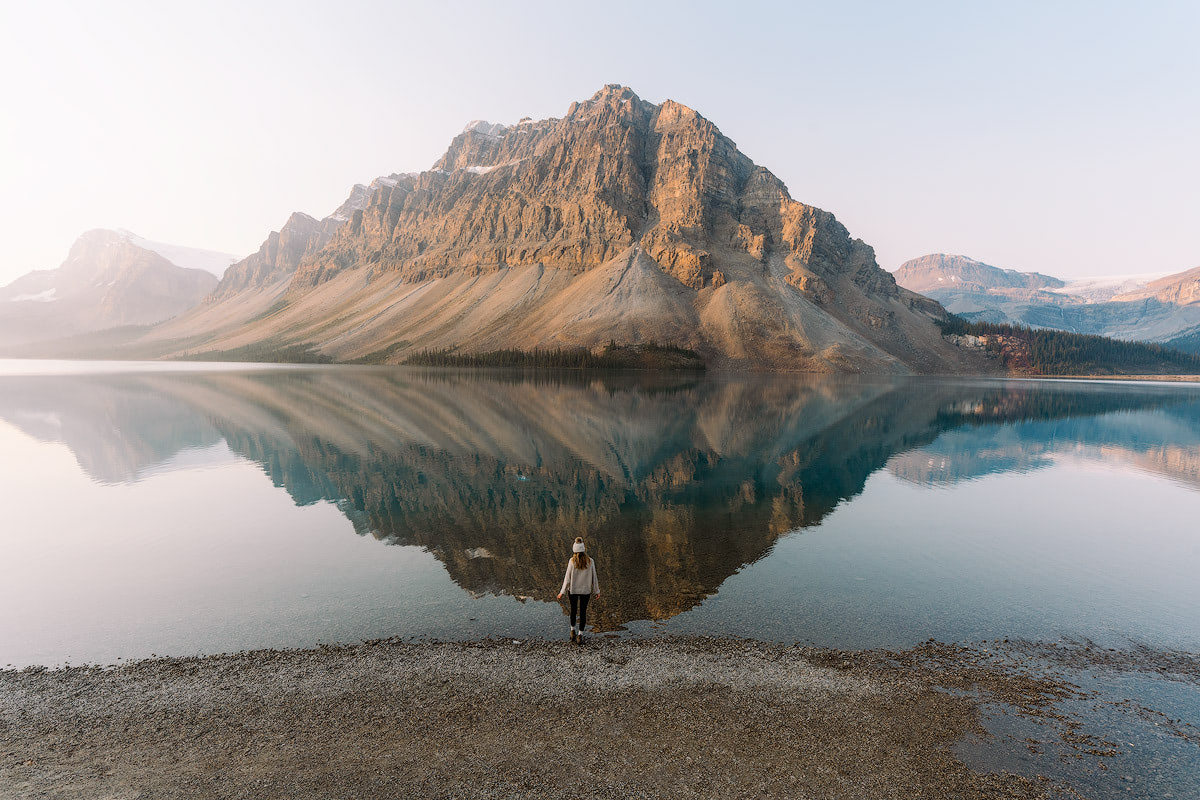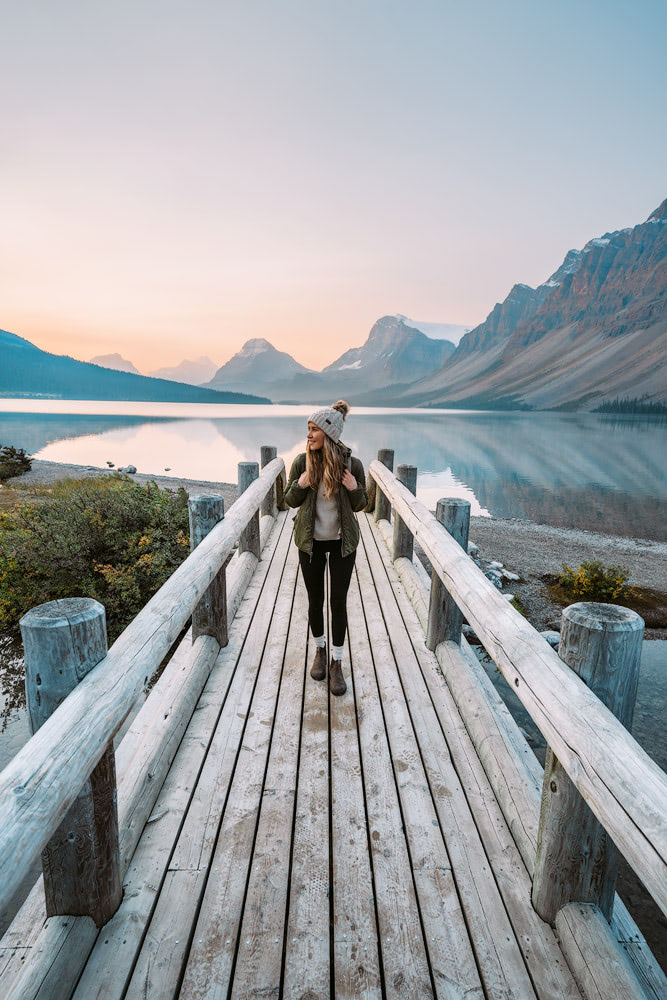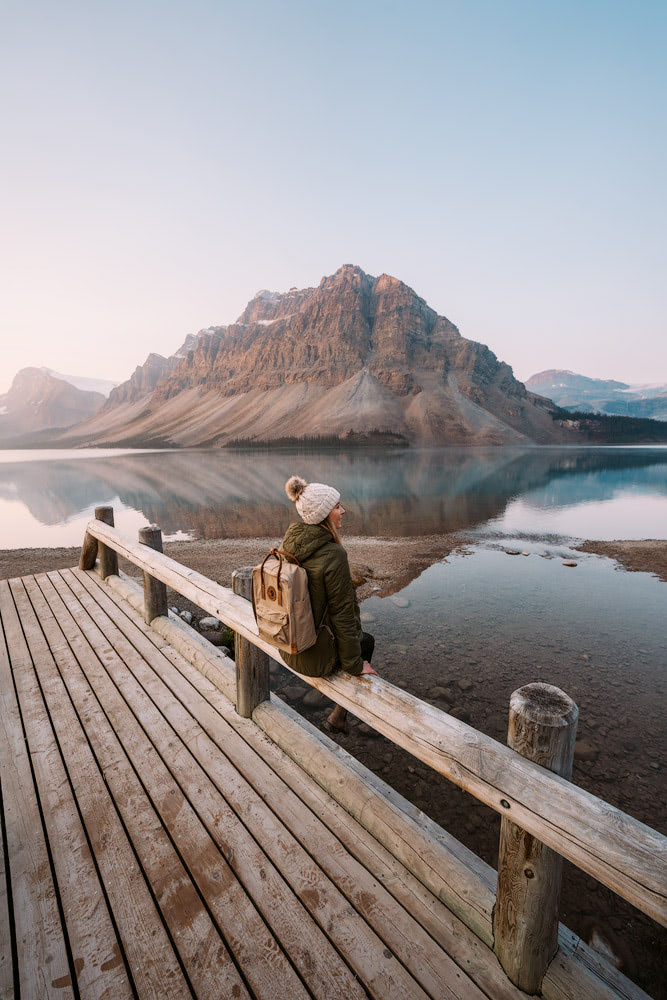 4. Bow Lake
Also making the top 6 list of must-see Canadian Rockies lakes is gorgeous Bow Lake. A quick detour from Icefields Parkway, Bow Lake is a slightly less touristy stop compared to the lakes listed above. Bow Lake is a beautiful blue color and to top it off the area is surrounded by impressive mountains and glaciers.
Visitors can enjoy the lake via a short 1-2 minute walk from the parking lot and there is also a lodge for those looking to stay. I would recommend visiting at sunrise for the best chance to experience windless conditions and epic reflections. There's a small bridge by the lake that makes for some fun photographs!
---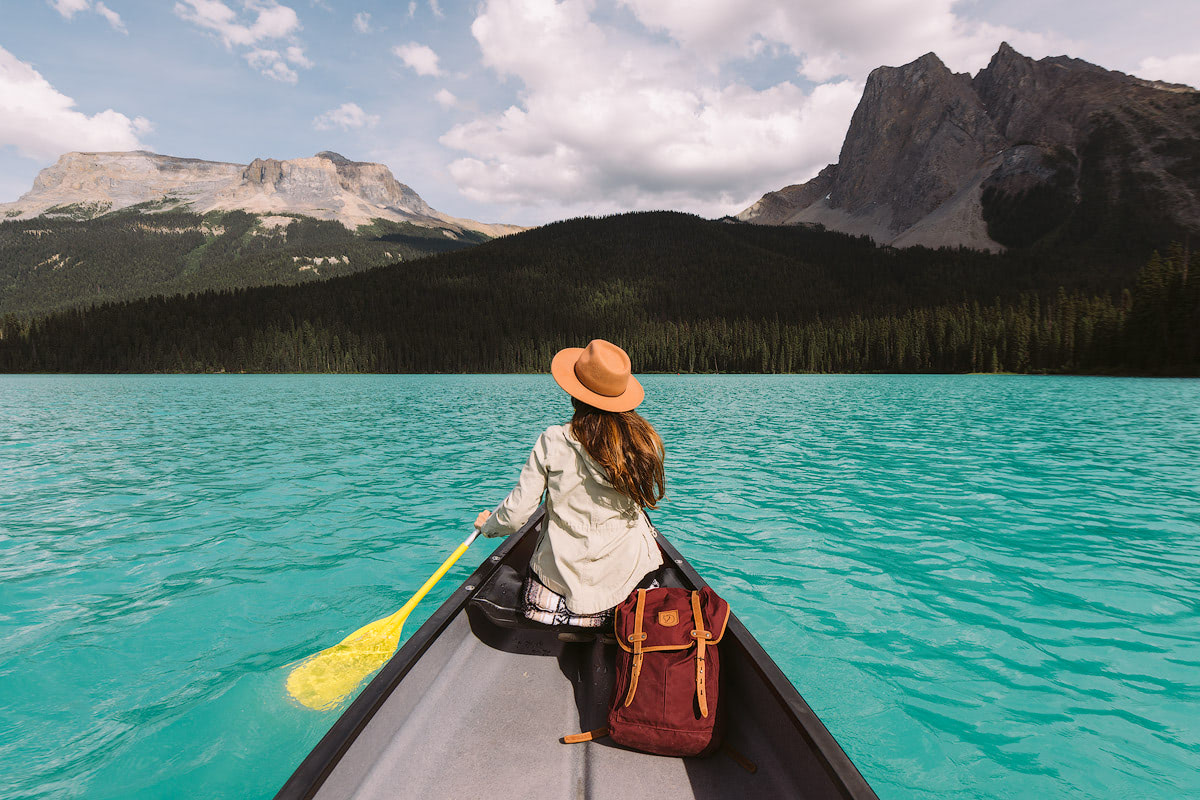 5. Emerald Lake
Located in British Columbia's Yoho National Park, Emerald Lake is another beautiful lake worth adding to your Canadian Rockies itinerary. It's hard to describe the blue/turquoise color of Emerald Lake, but trust me when I say that it is gorgeous!
When exploring Emerald Lake, visitors can take an easy 3.2 mi / 5.2km hike around the lake shore. It's also an option to rent a canoe (or bring your own) and experience the lake from on the water. Emerald Lake Lodge has cozy cabins and guest rooms for those wishing to spend more than a day in the area. Again, I would recommend visiting at sunrise or sunset for smaller crowds and optimal light (my favorite is sunset).
---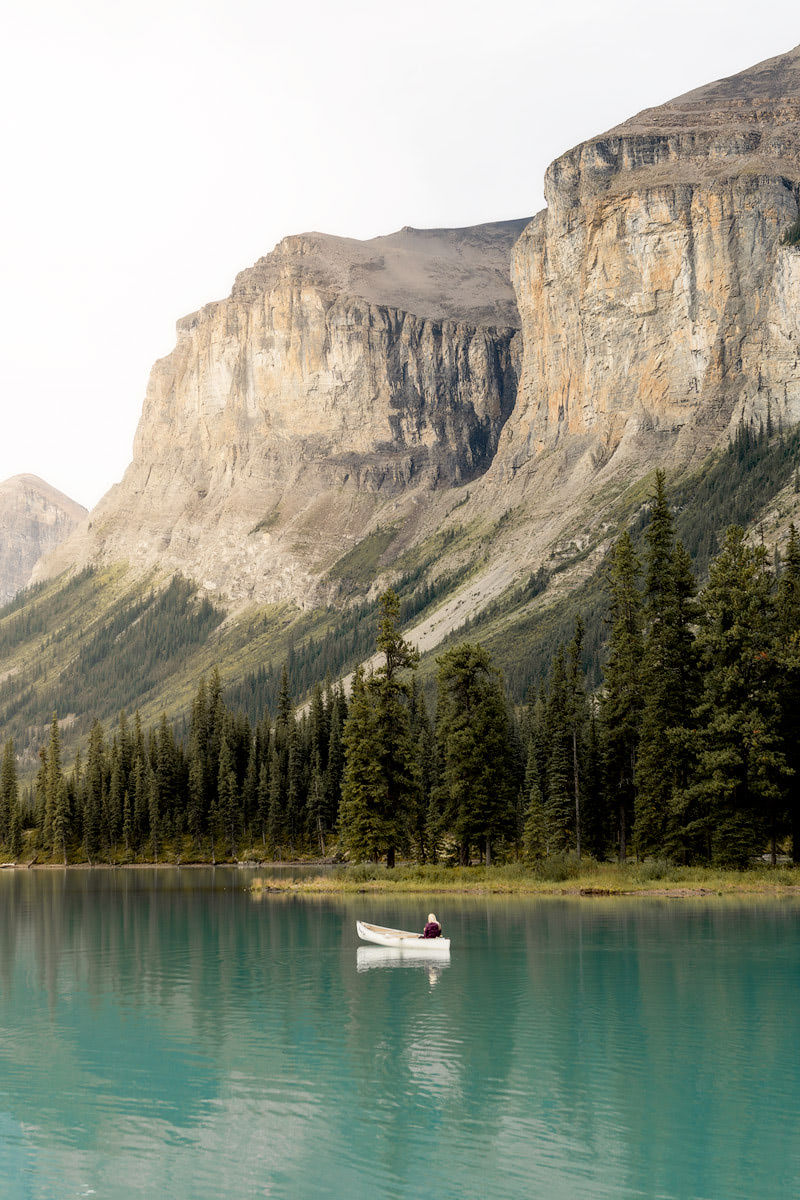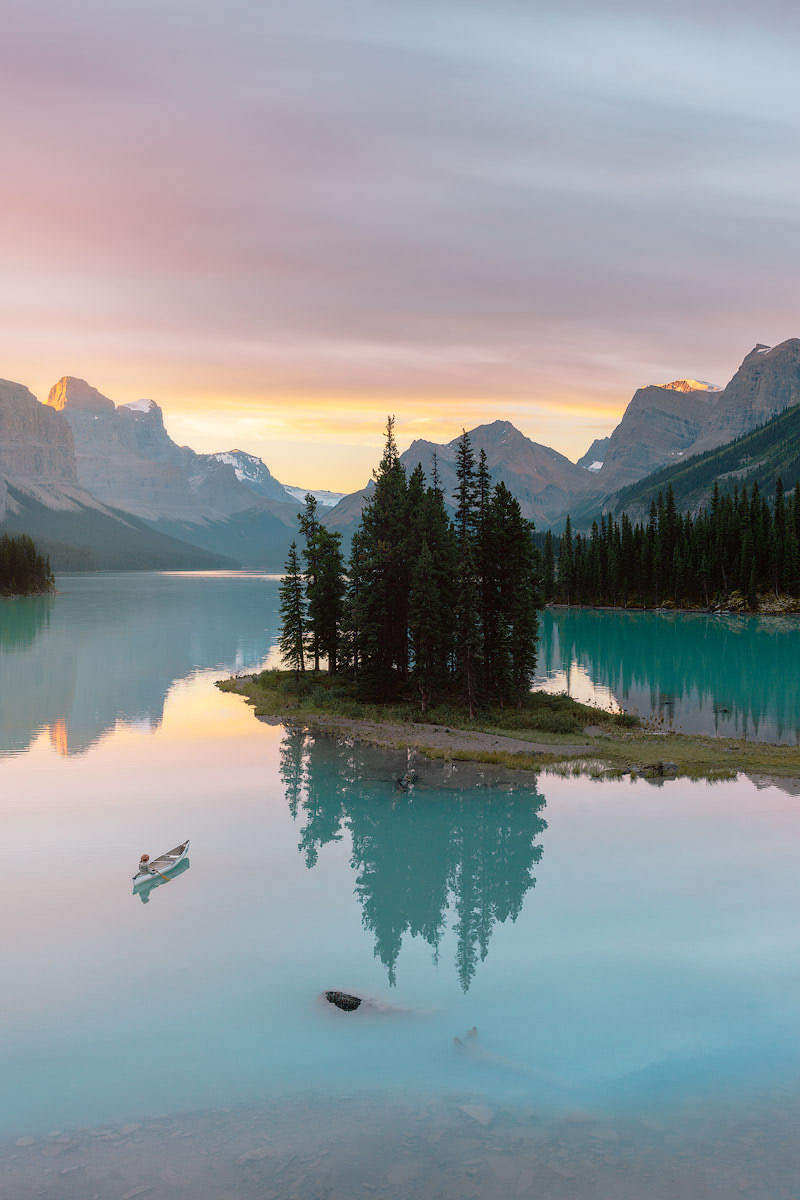 6. Maligne Lake
Last (but certainly not least!) on the list of must-see Canadian Rockies lakes is Maligne Lake. Located a little further north in Jasper National Park, Maligne Lake and its surrounding area are absolutely worth the visit. Maligne Lake is famous for its azure-blue waters and at 13.7mi / 22km long it's the second-largest glacier-fed lake in the world.
Popular things to do at Maligne Lake are canoeing/kayaking, boat tours, biking, fishing, and hiking. We opted to take a midnight paddle out to Spirit Island to capture sunrise (read about our adventure here), and what an incredible experience that was! The national park also runs day-time boat tours out to Spirit Island if you aren't feeling up to the long paddle.
---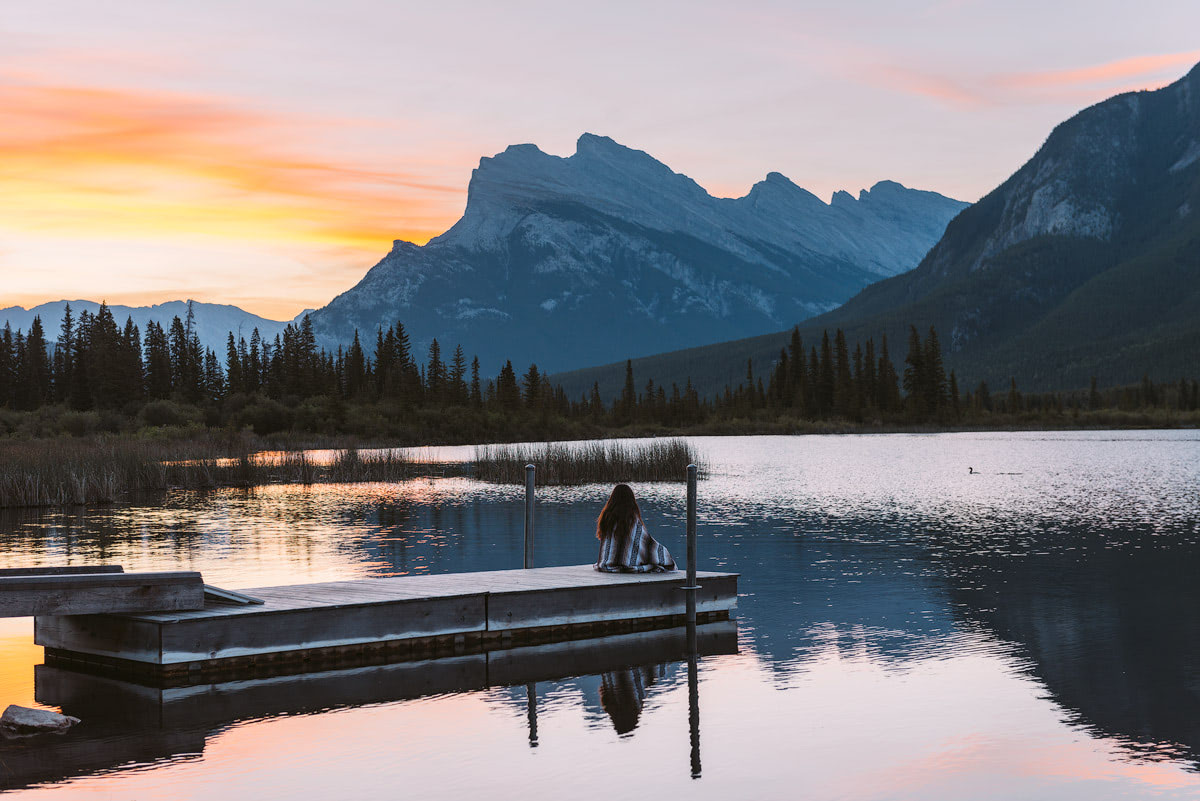 Bonus: 4 more must-see Canadian Rockies lakes!
Some other popular and beautiful lakes in the Canadian Rockies are Lake O'Hara, Vermilion Lakes, Two Jack Jake, and Lake Minnewanka. I am sure there are WAY more I haven't visited or even heard of so I encourage you to do your own research and get off the beaten path. The Canadian Rockies are full of hidden gems!
---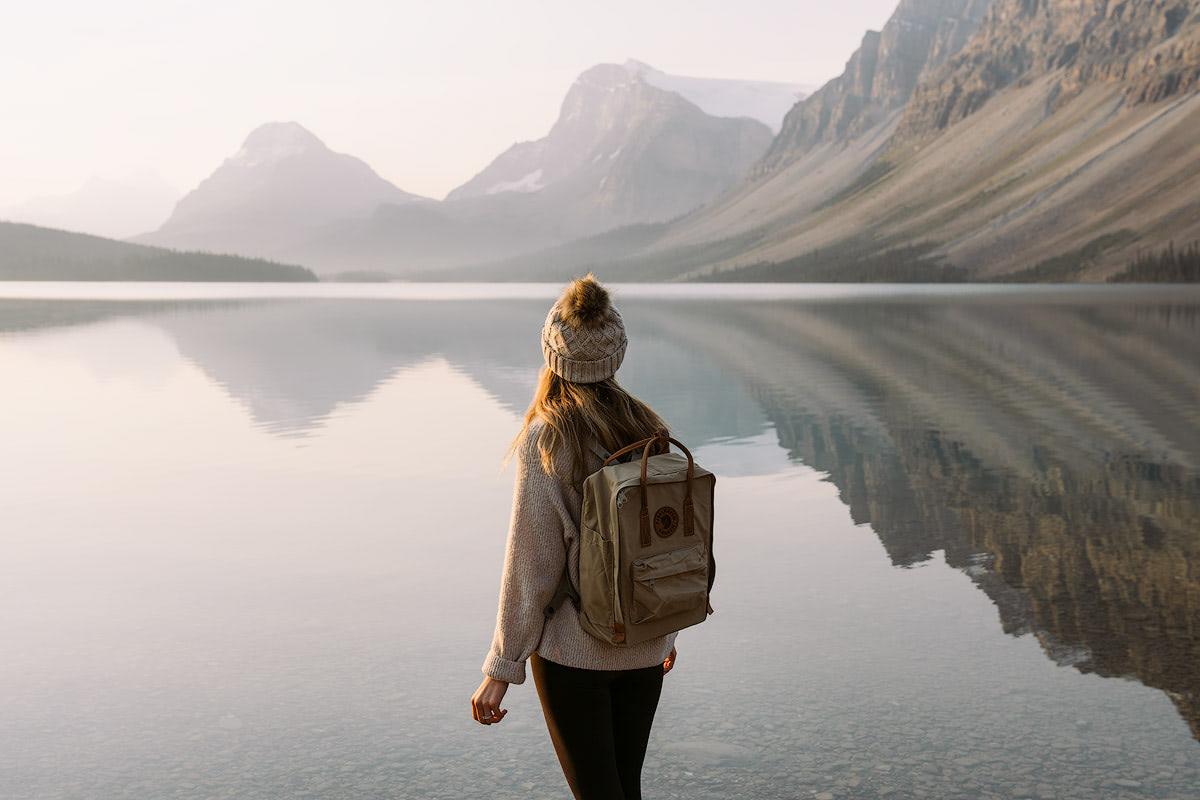 Outfit Inspiration
So now that you know the must-see Canadian Rockies lakes for your upcoming visit, let's talk about what clothes to pack. I personally love being comfortable and practical when traveling. I also love being toasty warm, which is a big consideration for trips to the Canadian Rockies as it can get quite chilly, even in summer. For reference, I visited during the second week of September and we had mild-warm days, chilly nights and even some snow towards the end of our trip.
On top of being comfortable, I also like to look somewhat stylish when traveling (especially if we are taking photos). Here are some of the pieces I've been wearing on my recent trips, including the items featured in most of these photos. Don't forget – Backcountry.com are giving you guys 15% off your first order, which should help you gear up for any upcoming fall adventures! Use code RENEE15 at checkout (offer expires September 30, 2018) *some exclusions apply*
Outfit 1
This is my go-to for short walks, road tripping and for around town. It's super comfortable and also great to wear on the plane and in the car. Plus, I can pair it with leggings or jeans and different styles of boots and hats to mix things up.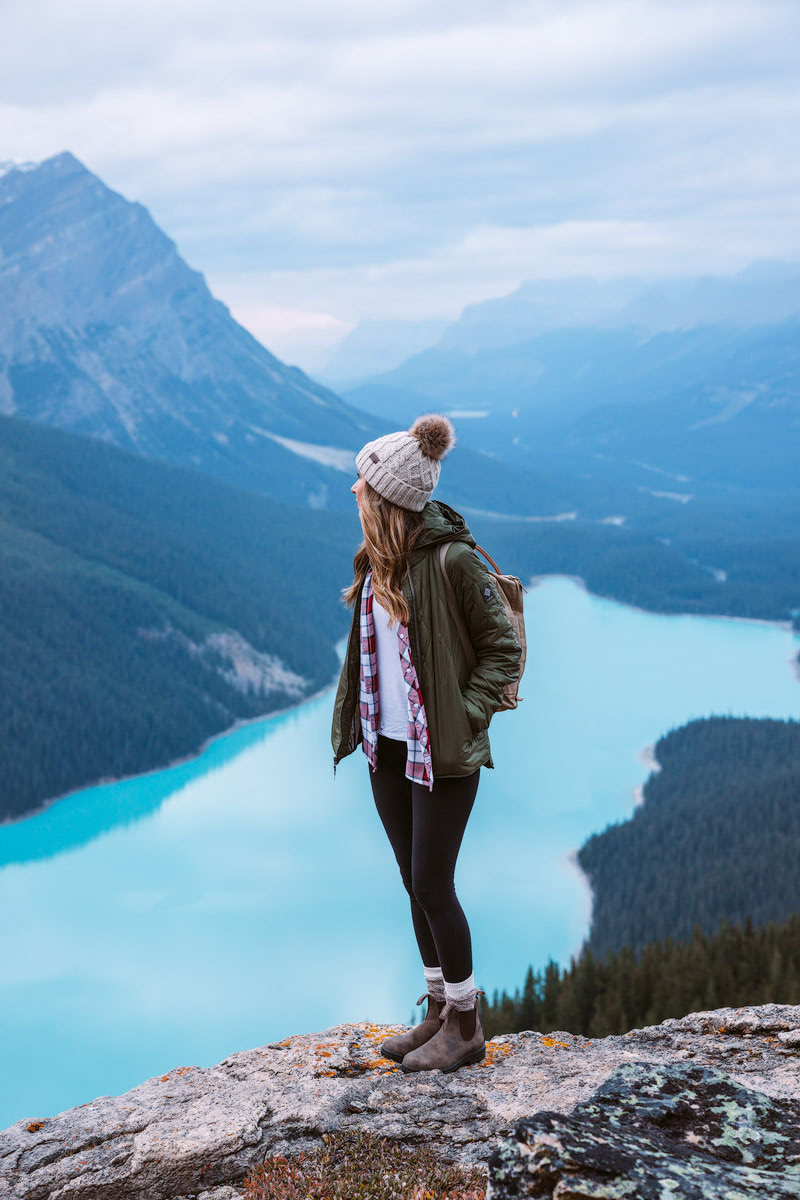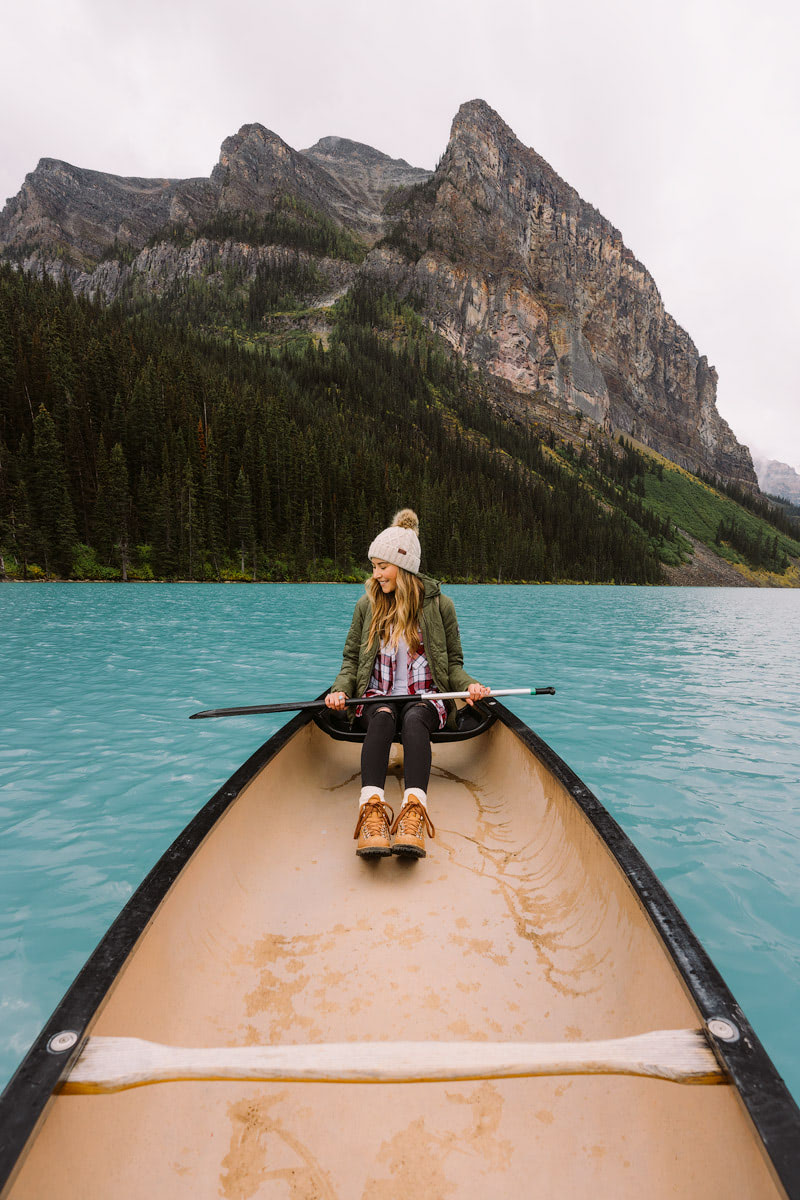 Outfit 2
Just because it's summer doesn't mean it won't rain in the Canadian Rockies, and expect more wet weather in fall and during winter. I loved wearing this rain jacket and waterproof boots for our wet weather days.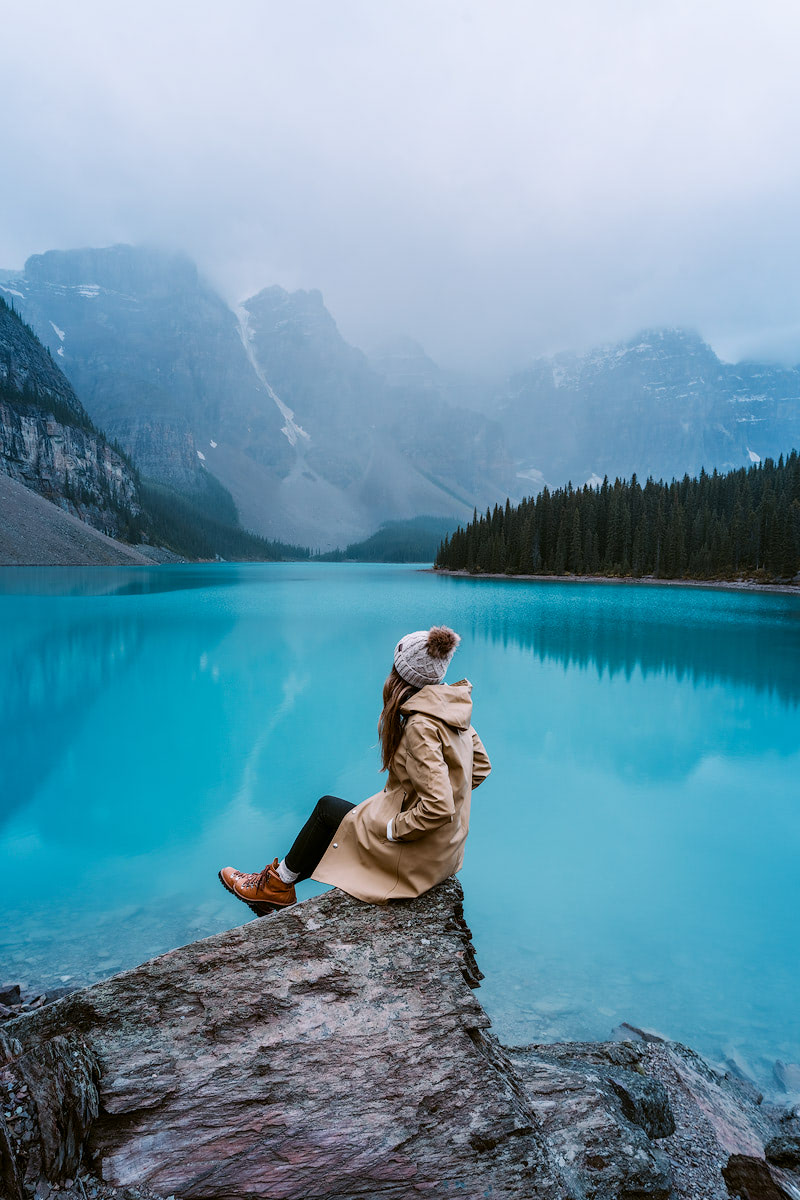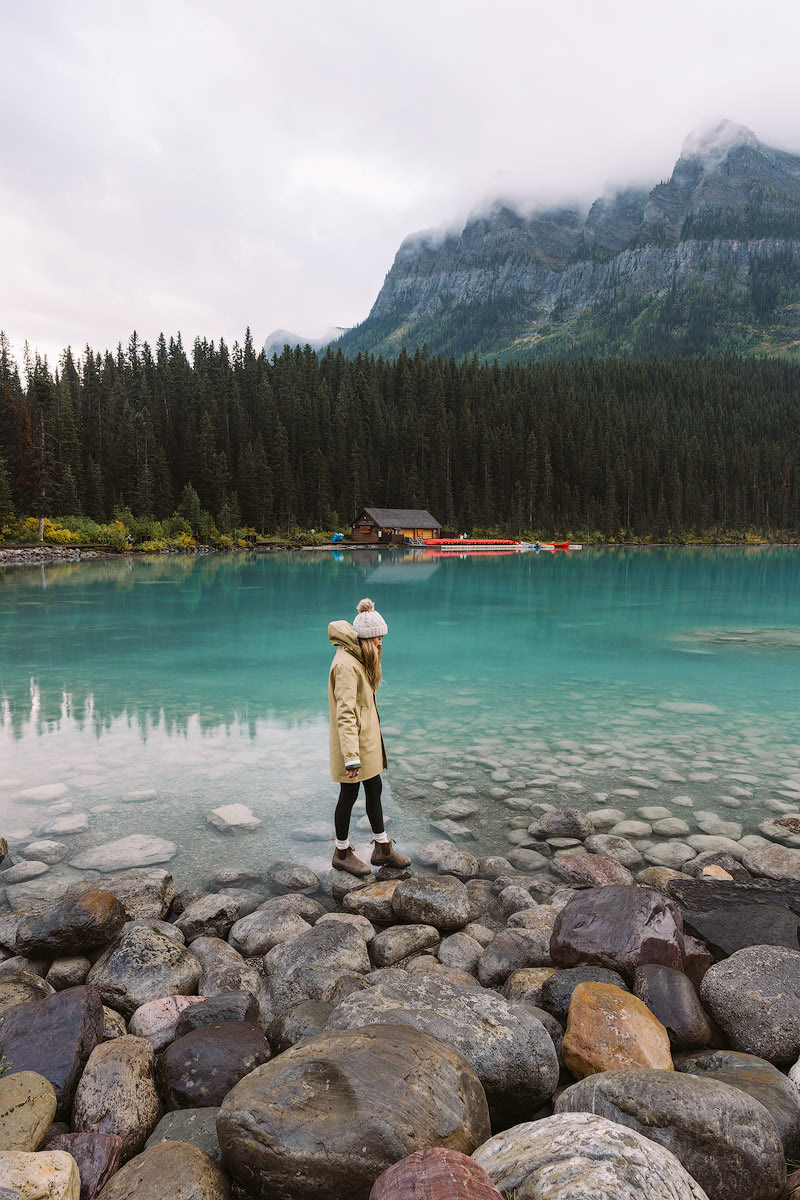 Outfit 3
I'm all about cozy sweaters and down vests, so naturally I wore this outfit non-stop. I opted to pair the look with leggings, jeans and either my Danner Boots or Blundstone's. I also mixed it up and sometimes paired the vest with a long-sleeve top instead of the sweater, and I even threw on my jacket underneath when it was really chilly.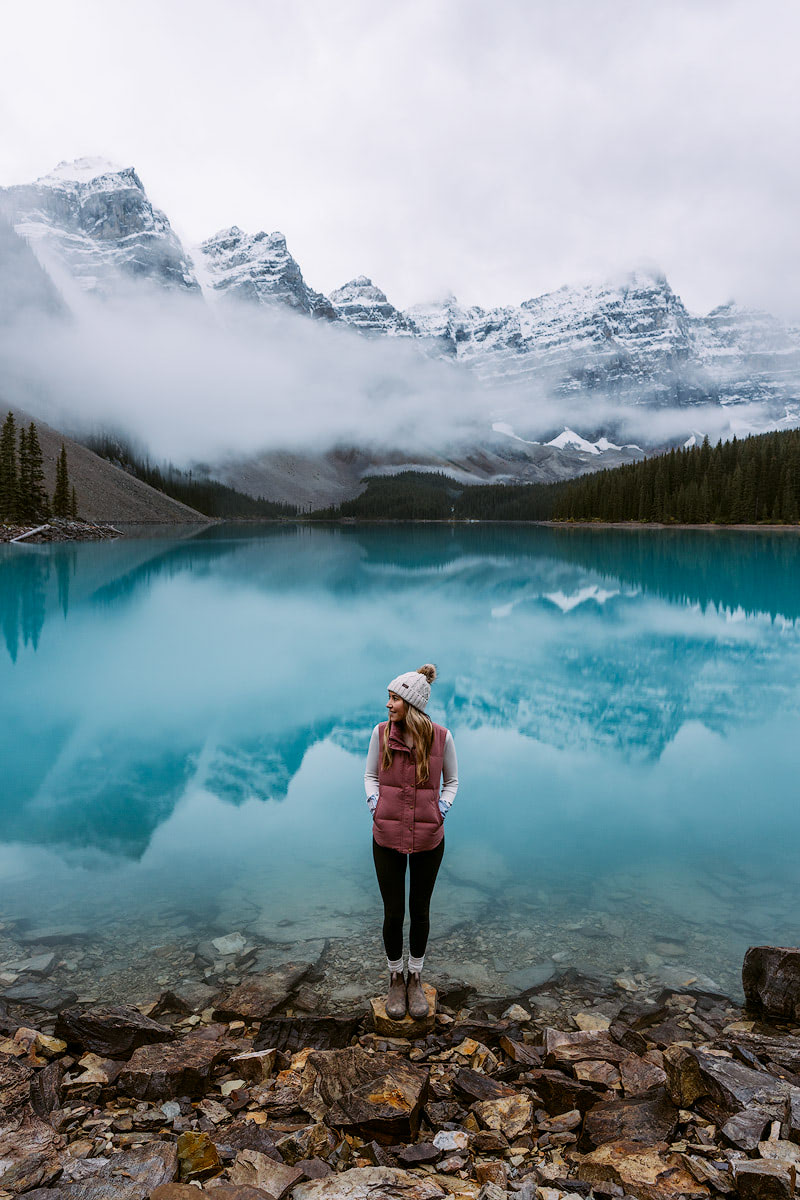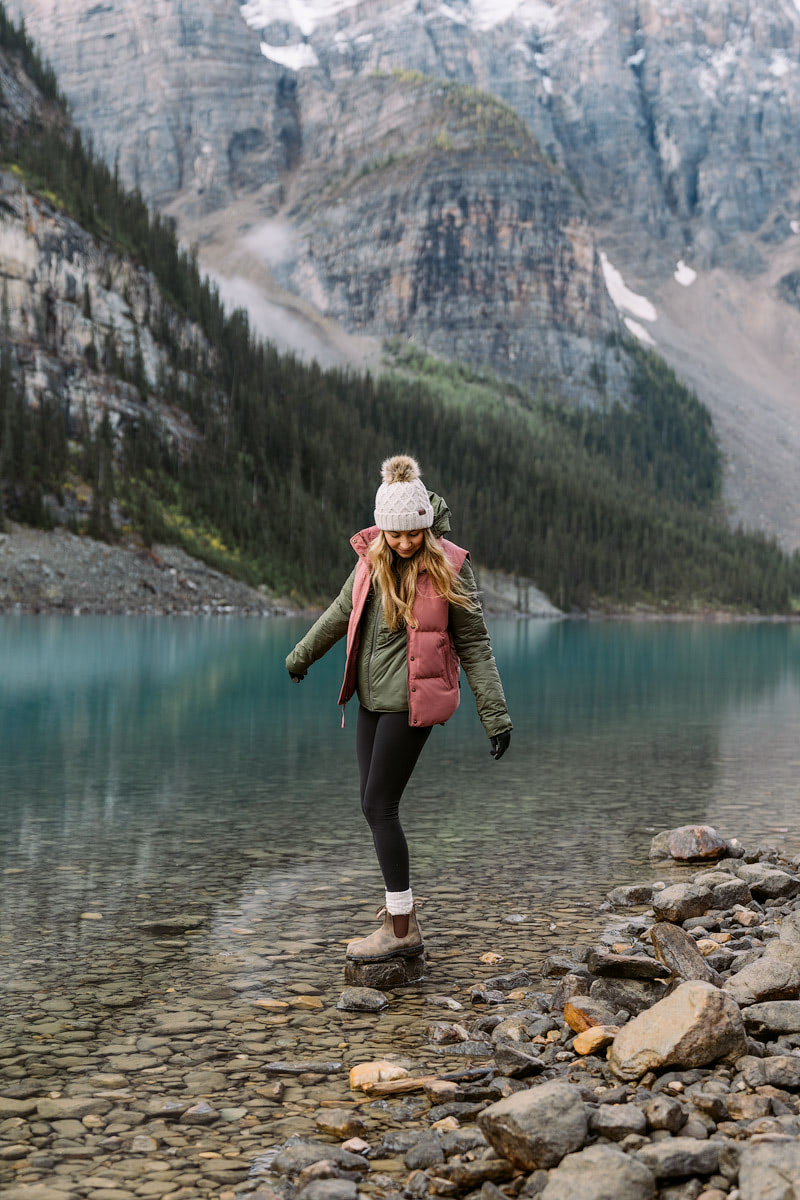 ---
Photography Tips
You can't really take a bad photo of these breathtaking lakes BUT these tips and tricks will help you capture the best images possible.
Go early, stay late. I cannot stress this enough! There are still a ton of people at Moraine Lake for sunrise but it's nothing compared to the number of tourists and buses at 9 am. Arrive at the parking lots of these lakes a good 30-60 minutes before sunrise, you won't regret it. Also, most people leave way before the best sunset light and blue-hour, so consider staying a little longer in the evenings.
Take a tripod. As you will be shooting during sunrise and sunset, using a tripod will allow you to get much higher quality photos. Many of the images in this blog post were taken as long exposures on the tripod (with me holding VERY still) to allow us to capture the moment in the best light possible. Using a tripod will also allow for long exposure landscape images as well as solo or couple selfies (read all about how to take stunning travel selfies).
Find quiet & unique vantage points. The main overlooks are always the busiest and that makes it challenging to get nice and/or unique images. Please respect nature and abide by the rules, but within that scope, I am suggesting that you find other viewpoints. For example, Moraine Lake is much quieter down by the water compared to the top of the rock pile. Peyto Lake's best and much more secluded view is from the upper/not-really signed lookout that I mentioned above.
Use the right lens. I find that a wide angle works best for most of these lakes if you want to fit the water and mountains all in one shot. We were mostly reaching for our 12-24mm, 16-35mm and 24-70mm.
Mix up your foreground. Try getting a unique image by playing around with different foreground options, like rocks, plants, water etc. These lakes have been photographed so many times that it's challenging to take a unique image, but you can at least try!
---
Plan Your Trip
Here is a map to help you plan your route to these must-see Candian Rockies lakes!
Thanks for reading!
Have you been to Canada before? Leave a comment below sharing your must-see Canadian Rockies lake with everyone else!
Some more Canada trip inspiration
Couples Adventure Getaway to British Columbia, Canada
9 Best Winter Adventures Near Banff, Canada
Ultimate Winter Travel Guide to Alberta, Canada
Trip Report: Summer Rocky Mountain Road Trip
PIN FOR LATER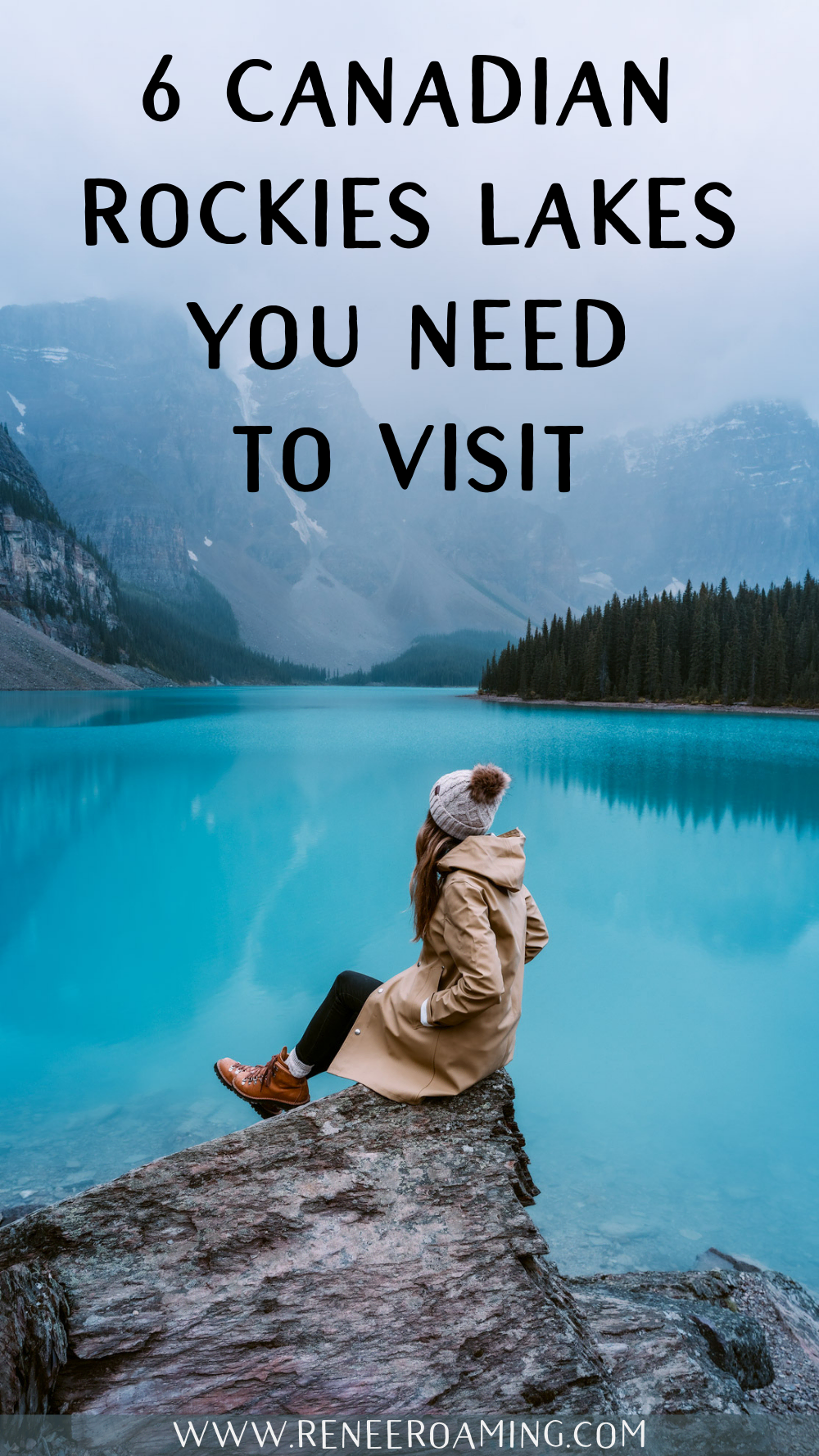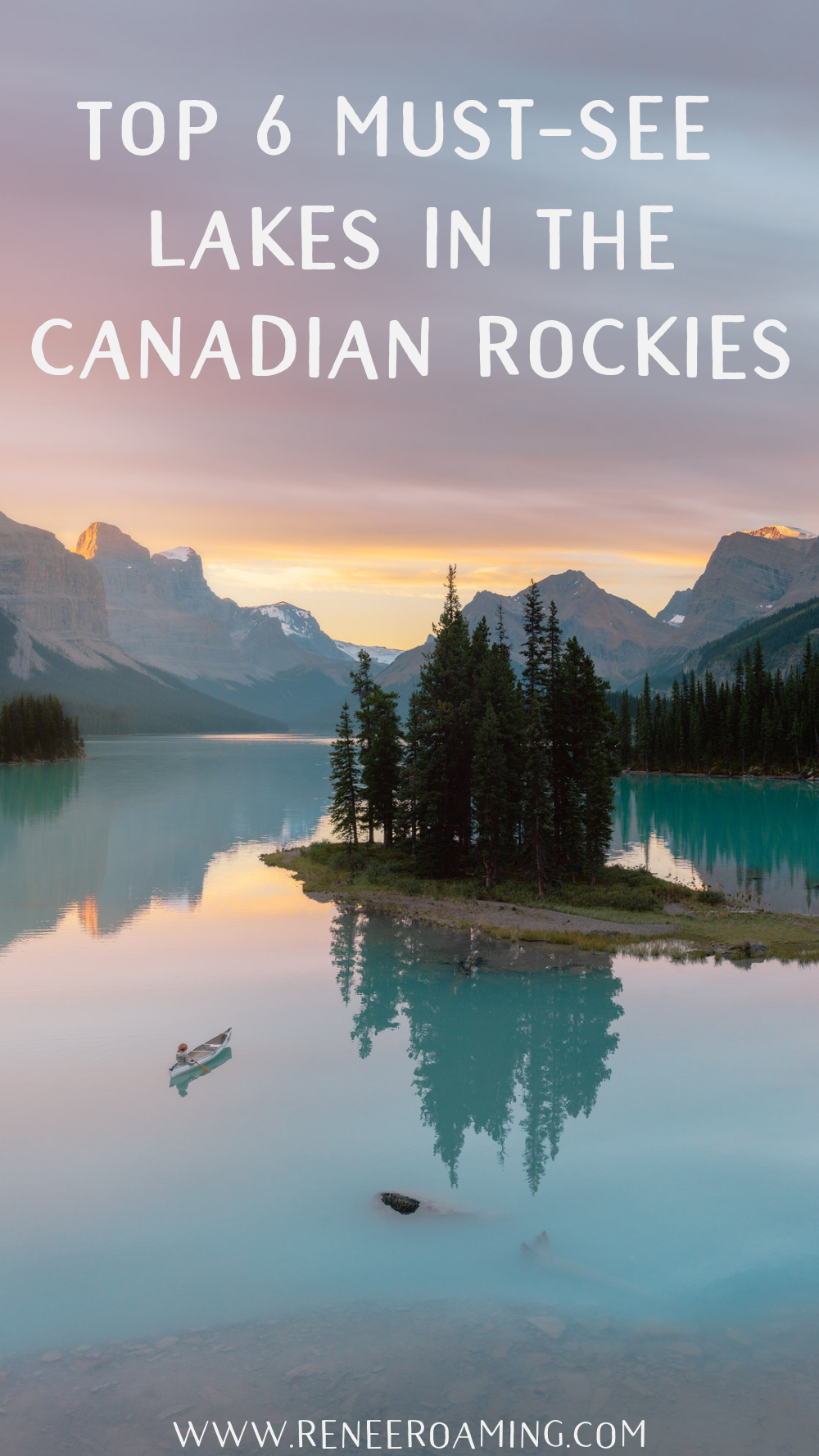 Disclaimer: A big thank you to Backcountry for collaborating on this blog post about the must-see Candian Rockies lakes. I loved wearing all the gear during my trip and many of the pieces are now my go-to for traveling. Please note, offer of 15% off expires September 30, 2018, does not apply on top of any other offer or discount, and it's one use per customer. As always, all opinions are my own. This post does contain some affiliate links, which means if you buy something my blog will receive a small commission at no extra cost to you.